A fun running race that aims to promote friendship, teamwork and bonding, regardless of speed, height and gender, the Banana Relay took place last weekend at the Kallang RiverSide Park.
The most interesting thing about the Banana Relay is that instead of a plastic or wooden baton, runners use bananas as a baton. Yes, that's the actual, squishy banana fruit.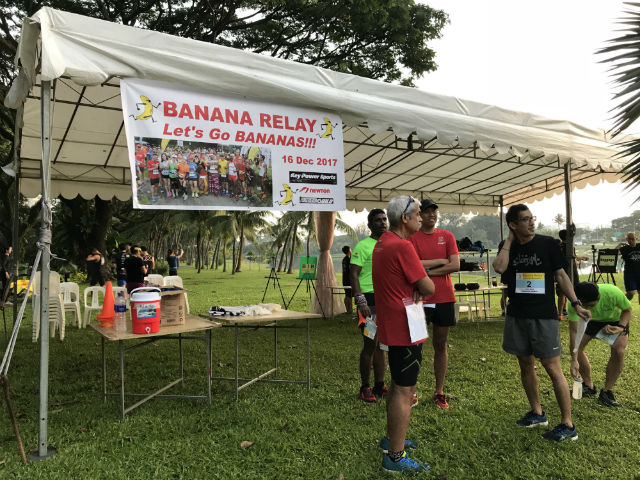 In the Banana Relay, each team of three runners completes a total of nine two-kilometre laps. This means that each individual runner completes three two-kilometre laps.
To make new friends, runners are encouraged to register as individuals and they would then be randomly assigned to teams by the event organiser, Running Guild, on the race day.
But runners can also form teams of three with their friends too, and register together as a group, if they prefer.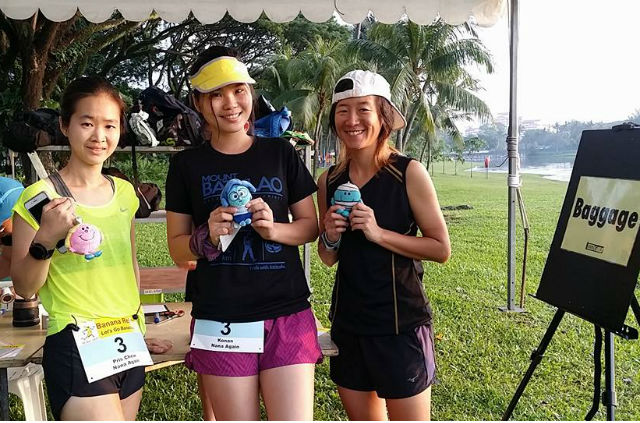 Took part with my friends 
I took part in the Banana Relay with two of my friends, Grace Ng and Ziyu Tan. It was my second time running in this event.
Flag off was at 7.30am
The race flagged off at 7.30am in the morning but runners had been asked to arrive at the event site from 6.30am onwards for registration and to collect their bibs.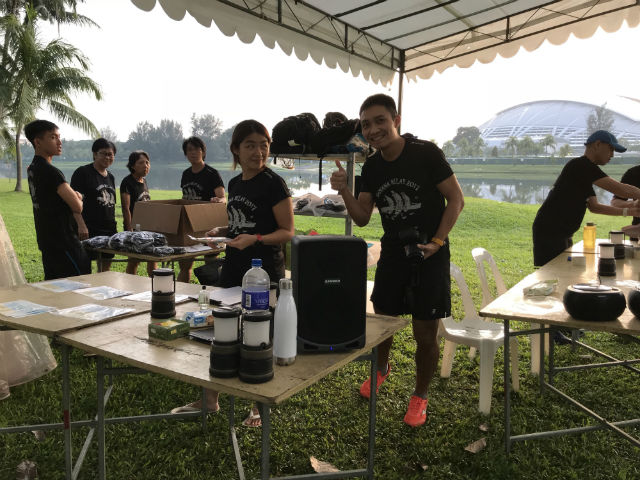 I admit that I had some trouble locating Kallang RiverSide Park because it is an area that I am not too familiar with, as not many races flag off at this location.
At 7.15am there was a pre-race briefing, where the organiser gave us some information about the race route and some running etiquette and so on. We then took a quick group photo before the first runners from each team were called to the start line to begin the race.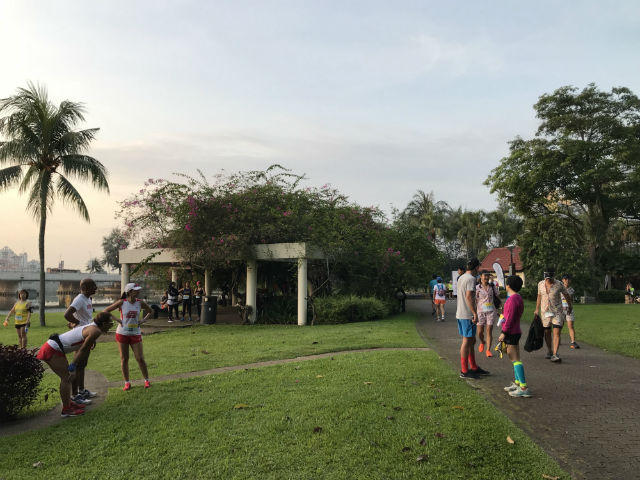 Run flagged off sharp
The run flagged off sharp at 7.30am. Grace was our first runner so she headed to the start line while Ziyu and I hung around the race site and waited for our turn to run. Ziyu was our second runner and I was the last runner.
While waiting to run, we also mingled around with some other friends who were also at the race, and we all chatted to one another. It had been quite fun, and more like a gathering of friends rather than a running event.
Said Grace, "I have been joining the Banana Relay for a couple of years already and this year was the same – great fun and a good bonding session for runners."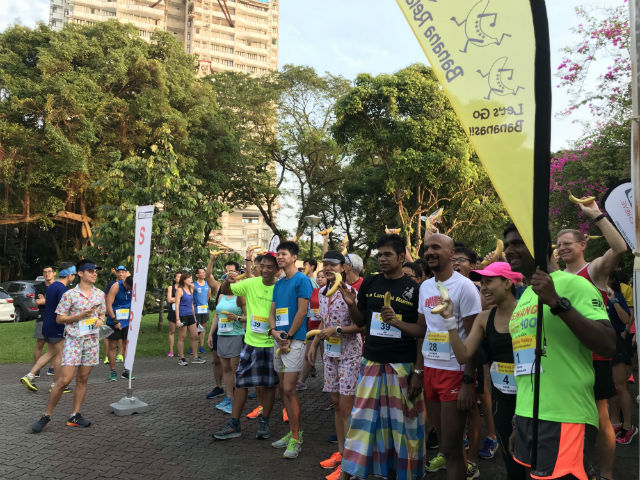 As well, we had also helped ourselves to the water, isotonic drinks and the watermelons that had been made available to runners at the race site. Free flow of bananas were available too, in case runners got hungry in between loops. The provision of these services was good on the part of the organiser.
Added Grace, "There was good support with water, isotonic drinks and fruit."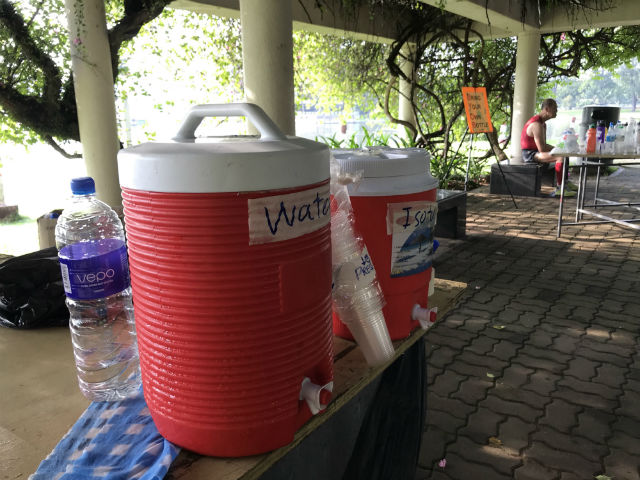 At the aid station at the race village, plastic disposable cups were provided to runners to hydrate themselves, but Running Guild prefers to encourage runners to bring their own water bottles.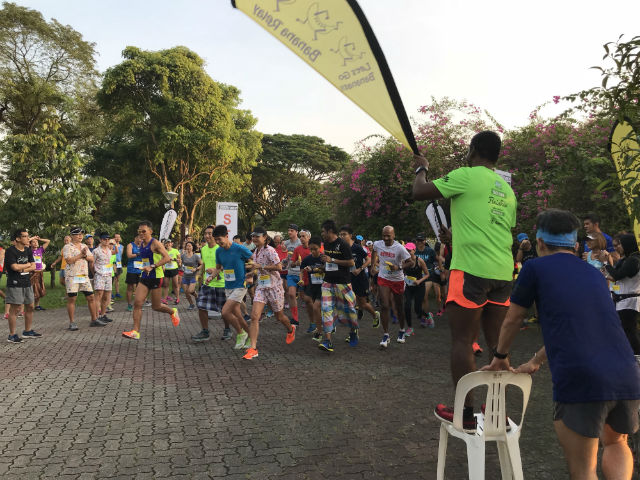 This had been demonstrated by the BYOB (bring your own bottle) table at the race site, together with sticky tape for runners to write their names on their water bottles or their plastic cups, to reduce wastage.
Said Ziyu, "I liked the concept of bringing your own cups and labelling the cups that you used."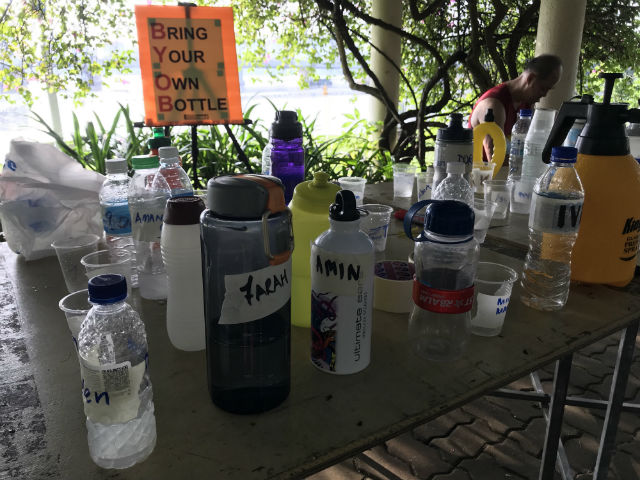 Beginning my run
When it had been finally my turn to run my first loop, I took the banana baton from Ziyu to begin my leg. Fortunately this time round, the banana baton was still solid and was not really mushy.
In fact, by the end of my third loop, the banana had still resembled an actual banana.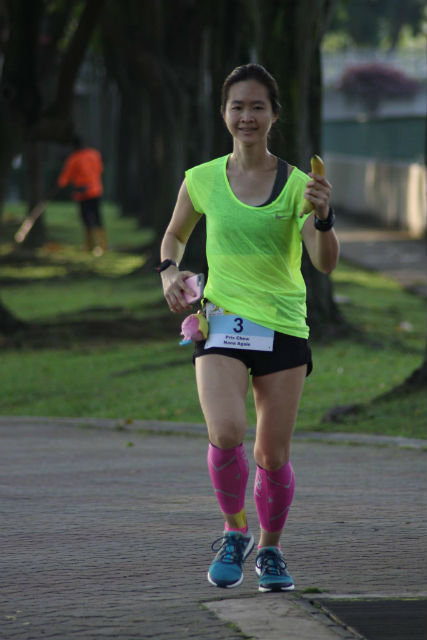 I still remember the previous time round when I had done the Banana Relay, the banana had resembled mush, possibly because the male runner in my team then, had gripped the banana too hard.
Probably this could mean that girls are really more gentle in handling the banana, as compared to guys! But I didn't see the other teams' bananas for comparison though so I can't say for sure.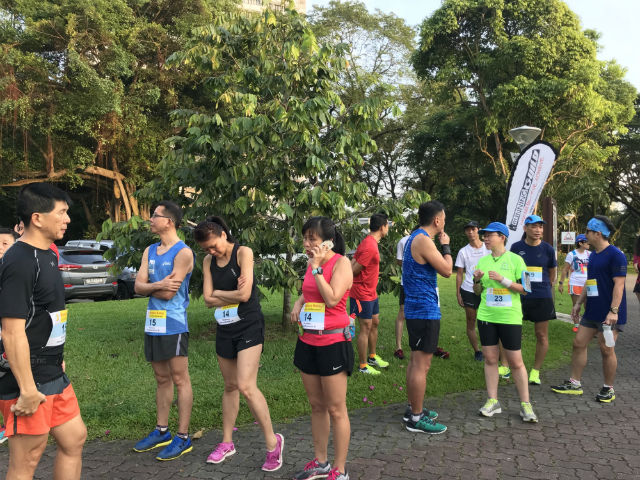 Simple Race Route
The race route had been a simple out and back one, taking runners one kilometre down Kallang RiverSide Park before making a u-turn and heading back the same way that we had come. It was a scenic as well as a functional route.
It was also not congested too, due to the relay style of the race and the small number of runners, and the route had also been well marked too. So this meant that I did not get lost along the way and I was able to maintain my pace without having to slow down.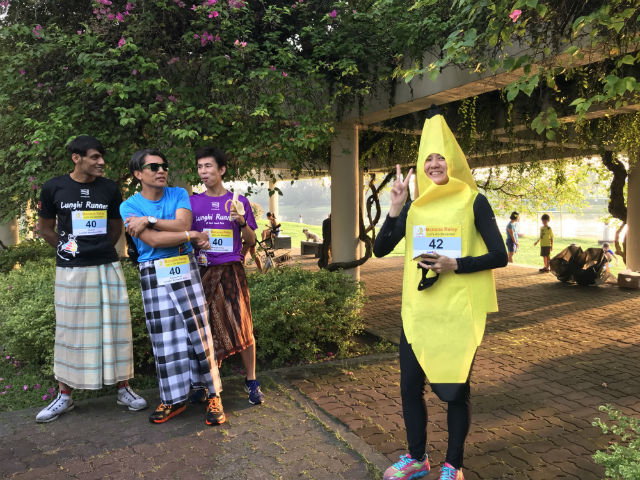 There was also a marshal stationed at the u-turn point as well so that runners would know exactly where the turning point was.
Said Grace, "It's a well organised event with the route well plotted out."
Secondary school students
However there had been several teams of runners from Guangyang Secondary School taking part in the race too, and they were blitzing past everyone else. In the end they swept two of the four podium positions.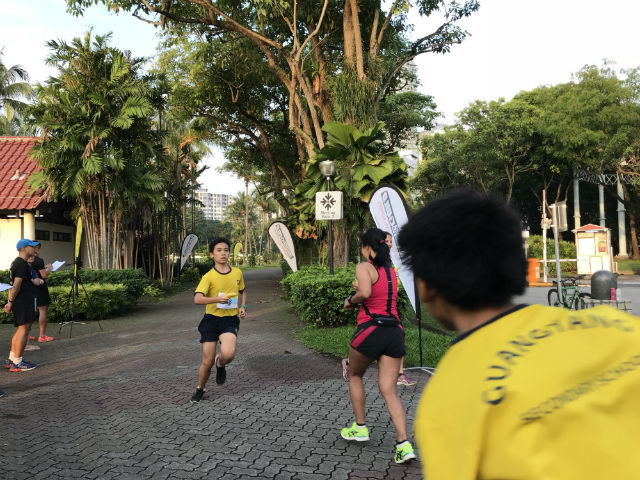 I admit that during my loops, it had felt quite depressing and a bit stressful to have them passing me. This is because they looked like they were almost half of my age, yet they seemed to be running twice as fast as me!
Weather got hotter with subsequent loops
My first loop was still relatively okay but as the morning wore on, it got hotter and as such, the heat had made each subsequent loop harder to run. When I ran my third loop, my pace had slowed a little compared to my first loop.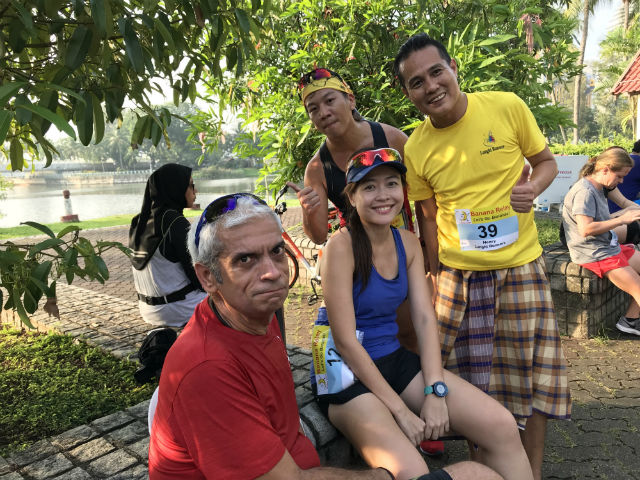 As part of the rules of the Banana Relay, runners began their first loop with one banana, but before starting the second loop, they were required to collect another banana – and carry two bananas.
I suppose this was to make things slightly harder for runners, and possibly also so that the organiser could tell which teams were on which loop of the race.
As well, I also quickly realised that running 6km in one go, is much easier than running a 2km loop three times. This is because after stopping my run after each 2km loop, my body cools down considerably and it takes some effort to get going and warm up the muscles again.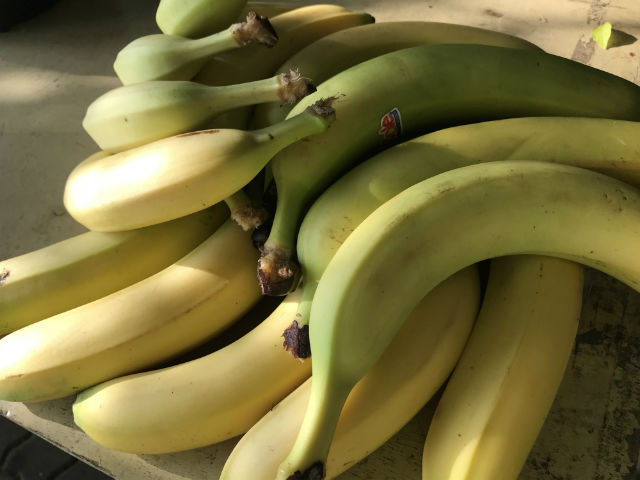 Nevertheless, there were a lot of photographers positioned along the route to keep me motivated though. I made sure that I looked out for each one and tried to pose for the camera accordingly. Well, if I am not fast enough to get onto the podium, I want to be able to have nice race photos to post!
Post Race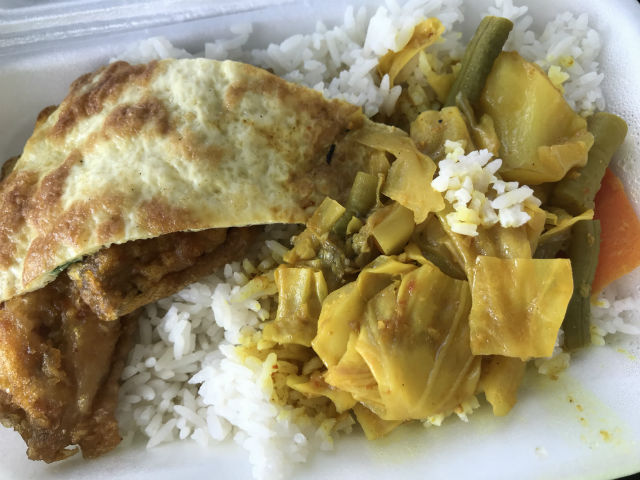 After the race, the organiser has thoughtfully provided nasi lemak for breakfast for every runner. I though that this was a great idea as runners were all sitting down together to reflect and chitchat about how their race went, as they tucked into the nasi lemak together.
As well, having breakfast together had further reinforced the bonding and camaraderie aspect of this fun race. After the morning run, I also felt quite hungry so the nasi lemak had been quite welcome.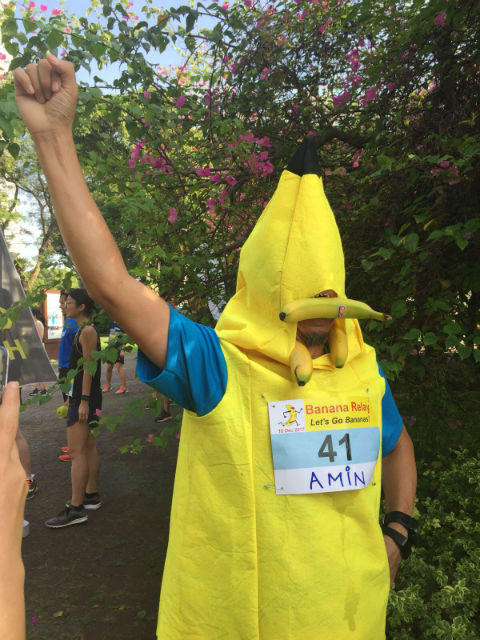 The breakfast had been in addition to the finisher medal and the tee shirt that runners were also entitled to.
Said Ziyu, "The tee shirts were nicely pre-packed according to each group and everything was hassle-free."
Lucky Draw to end the morning off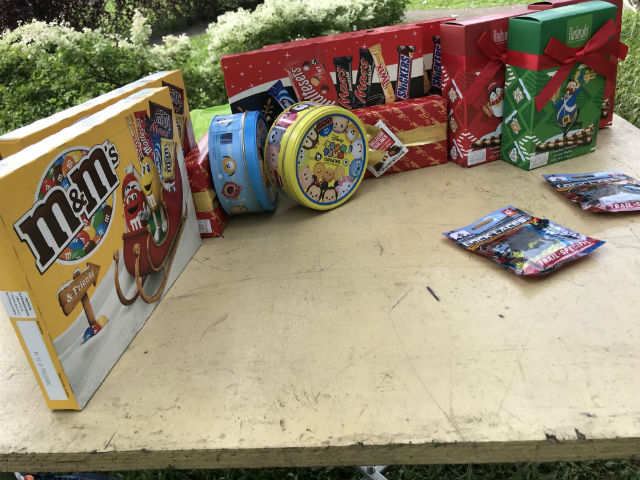 The morning had concluded with a lucky draw, where prizes such as Key Power Sports vouchers and chocolates were given out to runners. Unfortunately I was not lucky enough to snag a prize, though!
A Fun Morning Out
It was a fun morning out, according to me and my team mates. Once again, we had all enjoyed ourselves thoroughly and we would definitely take part in this relay again.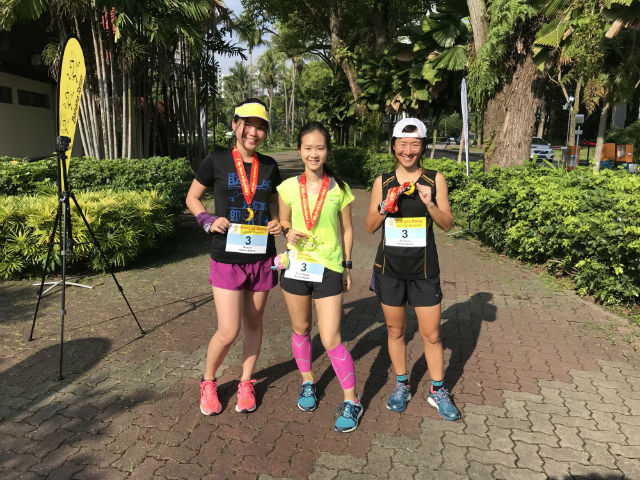 Said Grace, "I have been joining the Banana Relay for a couple of years already and this year was the same – great fun and a good bonding session for runners."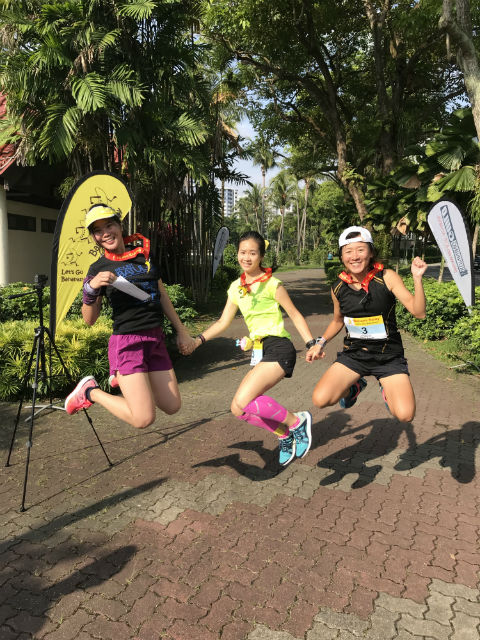 Added Ziyu, "This is my second time joining Banana Relay and I loved it! The atmosphere was great, the route was very scenic and everyone was so friendly to each other. I would definitely join again next time!"

Share this page with your friends!