Featuring all of the beauty and grandeur that the Marina Bay area has to offer, the 2018 edition of the Herbalife Marina Run took place there last evening.
Taking runners from the waterfront community of Singapore – the Marina Barrage, the route had been advertised as bringing runners past the iconic landmarks and beautiful gardens of Singapore.
Click here to view the Herbalife Marina Run 2018 photos.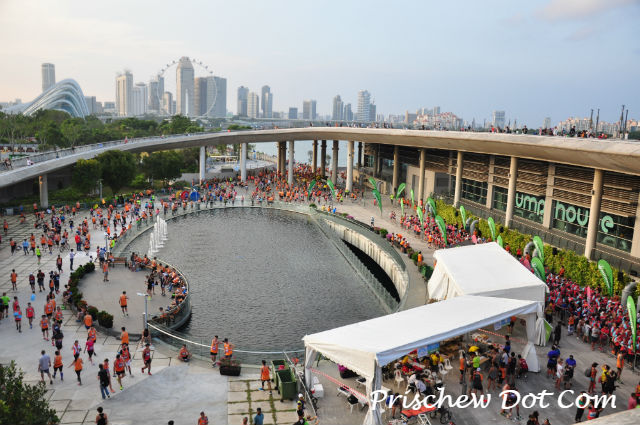 The 2018 event had also introduced a brand new 30km category, alongside the existing 5km, 10km and 21.1km race categories.
So this meant that the race had catered to all runners – whether they are advanced runners looking to challenge themselves further, or casual runners who simply want a nice evening stroll.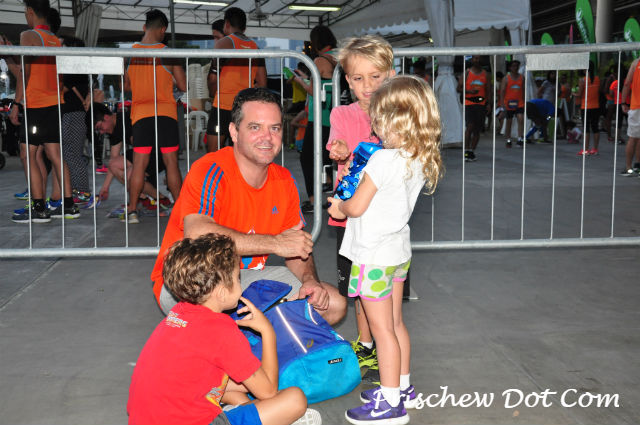 Took part in the 21.1km category 
I took part in the 21.1km category. For this race, I had been given a pair of race slots by title sponsors Herbalife.
But instead of going out and targeting a personal best though, I used this as an opportunity to do my part to give back to the running community – by running as a pacer in the 2hr 30min pace group. This had meant maintaining a consistent pace of no more than 7min 07sec per kilometre.
Being a lead cyclist for the 10km race
Prior to my 21.1km run though, I had also been roped in to be one of the lead cyclists for the 10km race.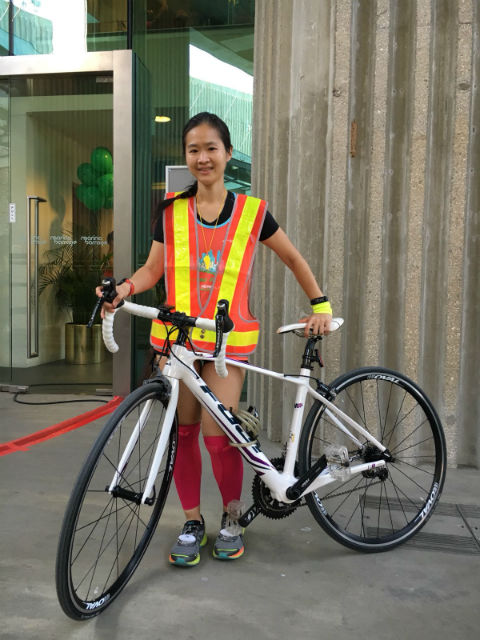 So as the 10km race flagged off at 5.30pm, I cycled to the race site, reaching the Marina Barrage at about 5pm – just in time to get ready for my bike ride.
I had decided to cycle, because I find that Marina Barrage is quite inaccessible from my place by public transport.
And at 5pm, I noticed that there were already a lot of runners gathering at the Marina Barrage – and this had included plenty of runners from the 21.1km and 30km races. Perhaps they had arrived early, in order to support their friends in the 10km event.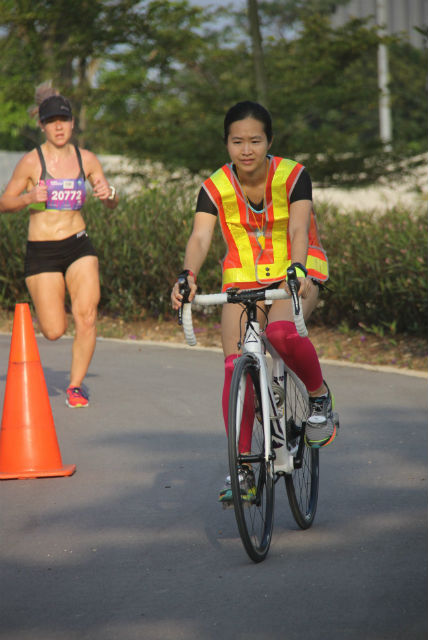 Being a lead cyclist had been a brand new experience for me and I admit that this responsibility had initially made me quite nervous at the beginning – because I was worried that I would not be familiar with the route and that I may lead the runners in the wrong direction.
But fortunately these fears were unfounded though, as the 10km route had been straightforward enough.
Taking a breather and refreshing myself before my run begins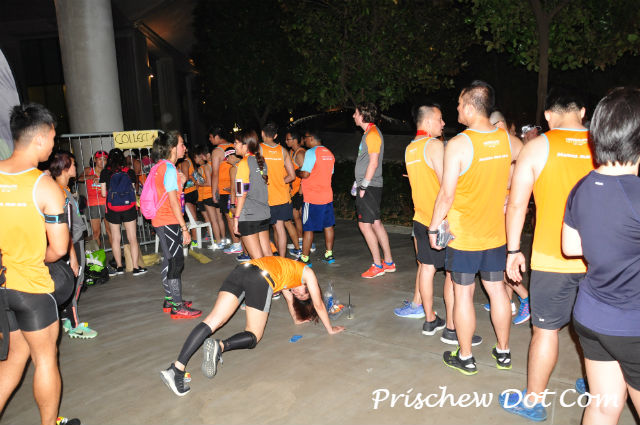 After cycling the 10km event, it was roughly about 6.10pm. So I took a short breather and refreshed myself before my 21.1km event was scheduled to begin. I also caught up with a few of my friends who had just completed their 10km run.
I spent time with the other pacers too, munching on a few of the Chinese New Year goodies that some of them had brought along – as a way of "carbo-load" on simple sugars to give ourselves energy before our race was to begin. This had been the most delicious way to start my run!
The Race Precinct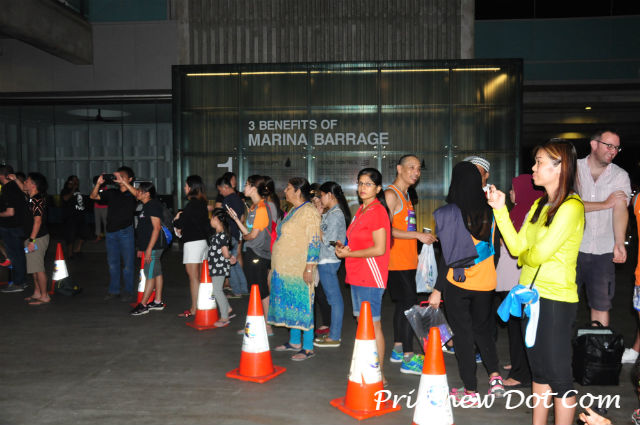 Looking around the race precinct, there had been a few booths on-site, and these included a general medical test for runners to determine their actual body age, as well as the mandatory medical and information booths.
I headed to the Herbalife tent to pick up a couple of vouchers from them – to redeem a complimentary protein shake to recharge myself after my run, and chatted with the friendly guys there for a while. It was kind of them to offer me the protein shakes.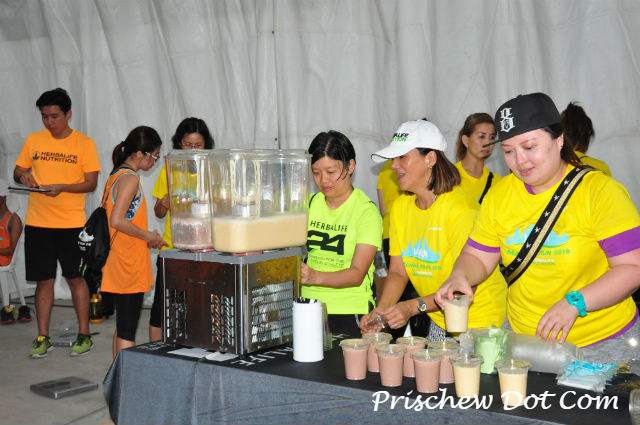 There was also a baggage deposit tent for runners but I did not drop off any baggage there. I noted that the baggage deposit area was rather small, and I thought this may have created some overcrowding issues and fairly long queues for the 10km runners when they collect their baggage – as this would also coincide with when the 21.1km and 30km runners come to drop off their bags.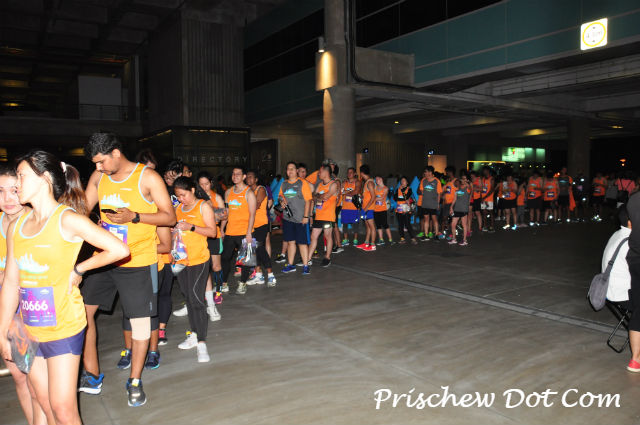 Going into the start pen
And after taking a few photos with my pace group, I headed into the starting pen at about 7.20pm and turned on my GPS.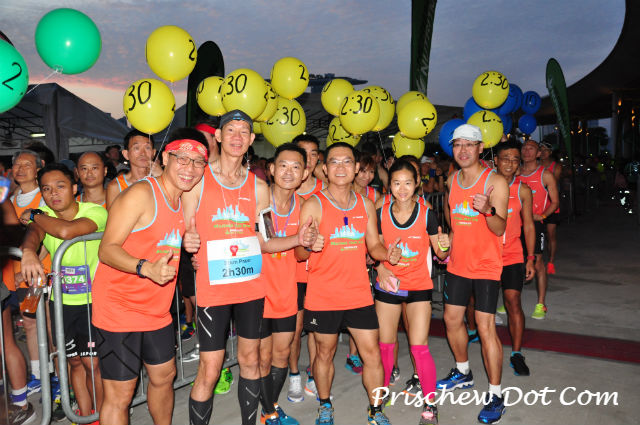 In the minutes prior to flag off, the emcee had been constantly reminding runners of how long there was left to flag off, in an effort to hype us all up for the run ahead.
Flagging Off
The 21.1km race flagged off just after 7.30pm.
As I had begun my run at the front of the starting pen, I did not really face any issues with congestion.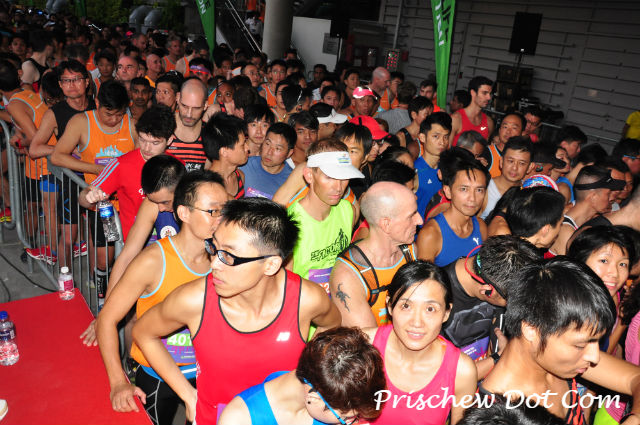 Starting gantry was narrow
But quite a few runners had pointed out that the starting gantry was very narrow and this had led to some congestion at the beginning.
Said a runner, Gabby Van Herpt, 41, a Communications Manager at The Netherlands Embassy in Singapore, "The start gate could have been a bit wider. It was way too narrow and there was a lot of runners who needed to go through a very narrow area. This created some congestion."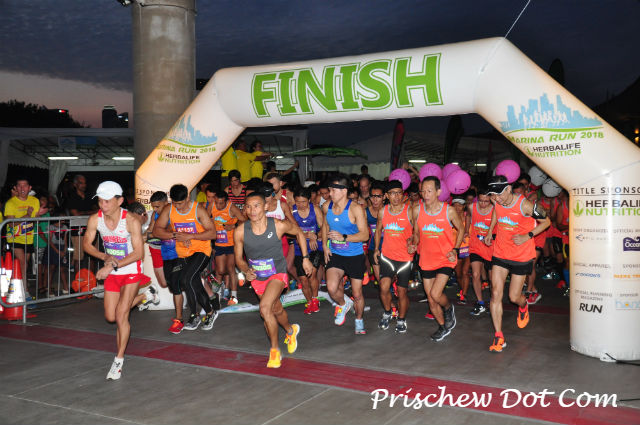 Agreed Cees Brouwer, 46, a banker, "The beginning of the race was a bit chaotic and the starting gantry was a bit narrow."
I think that the reason for this congestion may have been because both the 21.1km and the 30km runners had been flagged off at the same time.
Hydration Stations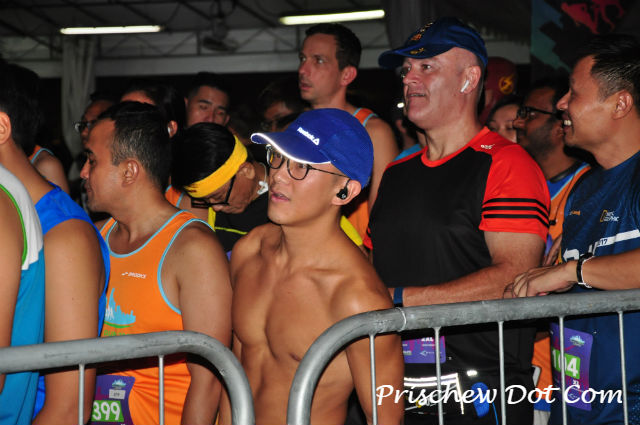 My pace group and I maintained a constant pace of about 6.55 – 7.00 mins per kilometre throughout the race, stopping at all of the water stations except the first one.
There had been altogether eight hydration stations along the 21.1km event. Most of the hydration stations had been spaced about 1.5km to 2km apart, which was good. But there was one station that was quite far from the previous one though; roughly 3km away.
This had been in the early stages of the race, but as I had only taken a quick sip of water at the previous station, it would have been nice if it had been nearer, though.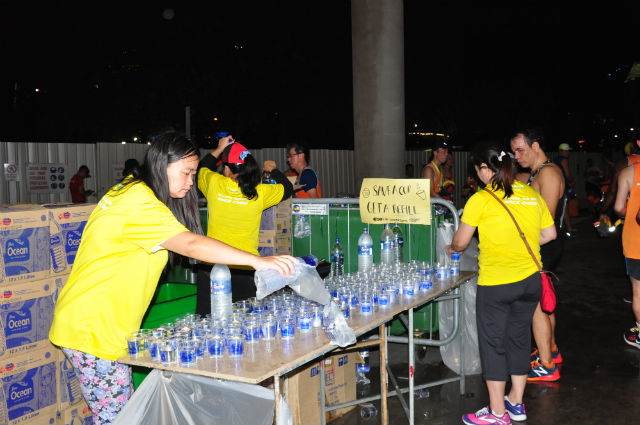 But at least the hydration stations, as Gabby pointed out, were on both sides of the path. She said, "The water stations were very good – in that regardless of whether you were coming in from the left or right sides of the path, you could still get water."
I also think that some of the tables at the hydration stations could have been longer; a few of these were fairly short. So this had created a little bit of crowding and congestion issues, as runners fought to get drinks. For runners who may have wanted to grab their drinks and go, this may have been an issue.
The stations were serving both water as well as Herbalife's CR7 Drive – which some runners around me had mentioned tasted like "cough syrup." But both beverages provided, were ice cold – and that was good.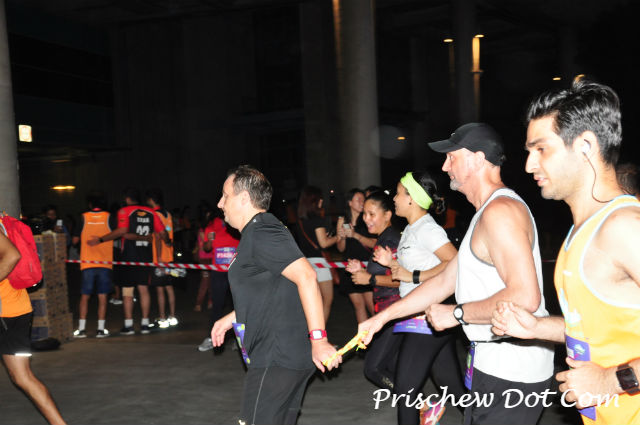 Scenic Route
As promised, the route was a scenic one, taking runners through the Gardens by the Bay, Tanjong Rhu and East Coast Park – one of the most scenic areas in Singapore and it still never fails to impress me, even though this is my regular training ground.
Agreed Gabby, "The scenery was amongst the most beautiful that you can get in Singapore. Running through Marina Bay area at night and seeing the area all lit up at night, was perfect."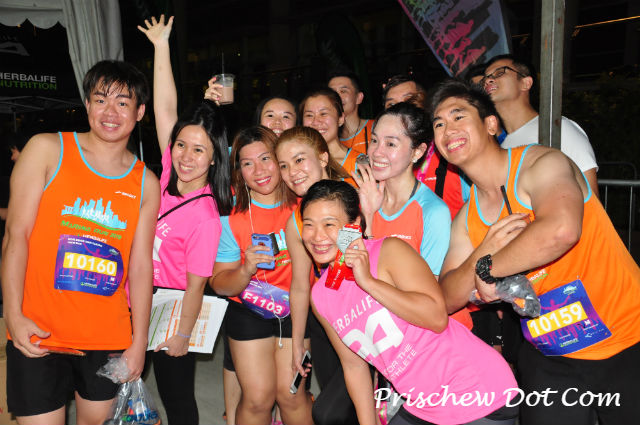 Paths were dark and not well lit
But I also felt that as I ran, some of the paths were slightly dark and not really lit up very well such as the area at the Marina Bay Golf Course.
The ground at certain sections were also a bit bumpy and uneven too; and this meant that runners who were not watching their step could have tripped.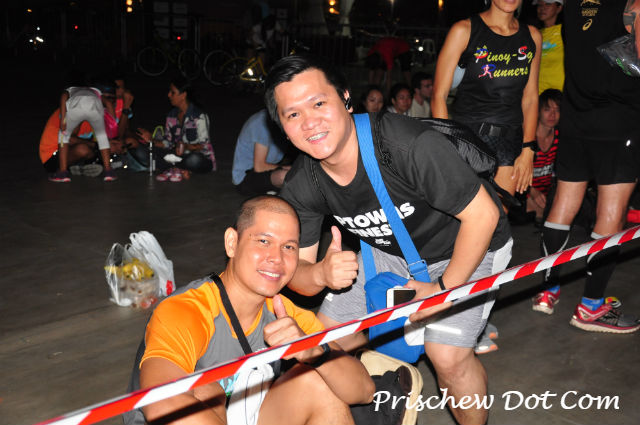 Agreed Cees, "The lighting was a bit dark at times and there were uneven bumps in the road – this was quite dangerous."
Other than the bumpiness though, the route was a rather flat and easy one though, with no inclines or major challenges.
Great weather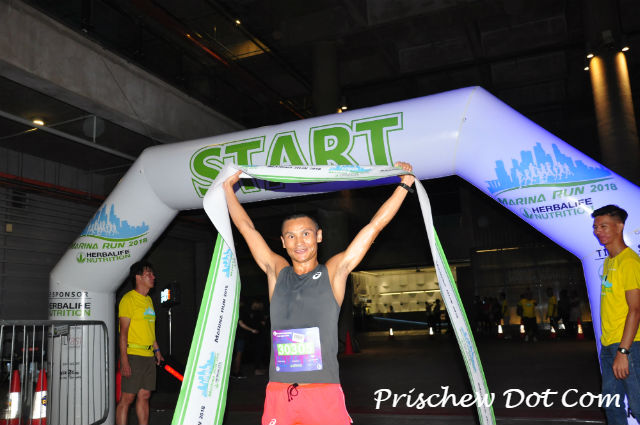 The weather though, was excellent. It was really cooling and breezy and due to this, I had thoroughly enjoyed my run. The stretch at East Coast Park was probably the best, because I could feel the nice sea breeze keeping me cool as I ran.
So this was one of those rare runs where I could actually move without really sweating much. It was also not humid by Singapore standards, too.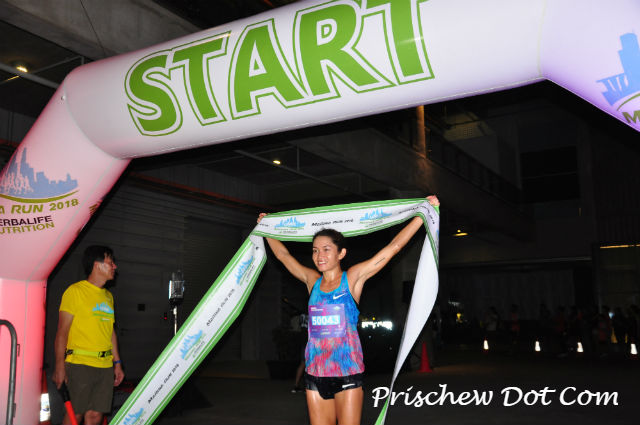 Agreed Sergio Casas Bastor, 22, an aerospace engineer, "This was the best temperature to run here in Singapore."
Marshals were great
Along the way, the marshals also did a great job in guiding runners where to go. For example, this was critical at the u-turn point for the 21.1km race, as the 21.1km runners would make a u-turn at the Singapore Wake Park area, but the 30km runners would continue heading straight. So the marshals had repeated their directions multiple times to ensure that there was nobody could have missed out on hearing it.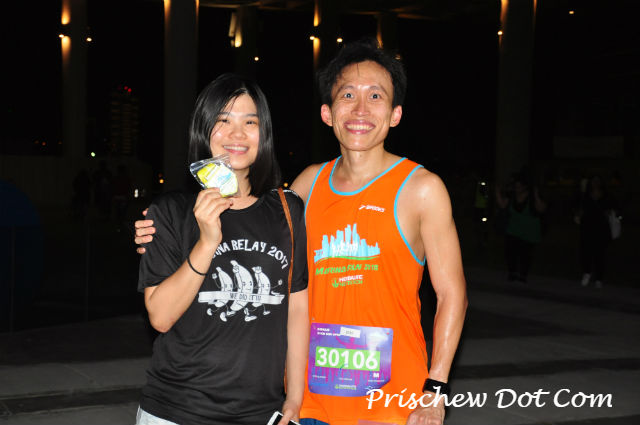 Added Cees, "The marshals were good. The directions were very clear with a lot of volunteers at the corners and on the roadside. It was good."
So this would have greatly helped runners who may have been running on autopilot, to stay on track and not make a wrong turn.
Cheerleaders along the route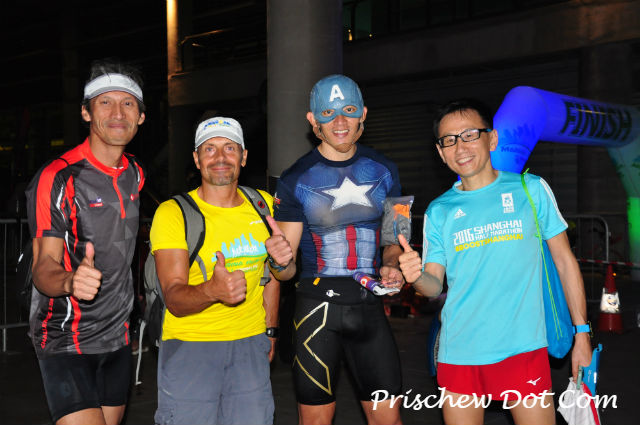 In addition to the marshals, there were also cheerleaders who had motivated runners along the way, in order to give us the energy that we had needed to keep going.
As well, when my group met the other pace groups coming down the opposite side of the road at East Coast Park, we would loudly whistle and clap for each other, in order to create some atmosphere and provide moral support for the runners too.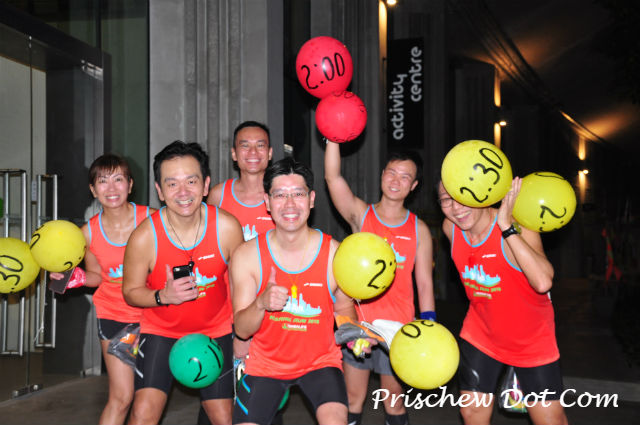 I think that a lot of runners found this motivating, too. Said Gabby, "The cheerleaders and the pacers did a great job to add to the overall feeling and atmosphere of the race."
Kilometre markings and signages
However, as this was a night run, the kilometre markings could have been lit up, and this also applied to the 21.1km u-turn marker.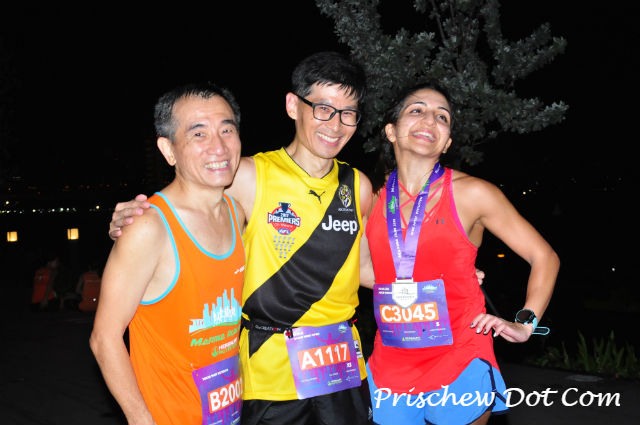 Due to the darkness, I was not able to spot all of the signages in time. So this meant that runners who were relying on these markings to gauge their pace may have needed to squint in the darkness to see each of the markers. It also did not help that the size of the signages had been rather small.
But the ones that I did spot, had been positioned accurately enough, though.
Based on my GPS watch, a couple of the markings were about 300m late whereas others had been slightly early but I think this is still acceptable as the difference was not really much. After all, I guess that I must also allow for discrepancies for my watch, too.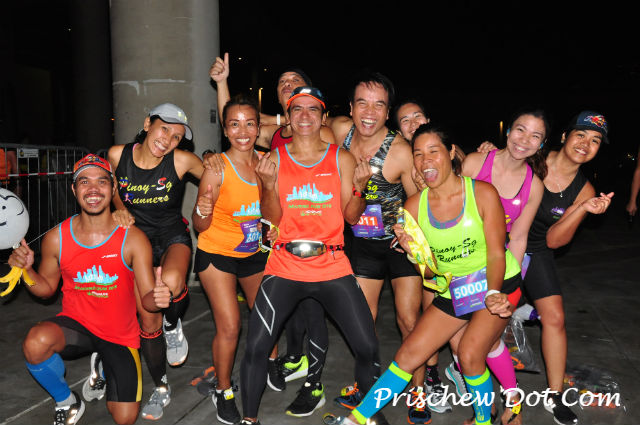 Last few kilometres 
After about 17km of running, the final 4km of the half marathon route took us past the Marina Barrage area, which had been mentally depressing – because this meant that I would be looking at other runners heading to the finish but I still had another 4km left to run.
Fortunately the pace that I had been running throughout the race had been an easy one for me, so I had been still in a great shape physically, to complete the run, thanks to my preparation with heart rate training programme Coached for the past year and the AstaVita Sports supplements that I have been taking.
Finishing the race
My group and I met our target, crossing the finish line in just under 2h 30mins for the 21.1km run, at roughly about 10.05pm. But the most rewarding thing about being a pacer was that we had also managed to help a couple of runners to hit their personal best timings by following us throughout the whole half marathon.
I know the feeling – I have beaten my own limits in running before, by keeping within sight of the official pacers during races myself, so it felt great to be able to give back to the local running community in this way and help others do likewise, too.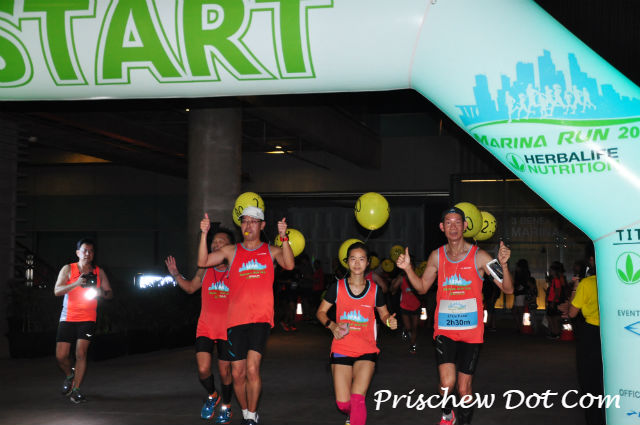 I collected my finisher tee shirt and medal after the run. As well, I also received a banana, in order to replenish my carbohydrate and glucose stores too. I took a cup of water too, to re-hydrate myself and thankfully this too, had been ice cold.
Post Race
Unfortunately though, there was not much to see and do for runners after the race though because the sponsor booths appeared to have been empty.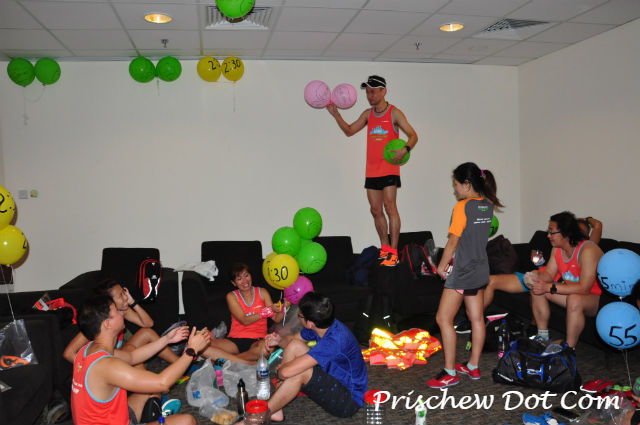 I had been slightly disappointed by this as it would be nice to have a bit more fanfare and atmosphere, to greet me upon my completion.
Around me though, I could see some runners posing and taking photos with their medals and the Marina Run signages – to mark their achievements. But a lot of runners were heading straight off after their race too, as it was also getting rather late by then.
I hung around in the pacer tent for a while and chit-chatted about our race had gone, before then cycling back home.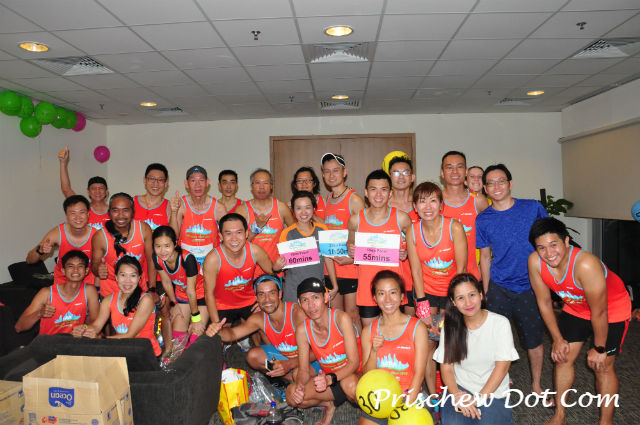 On my way home though the park connectors, I saw a small handful of the tail-end 30km runners still making their way back to the Marina Barrage.
So I did what I could to motivate them to keep on going and to not give up – seeing their efforts had really been a demonstration of the sheer will of the human spirit at its best.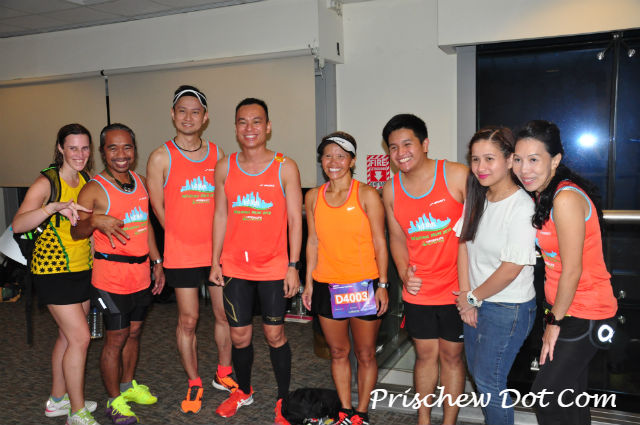 Runners had a great time
Overall, runners had a great time at the Marina Run this year, despite a bit of logistical shortcomings here and there.
Said Gabby, "The race went really well. The circumstances were excellent, the weather was good and I think that the pacers did a very good job – I know this, because I followed one of the pacers."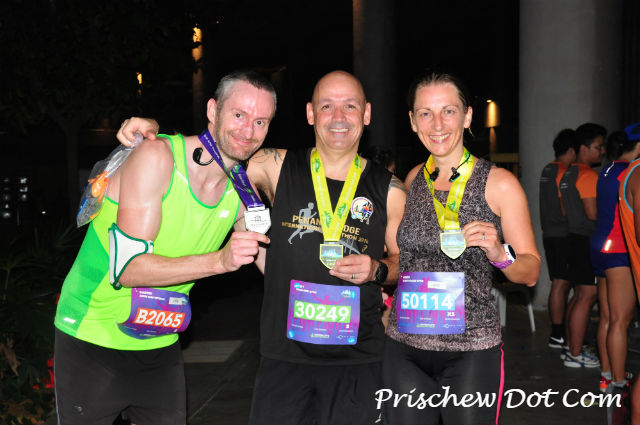 She continued, "Everything was very structured and well organised, beginning with the race pack collection which had been at a nice, central venue. Overall, it was all great and I had plenty of fun."
And agreed Sergio, "I thought that everything had been good on the part of the organisers, and I really enjoyed myself at the run."
Thanks to Herbalife for my race slot for this run.

Click here to view the Herbalife Marina Run 2018 photos.
Share this page with your friends!