Flagging off early this morning at the F1 Pit Building, the YOLO Run is billed as both a fun and performance running event where runners are encouraged to seize the day, not caring what others think, and free themselves of labels, stereotypes, body types and inhibitions. The spirt of the YOLO Run is drawn from the aphorism, "You Only Live Once."
Click here to view the YoloRun 2017 photos.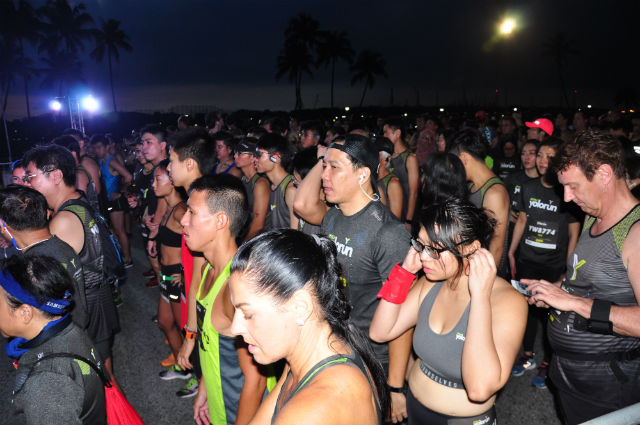 Running shirtless
This action of liberation is signified by runners running shirtless; in fact the race organisers, X-Change Republic, will donate $3 to the Community Chest for every runner who runs shirtless.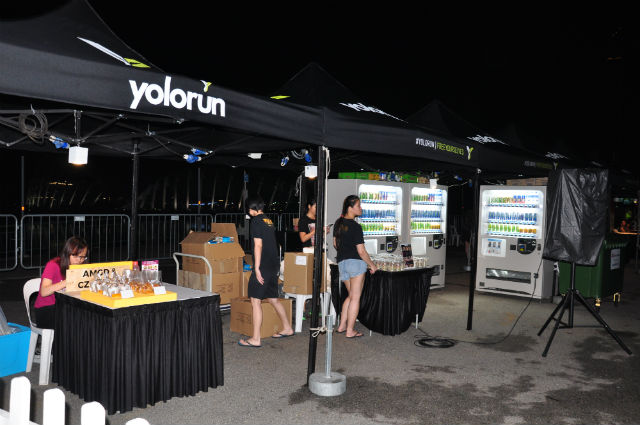 Lois Loriot, 28, an IT engineer was one of the runners who ran the race shirtless. He said, "I ran shirtless because it was advertised on the website to do so. I have never run shirtless before but I think that it is a great idea because Singapore is very hot and humid."
Nicky Daniels was also for the idea of running shirtless, though she sheepishly admitted that she herself did not have the figure to do so. Said the 26 year old elementary school teacher, "I am all for the idea; good for those who are. If you have got it, flaunt it. That is what I have to say."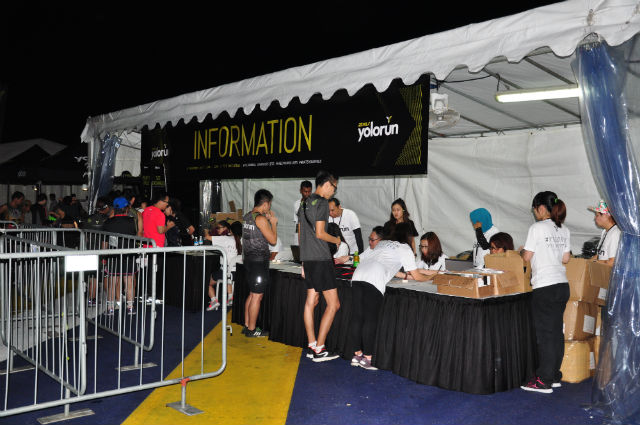 But Jay Doug, a 26 year old high school teacher, however felt that it was counter intuitive for the race organisers to provide a singlet for males and tee shirt for females in the race pack if the idea was for runners to go shirtless.
Said Jay, "I did not run shirtless but I would have if I had known about the $3 donation. But I think it seems counter intuitive if you want people to run shirtless and you give them a tee shirt. Many events I have done, gives runners a finisher tee after the race; so if finisher tees could have been given out to all of the participants instead of race tees, then I think that would have encouraged more to go shirtless."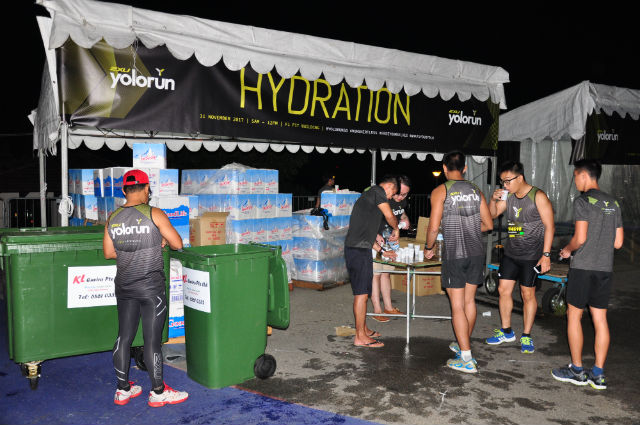 New Half Marathon category for runners
As well, the 2017 edition of the YOLO Run had also introduced a new Half Marathon category, in addition to the pre-existing 5km and 10km categories for runners.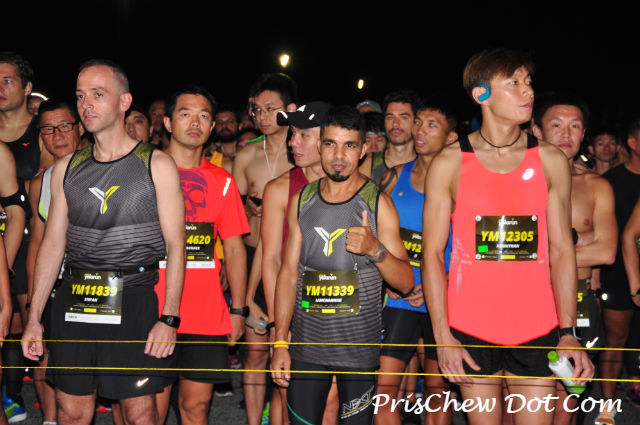 I took part in the 10km Run
Because I would be taking part in the Half Marathon at the Great Eastern Women's Run tomorrow, I had opted to take part in the 10km category instead at the YOLO Run, with the intention of using the race as a warm-up jog.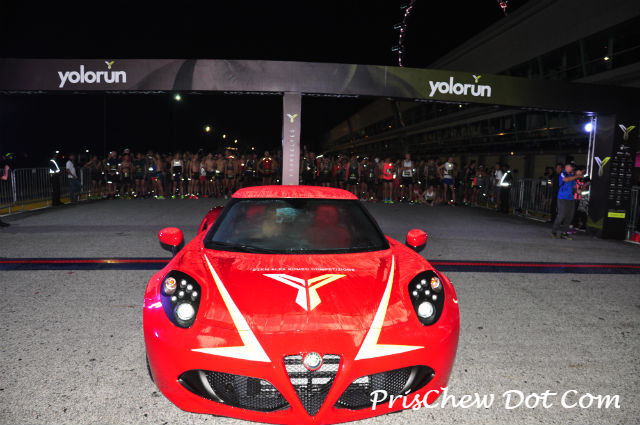 The 10km race was scheduled to flag off at 6.30am, so I had left my house at about 5.30am, aiming to reach the race village with lots of time to spare. I reached there at about 5.45am.
I did not have any issues with transportation as I took a Grab to the event site and the driver had seemed to know where to go.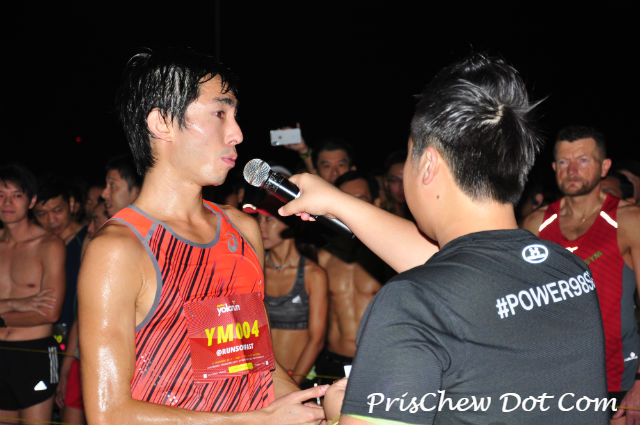 But Jay pointed out that there was no information on the road closures. He said, "We could see the route map ahead of time, but there was no confirmation on exactly what roads were closed, so this meant that we could not really plan our way to the race site properly in the morning."
At the race village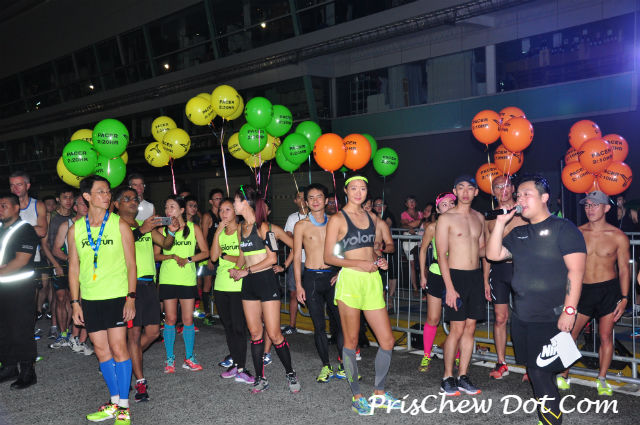 The first thing that I had noticed upon reaching the F1 Pit Building, had been how big the YOLO Run had become. There were already throngs of runners around; I later heard that there were 15,000 runners. The previous year, the YOLO Run had about 5,000 runners taking part. So this had been quite a massive increase in the number of sign ups that the race had attracted.
At 5.45am, the race village had been quite dark and the lighting system could have been better, but I did not really think much of it at that stage though or bother to really look around properly, as I had been focused on my race at that point.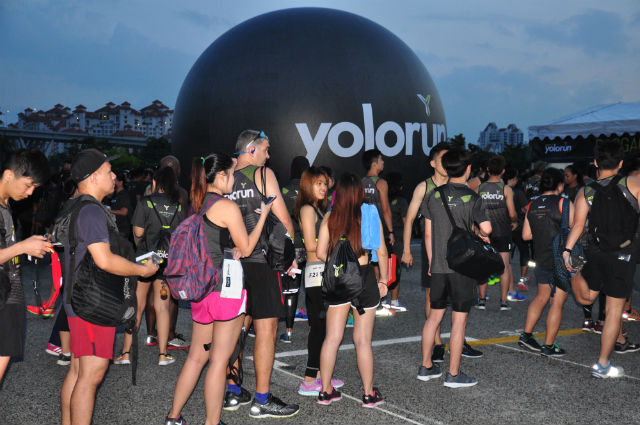 But said Jay, "There was no external lightning when I got to the race village this morning. We attempted to look around but the signages were too dark. People were using their phone light so that they could find their way around."
An hour's delay for the 21.1km run flag off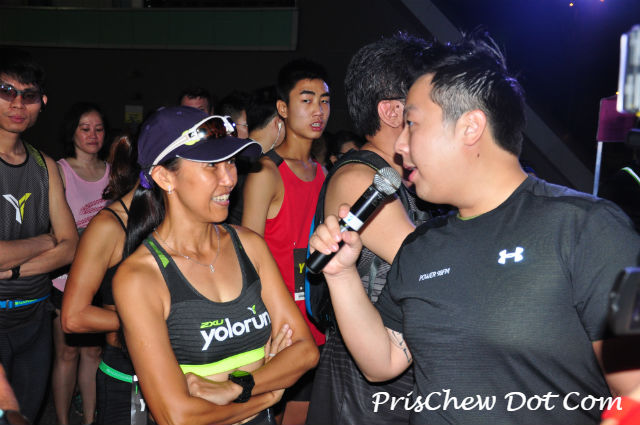 When I had reached the race village, I had also heard that the 21.1km race had not flagged off yet. It was supposed to have flagged off at 5am. But there was apparently an hour delay for the start of the half marathon; it subsequently flagged off at about 5.51am.
Said Lois, who had run the half marathon, "We had almost an hour delay in our flag off because there was an accident at the Sports Hub area that was apparently quite big."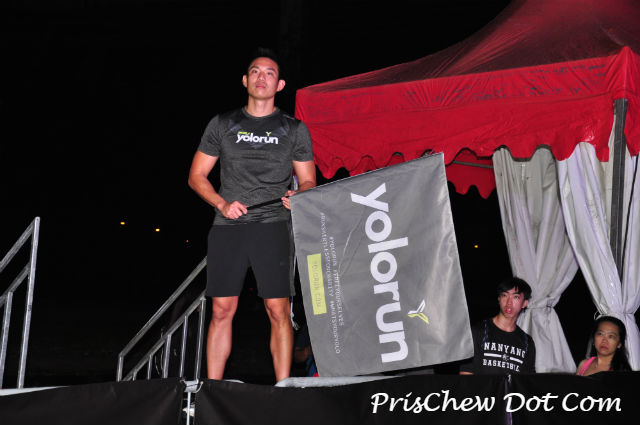 The baggage drop off area, pre-race
Almost immediately, I had headed to the baggage deposit area to drop off my bag.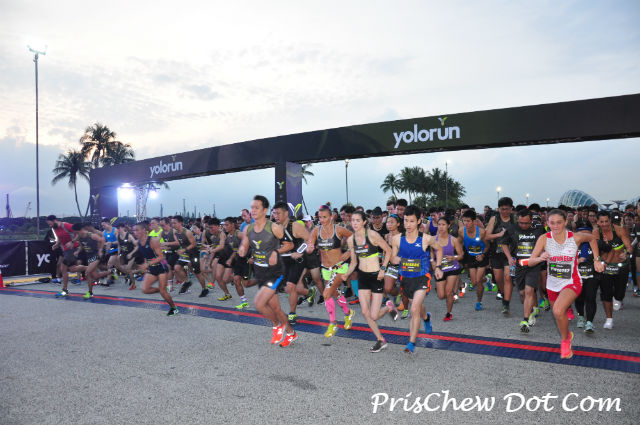 For me, I admit that my baggage drop-off experience went quite well. I managed to deposit my bag in about ten minutes, but when I left the baggage area and headed to the start pen, I saw the queue for runners to drop off their bags growing steadily longer. I thanked my lucky stars that I had arrived just in time to beat the queues.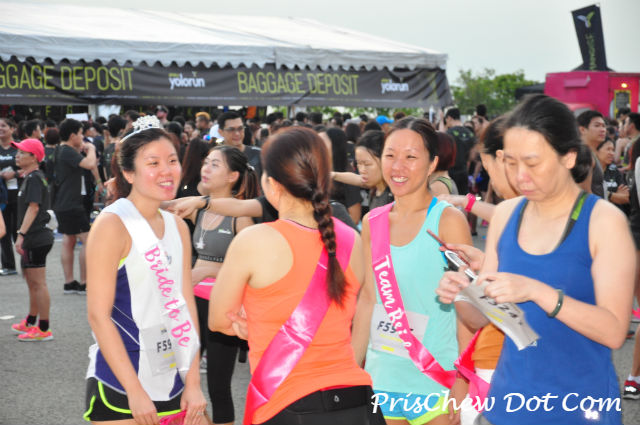 Toilet queues
As I was walking to the start pen, I had also noticed that the toilet queues were quite long. Fortunately for me though, I did not need to relieve myself as I had already done so at home, before leaving my house. So I did not need to join the queues.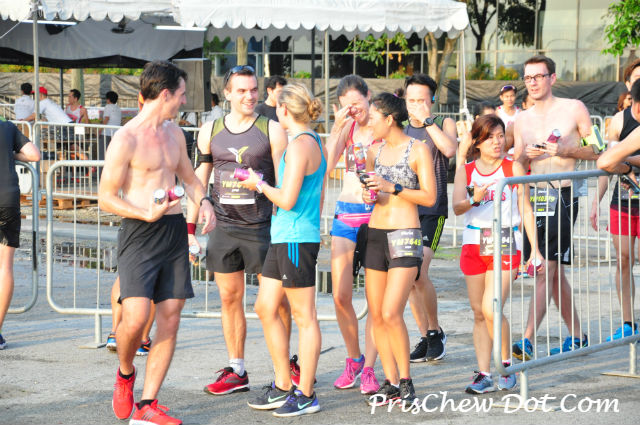 But nonetheless, I had still felt that having more toilets in order to cater to the large numbers of runners would have helped to alleviate the queue situation there, though.
Start pen for 10km opened at 6.15am
I began lining up and getting ready to enter the start pen at about 6.00am. We were let into the starting pen at roughly 6.15am. I walked fast and I managed to get a spot about five or six rows from the front of the pen.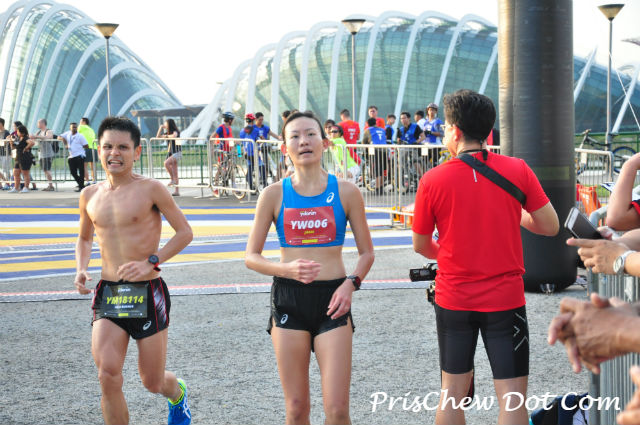 The 10km race had been delayed by about 20 minutes. And according to the race organiser, this was because there was a massive human jam around the Sports Hub area, probably due to the sheer numbers of the 21.1km runners who had been flagged off earlier.
My Run started at 6.50am
Eventually I began my run at 6.50am. Thanks to the wide paths in the first few hundred metres or so, it was not congested and I was able to immediately run at a comfortable pace of about 6.00 – 6.20 mins per kilometre.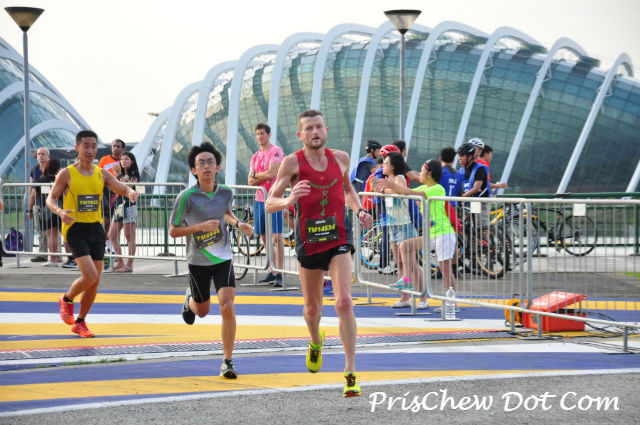 This pace would put my heart rate in the higher end of my Easy zone and at the same time would meet my target of completing the 10km race in just over one hour.
Standard city running route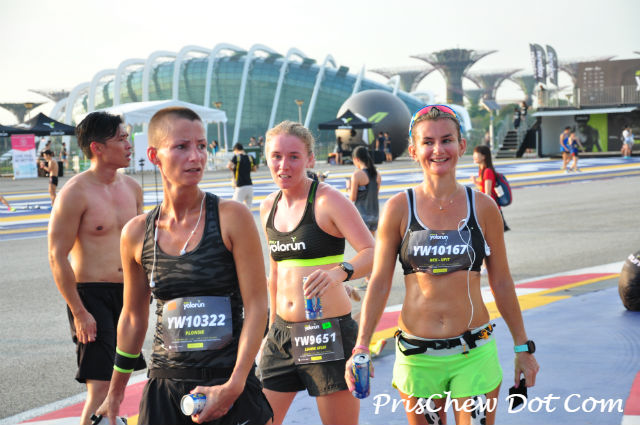 The race route was a standard city running route. The 10km event took runners from the F1 Pit Building and past the Sports Hub, Nicoll Highway and Kallang areas. It was a scenic route that I am generally quite familiar with, as I run it quite often.
Said Nicky, who had run in the 5km race, "It was a beautiful running route with lovely scenery."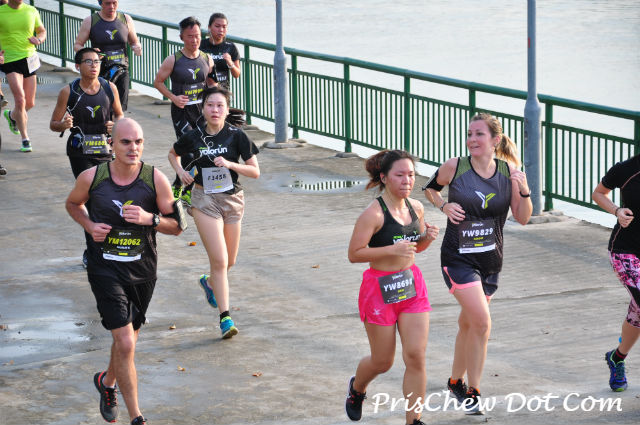 Paths were narrow and there was congestion
However a couple of kilometres into my run though, the paths began to converge together and got really narrow. This had been at the Nicoll Highway bridge, as well as the Geylang park connectors that were around the Sports Hub vicinity. The paths were so narrow that runners were even running in single file at one stage.
And in terms of the narrow paths, too, it also did not help that there had been two lanes of runners – the faster ones who were running away from the Sports Hub and the slower ones who were running towards the Hub. This had further added to the congestion.
Fortunately for me though, I was still able to run and maintain a decent running pace of below 7 minutes per kilometre, as all the runners in front of me were actually running. But I can certainly imagine that all of the runners behind me would have been reduced to a crawl if there had been walkers or else large crowds in front of them.
Said Timo Bertram, 41, an IT consultant, "There was a bit of jam on the bridge and the park connector tracks because everyone was running into each other."
Jay also agreed that the bottleneck and jam at this area had been quite bad. He said, "There was a section that ran along the highway and that caused congestion as people were going off course; going onto the highway also forced the outgoing runners to run in the line of traffic."
Jay continued, "A medic guy had tried to close the lane unofficially but it was still dangerous – runners were jumping over the barriers and onto the actual road. In fact, my wife is still stuck there right now."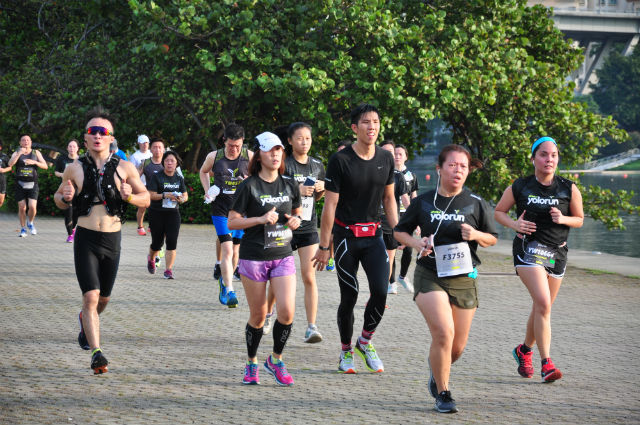 Hydration Points 
In terms of the hydration, I had counted two hydration points. But I did not stop at any of them because I do not really need hydration for 10km. So this did not affect me.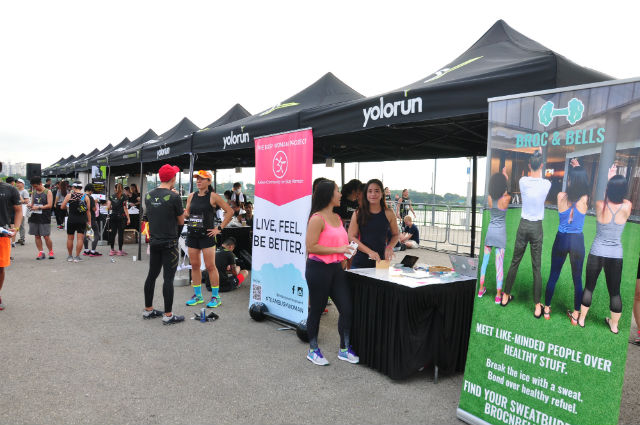 But said Jay, "There was hydration points at incorrect points so runners had to u-turn in order to get hydration and that caused massive queues because people were stopping."
Marshals were attentive 
Nicky had remarked however, that the marshals along the route had been good.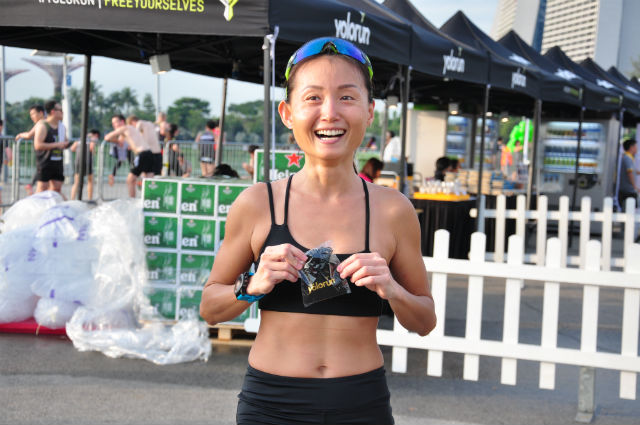 She said, "There were people standing at different points to tell us where to go and I thought that this was really well done."
Kilometer Markings
The kilometre markers were also lacking and the ones that I saw, were not accurately positioned. I could already see the 1km marker after about 300 – 500 metres of running. The markers were also not positioned at every kilometre. And then after about 6km of running, I could see the 9km marker.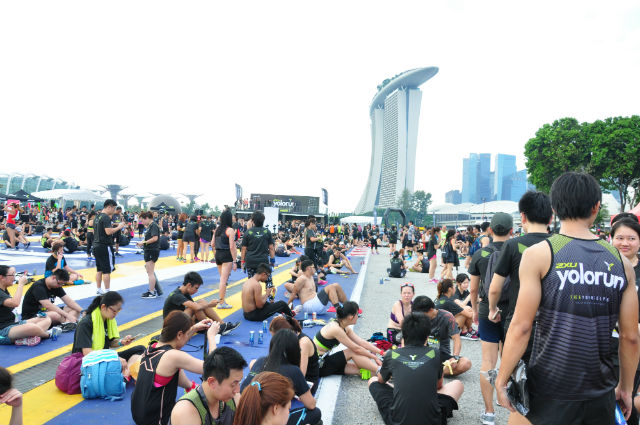 These inaccurate distances began to confuse me slightly, but at that point I thought that maybe the markers had simply been put in the wrong places.
The 10km course was only 7km long
Until I then saw the finish line up ahead… prematurely.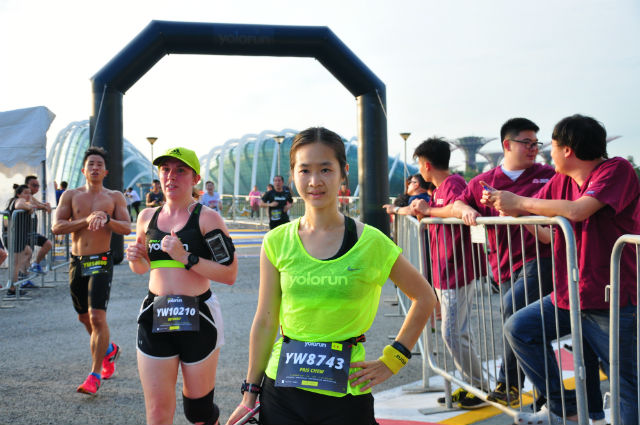 It had turned out that the 10km course was short. My Garmin watch said that I had run only 6.93km. As such, I had been really confused when I reached the finish line and I was wondering whether I had invariably made a wrong turn somewhere.
Just before crossing the finish line, I even asked another runner who was crossing the finish line at around my time, what the reading on her watch was, and she checked and clarified that it was 7km.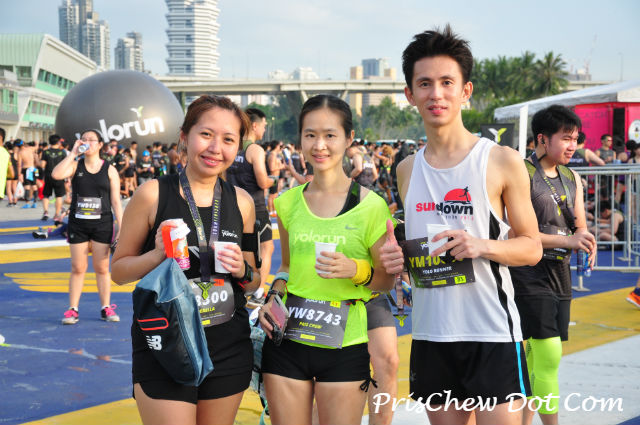 Indeed, it had turned out that all the other 10km runners had the same issue too, when I had later compared my watch readings with that of many of my friends. Even the winners of the 10km race remarked that the course had been 3km short, as well.
Said Timo, "The course was a bit shorter than expected. I did the 10km and ended up running 7km. It left a bad aftertaste in my mouth. I wanted to run 10km and I had paced myself for 10km but if the route was only 7km then I could have run faster. I had more power for another 3km of running."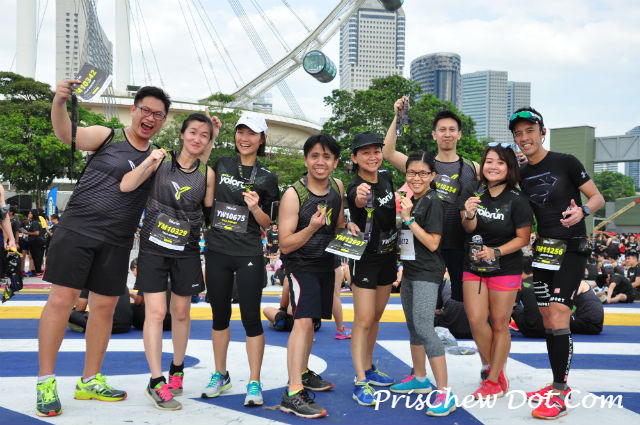 I later heard that the 10km route had been so short – because due to the delays in both the 21.1km and 10km events, the permission for the organiser to use the Singapore Sports Hub as part of the running route had apparently been rescinded.
So the route was invariably cut short instead of being extended to somewhere else at the last minute, to make up for the lost distance.
Due to the missing 3km, I had felt disappointed because I had mentally prepared myself to run 10km today.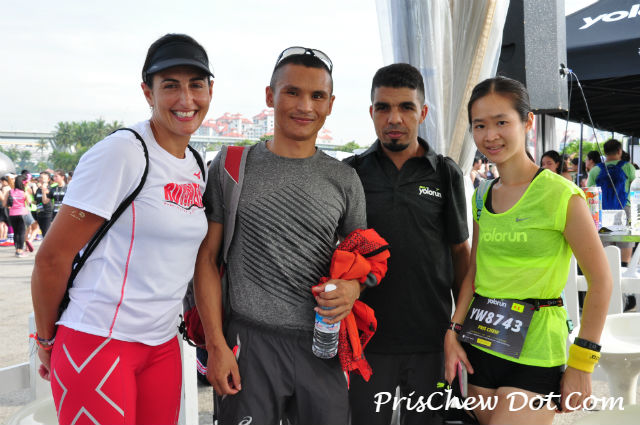 Collecting my finisher entitlements 
I had thought that the design of the finisher medal was quite interesting and artistically done though. It had been coloured black and was in the shape of a "Y." As well, it also came in a small black bag with some gold wordings on it, which had reminded me of a piece of "jewelry."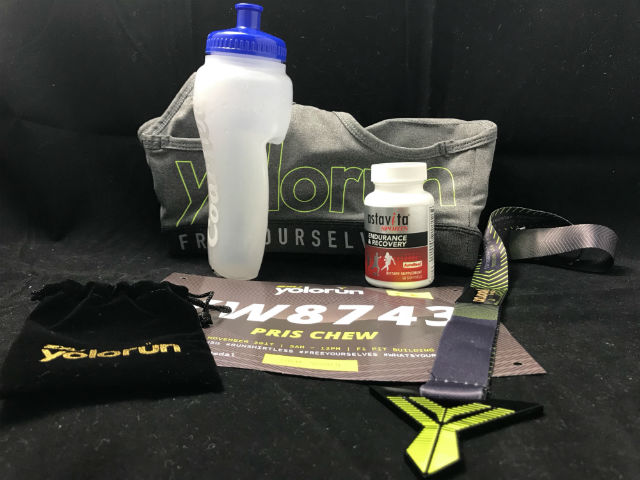 In addition to the medal, I also received a can of Lucozade as well as a can of Ribena. These had been great for quenching my thirst after the race.
There was no queue at all when I had collected my finisher entitlements; I was able to breeze past this area easily. I am no elite runner, but I think that I must have still managed to finish ahead of the majority of the crowds so I had avoided the queues here.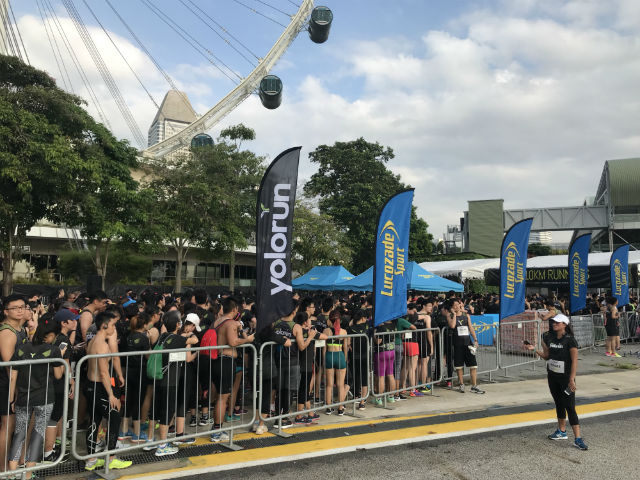 This is because when I had happened to looked back at the finisher area about half an hour later, there had been long snaking queues of finishers waiting to collect their race medals and other entitlements.
The 21.1km course was at least 700 metres too long
It was not only the 10km race that was affected by distance inaccuracies though. I had later heard reports emerging from the 21.1km runners that their race had been about 700 – 900 metres longer than expected.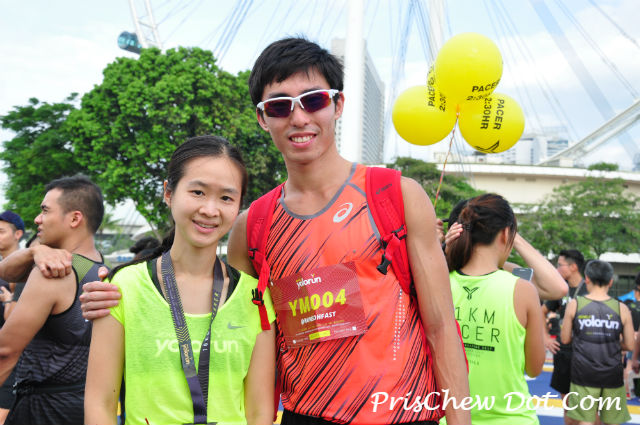 With the 21.1km Alfa Romeo Competizione taking place, this lengthened half marathon distance had left a bad taste in the mouths of not only the regular runners, but also the elite runners who had possibly hoped to walk away with an Alfa Romeo car.
This had been because under the terms of the the Competizione, the fastest male and the fastest female runner, who could finish the 21.1km race under the times of 1hr 9mins 0secs and 1hr 25mins 0secs respectively – without the assistance of illegal drugs and steroids, would win the car.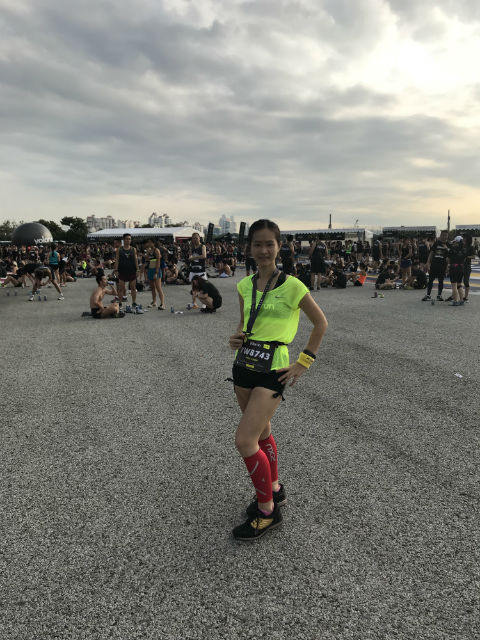 In fact some runners had later joked that the 21.1km course had been made longer on purpose – so that nobody would be able to win the car!
Collecting my baggage
Immediately after that, I then went to the bag deposit and picked up my bag. I was in and out of the non existent queue in about five minutes and I think that I was really lucky to have avoided the worst of the crowds.
I later heard from some other runners that the baggage queues for the collection of runners' bags post race had been about three to four hours long. In fact I could see snaking queues of runners under the burning hot sun when I had left the race village at about 11am.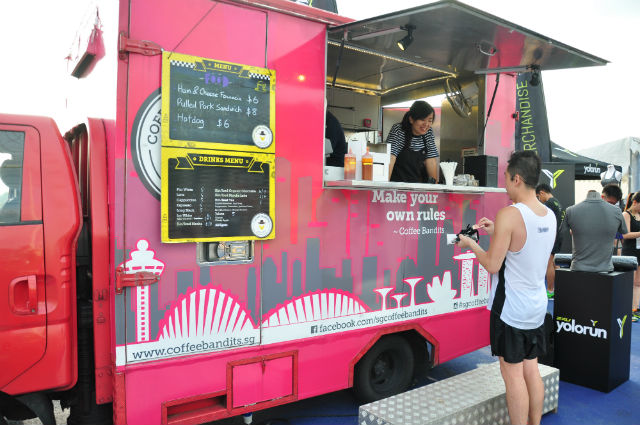 Long queue situation at the earlier race pack collection expo too
But the long queues were not the only issue with the baggage deposit area though, according to many of the runners.
Said Jay, "There was a small bag area for all the runners. As a result it was overflowing and people's stuff were left out in the open because it could not fit. So if it had rained, then things would get wet. That had been poorly managed."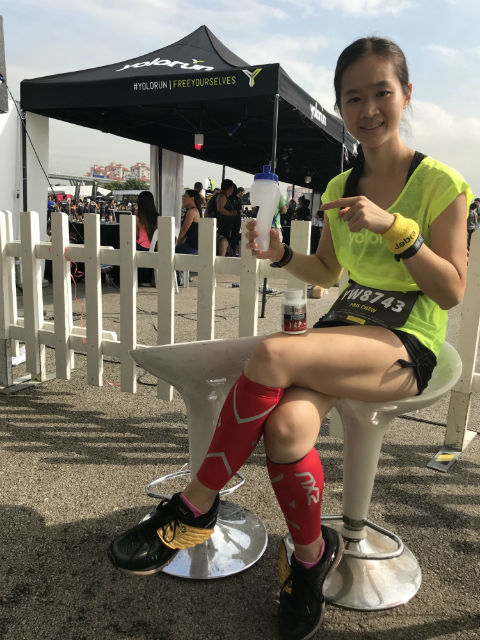 It was not only the baggage collection queues on race day that were long. I had heard too, that the race pack collection expo – which had taken place the previous weekend at Suntec City for runners to pick up their race bibs, also had massive queues.
But I have to admit that this did not affect me though, because I had picked up my race pack on the evening of the third day, and as a result, I zipped in and out of the pack collection within about five minutes.
Lois also did not face any queues at the event's race pack collection expo. He said, "There were five to six dates to come and pick up our race packs. So when I took my pack and bib, it was empty and there had been nobody there."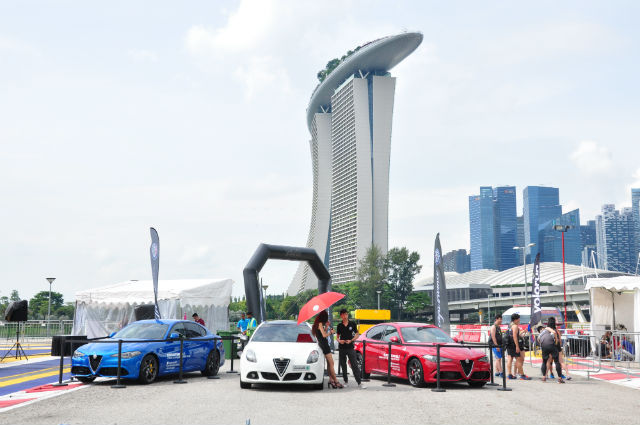 But many other runners though, who had turned up on the first two days however, had reported that they had to wait for several hours in order to pick up their packs. As a result, there had been many complaints on the event organiser's Facebook page regarding this, too.
Great post race carnival 
But the post race carnival had been quite nice though, with lots for runners to see and do after the run. There was delicious food available for purchase including spiced nuts and muffins, as well as packaged healthy meals. These had been quite nice to satisfy runners' hunger pangs after their early morning run.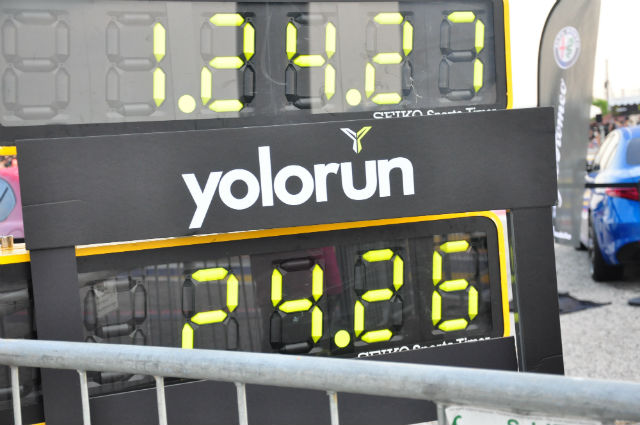 As well, runners could enjoy a session of post race yoga, which had been led by yoga personality Jasmine Cheong from The Yoga Lab. Though I usually do not do yoga as I am not so good at it, it's a great idea to fuse yoga together with running, to improve the flexibility of a runner's muscles and joints.
Agreed Lois, "I've never tried yoga before but I have heard that it's a good type of cross training for runners. So maybe I should try it!"
Additionally, runners could also purchase YOLO Run merchandise such as singlets, tee shirts and sports bras. I had a look at what was available and bought three of the 2XU sports bras for $39, which I had thought was a great deal!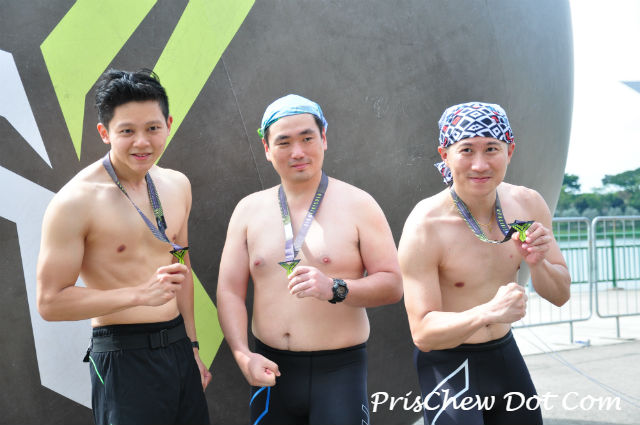 Said Timo, "It was great to look round the carnival and also chill out there a bit."
Lucky draw did not happen
The whole event was supposed to end with a lucky draw where the first prize was a run-cation to take part in the Blackmore's Sydney Marathon Festival. This was scheduled to take place at 10.45am and, eager to win the top prize, I had waited till then.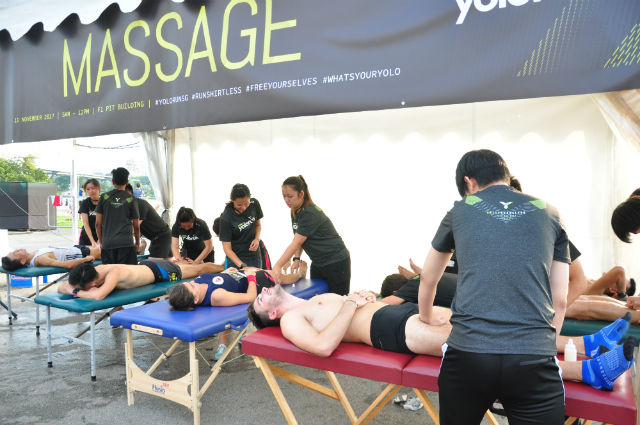 However at 11am, the organiser announced that they would not be conducting the lucky draw at the race site. Instead this would be taking place on Facebook Live sometime later during the week. This too, had left quite a bad taste of disappointment in my mouth.

Share this page with your friends!