The registrations for Income Eco Run 2017 has been extended to Sunday, 9 April 11.59pm. All categories – the 21.1km Competitive Run, 10km Competitive Run, 10km Team Category, and 800m Kids Dash are available.
The Income Eco Run takes place on Sunday, 30 April at the Formula One Pit Building and those interested can register for the race at www.incomeecorun.sg.
South East Asia's premier eco-run which champions environmental conservation and aims to raise awareness for everyone to play their part in supporting the cause, the run was re-named Income Eco Run this year – to step up the ante on bringing runners closer to the eco-friendly agenda. Runners are encouraged to run towards Zero Waste. The run used to be called NTUC Income Run 350.
Registration Fees
Registration fees start at $48 for the 10km Competitive Run and $58 for the 21.1km Competitive Run. The team category starts from $200 per team and for the 800m Kids Dash, fees start at $20.
Here is a full table of the registration rates.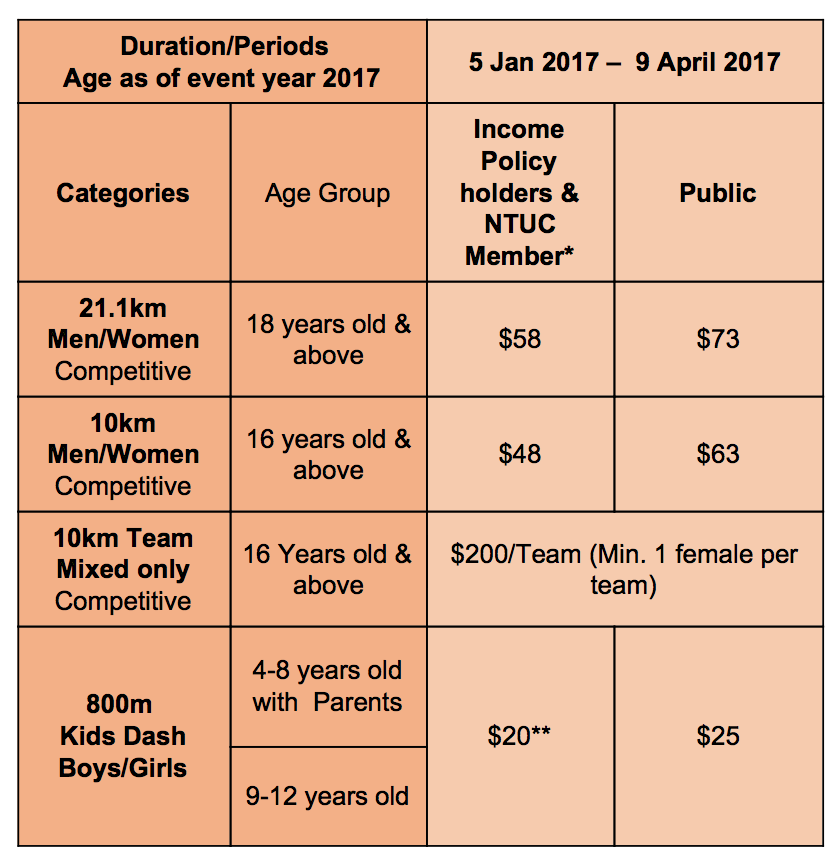 Farmer's Market 
And for the Race Pack Collection, more than 30 vendors will be brought together, in the largest Farmer's Market organised in collaboration with a running event. The Farmer's Market will see vendors such as Edible Garden City, which grows organic vegetable produce, Husk's Wave, that sells sustainable wares, and Zhai, an eco-friendly clothing retailer.
Income Eco Run hopes that the Farmer's Market will be a platform that gathers and supports local businesses and eco-entrepreneurs and is organised to help runners and members of the public, to adopt a healthy and eco-friendly lifestyle.
Market takes place at the F1 Pit Building
The Farmer's Market event, which takes place at the F1 Pit Building from 14 – 16 April, is free of charge and open to the public from 11am – 7pm. Those who are keen to be a part of the race and run towards Zero Waste, can also sign up on-site at the F1 Pit Building.

Share this page with your friends!