Participants can now register for the 2016 edition of the New Balance Run On.
Psst! And you can now get 10 per cent off if you register using PrisChew Dot Com's promo code. Scroll to the bottom for more.
7km run at Gardens by the bay East
A 7km run taking place on 20 August at Gardens by the Bay East with an additional optional 1km available, participants can once again look forward to the free-flow of beer and food at the post-race carnival that made last year's edition a resounding success, according to the organiser.
Types of f&b items at the carnival on race day that NB Run On runners can look forward to, will include craft beer from award-winning premium brand Wunderbar, as well as ice cream, truffle fries and a whole lot of other delicious snacks.
Music Performances 
Besides the free food on site, the NB Run On participants can also look forward to plenty of fabulous music performances at no additional charges. These include:
•Local band Riot !n Magenta – which will be weaving together the powerhouse vocals of Eugenia Yip with the mellow synths of Hayashida Ken, and the tight, precise rhythms of Khairyl Hashim (guitar), Sulaiman Supian (bass), Ritz Ang (drums) and
•Live DJ sets by A/K/A (ATTAGIRL!).
Race Pack Collection
At the same time, participants can also look forward to a very different experience at the Race Pack Collection on 13 and 14 August.
This is because The Local People – a Singaporean handicraft artisanal group, will showcase their beautifully stitched and carved products to runners. They will also be the brainchild behind some quirky installations and a laid-back lounge at the race pack collection exhibition – to be held at the School of the Arts Singapore.
Training Runs
Fun and lively Training Runs will also be organised later – to prepare runners for the NB Run On event.
The details will be announced later.
Get 10 per cent off with PrisChew Dot Com
Early Bird Registration has now ended.
But bonus! You can get 10 PER CENT OFF if you register for the race using PRISCHEW DOT COM'S special promo code.
The code is
 TNSPEC001
So this means that with this promo code, the prices of the race will be $40.50 for individual adult entries and $154.80 for group registrations of four runners.
Normal Registration Fees are as follows.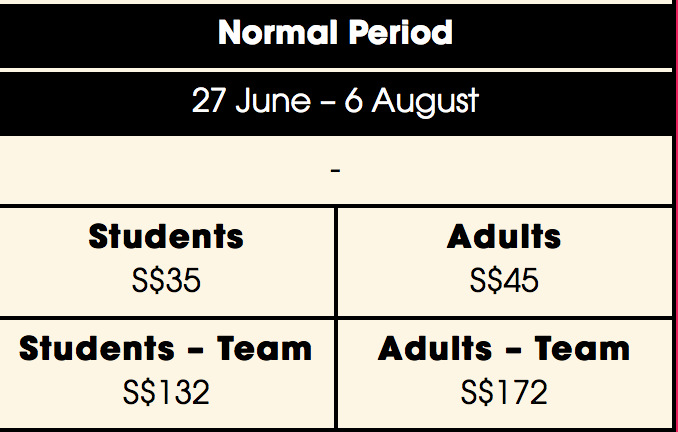 Register for the race at
https://www.digitalracesolutions.com.sg/cgi-bin/registration/runonsg2016/prereg.cgi
Find out more about the NB Run On race at:
Click Here to read my earlier blog post on the 2016 NB Run On.

Share this page with your friends!