Organised by the Central Singapore CDC and Ang Mo Kio-Hougang CCC, the Run For Good Durian 5km Run is an initiative that is targeted at encouraging the community to contribute back to society through healthy lifestyle habits such as running.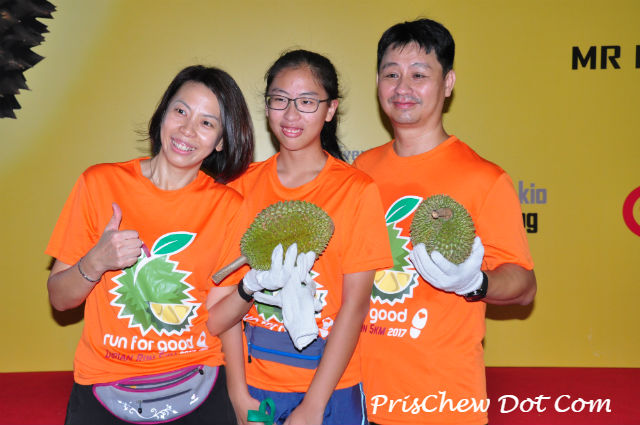 First themed run taking place in Hougang
Taking place in Hougang, the Run For Good Durian 5km Run is the first themed run in the area, giving runners the unique opportunity to experience running a race while carrying a durian at the same time.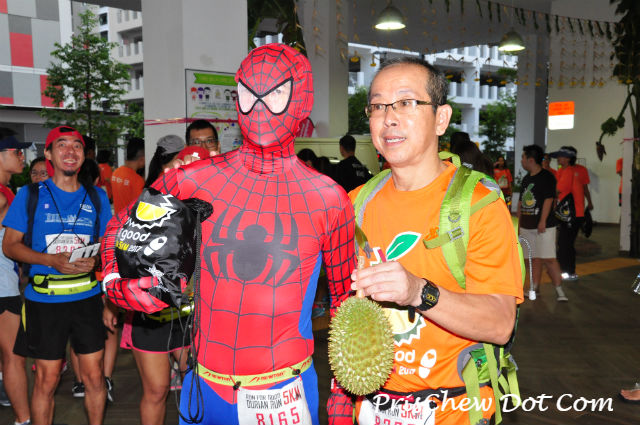 The event had been a sell-out crowd, attracting about 500 runners. Fees collected for the race, went to the Ang Mo Kio-Hougang CCC Community Development and Welfare Fund.
The event was attended by Darryl David, Grassroots Advisor and Member of Parliament for Ang Mo Kio GRC. He was the guest of honour for the event and had helped to flag off the fun run.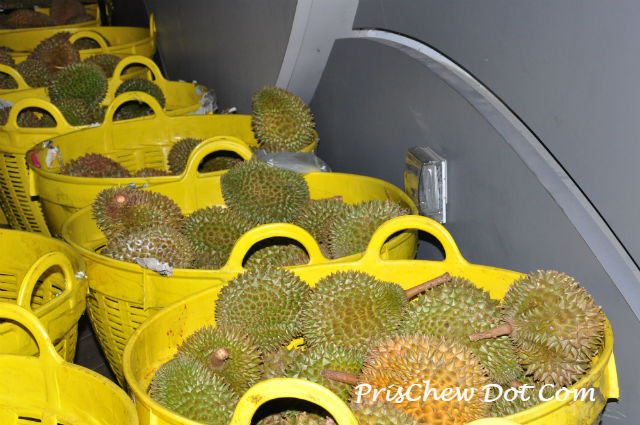 Said David, 46, "The team had wanted to do the run for a good cause, so we had a charity element to the event, thanks to funding from the Central Singapore CDC. We were also fortunate to have a generous patriot to subsidise the cost, as durians are not cheap."
Runners had a great and enjoyable time
And for the runners participating in the event, many of them had a great time and thought that the event was rather enjoyable. Said Habib bin Mohamed Ismail, 53, a HR Executive in Manufacturing R&D, "It was fun; something different and unique. You can also see passers-by watching you and thinking, hey why are these people carrying a durian to run?"
He added, "But it was just a fun run, and we were not competitive; we simply enjoyed the run in a group, and did not really push each other to run hard or anything. That had made it quite a memorable experience."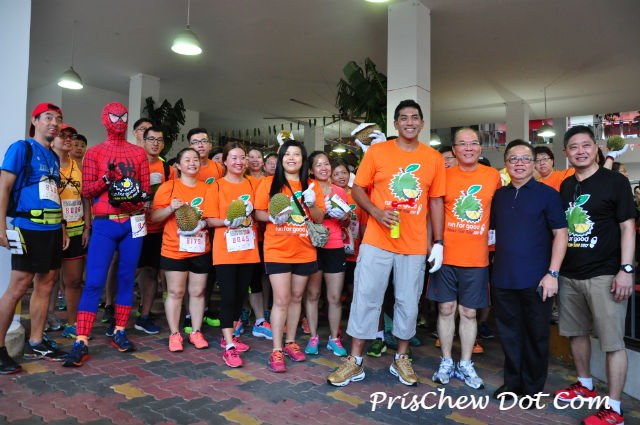 Carrying the durians
Wong Kirk Chuan, 44, a general practitioner,  added, "It was very funny because I think everyone was carrying the durian in so many different ways. Some had it in a backpack but others put it into a masak masak bag. We did not dare carry it in our hands otherwise we would get poked! But it wasn't really hard to carry the durian to run, though."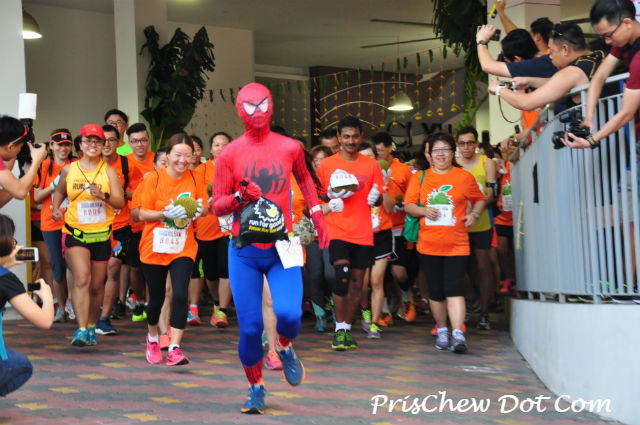 He continued, "Originally I wanted to tie the durian with rafia, but then I tried it and I think it did not work because it would swing and knock my legs. So I decided to put it into a backpack. The race concept was very fun and the atmosphere was very well done; I like how we are eating durians together. It's great."
Also putting her durian into a pack, was Clarine Lee, 29, who works in health care marketing. She said, "I carried mine in a backpack. Some of my friends carried theirs in their hands. I didn't have any problems carrying the durian; I think that for short distances like this, it is ok and still quite fun. But if we had run for any longer, it would be a challenge to carry the extra weight. I would definitely be taking part in such events again though."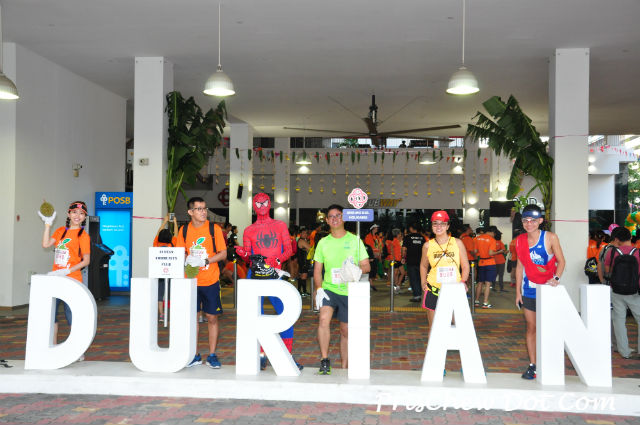 She added, "But of course, the best part was to enjoy the durian after the run; we were all pretty hungry and the durian had tasted really nice."
Made her hands tired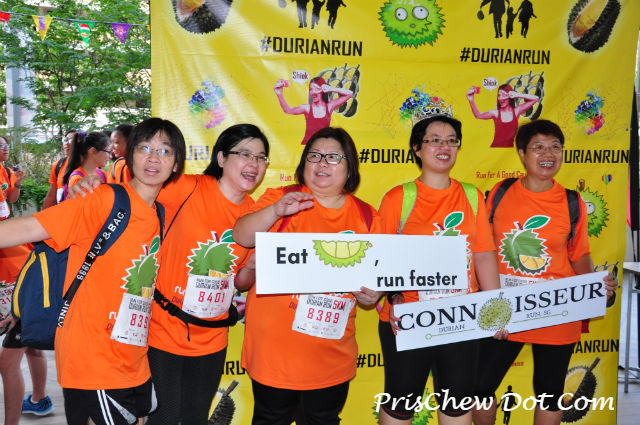 However Evelyn Yong, 53, a Chemistry teacher at a polytechnic, admitted that carting the durian along for the run, had made her hands constantly feel quite tired. She said, "It was quite fun lah, but my hands were tired. It wasn't the legs, but the hands. 5km was still doable though. I used a basket to carry my durian and had an extra plastic bag, in case it poked through and came out of the basket."
She added "But the weight was holding me down as I was running, and so I had to use both hands or keep on changing its position. But this is definitely an interesting concept. Everyone here was also so friendly and the community spirit was really high. Everyone was in the mood for a run."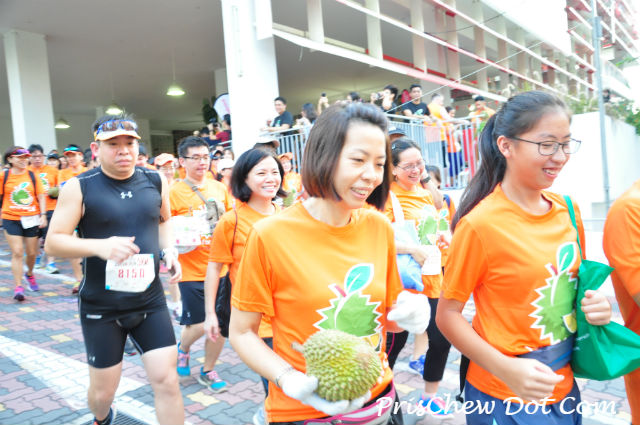 Possible Improvements 
Evelyn though, pointed out that it would have been more interesting if the organiser could have trumped up the durian focal point more, for example, by having participants suggest creative ideas on how to carry their fruits on Facebook, and giving away prizes to the most creative suggestions.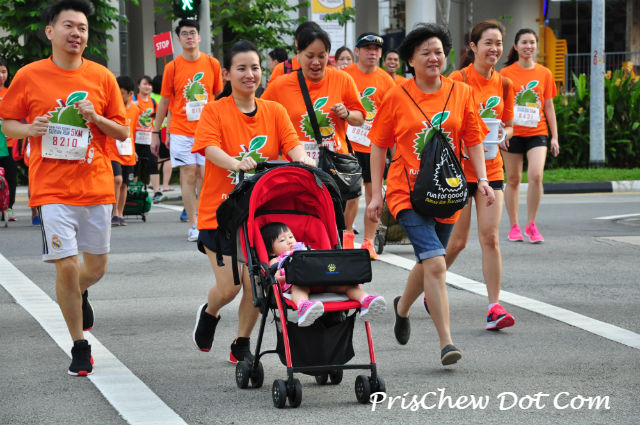 She said, "There was a video on how to be creative with the durians at the end; I thunk that should have been done before the run instead. Or they could have had a contest where runners submit ways of carrying their durians, and get people to demonstrate these methods out, one or two weeks prior to the race day. Durian Run is a fun run, so more fun elements would have been great."
She added, "There could also have been prizes, for the best carrier of the durian, to keep more people motivated to try out new things and come up with ideas that are out of the box."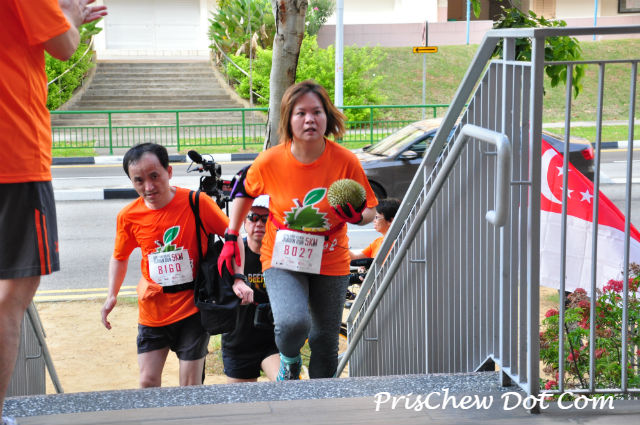 Kirk Chuan also had improvements for the run; he felt that it may have been better to organise the event in the city and not the heartland area. He said, "This time round, we toured the heartlands and it was nice, but next time having it in the city would be more scenic. And while 5km was just the right distance, perhaps there could be a 10km option next time, as well."

Other blog posts
Share this page with your friends!