Last evening, Income Eco Run launched the #RUNHOMESG initiative to plenty of fanfare at One Marina Boulevard – to encourage everyone to pick up running as an alternative mode of transport.
#RUNHOMESG aims to reduce carbon footprint
An eco movement, #RUNHOMESG aims to reduce carbon footprint, in support of the Income Eco Run's quest to run towards zero waste. Income hopes to clock 10,000km by 27 April 2018 – this is equivalent to 486 litres of fuel and can power up a four room flat for up to three months.
10 Runners will be rewarded each month
To encourage runners to make their daily commute by running, Income Eco Run is rewarding 10 runners every month, from January to March, who post their #RUNHOMESG routes on the #RUNHOMESG Facebook group.
But the prizes that are available, have yet to be announced, though.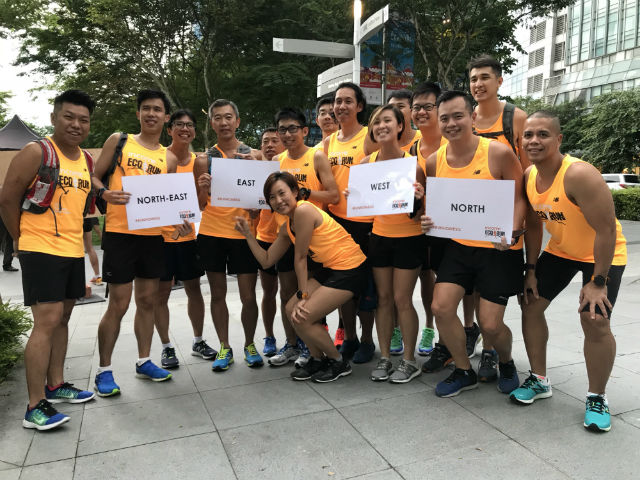 Runners can choose to use whatever running app they want to record their runs, be it Strava, Garmin Connect, Runister, RunKeeper or MapMyRun.
Cause is meaningful to illustrator and green enthusiast, Lydia Yang
The #RUNHOMESG initiative and the cause behind the Income Eco Run is meaningful to Lydia Yang – an illustrator with Oak & Bindi and a green enthusiast who will be taking part in the Income Eco Run as a Zero Waste Runner.
The Zero Waste Runner initiative was introduced at last year Income Eco Run event to resounding success. Zero Waste Runners forego their runner entitlements of the finisher medal and tee shirt and will receive a special running singlet to mark them as Zero Waste Runners.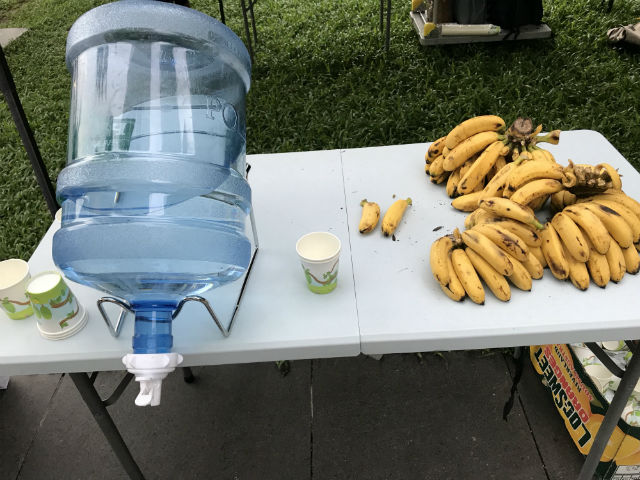 Lydia said "The idea of thousands of people moving and running together, carrying the message of Run Towards Zero Waste, is symbolic and impactful to me."
#RUNHOMESG started at 6.30pm
The #RUNHOMESG event had started at 6.30pm and runners were tasked with heading off on four guided routes towards major landmarks such as Kallang River, East Coast Park, Old Tanjong Pagar Railway Station and MacRitchie Reservoir in the North, East, North-East and West regions of Singapore.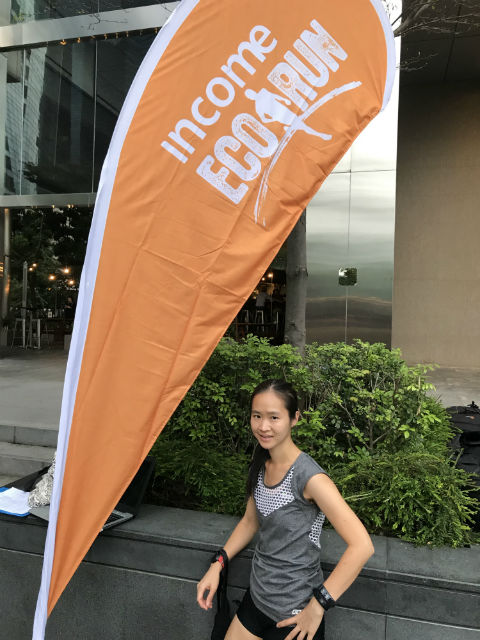 Runners had been led by pacers from Running Department, the official pace group for the Income Eco Run.
When I reached the start point, which was the open space outside One Marina Boulevard, there was already quite a number of runners present and more were still trickling in. About 100 runners had turned up altogether for the event.
Each runner's attendance was taken, and the organisers also took down the route that we had wanted to run. I chose the East route, as this one was the most convenient one to get to my house.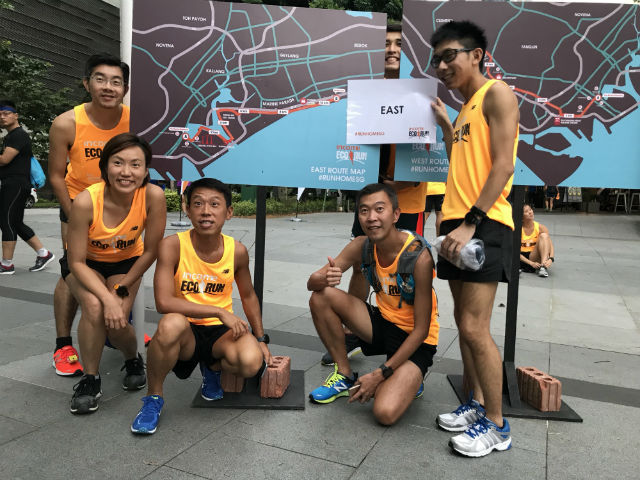 After an easy group warm up conducted by the emcee to relax our muscles and get us ready to run, we were flagged off in groups, beginning with the North-East group. The East group was the second group to depart.
The East Route
The East route was a simple one though the park connectors. We were led from One Marina Boulevard though the Promontory @ Marina Bay, Marina Barrage, Gardens by the Bay East and then to East Coast Park.
The official running route, which measured about 10km, had ended at Marine Cove. From there, runners staying around the Marine Parade vicinity could choose to end their run.
Or else those who were living further East, such as at Kembangan, Bedok or Tampines, could head to Kembangan MRT Station where they could either take the train home, or continue their commute via rental bicycles such as OBike or Ofo.
Income Eco Run could also encourage runners to commute by bike, instead of MRT
Personally though, I thought that if Income Eco Run had wanted runners to reduce their carbon footprint, they could encourage those who live far away from their offices, to perhaps run part of the way home and use rental bicycles for the remainder of the distance.
With rental bikes being so prominently available these days, it's hard to make up excuses these days, that you don't own a bicycle.
Also, it must be noted that even traveling by public transport such as the MRT and the bus, is still not as green or eco-friendly as using human power such as your legs or a bicycle, to get around.
An Enjoyable Run
Nevertheless, I had thought that it was quite an enjoyable run. None of us really knew each other, but everyone was in a rather friendly and chatty mood and we were running at an easy pace, talking about all mundane things under the sun as we were running.
Topics had included our upcoming races, marathons in Japan, our jobs, whether we have used running as a form of commuting before, and so on. After all, a time frame of 1h 13mins – which had been the length of the time for our easy run, provided plenty of chances to engage in idle chit-chat!
As such, I got to find out more about the runners who had been running together with me and it was nice to have so many people from all walks of life, bonded by our common interest in running.
Pacers were helpful
During our run, the Income Eco Run pacers had also helpfully pointed out the water and toilet points to us. This was useful so that runners could relieve their bladder or else top up their water bottles.
Took a group photo before we departed
To mark the inaugural #RUNHOMESG session, we took a group photo at Marine Cove upon reaching our destination, before the runners went their separate ways to continue on their individual journeys home.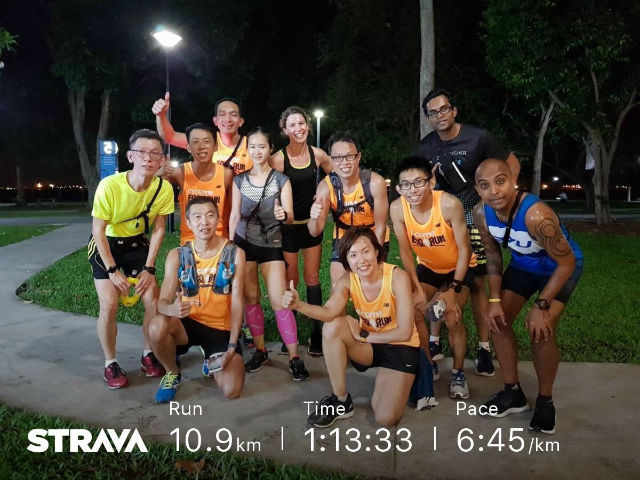 Income Eco Run takes place on 29 April 
Income Eco Run takes place on 29 April 2018 at the F1 Pit Building. For more information and to register for the race, head to https://incomeecorun.sg.

Share this page with your friends!