More than 300 runners took part in the second round of the Running Clinics organised by Dirigo Events for the Standard Chartered KL Marathon (SCKLM), over the last weekend. On Saturday, a Junior Running Clinic was held for those aged between 6 – 12 years old and on Sunday, a General Running Clinic was held for those running their first Half Marathon distance.
Said Rainer Biemans, Director of Dirigo Events and Project Director at SCKLM, "We are delighted that the clinics are gaining more traction from participants. We were one of the first running events in Malaysia to start organising Running Clinics in 2009 with an average of 50 participants and we are now starting to see bigger interest in these clinics."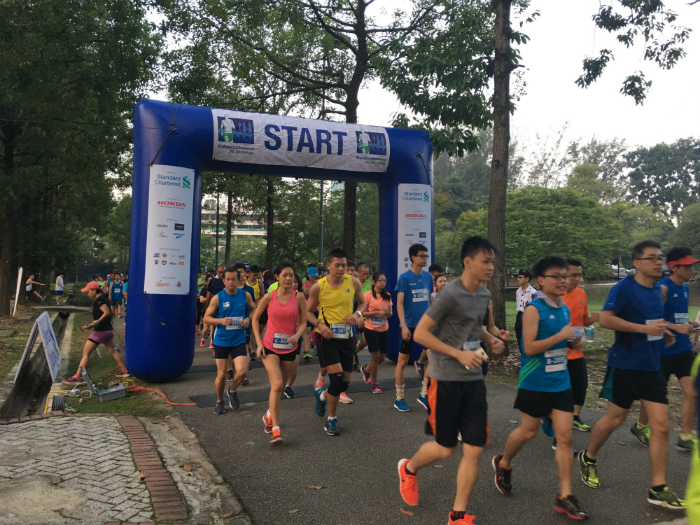 He added, "More runners are starting to recognise the importance of the correct running and training techniques and find these clinics useful, as they can also get all of their questions answered by our running coach, Mark Williams."
Saturday's Junior Running Clinic
Saturday's Junior Running Clinic at the MSN Sports Centre, Setiawangsa, got to a wet start as a brief downpour threatened to put a damper on proceedings and it was halted, but once the rain stopped, the clinic resumed. This clinic was broken into two categories to cater to both those taking part in the 1km Dash (aged 6 – 9) and the 3km Dash (aged 10 – 12).
Said Coach Mark Williams, "It's great to see the kids taking an interest in running and more gratifying when they show improvement. Some of these kids need a great deal of work to unlearn bad habits they have picked up in terms of their posture, stride, cadence and so on, but a few are natural runners who can go far with the right support and encouragement."
General Running Clinic on Sunday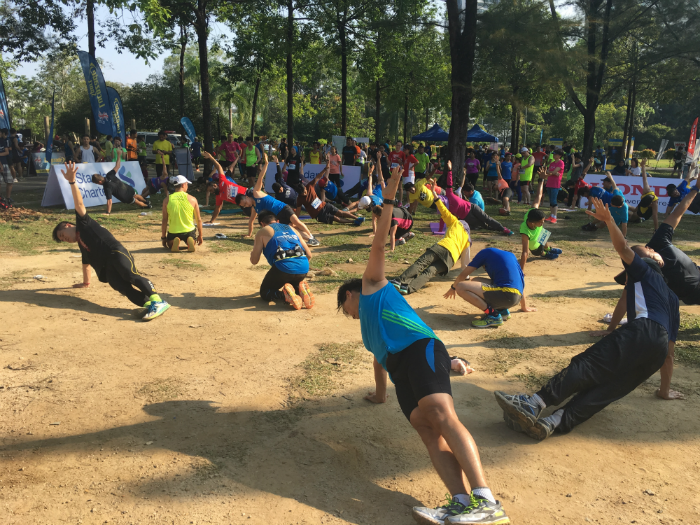 Sunday's General Running Clinic at the Bukit Jalil Recreational Park took place at the crack of dawn, and resembled a running carnival, complete with sponsor booths – to provide refreshments or display products and services.
Title sponsors Standard Chartered Bank (SCB) also gave out coffee and bananas to runners and Brooks, the apparel sponsor, had a booth to help runners select the right type of shoes that best fit their running gait. Lucozade also kept runners' thirst quenched.
The first General Running Clinic had focused on what to do when "Starting to Train" and the second one focused on Running Form. Mark showed runners how to run in a way that minimised resistance and enhanced running economy. Participants then ran loops around the park depending on their chosen category in the race, and ended the clinic with strength and conditioning exercises.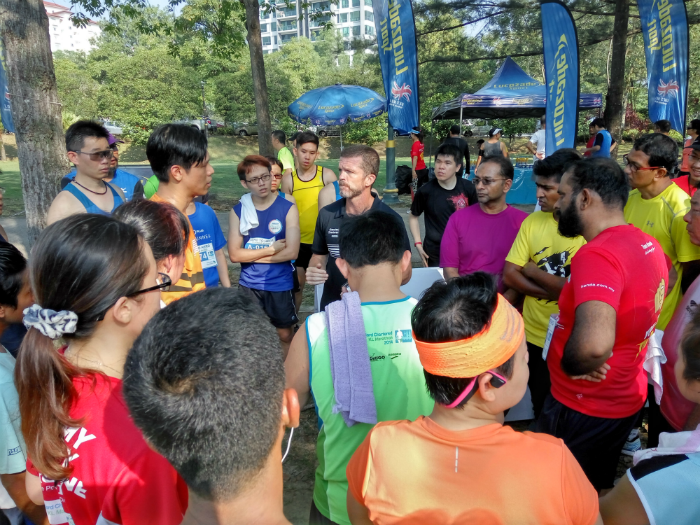 Sivabalan and Ashiq, both 50, were at the running clinic. Both are first time runners at the SCKLM. Said Sivabalan, "We got into running to keep fit and healthy as we both have desk bound jobs working in Information Technology. The SCKLM 2017 is the first race we will be taking part in and we are glad we came for this clinic as we had learnt a lot of pointers from Coach Mark."
Visually impaired runners to take part in SCKLM's 5km Race
At the latest running clinic, 15 visually impaired runners from the Malaysian Association for the Blind were sponsored by SCB to participate in the SCKLM's 5km category. They will run with "running buddies" who are staff volunteers.
This programme is part of the SCB's CSR (corporate social responsibility) initiative to promote sustainable communities. 30 visually impaired runners in total, will be given the chance to accomplish something that would otherwise have been out of their reach, through this programme.
Sign up for the remaining clinics
Runners can sign up for the remaining running clinics at www.kl-marathon.com. There are two more General and Junior clinics to go, before Race Day on 21 May.
All photos in this post are courtesy of SCKLM.
Share this page with your friends!