To commemorate 50 Years of National Service, and the event's Silver Jubilee, there will be a slew of initiatives at this year's Safra Singapore Bay Run and Army Half Marathon, promising a unique and exhilarating experience for NSmen and their families taking part in the run.
The event will be held on Sunday, 20 August 2017 and a special NS50 Team category will be introduced to mark the occasion. The race will flag off from the Esplanade Bridge and finish at the Padang.
Gives NSmen the chance to strengthen their NS bonding
This new category gives fresh opportunity for past and present Singapore Armed Forces (SAF) Operationally Ready National Servicemen (NSmen) to come together and strengthen their NS bonding, forged through common experiences and shared contributions in serving their nation.
In the new category, teams of 10 runners will complete a new 5km route to clock a total distance of 50km, in commemoration of NS50. Participants taking part in this category will also get limited edition finisher tees and special commemorative medals.
Said Colonel (NS) Simon Lim, Chairman of the Singapore Safra Bay Run and Army Half Marathon, "This is a significant year as we commemorate the role of NS and the contributions of generations of NSmen in Singapore, in the country's continued stability and progress."
"The NS50 Team Run is one of the many initiatives we are introducing this year. The commitment of our NSmen has played a critical role in enabling us to achieve this significant milestone and we hope that many of them will take part in this new category to rekindle their NS friendship, and keeping their camaraderie strong."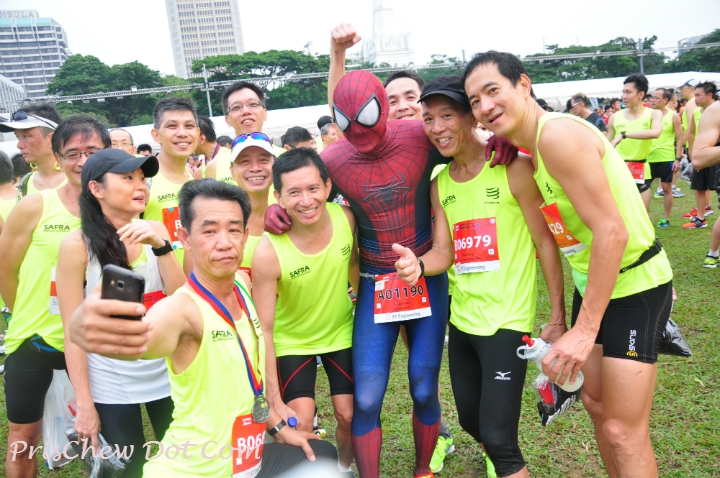 Established categories will make a comeback
Besides the new category, the four established categories – the 21.1km Army Half Marathon, Safra 10km Race, Safra 5km Fun Run and 800m Family Challenge, will also be available for participants to register for.
As well, fun activities will be organised for national servicemen and their families to enjoy at the Padang, after they have completed their run.
Entitlements
Runner entitlements that participants can look forward to, include a Safra Singapore Bay Run Singlet OR Event Tee Shirt, as well as a Personalised Bib and Timing Chip, Finisher Medal, Personalised E-Cert, 25th Edition Shoe Bag and insurance coverage. 21.1km Finishers will also receive a Finisher Tee Shirt.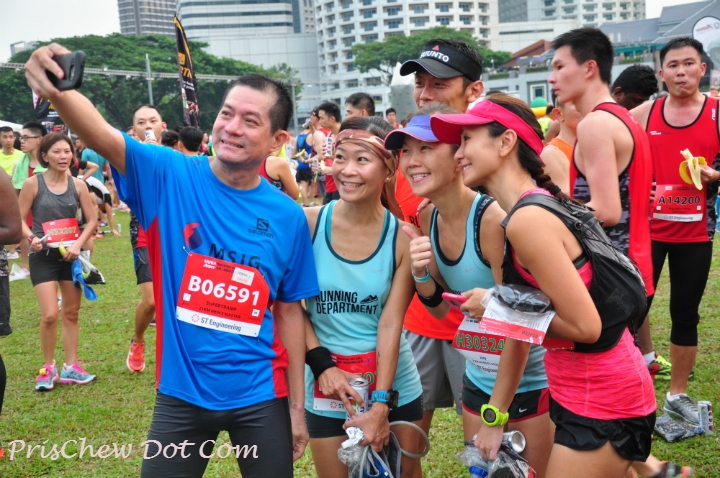 Registration Rates
SAF NSmen and their families will continue to enjoy special rates across these categories, in recognition of their contributions to Singapore's defence and support for NS. A limited edition Silver Jubilee bag will also be given out in the race pack to participating NSmen, family members of SAF servicemen and members of the public.
Registration rates are as follows. [See table].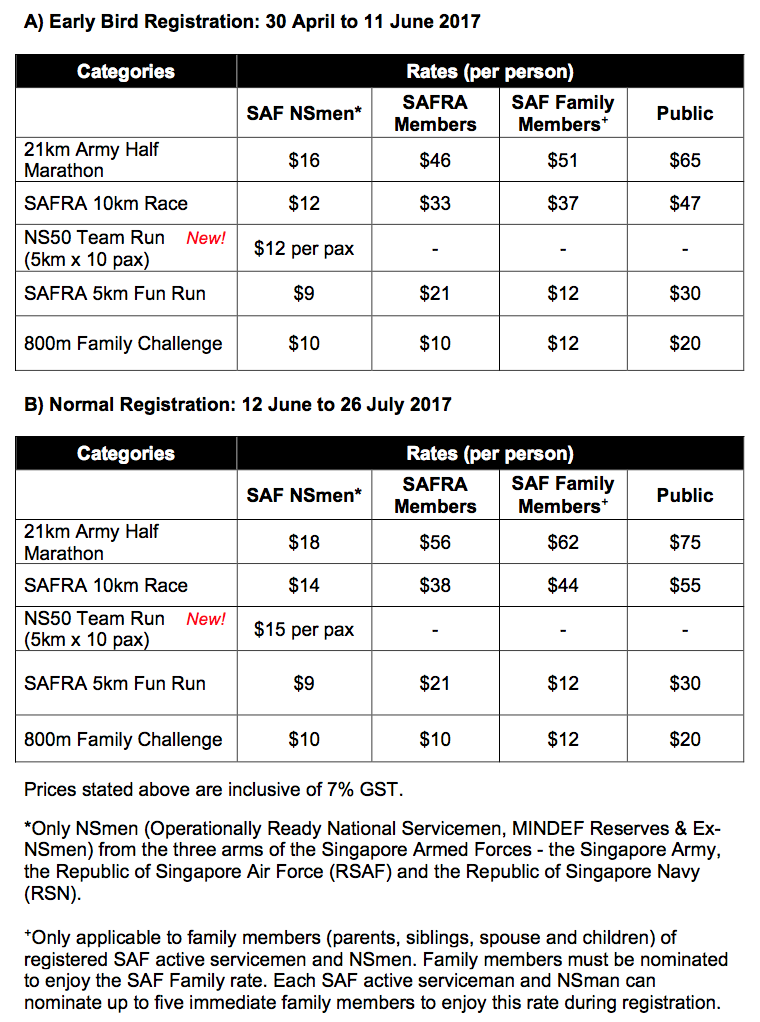 Early Bird rates start at $16 for SAF NSmen and $65 for members of the public for the 21.1km Army Half Marathon. For the new category, the NS50 Team Run, SAF NSmen can register at $12/pax and members of the public can sign up at $47/pax.
Registration for the Safra Singapore Bay Run and Army Half Marathon is now open at http://www.safra.sg/ssbr_ahm#.WQiY-1Kp2uU
Share this page with your friends!