On the morning of the SEA Games marathon last Sunday, eventual winner Soh Rui Yong, 23 had been up and raring to go. The national runner and Business Administration student at the University of Oregon, in the United States said, "I had dinner at 6.00pm and went to bed at 8.30pm. My heart rate was pretty high then but that was fine as this was just my body's way of getting ready for the race. And then when I woke up in the morning at 3.00am, I had only six hours of sleep but I was ready to go. I was feeling good as I made my way to the National Stadium – and I felt that it could be my day."
As well, he was also confident of running a good race according to his own strategy, in the days prior to the marathon. Said Soh, "The anticipation was really high as Singapore had won a gold medal through Mok (Ying Ren) in the previous Games and everyone wanted me to win the gold again. While I had been confident of running my best and that I was in a position to win it, I focused on doing my own thing and did not let the pressure get to my head."
Drizzling slightly even prior to flag-off
And when Soh reached the National Stadium's Kallang Practice Track to do his warm-up exercises prior to his marathon run, it was also drizzling slightly. The slight rain continued on and off after the 6.00am flag off, when the runner and his fellow marathoners ran towards East Coast Park – for the first 21km of the race. However, this had also helped to lower the temperature substantially for the marathoners.
Soh also admitted that he had been up to 40 seconds behind the race leader and that he was having trouble deciding what was the best approach to take at this point. The marathoner explained, "They were pushing really hard very early on and I was not sure whether I wanted to go with that surge. So I figured that I would just run my own pace and just ignore what everyone else was doing. A marathon is 42km long – it is not a 100m sprint or a 10km race. But in the end I decided that even if I was 40 seconds behind, there was still about 90 minutes to catch up – so that was plenty of time left."
Torrential downpour started
Suddenly though, halfway during the race, the torrential downpour started. Said Soh, "It was pouring and the wind was slamming into my face and I was feeling drenched the whole time and it was just so difficult as I did not know what was coming next – sometimes it was raining and windy and other times during the race, it stopped raining but was still windy. The conditions were really tough."
But even though it wasn't easy going, such rain is certainly nothing new to Soh, as it gets wet almost all the time in Oregon, where he is based. Said the marathoner, "When the rain came, I felt that I was in my element, because it always happens in Oregon."
Stuck to his original strategy
So Soh continued to stick steadfastly to his original race strategy, which had been to stay together with the pack for as long as possible. He explained, "Rain or no rain, sun or no sun, I was just going to do the same thing anyway – which was to stick with the leaders and try and out-run everyone at the end."
"But I may have been affected by the wind a bit though, because without the wind, I may have pushed forward a lot earlier because I thrive on pushing from a long way out and dropping people. But in this case, the wind made it really hard for me to push the pace. So I decided to make my move when I hit the track," added Soh.
Pushed the pace in the last 200m due to gut feeling
It was entirely due to his gut feeling, that made Soh decide to push the pace only in the final 200m of the marathon. He said, "I pulled off in the last 200m because I felt that it was time to go. I sensed that Boonthung (Srisung), from Thailand, had nothing left and when I went, I made sure I went hard, because it meant that I am not only pulling away, but I would also be breaking my opponent's morale. We may be friends off the track, but on it, it's all about racing and trying to beat each other. So that is what I did – to move aggressively and decisively till the end, and fortunately it worked out this time round."
It had been only at that final 200m stretch too, that Soh realised that the gold medal was actually within his grasp. He added, "I did not know till the very end of the race that I could win the gold. I reached the Kallang Practice Track with Boon – a strong runner who has done the last set of the 10km in less than 60 seconds before."
Soh added, "So coming up against him in the last lap, I thought that if he drops to a sub 60 seconds pace, I was not going to be able to keep up. But then again, this is the marathon and not the 10km so I told myself to stay as relaxed as possible and hope that whatever I have, would be better than what he had left." And the strategy worked.
Surge of emotions upon crossing the finishing line
And when he crossed the finishing line in first place, in a timing of 2hours 34minutes and 56seconds, a surge of emotions immediately coursed through Soh. He said, "The moment I finished the race, I was so happy that I was pumping my fists and waving my arms around. I grabbed the Singapore flag and when I took off on my victory lap, it was probably faster than my last lap! There was definitely plenty of emotions running through me."
The marathoner added, "It was great to win on home soil and I don't think there will ever be another chance for me, in my life, to top my experience on Sunday. Winning a gold medal for your country, on home soil, is just unbelievable. I would have been very happy with any medal, but with the gold medal, I would give myself an A+ for my effort!"
Crowd support was unbelievable
The crowd support – which was something that Soh had never experienced prior to Sunday – was also completely unbelievable, according to him. The runner said, "The people yelling out my name were amazing. I have never had that before in my life, and I will probably never experience it again as the SEA Games probably won't be held at home again during my running career."
Exceeded his own expectations
Considering that this is the first time that he has run a tactical marathon – which is a totally different ball game compared to his previous marathon at the California International Marathon last year (where he had gone for a personal timing instead), Soh felt that he has definitely exceeded his own expectations.
Added the runner, "It was not just about running your own race, but also about thinking what the rest are doing and what they may want to do. For example, are they going too fast, or am I going too slowly, and do they have more reserves left in the tank than me. It is just like playing chess as you are not only playing for yourself but you must plot a few moves ahead. So it was quite hard for me to know what I was capable of, during the run."
Fellow Team Singapore marathoner, Ashley Liew Wei Yen, 28, a Student & Chiropractic Intern at Sherman College of Chiropractic, was also proud of Soh's achievement. Said Liew, "After hearing about Rui Yong's Gold, I felt a shared sense of joy. We both know that special things tend to happen in our history of racing each other and this day was just that."
 Recovering and hanging out with friends
Now that the marathon is over, Soh has been busy recovering and trying to regain the normal usage of his legs. He said, "I spent an hour in the bath yesterday with hot, then cold, then hot and then cold water again, just trying to get my legs moving! I feel a lot better now – compared to how I did just after the marathon. But I must say that a marathon really beats up your legs – and there is only so much you can do, till it recovers naturally."
At the same time, he has also been simply hanging out with friends and enjoying life back in Singapore – as he has made the decision to withdraw from the 10,000m event today. Said Soh, "I have been catching up with friends and doing things that I never got to do when I was training seriously for the marathon. I went to Sentosa yesterday and grabbed drinks at the Bikini Bar – as well as simply watching other friends compete in their events – and that's so much more relaxing – compared to previously."
Some takeaways from his marathon experience
What takeaways does Soh have, from his successful SEA Games experience? He said, "Just believe in yourself and do what you know you should be doing to achieve your goals – as I did. A ton of people thought I could not win the SEA Games marathon because the other runners were faster and more experienced than me. But hey, I got the gold medal in the end. It is stuff like that, which shows. Do not let other people tell you what you can or can't do. Just go out there and do yourself proud – and you will succeed."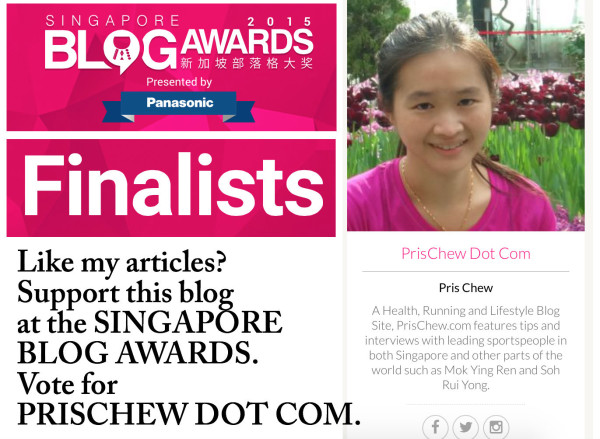 Other blog posts
Share this page with your friends!