Founded in May 1985 by American Cancer Society in Tacoma, Washington, the Relay For Life is a global movement that has grown into a worldwide phenomenon, raising about S$5 billion to fight cancer.
Today, Relay For Life has become one of the world's largest fundraisers for cancer, with close to 4 million participants taking part in the event across the globe each year.
When will the Relay For Life take place?
The Relay For Life event will take place in Singapore from 10 March from 6pm onwards at the National Stadium, the Singapore Sports Hub. It is an overnight event that will end at 9am on the following morning.
What is the Relay For Life all about?
Singapore is the 25th country to organise the Relay For Life, aiming to rally the local community together to celebrate the lives of those who battled cancer, remember loved ones lost to cancer and to fight back against a disease that has taken so much.
As well, it's also a great way for the cancer survivors, caregivers and volunteers to be recognised, supported and connected via a strong support system, meeting others who may be in the same boat as them, and sending the message that nobody should be left to fight cancer alone.
The event aims to target 7,500 participants and raise S$650,000 to fund the programmes and initiatives of the Singapore Cancer Society.
And in order to achieve the goals of Celebrate, Remember and Fight Back, the following activities will take place at the Relay For Life this March.
Celebrate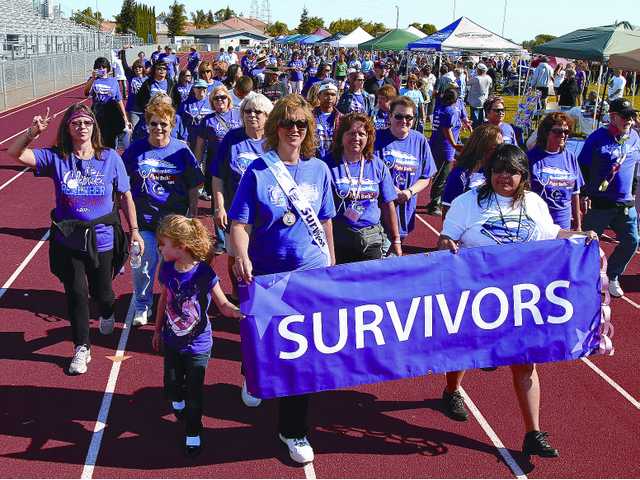 The first lap of the event will be a commemorative lap by cancer survivors to celebrate their victory over cancer while being cheered on by the other participants.
The purpose behind this segment is also to commemorate the caregivers who have given their time and energy to the cancer survivors, having helped them in their journey against cancer.
At the same time, it is to offer support to our family members, friends, co-workers and neighbours who may be currently facing their own battles against cancer.
Remember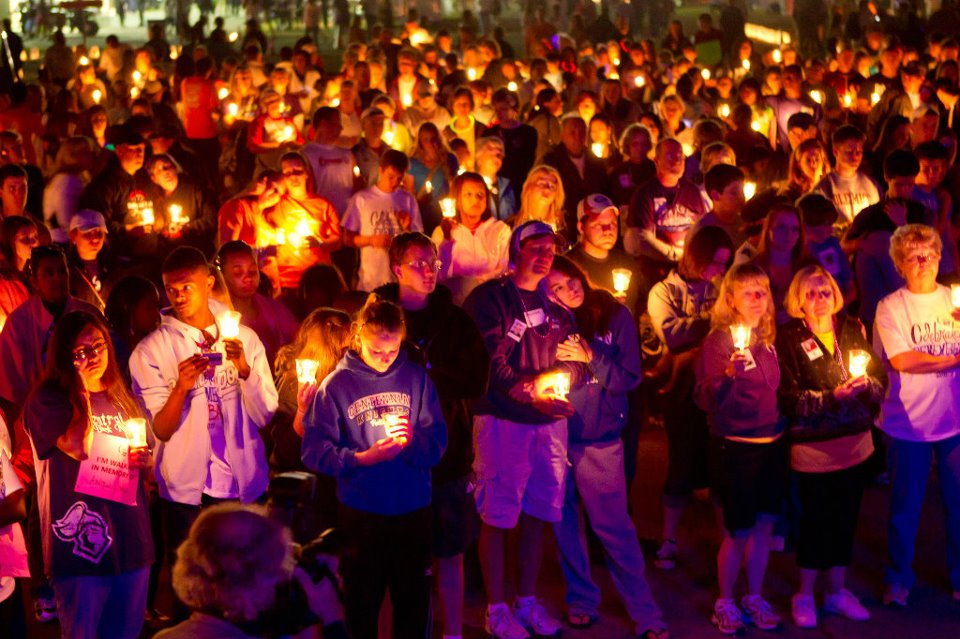 The Remember ceremony will be taking place after dark to remember those who have been lost to cancer, honour people who have fought cancer in the past and support those whose fight continues.
Candles are lit inside each personalised Luminaria bags and are placed around the Relay track as glowing tributes to those who have been affected by cancer.
Luminaria bags are symbols of hope that are found in every Relay For Life event around the world and each bag has a name written on it, to commemorate those who have fought or are currently fighting cancer.
Whether the individual being represented by each Luminaria bag has won their battle, is still fighting or have lost his or her life because of cancer, the candle inside each Luminaria bag represents the life of someone who has been affected by cancer, and shines with the hope of a cancer-free world in the future.
As well, many participants at Relay For Life events also decorate their Luminaria bags with markers, photos or other memorabilia – to make the bags special and unique to the loved ones to whom the bags represent.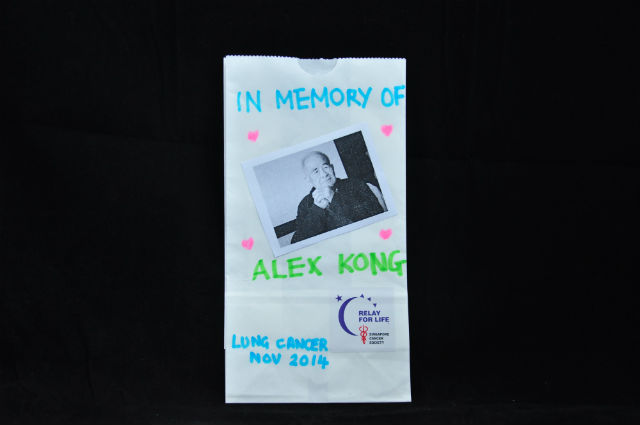 The Singapore Cancer Society recently sent me a Luminaria bag in the lead up to the Relay For Life event that will be taking place in Singapore.
So I have decorated this bag to mark the life of my maternal grandfather, who had succumbed to lung cancer in November 2014.
When he had been diagnosed, his cancer had been in the advanced stages. It had also spread to his organs and his brain, so he had been given only months left to live. Now I suppose that he is in a better, pain-free world.
But till today, I still continue to miss him dearly, and now, I can only wish that I had spent more time together with him than I did.
Fight Back Ceremony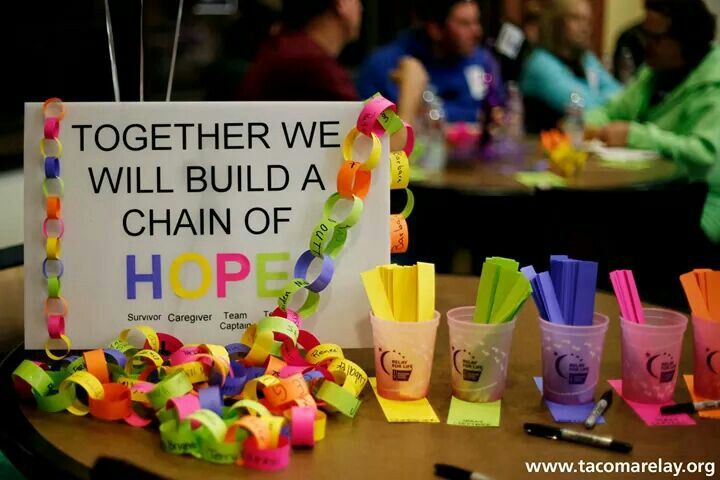 This ceremony at the Run signifies the emotional commitment each of us can make in the fight against cancer. The action taken represents what we are willing to do for ourselves, for our loved ones and for our community to fight cancer year-round and to commit to saving lives.
How does the Relay For Life work?
Team Work
Runners can take part as teams or as individuals.
For the Team challenge, simply form teams of two members to represent your organisation and declare the fight against cancer.
Just like how nobody should be left to fight cancer alone, the teams represent working together to conquer the race, just like how cancer can be conquered together with the help and support of loved ones, friends and family members.
You can choose to join Relay For Life at any of, or at multiple segments during the event.
The timings are:
Celebrate: 6pm – 9pm on 10 March 2018
Remember: 9pm – 7am from 10 March – 11 March 2018
Fight Back: 7am – 9am on 11 March 2018
100km Challenge
This challenge offers participants the chance to declare your fight against cancer and test your mental fortitude. It is a non competitive run/walk around the Relay track for a combined distance of 100km clocked by your whole team.
At least one member of your team must be running or walking on the track throughout the entire 15 hours of the event (from 6pm – 9am).
The purpose of this challenge is to signify that the fight against cancer never sleeps. Until the cure for cancer is found, we want to show our support and journey alongside the cancer patients, caregivers and survivors.
Because cancer survivors do not stop because they are tired, so neither should we.
How Can You Participate?
To take part in Relay For Life, you can sign up at the link: http://www.singaporecancersociety.org.sg/relay/
If you are taking part in the 100km Challenge, you must report at least 30 minutes before the flag off time of the event (6pm on 10 March 2018). Challengers most remember to have at least one member of the team on the Relay track at all times throughout the event.
For those who signed up as individuals, a baton will be given to you at the 100km Challenge booth.
Individual challengers may deposit their baton at the 100km Booth for toilet and meal breaks. They are allowed to have three meal breaks of 45 minutes each and an indefinite number of toilet breaks of 15 minutes each.
And as for those who've registered as teams, each team will get a baton and this will be held by any team member throughout the entire 15 hours of the event.
At the end of the 15 hours (9am on 11th March), each team challenger that is present on the Relay track will be declared to have completed the 100km challenge and be deemed as the Relay champion.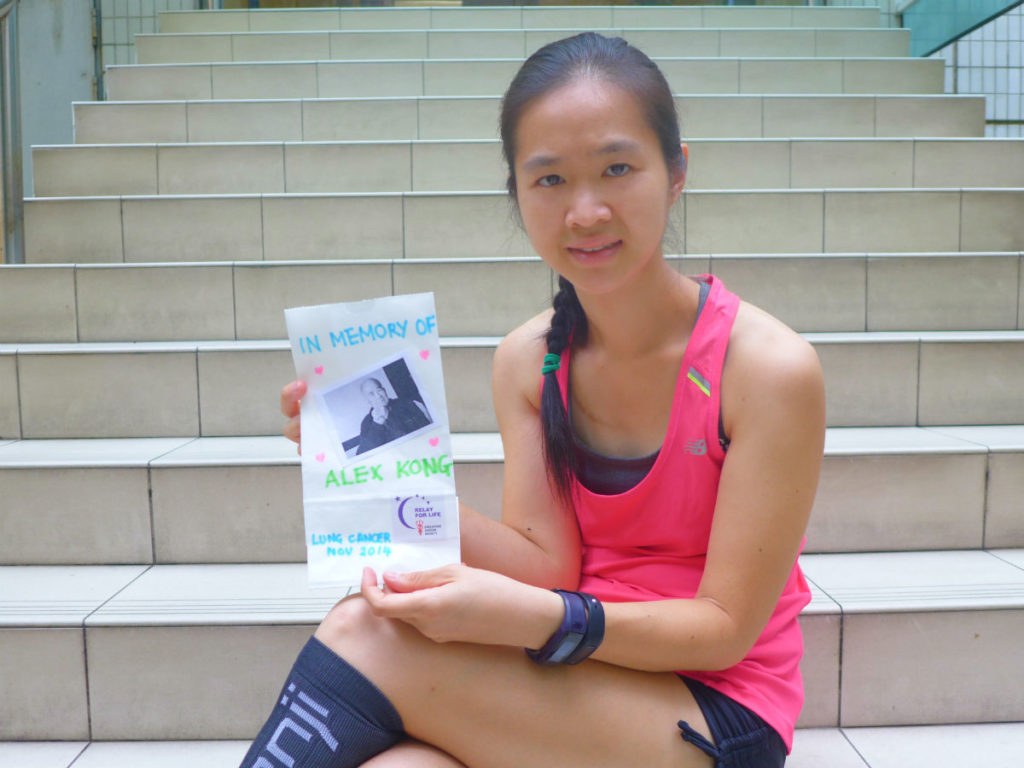 An exclusive 100km Finisher Tee will also be distributed to each Relay champion. The design of the finisher tee shirt is yet to be announced.
Do note that the Relay track will be shared by all participants of Relay For Life 2018. These include cancer survivors, caregivers, students, general participants and 100km Challengers.

Share this page with your friends!