The ninth edition of the annual Singtel-Singapore Cancer Society Race Against Cancer (RAC) is back again on Sunday, the 30th of July.
A Race to Save Lives
A race to save lives, the RAC, organised by the Singapore Cancer Society (SCS), aims to raise funds for cancer treatment subsidies, welfare assistance, cancer rehabilitation, hospice care, cancer screenings, research, public education and cancer support group initiatives.
Funds will help to drive SCS programmes and services, such as the SCS Cancer Care Fund, SCS Cancer Rehabilitation Centre, SCS Cancer Treatment Fund and the SCS Welfare Aid.
SCS hopes to make a statement against cancer
Through the race, the SCS hopes to make a statement against cancer, that is, to minimise cancer and maximise lives.
This is because SCS strongly believes that nobody should be left to fight cancer alone so the race invites people from all walks of life to join in the fight and run alongside those who have been impacted by cancer.
So the RAC aims to raise awareness and the services which SCS provides and rallies the community to join in the fight against cancer.
A cause that I hold close
Since my mother had been diagnosed with brain cancer in August 2014, the importance of making a statement against cancer, is a cause that I have since held close to my heart.
2017 Event to be held at Angsana Green, East Coast Park
The 2017 event will be held the Angsana Green, East Coast Park and will consist of a 5KM Fun Run as well as two competitive categories, in the 10KM and the 15KM events. The race village will open at 7.00am in the morning and the first event, the 15KM race is tentatively scheduled to flag off at 7.15am.
Runner Entitlements
Registered runners will receive the following entitlements.
• Event Running Top
• Exclusive Finisher Medal (For 10KM & 15KM Competitive Finishers)
• Exclusive Event Race Pack
• Personalised Race Bib (For all 5KM, 10KM, & 15KM Runners)
Registration Rates
Loyalty rates for past participants start from $38 for the 5KM Fun Run, $45 for the 10KM Competitive Run and $48 for the 15KM Competitive Run.
Registration closes on 9 July 2017.
Here is a full table consisting of the registration rates.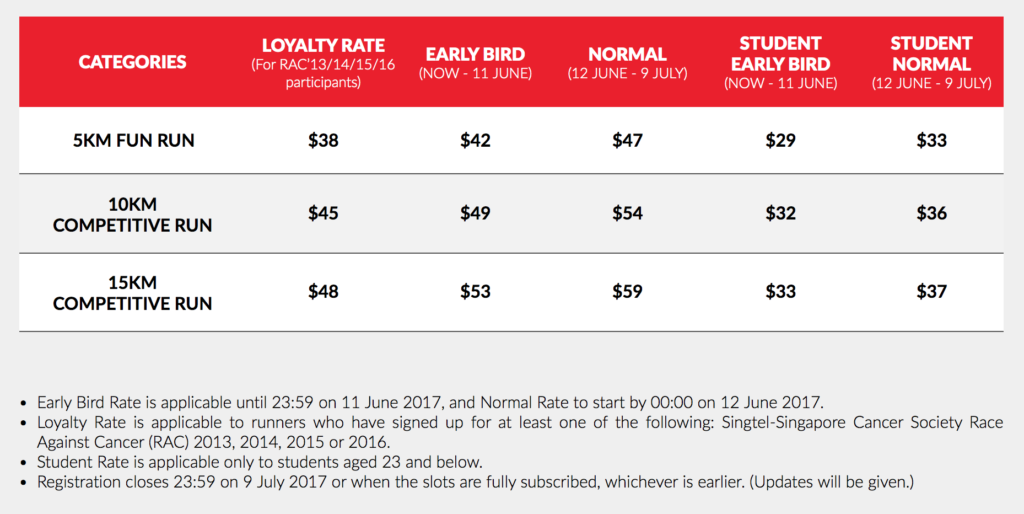 Blog Posts
Race Review: Race Against Cancer 2016
RAC 2016 Raises $1M for Singapore Cancer Society
Share this page with your friends!