Sng Boon Heng's desire to embark on his epic 300 miles (482km) ultra run, had started as a dream and desire to do something big to help raise awareness for stray cats.
Said Boon Heng, 44, a Senior Director, "Last year I became a cat feeder with the Cat Welfare Society (CWS) and that had made me realise that cats were harmless. Before that I was a dog lover and I didn't know much about cats. But after becoming a cat feeder, I realised they were like dogs; they want people to stroke them and feed them. and they will cuddle up to people. They also need love. So last year, I had wanted to run 200 miles (321km) to raise awareness for stray cats."
Disappointed at his failure in an earlier 200 miles attempt
But Boon Heng had failed in his 200 miles run for stray cats last year. He said "There were a few conditions that resulted in my failure. I was not physically fit and the weather also played a part. There was lots of rain and lack of sun. I also had lack of sleep. So I had been totally burnt out at the 235km mark and I fainted and had dizzy spells that did not leave me till nine hours later. I fell sick after that and called it quits."
Boon Heng later successfully completed a 200 miles run several months later, but then again, the purpose of that run had been to propose to his wife, Angeline Su (Angie) and that run had nothing to do with raising awareness for stray cats.
The ultra runner added, "I felt really bad that I did not achieve what I had set out to do for the CWS. So after waking up from a Sunday nap one day in March this year, I told Angie that my dream was to complete one more run for stray cats as I felt like I had owed it to them. But this time round, I wanted to do more than before, 300 miles, as I had never done such a distance before."
300 Miles run at East Coast Park
His original plan had been to do the 300 miles run all around Singapore, but due to the input of his friends who had thought it would be crazy and quite hard to organise, he then decided to limit the run to multiple loops of East Coast Park.
Each loop, heading from Carpark B1 to the NSRCC (National Service Resort & Country Club) and back, was 21km so that meant Boon Heng would complete 23 loops in total.
Boon Heng said, "The logistics of managing that would be a lot easier for my pacers and supporters to come down."
His Training 
To train for his 300 Miles run, Boon Heng did most of his long runs on a treadmill. He said, "I did it to train endurance. It is boring running on a treadmill but I clocked 70km – 80km on treadmills, with stops in between. It was convenient for me too because I have a gym in my condo so anytime I could go down and run. I also had Gobi, my pet dog, to feed and look after at home so I could stop my run whenever I needed to take care of him and mind him."
As well, Boon Heng signed up for the 21 Days virtual runs by online running company 42 Race to push himself to clock the mileage. He said, "If I did not have these aids, I will not be able to motivate myself to run."
His longest LSD (long slow distance) run was 80km. Said Boon Heng, "There was no need to go any longer than that because I had a lot of back to back runs. So at one go, I felt that 80km was enough. Also I think that to run 300 Miles, it is not about clocking 300 Miles in a week. Running such distances is much more mental than it is physical."
Overall his weekly training mileage would be anywhere from 100km to 200km depending on the stage of preparation that he had been at.
Confident in the days leading to the run
And in the few days leading up to his 300 miles run, which had been set to begin on Deepavali, Wednesday 18 October, Boon Heng was confident and did not display any nerves. He said, "All this while, I was confident that I could complete the 300 miles within the 112 hours time limit that I had set for myself."
He added, "But two to three days before the event, I got a sore throat and it did not leave me; maybe it was because I was too relaxed already. The sore throat did not disappear on the morning of the event but the show has to go on. So I think I was there physically but mentally i had to pull through."
Boon Heng also admitted that because he did not want to bother a lot of people to help him out, he planned the logistics himself. He said, "I planned the timetable, drew boxes and put in names and I told my supporters and pacers to come anytime. I did not want to trouble Angie."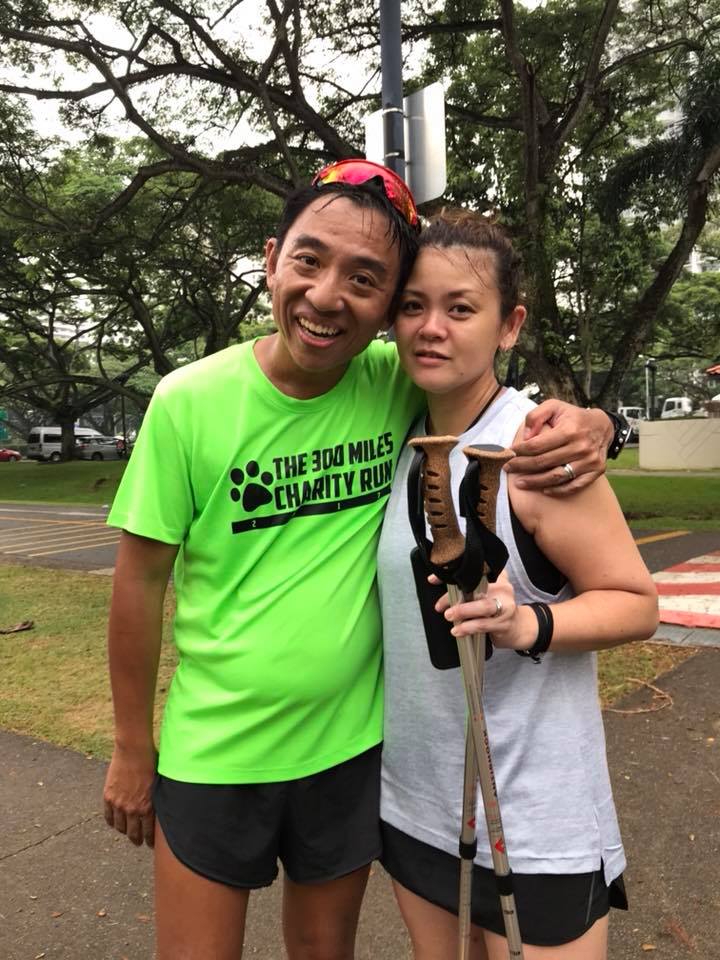 For his earlier failed 200 Miles attempt, Angie had been in charge of the logistical matters.
Beginning the Run
At the beginning of the run, Boon Heng had about 15 pacers who started out with him. He added, "But at the start point, the weather was not forgiving and after the first loop, there were four people left. The other runners had dropped out as it was too hot."
Despite the heat, the first day for Boon Heng was the easiest because he was still fresh. Said the runner, "I had enough sleep. I slept for eight hours the day before so I was very fresh. But on the night after the first day of running, I was completely knocked out. Daniel Ong was my only pacer when I did my fifth loop and I was so sleepy. So Daniel was either ahead of, or beside me to make sure that I was okay. But I was sleepwalking with my eyes closed and at one point I banged into a bush. I suffered more at nights than during the day time."
Boon Heng did not get much sleep at all throughout his 300 Miles journey. He said "At least during my failed 200 Miles run, I could get sleep, but for the 300 Miles attempt, I did not get any sleep. I think that maybe East Coast Park is too bright at nights. I tried to lie down but there was too much noise and things going on."
Lack of sleep was a challenge 
In fact, the lack of sleep had been one of the biggest challenges for Boon Heng during his 300 Miles run. He said, "The first night of running I got 90 minutes of rest. I was still sleepy. Subsequent nights were one to two hours per night. I was sleep-running and I had to really push myself at some point. I was also constantly looking out for coffee – sometimes it worked but other times it did not work."
On the second day of running, Boon Heng also had diarrhoea. He said, "I was having stomach issues and I went to the toilet three times and overdosed on medicine to make myself feel better; I popped four pills in the morning and another four in the afternoon. The heat was also making me feverish and at nights, I was fighting with having to stay awake to run."
Fever
His feverishness had even got to a point where Boon Heng was even hallucinating sometime during the run. He said, "At one point I saw a big cable car at East Coast Park and I shouted to my pacer, Kannan Kandisamy, if he saw a cable car. Kannan looked at me and said, bro, I see nothing. So I was imagining things already. But the cable car looked so real. That's how tired I was."
Shin swelled
Boon Heng added, "My shin also swelled after 200 miles of running too; it was so bad that I could not walk. So on the last 100km, I was relying on trekking poles to support me. I was trying to simply walk to complete the distance. On the first night of running, I had Jeremy and Kannan with me and we were going at 9mins/km pace. On the second night for the first loop I had 10 runners with me and we had to run at 9mins/km pace. After 190km I tried to follow then but after 15km I was so burnt out that I could not follow anymore. So I had to walk and jog to the end point."
To help him cope with his shin pain and other aches that were coming up as he ran, Boon Heng had colourful sports tape plastered tightly onto his legs.
Harboured thoughts of giving up
The ultra runner did admit that he had harboured thoughts of giving up throughout his journey, but he continued to press on.
Explained Boon Heng "I thought of giving up at one point when I had turned white. I was talking to Ivan Lam, who was with me then, whether I could stick to 250 miles (402km) and call it a day. But he said to finish 399km first, complete the loop and take a rest. That was my lowest point and I was quite worried. But things got better after that."
That had been on Saturday night, three days after the run had started, and Boon Heng had turned white and cold with fever. He told Daniel, who was with him then, not to tell his wife Angie as he felt that she would want him to call it off.
Besides fever, Boon Heng's lips had turned white too and his eyes were yellow. His wife subsequently got wind of her husband's condition and she came down to offer her support. Said Boon Heng, "She knew that if she insisted I go home, then I would want to attempt something like this again."
So Angie encouraged Boon Heng instead, to carry on running.
This particular fever episode had been the lowest point of Boon Heng's 300 Miles run.
But then, seven minutes later – after lying down for a short while, Boon Heng had been miraculously recovered and ready to go again. He said, "I recovered by myself. It was amazing; I think it was the power of God. Last time during my 200 Miles attempt the fever would not subside, but this time it had."
The final 7km
For Boon Heng, the final 7km was the toughest of his journey. He had been vomiting very badly by this point and he was completely spent and fatigued, having pushed his body further than he had ever done before.
Said Boon Heng, "I told Daniel that I needed to go slower because my body was not reacting well. So we slowed down. On the last 7km, there was strong rain with lightning and thunder. It was not safe to go out so we hid in the toilet for some time. There, we rinsed our shirt and my pacer Daniel dozed off. Michael was also beside me looking at his messages."
That was when Boon Heng had decided that he wanted to remove the sports tape because even though it was helping with his pain, the tape had been pasted on so tightly that it was hindering his movement at the same time.
Said Boon Heng "There was only 7km to go so I didn't care anymore. I just told myself that removing the tapes is better so that I could move as the movement in my legs felt restricted. I was also frustrated that there was thunder because I just wanted to carry on going. So I removed all the tapes and took the trekking pole and continued. Daniel was still sleeping so I told Michael to stay with him and tell him that I would go off first when he wakes up, because I could not run anymore. The moment I took off the tapes, it was even more painful without the added support so I was so slow that I think even a grandmother could go faster than me. But though it was more painful, I felt as though my legs could at least breathe."
He added, "After 500m the two guys caught up to me and Daniel apologised for dozing off. With 5km left to go, Jennifer Leong joined me and I felt better when she gave me the Old Chang Kee fishballs and sausages to eat. It somewhat eased the pain in my legs but I managed to bear with it, till there was 3km left to go, then I ran like I had never run before."
His Nutrition Strategy
To sustain his energy levels during the whole 300 Miles of running, Boon Heng explained that he didn't consume full meals, but ate a lot of snack foods instead. Food that he had consumed included wantons, Old Chang Kee sausages and fishballs, red bean buns, char siew baos, canned longans, cheeseburgers, and not forgetting his favourite indulgence – the sausage pies from Coffee Bean.
Said Boon Heng, "I had mainly salty foods; salty stuff seemed to work well for my body."
And for drinks, he had Yeo's coconut juice, sugarcane drinks, several cups of coffee and one can of isotonic drink. He did not take any Tailwind or Coca-Cola.
Said Boon Heng, "I actually relied on a lot of chicken rice for my 200 Miles attempt but this time there was no opportunity to have chicken rice, so I did not eat any. Whether it would have worked though, I can't be sure."
He added,"I am not a person who demands people to buy things for me as I don't want to trouble others. If I think chicken rice works, I would not tell the pacers to go out and buy that for me. Instead I would eat whatever is available. So you can offer me anything and I would try it. If I feel that it is weird and the body cannot take it, then I would leave it alone, but still I'd try and bite it to see if it works or not."
But Boon Heng added that if he were given the permission from Angie to take part in such a run again, he would want to learn more about nutrition strategy. He said, "People were asking me how come I didn't take Tailwind or salt tablets, which ultra runners normally have. Someone did give me five salt tablets at one stage and I didn't know if they helped because I was taking anything that my friends gave to me."
He added, "I would also have planned my nutrition strategy during my long training runs, for example, take one salt tablet after every 10km if I had known what to do. I know that my endurance is already there but I do wonder if I could have done better with the proper nutrition strategy. But then again there is no training manual out there for a 300 miles run; most of the ultra running training manuals are for the common race distances of 100km or 100 miles."
Finishing was an amazing feeling
Nevertheless, Boon Heng though, finishing his run was the most amazing feeling in his life. He said, "The first thing I did when I finished was to hit the N-Parks board at the starting point 23 times, one for each loop I had completed. The feeling was too amazing because it was not just myself but the whole running community that had seen me complete this."
He added, "Without these people I could never have done it. And when I saw Angie, I hugged her and tears just flowed. It was really painful but it was the end of my running; I promised her that I would not be running like this again but I would just be pacing people from now on."
His friends had offered him plenty of support
Boon Heng's friends had offered him plenty of support and helping him out throughout his entire run. Said Boon Heng, "It was as if God sent little angels along the way in the form of my friends. At one point I was feeling very hungry and the vending machines were all out of can drinks and food. I was jogging till the 9km point of the loop and someone tapped me and said, bro, I am Andy and I have some hard boiled eggs for you. If you want them let me know."
Continued Boon Heng, "I was like, Andy you came at the right time. Can I have them now? And these were the best hard boiled eggs in my life! It was like this; people were suddenly coming up with things that I really needed. Now Andy is my Facebook friend."
Other than Andy, Boon Heng also pointed out that Paul Yew had offered him two bottles of cooling drink when he was having fever during his run. Said Boon Heng, "I did not really like the taste of the drink but I finished it and that really helped to bring my fever right down."
Michael Aw Yong also made fried eggs on Boon Heng's request, despite him having just touched down from a trip to Bangkok prior to meeting Boon Heng. Said Boon Heng, "I was feeling very hungry; it was the last 5km of my second last loop and there was nothing inside me except green bean soup. I told Angie to text Michael and ask him to make me six fried eggs. He really did that and fried the eggs for me. I finished five in one go and that really gave me the energy to carry on."
Chung Kit Szeto also helped Boon Heng to massage and stretch his feet when he was feeling so cramped that he could not even bend his legs anymore. Said Boon Heng, "I don't know what he did, but suddenly I could move again. If anyone else needs massage, they should look out for him."
Patricia De Lorenzo made five shots of espresso for Boon Heng to keep him awake, and Lena Chia gave him an emergency blanket to keep him warm. Said Boon Heng, "I had the chill on three occasions during the run."
As well, Ivan Lam sung Jacky Cheung songs for Boon Heng to keep him awake when he was so sleepy even though Ivan himself was not a good singer. Boon Heng said, "I was like, Ivan can you sing for me, and he really sang. But he sang the same song over and over again; apparently it was the only song that he knows! As well he always buys me my favourite sausage pie from Coffee Bean. He was really nice to me."
It was not only Ivan who had used songs to motivate Boon Heng; Norliza Noordin (Lizzie) also had downloaded uplifting Chinese songs to her phone and played these for Boon Heng even though she couldn't speak Chinese and did not know what the songs had meant. Said Boon Heng, "The only problem was that all the Chinese songs she had downloaded were in fact, all one and the same song! But I was nevertheless touched by her gesture."
Eugene Aw also loaned Boon Heng his trekking poles when Boon Heng needed it. Said the ultra runner, "I could not walk after a shower at the carpark but when I used a cheap trekking pole that had been lying around, it broke. I needed another one and Eugene brought a new pair that saved my life."
Tan Juay Seng also loaned Boon Heng his baby stroller so that he could put everything inside there; meaning there was no need for Boon Heng and his pacers to carry everything when he was running. Said the ultra runner, "And there was also a foldable bed stretcher in the stroller; the moment I lay there I fell asleep for two hours. I really needed that rest."
As well some of the elite female ultra runners, Evelyn Ang Loo and Faith Tan also gave Boon Heng their support by walking part of the way with him, something that Boon Heng really appreciated. He said, "I felt embarrassed when they joined because they are good runners. I thought they expected me to run but I couldn't even walk with a stick. So I felt bad for them to have to walk beside me. But they were like, nah it's ok, we are here for you. I was so touched."
Lily Bimmo and Angie also paced Boon Heng for part of the way on a bicycle, a feat that he admitted that it was harder than it seemed, because he was running at a slow 9mins/km pace. And so, to ride at a similar pace on a bicycle would require superb control and balancing skills.
Boon Heng's colleagues at work also helped in the way they could when he had been running, even though they thought he had been crazy to try something like this. Said the runner, "My colleagues said I was insane as they could not even run 3km, but they really did not call me during the whole five days as they wanted me to concentrate purely on my running. When I opened my email after my run, I realised they had settled all their disputes among themselves too, so there was no escalation that I needed to deal with. I had appreciated that."
He added, "But then again, everyone I met thought I was crazy to run 300 Miles. But it was something that I wanted to do, and I was compelled to complete it."
Another friend, Bob, also sponsored the donation of rice; any pacer who completed 100km cumulatively, then 100kg of rice would be donated to charity. So Boon Heng himself had run 1.5 tonnes worth of rice and the 300 Miles run had raised 2.9 tonnes of rice in all.
Said Boon Heng, "It was amazing and so powerful to see so many people coming down or pitching in to support the run when they could. That was the community spirt of the running community that touched me."
Daniel though, had offered Boon Heng the most amount of support and for that, he is extremely thankful. Though Daniel himself had been tired, he refused to sleep and he was by Boon Heng's side for most of the time, providing for him and making sure that Boon Heng  was safe and sound during his entire 300 Miles run.
Now that he has completed the run, Boon Heng has promised to Angie that he would not try something like this again. He also added that though he would not sign himself up for any running events, he will still pace his friends at races.
What are Boon Heng's key takeaways from this experience? He said, "I have realised that if I set myself down to do a task, and if I am determined enough, I will get it done, even though the task seems impossible."
Boon Heng also hopes that his 300 Miles run can kickstart an annual charity event, in order to bring the running community together for a good cause. Boon Heng also hopes to mentor the next runner who wishes to do an epic run for a greater good that they are passionate about.
He said, "The cause can be something different than stray cats, but the person who runs should be passionate about the cause they are supporting. It should not be for personal glory, but instead they should want do something for the community."
Raised $13,425 so far for the CWS
And with his 300 Miles ultra run, Boon Heng has so far raised $13,425 to help the stray cats at the CWS so far, and donations are still ongoing.
In order to donate to the cause too, you can go to this link. https://give.asia/story/the_300_miles_charity_run_2017_-_9_to_13_aug_2017_112_hours
Photos in this article are all from Facebook/Sng Boon Heng.
Share this page with your friends!