For the first time in the event's 16-year history, the 2017 edition of the Standard Chartered Singapore Marathon (SCSM) was the battleground for the Marathon National Championships, bringing together the nation's best male and female runners vying to be crowned National Champion.
Click here to view the Standard Chartered Singapore Marathon 2017 photos Page 1.
Click here to read the Race review: 2017 SCSM (42.195km).
And emerging triumphant amongst the local runners, had been Soh Rui Yong in the Men's category and Rachel See in the Women's category.
Soh nearly missed out on M Rameshon's record 
Soh's finish time of 2h 35min 55sec places him amongst the fastest on Singapore soil, nearly missing out on M Rameshon's 23 year old national record of 2h 34min 02sec.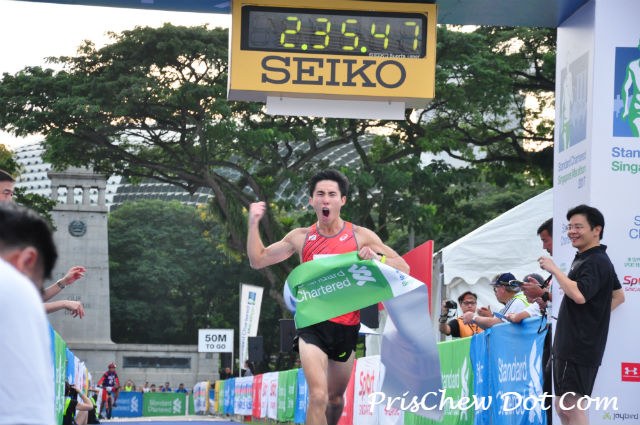 Said Soh, "It felt good to win the first ever National Championships, as well as to have the chance to come out here and be part of Singapore's biggest race of the year. I really enjoyed the route."
He continued, "In previous years, they would run half the race at East Coast Park, so having just 10km at the park, showcased Singapore a lot better. So it was a good job to IRONMAN Asia, Sport Singapore and the Singapore Athletic Association for making this a race to remember."
See also placed tenth in the Women's Elite
Rachel on the other hand, completed the marathon with a time of 3h 11min 02sec, which places her in tenth position overall in the Women's Elite category.
Said See, "I have been running the SCSM since 2007 except for the two years when I was pregnant. I participate every year mostly because of the atmosphere and of course, all my friends run in it. It's like the biggest race of the year and everyone has to be here. The conditions today were quite good and the water points were very well spread out."
She added, "I was very happy to win. I did not expect to win the race but I had thought I had a good chance to get a podium place."
See focused on her own pace
See's strategy had been to focus on running at her own pace throughout the race. She said "I did not follow anyone. I ran my own pace. My area was quite sparse, as the people in front were too fast and those behind were too slow. So I just kept to my pace."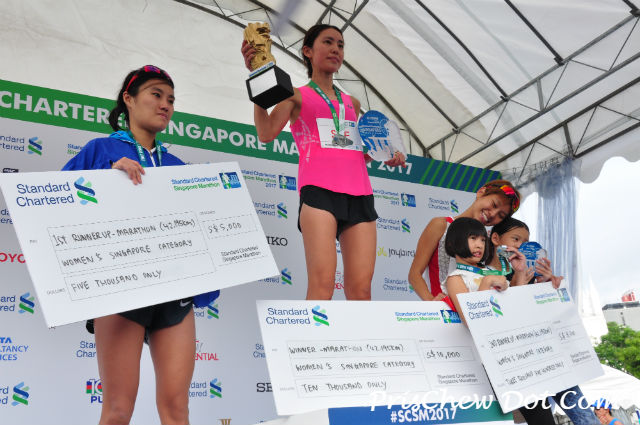 She added, "And around 32km I still felt quite good. Normally at 32km you have that feeling where you are going to go downhill or uphill and this time around, I was able to maintain a good pace."
Soh had wanted to follow the pack and be patient 
On the other hand, Soh's initial strategy had been to follow the pack. He said, "Honestly at the start, I wanted to be patient and run with the pack but when the gun went off, I started at my own pace and I was in front of everyone, including the Kenyans. I know I was racing the National Championships, but I will race against anyone running next to me, whether they are Singaporean, Japanese, European or Kenyan."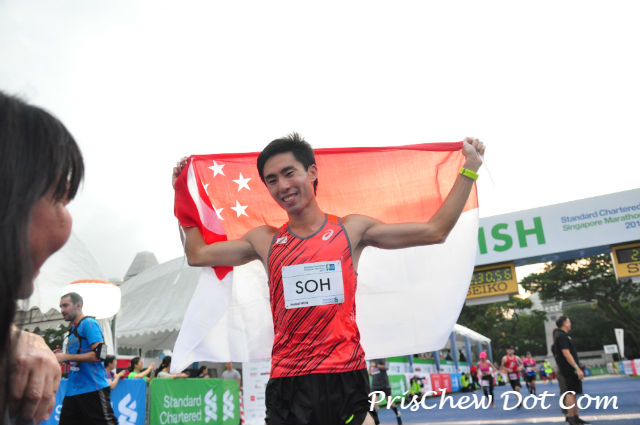 Soh added, "At the halfway turn, I felt good. Ashley in second place was quite far behind me, so I decided to just hold my pace. The lead got bigger and bigger so it was encouraging to see my advantage keep on growing wider as I continued running."
Soh had been on pace to break M Rameshon's record till 30km
But Soh however had pointed out that he had been on pace to break M Rameshon's record through till 30km though.
He explained, "I was on pace till 30km but in the last 10km-12km, I had to run zigzag through the half marathon runners. It was not ideal but I will not complain because it means there are more runners out there, living healthier and happier lives through sport."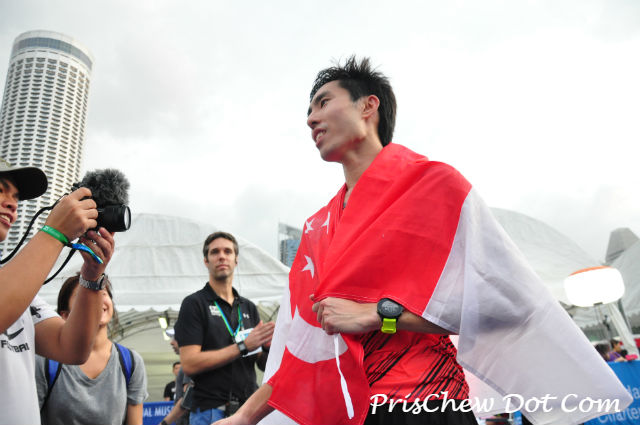 Nevertheless Soh is happy with his performance, despite not quite breaking the record.
He said, "I knew I would be in good shape to win the National Championships and to run a good race. So to come out here and do a race that was within my expectations was good. I felt 80-85% fit but I was not doing hard core marathon training in the build up to this race. I had been doing 100-120km per week; it was not like the South East Asia Games Marathon when I was doing 160-175km each week."
Continued Soh, "I could tell the difference though because the last 10km was a lot harder with less mileage but I was happy to be able to get through it though."
Both National Champions owe their success to their loved ones
See owes her success at the inaugural National Championships to her husband and her running buddies. She said, "Running is like a journey and it is not the end result that matters. I owe my success to all my running friends, training friends and my husband who have all been so supportive of my running."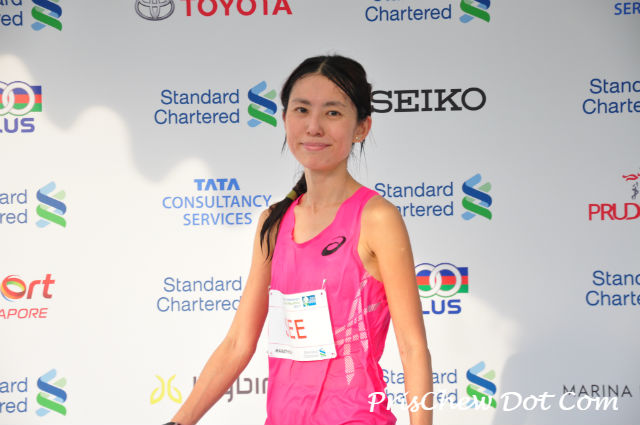 Soh would also like to thank his family and sponsors too. He said, "I dedicate my success at the National Championships to my mum, dad and my sister Romaine. They have all been super supportive of my endeavours. As well my sponsors ASICS, H-Two-O and Sport Singapore have allowed me to train and win gold medals for the country; this is a great success story for the rest of Singapore to follow."
He added, "I would also like to thank my girlfriend Charmaine Tay. Having her in my life has allowed me to be a lot calmer and more peaceful and I think that mentality allowed me to perform well at the National Championships, even though I was not 100 per cent fit."
Dark horses win the Men's and Women's Elite categories at SCSM
Also, winning the Men's and Women's Elite categories at the SCSM were dark horses – Kenyan Cosmos Kimutai won the Men's Elite and Pamela Kipsogei, also Kenyan, won the Women's Elite.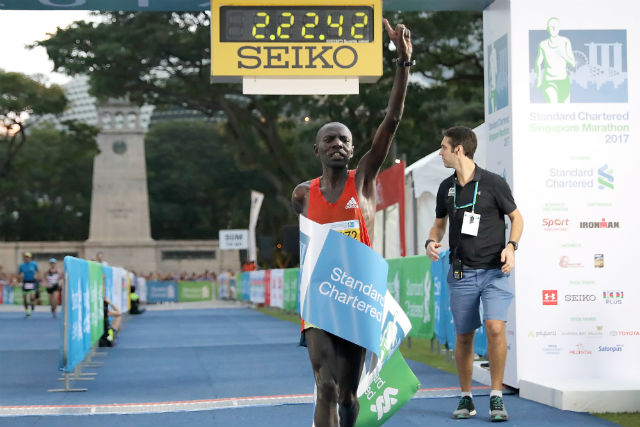 Kimutai set the pace and broke away in the final stages
Right from the start, Kimutai set the pace in a lead pack of nine runners, showing comfort in the hot and humid weather. Throughout the race, he was pushed to the wire by Justus Kimutai and Mark Kiptoo, who eventually finished second and fourth respectively.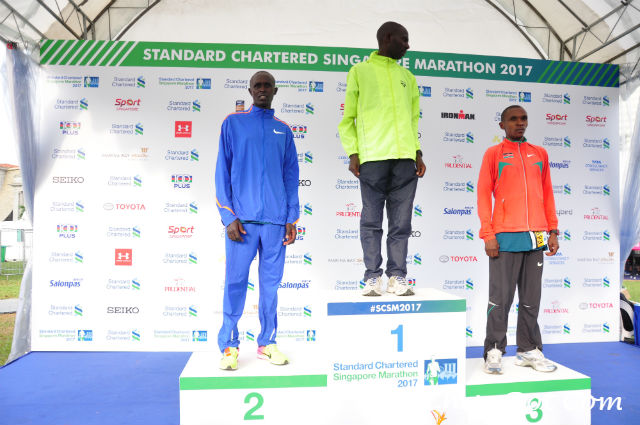 Executing a late race strategy, Kimutai broke away in the final quarter of the marathon to finish in a time of 2h 22min 48sec.
Rotich won by a mere 19 seconds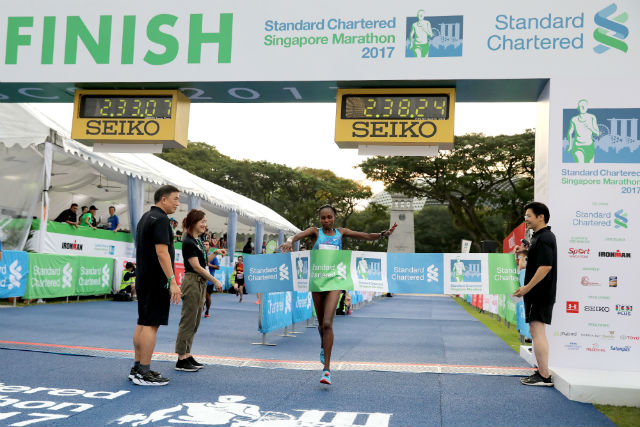 And Rotich, in the Women's Elite category, denied Rebecca Chesir a successful title defence when she broke away in the home stretch to nick the title by a mere 19 seconds, finishing the marathon in 2h 38min 31sec.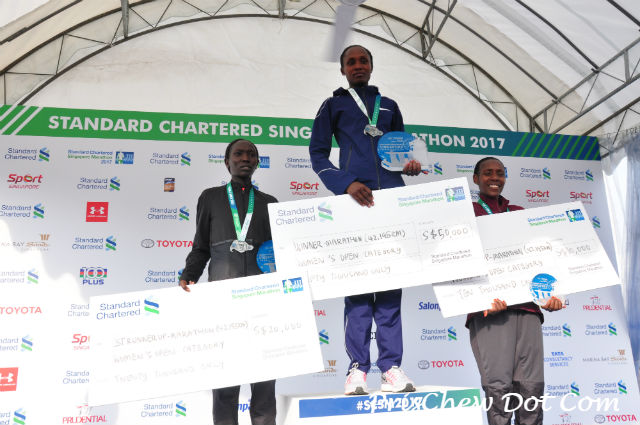 Rotich and Chesir had in fact, been leading neck and neck throughout the race, up until that point in time.

Click here to view the Standard Chartered Singapore Marathon 2017 photos.
Share this page with your friends!