For Singapore Polytechnic student Kennedy Yap Poh Chong, running was actually his second choice of sport and he only became a runner because his first choice, basketball, was not available to him.
Said Kennedy, 20, "I started running eight years ago in Secondary One. I had wanted to play basketball but I could not get into the school team, so I decided to go into athletics, which is running."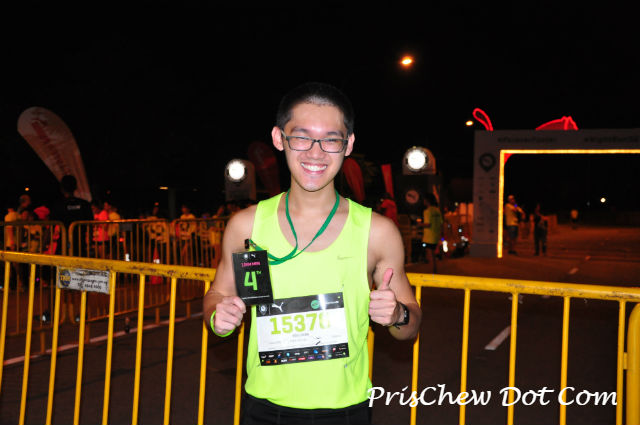 He continued, "I began with the 100m sprint and relays but my coach said that I was not cut out for it, so I converted into a long distance athlete, doing 3km, 5km and 10km. I took it from there and I excelled."
Running helps him relieve stress
He added, "These days, I like running because it gives me some time out of my studies and work, and at the same time, it helps me to relieve stress and socialise through running. I have lots of friends who run, and it is great to suffer together and strengthen our bonds in that way."
Lately though, Kennedy has been focusing more on track running, and the 400m and 800m distances, in order to discover where his talents truly lie in the sport.
Nevertheless, Kennedy has a bright future ahead of him in running; his 10km personal best time so far is 38 minutes, and he completed last Saturday's 12km Puma Night Run in a time of 45 minutes 49 seconds, being the first Singaporean to cross the finish line in the process.
His Training
To train for his running races, Kennedy does two hard sessions per week. He says, "I do not do much mileage, but I give 110 per cent at each session. I push my limits and go really hard at it during each session."
His training sessions are typically two hours long. He would begin with simple warm ups and stretches, then he would hit the hard workouts and then cool down. His sessions would then end with upper and lower body strengthening exercises.
Kennedy also does a long run every week, covering about 17km during each of these long runs, which generally take place at MacRitchie Reservoir.
Besides the hard runs, Kennedy also does an easy run for about 60 minutes once a week, together with his friends.
His weekly mileage is about 30km.
Cross Training helps him to speed up recovery 
To relieve the stress from his run training, Kennedy also does some cross training. He said, "Running can be repetitive and impactful on the knees, so cross training helps to recover faster and lessens the impact on the knees and the hips. So once in a while we would play ultimate frisbee to have some fun at cross training, instead of just running."
He added, "I find that even as a competitive athlete, cross training is great to relax. I also swim and cycle a bit with my friends casually, and I do light gym work too, to gain muscle endurance because endurance athletes need a strong core and strong arms to swing well. So I work on these areas myself, to become a better runner."

Runners tend to overtrain
Kennedy pointed out though, that many runners tend to overtrain especially those who do not have a coach to guide them. He explained, "A lot of runners may train 5 – 6 times per week without adapting to the intensity and volume, then their injury risk is quite high."
He added, "So I would recommend that before going into intense running, look for advice online and maybe ask friends who are more experienced first, and seek advice before going into anything rigorous."
Pick the right running shoes 
As well, Kennedy feels that picking the right running shoes are very important for runners.
He said, "Most amateur runners are not mindful of the shoes they wear or they do not realise it; to them running shoes are just to cover the feet. But in fact, having the right pair of shoes, I feel, is quite important to prevent injuries like plantar fasciitis."
Plantar fasciitis is an overuse injury from running, that is typically caused by repetitive over-stretching of the plantar fascia which is a thick band of tissue / tendon that runs under the foot.
Tips for running races
Also, Kennedy shared one little tip for running races, that can make a difference in hitting a personal best timing or just missing out.
Said Kennedy, "People always follow the road or trail when it curves and bends. But if you run straight instead, you can reduce the distance run by a few metres, and this can cut down your timing and mean the difference between a good time or position, or just missing out."
He added, "Also, I think that many runners go out too hard at the beginning and cannot sustain the pace at the end. So they have to slow down and jog. To do really well at a race, though, you have to pace yourself properly and run at the intensity that you are targeting, so that you can get comfortable with running at the pace, and know that you can also sustain it for the duration of the race."
Wants to help other runners as a physiotherapist
In terms of his own running, Kennedy feels that it would be nice to represent Singapore at athletics.
He said "It would be nice to represent Singapore in the near future, but till now, I have not found a distance that really suits me. So I am still discovering myself; I am trying out 800m for the time being."
He continued "But for running though, I don't really have very high hopes for my future. Instead I really want to help other runners as a physiotherapist, so that they can recover from muscle or joint injuries. That is what I am heading towards."

Share this page with your friends!