As you may know, the next edition of the Sundown Marathon 2017 will be taking place on 25 March next year.
And in line with previous years, the Sundown Marathon race will flag off from the F1 Pit Building – the home of the Formula One Singtel Singapore Airlines Grand Prix, the most famous "night race" in Singapore sports.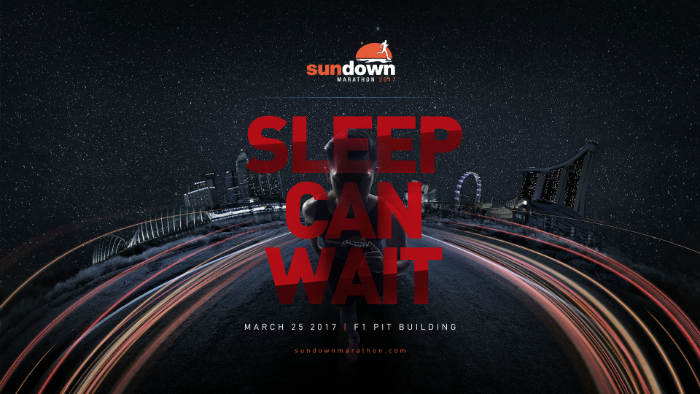 10TH ANNIVERSARY OF SUNDOWN MARATHON
And because the 2017 edition will be the 10th anniversary of Sundown Marathon, runners who are planning to register, will be able to enjoy 10 days of Sundown Marathon's lowest-ever rates from 15 to 24 August.
The 10 day rates are anything from $5 to $33 cheaper than the loyalty AND the early bird rates and are NOT just restricted to past year Sundown Marathon runners. So if you have never taken part in Sundown Marathon before, here's a great chance to give the race a try.
After 24 August, runners can then enjoy the loyalty and early bird rates till 31 October.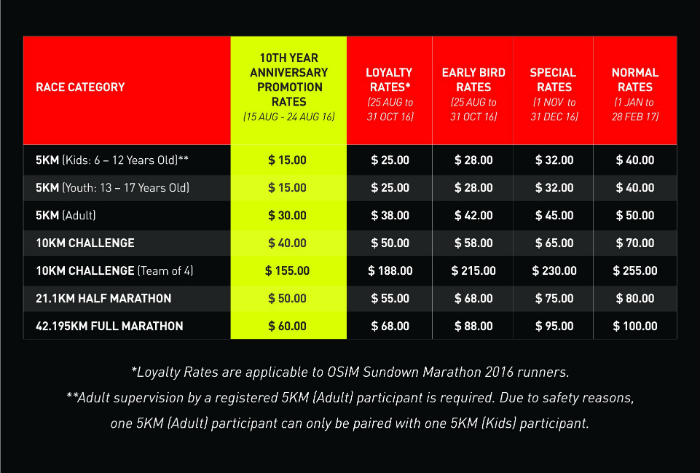 GROWN TO BECOME THE LARGEST NIGHT RACE IN THE REGION
From its humble beginnings in 2008 and with only 6,000 runners taking part then, Sundown Marathon has grown to become the largest night marathon in the region.
For example, the 2016 edition of the Sundown Marathon had over 26,000 runners. Due to this it has firmly established itself as one of the highlights on the Singapore running calendar.
A RACE NOT FOR THE FAINT HEARTED
With the challenges of running through the night, the Sundown Marathon is certainly not for the faint-hearted.
So for those who are taking part in Sundown Marathon, especially the half and the full marathon categories – which flag off close to midnight – do prepare lots of coffee in order to stay awake and prevent yourself from dozing off halfway during your run.
DETAILS YET TO BE ANNOUNCED
The Sundown Marathon 2017, like the previous year editions, will comprise of the 10km, 21.1km and 42.195km competitive running categories, together with the 5km non-competitive fun run.
The details of the race route and the race pack collection, however, is yet to be announced.

Register for Sundown Marathon at http://www.sundownmarathon.com/
Share this page with your friends!