Two-and-a-half year old Jack Madrid is a small lapdog –  he is a cross between a poodle and a Maltese – but unlike most dogs of his breed though, Jack loves the outdoors and running together with his owner, Gil Madrid, 53.
Said Gil, a Director of Sales in Financial Services Training & Certification (Southeast Asia) at Moody's Analytics, "Ever since Jack had been two months old, he has wanted to go outside. He does not like sitting on our lap, unlike most small dogs that I see in photos."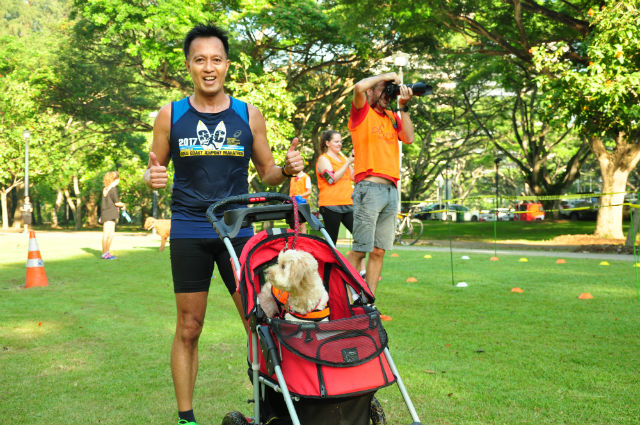 Usually the type of dogs that are known to be runners, according to Gil, are the larger ones such as the Border Collies, Labradors and Huskies.
Gil continued, "So for Jack's breed, this is quite surprising. I had never thought Jack would like to go running but he actually likes it."
How Gil had got Jack
As a runner, Gil had never intended to get a small dog. He admitted that he had been looking for a dog that could run with him, but he could not find the dog that he wanted at the pet stores or the SPCA.
Knowing that Gil had been searching for a dog, one of his friends had later suggested that Gil go to the Pasir Ris kennels to find a dog; Kennel Number 12 in particular. There are 30 kennels at Pasir Ris. That was when Gil spotted Jack the dog, playing with a little girl at the time. He called out the name 'Jack' and the dog turned around.
It had been love at first sight; immediately Gil knew that Jack was the dog that he had wanted. So he then begun to bid for Jack, and Gil successfully won, bringing Jack home with him. Jack had been two months old at the time.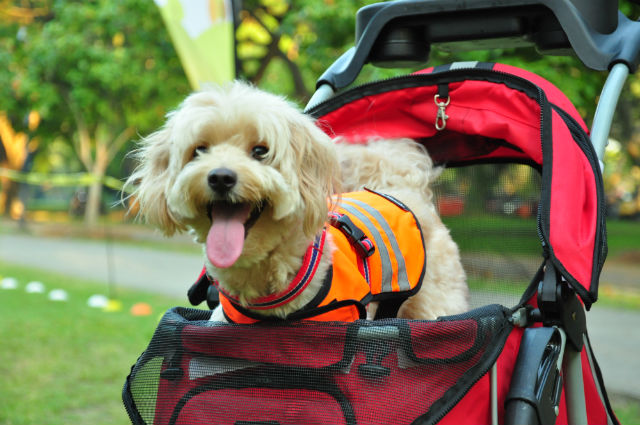 Being a small dog, Jack however, does not have the stamina to run for long distances. So this means that whenever Gil, a marathon runner, goes for his training runs, he would push Jack in a pram.
People love to see and touch Jack
Jack certainly attracts a lot of attention during Gil's training runs and brightens up the faces of many passers-by. Said Gil, "When people see Jack, they want to pet him and say hi. They cannot believe that a dog is being pushed in a pram. Jack never fails to bring a smile to peoples' faces when they see him. It is not about me; it is about Jack in the baby pram."
Gil continued, "Our training runs often takes us through the touristy areas of Gardens By The Bay and Marina Bay Promontory, so Jack passes thousands of tourists when we run together, almost five days a week. I am happy that people are so happy to see Jack. It makes me feel good that they see the joy, pleasure and happiness when they spot us running together."
Gil's training runs also includes the weekly Saturday morning parkrun sessions at East Coast Park too, and Gil can regularly be seen at parkrun together with Jack in his trademark red pram.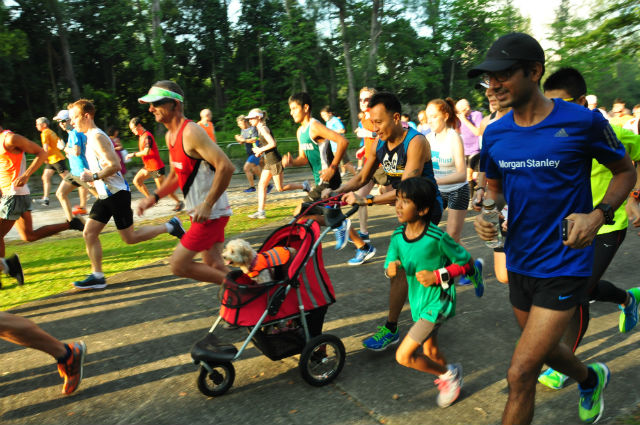 The parkrun event is a 5km time trial that takes place all over the world, targeting both runners and walkers from all walks of life.
Said Gil, "Jack can only run a short distance, no more than 2km. So as parkrun is 5km long, my wife and I decided that it may be best to have a pram to push Jack so that he can complete the whole run. The first time I completed the race without the pram, I had to carry Jack for 3km and it was very hot and sweaty; as such, Jack was very uncomfortable."
Some of Gil's more interesting running adventures with Jack, include unofficially taking part in a 21km running race, as well as meeting the Emeritus Senior Minister Goh Chok Tong.
Said Gil, "Jack and I paced my wife in the Great Eastern Women's Run 21km once; she wanted to run a sub 2-hours half marathon and so I told her to stay behind Jack and me, and not to run too fast or slow. It worked; she finished in 1hour and 55minutes."
Continued Gil, "Jack has also met the Emeritus Senior Minister Goh Chok Tong. It was when we had been volunteering at one of the parkruns."
Gil admitted that he did not recognise Emeritus Senior Minister Goh Chok Tong at first when the Minister called out to him, but he did realise that the Minster had been a very important guy because of the bodyguards and photographers surrounding him.
The Minister subsequently had asked Gil for a photo with him and Jack and the photo had been later shared on the Marine Parade community Facebook page.
Jack is a firm part of the Household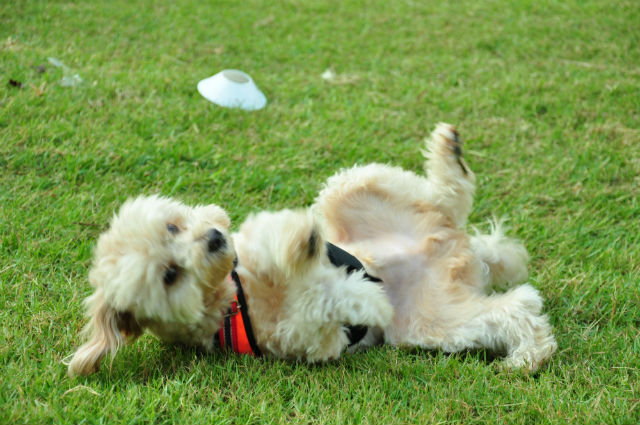 Today Jack is very much a part of Gil's life and he considers the little dog to be part of his family for the long term.
Said Gil, "Having a pet brings a lot of joy to your life, whether you think the dog can do an activity with you, he is just like a member of your family. I had never thought I would be a pet owner, but now I cannot imagine Jack would be anything but part of your family for the long term."

Share this page with your friends!