Organised by the Warriors Running Club, the Believe B60 Charity Run 2016, which takes place on the weekend of 3 & 4 September this year, aims to raise funds for the beneficiaries of the CCSS (Care Community Services Society).
The Warriors Running Club comprises of runners aged from the mid-20s to their 50s, and meets on either Saturday or Sunday mornings at 7.00am at a variety of locations such as East Coast Park, Gardens by the Bay, Macritchie Reservoir and West Coast Park. Warriors Running Club members will usually complete either a 5km or a 10km route on their weekly runs and end the run with core exercises such as planks or lunges.
Having been touched by the hardships experienced by underprivileged people throughout their own lives, the members of the Warriors Running Club believe that it is not purely enough to help these people financially but to empower their lives – through sporting activities.
Events to be held at B60
The events that participants can take part in at B60, are as follows.
60 Minutes Run/Walk
20km Mass Run – This is a special event, held in conjunction with the 20th Anniversary of CCSS
B60 Relay Race
The B60 name comes from the main event – where participants complete a 60-minute walk or run at their chosen pace. By encouraging this, the Warriors believe that it will encourage people from all walks of life to believe in themselves and their abilities.
The 60-Minute Walk/Run will be taking place on 3 September at the Geylang park connector. For this event, there are three different starting time blocks to choose from depending on when you are available – at 7.00am, 12noon and 6.00pm.
As the name suggests, the 20km Mass Run is a non-competitive 20km fun run and this event will be held on 3 September at 7.00am. Participants have four hours to complete the distance.
The Relay Race is a 30km course that is to be completed by teams of four runners, each taking turns to run 1.2km loops. Each team must be comprising of at least one female runner. The top two teams in each relay category will win Polar watches, and there will also be a special mention for the team with the highest monetary donation to the CCSS.
The Relay Race will take place at 7.00am on 4 September at the Pelton Canal Park Connector.
Registration is Free
Registration for the B60 events are free of charge and participants can sign up for the categories of their choice, at the following link. https://docs.google.com/forms/d/e/1FAIpQLSeW3ml52qjtUg1Rvpg08oIiAvwwFWkgApyiZGas30Y-mMJ9eA/viewform?c=0&w=1 
However donations to CCSS are welcome though, and participants can feel free to donate any amount of their choice, to support the B60 cause.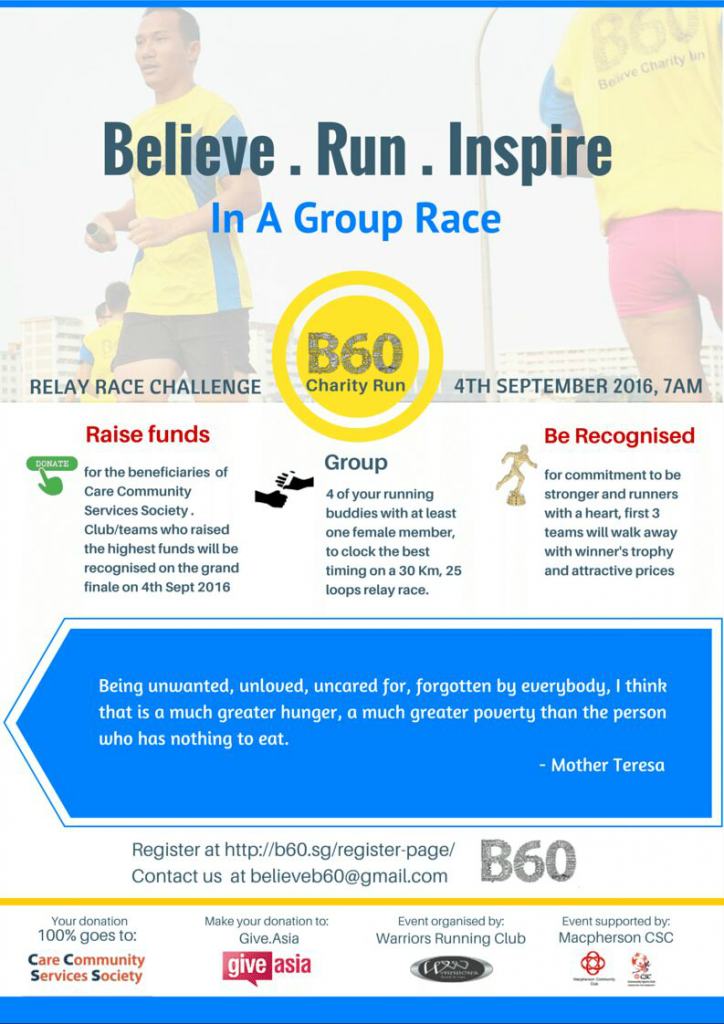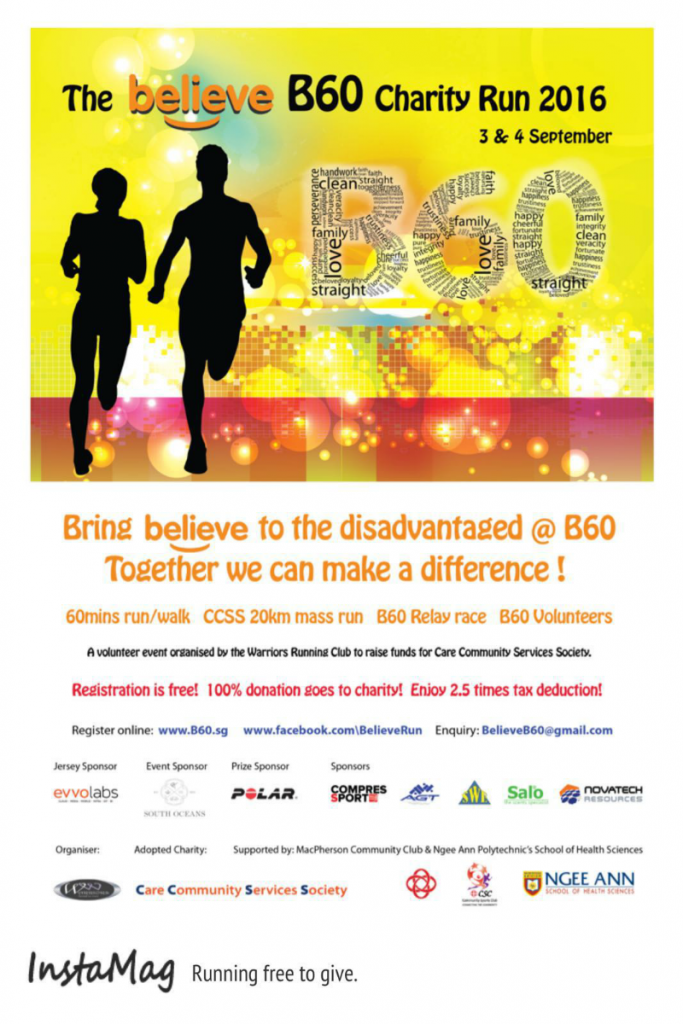 For more details about the B60 events, check out their website at http://b60.sg

All photos in this blog post are credited to B60.
Share this page with your friends!