The 2017 edition of the Fitness Movement League Nationals was held recently before  a sold out crowd of more than 800 persons at the MES Theatre at MediaCorp.
This had been the fifth edition of Singapore's longest running and largest physique sports championships.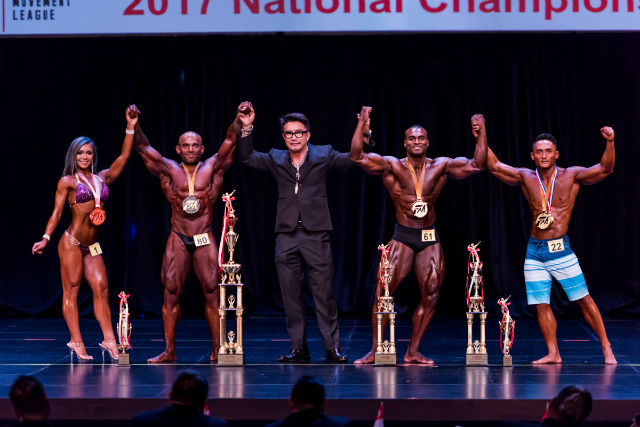 Crowned four new champions 
Winning the Mr Singapore 2017 title, for a record fourth time, was Sasi Zura, 34, who was returning from a one year hiatus in the contest. This is a competition record.
And in the new category Mr Singapore (Classic), this had been won by 31 year old Daniel Dharma, who was the former Mr Singapore in 2016.
Darren Wee, aged 30, was the champion in the Mr Singapore (Physique) category.
And in the Women's Bikini National Champion category, this was won by Angeline Huang, aged 29.
Dedicated to transforming and evolving the physique sports scene in Singapore 
Singapore's largest bodybuilding and physique sports organisation, the Fitness Movement League is dedicated to transforming and evolving the physique sports scene in Singapore, and holds multiple events per year at the Asian, National and Tertiary levels. They also hold novice competitions too, to further encourage newcomers to pick up the sport.
In total, more than 80 per cent of bodybuilders and fitness models across Singapore participate in Fitness Movement League competitions.
Event is the largest of its kind in the region

And with more than 150 of the best local athletes from Singapore, their regional competition, the Fitness Movement League Nationals, is the largest of its kind in the South East Asian region, and the event also features the largest prize purse in the region, of more than USD$50,000.
Said Kevin Chiak, 51, Founder and President of the Fitness Movement League, "This year we created two new Mr Singapore categories, to allow more Singaporeans to get involved in the sport. As we grow, we look forward to discovering more and more local talent that we can groom for the international stage."
He added, "Next year, Fitness Movement League will be working with an American partner to organise the IFBB (International Federation of Bodybuilding and Fitness) Professional Qualifier Championship to be held in Singapore. This is the organisation that crowns the World's Number One bodybuilder and physique athlete, Mr Olympia. In fact, during the peak of his career, Arnold Schwarzenegger won Mr Olympian seven times."

other blog posts
Kevin Chiak's passion for bodybuilding 
Share this page with your friends!