The Blitzboks have won another HSBC World Rugby Sevens title, this time in the Sydney Sevens. This is their third title in four HSBC World Rugby Sevens tournaments.
Beat England 29-14
They had achieved this by beating England 29-14 in the final, en route to victory. In last Sunday tournament, they also won the Wellington Sevens – by beating the Olympic champions Fiji, 26-5.
Said South Africa's captain and flanker Philip Synman, "The team stuck to the structure and well done to them. It is extra special as it is our first back to back in Australasia so hats off to all in the system and our friends and family back home."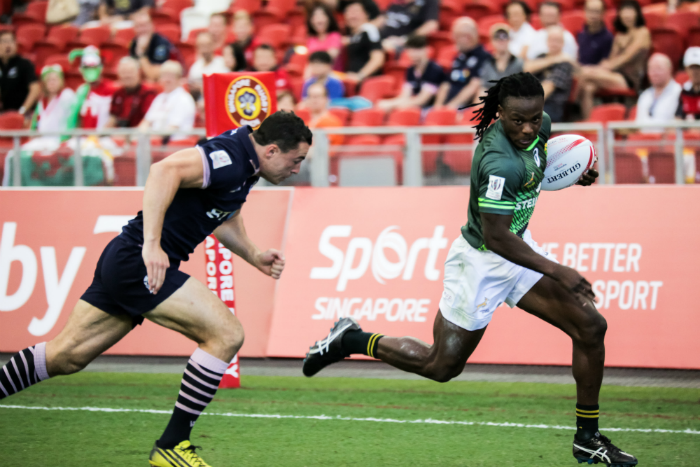 Seabelo Senalta as the HSBC Player of the Final
For the second week running, Seabelo Senalta, South Africa's superstar performer, was named as the HSBC Player of the Final. Senalta is the leading try scorer this season with 30 tries, seven ahead of England's Dan Norton and has contributed 160 points to his team in the four tournaments so far.
Said Senalta, "It's incredible. The guys are magicians, hats off to them."
Last year, Senalta had impressed his fans in Singapore with his dazzling runs and mesmerising play.
Series Moves to Las Vegas
The HSBC World Rugby Sevens Series moves to Las Vegas next month and then Vancouver, before coming to Asia for the Hong Kong Sevens and the Singapore Sevens in April.
Blitzboks are leaders with 85 points
With their third win this season, the Blitzboks have firmly established themselves as the current leaders of the HSBC World Rugby Sevens Series, with 85 points – 17 ahead of second placed England. 12 time series champions, New Zealand is in fourth place, 29 points behind the leaders.
Non Stop entertainment and first class rugby action in Singapore this Easter
In the Singapore leg, taking place this Easter weekend, on April 16 and 17, fans can expect two days of non stop entertainment and world class rugby action from their air conditioned seats under the world's largest free spanning dome. Spectators can also access the Fun Zone easily, and there will be merchandise booths at the Stadium's 100PLUS promenade for fans to purchase their favourite team's memorabilia.
Passes are still available 
Two day adult Category One passes are priced at SGD $150 and family packages for two adults and two children cost SGD $320. Overseas fans can book packages through authorised travel agents. Visit www.singapore7s.sg for more information on bookings and packages.

Share this page with your friends!