National triathlete Ethel Zhiyun Lin, 30, considers herself a late starter to the sport.
This is because unlike many triathletes competing at the top level, who start out when they are quite young, Ethel, an Assistant Director at the Competition Commission of Singapore, only picked up the sport ten years ago, when she had been about 20 years old.
Click here to view the Singapore International Triathlon 2017 Photos.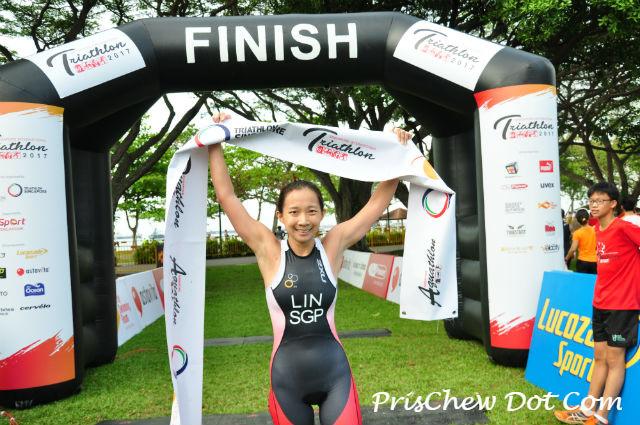 She did not come from a swimming, cycling or running background 
Said Ethel, "I did not come from a swimming, cycling or a running background. I started swimming only when I was 17, and I picked up running in university only when I took up triathlon. I think triathlon is a welcoming sport for late starters, as it is somewhere you are able to overcome your lack of background."
She had been studying law at the National University of Singapore (NUS), when she had joined the university triathlon team.
Fast forward to today though, Ethel excels in triathlon and she is passionate about the sport.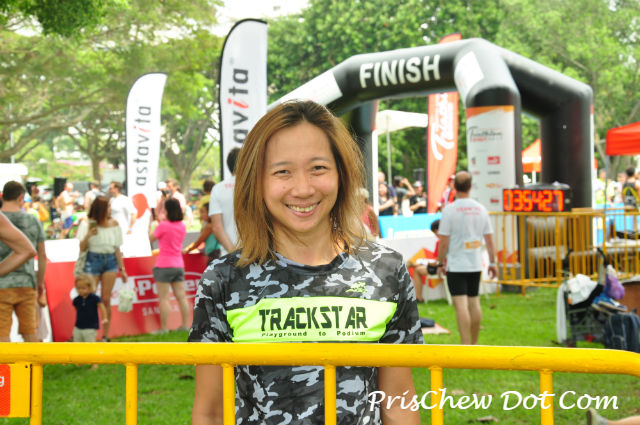 She added, "I think that I really enjoy swimming, cycling and running and I am always trying to get better at it. Sometimes when I am feeling dizzy from juggling work commitments and training, it is tempting to just choose one sport, but I really just like all three and I do not want to have to choose between them."
Memorable triathlon experiences
Ethel's most memorable triathlon experience was when she participated in the 2015 edition of the South East Asian Games. She said, "I was coming in third, but I had heat exhaustion in the last 1km of the run and I collapsed. I think that I had pushed too hard or something."
She added, "Competing for NUS was also special for me. At the inter-varsity triathlon competitions, I started out coming in the top five, then I became top three and I continued to progress from there."
Her swim is the weakest
Ethel still considers her swim leg to be her weakness though. She said "I think that my cycling and running is stronger. My swim is the weakest. Swimming is all about technique so it is not a linear equation."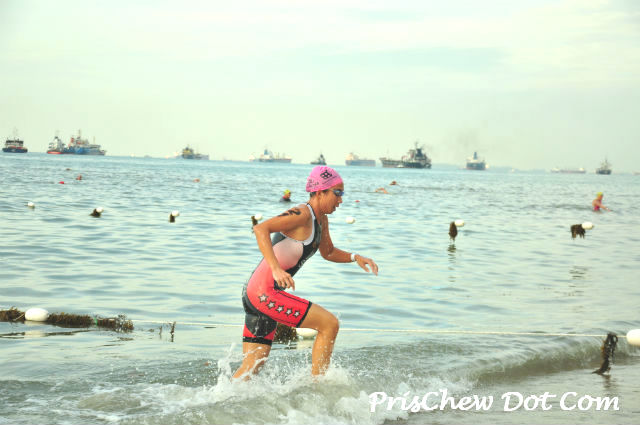 She added, "For the bike and run, you can simply put in the hard work and you will get faster, but this is not the case for swimming. A lot of people are also not natural swimmers, so that is something of a handicap in triathlon."
Her Training 
A standard week in Ethel's training routine will consist of swims four times a week. She covers about 4km per session. She also runs five times a week, covering a weekly distance of 80km and her bike rides are about three to four times each week.
Said Ethel, "To find the time, I will swim early in the morning before work, at about 5.30am. I cycle on an indoor gym trainer and run on the treadmill; this allows me to get in a quality workout for one hour at lunch time and that helps with my time management. Working full time, it is hard enough to do one sport well, and so three becomes is even more difficult in terms of managing work and training."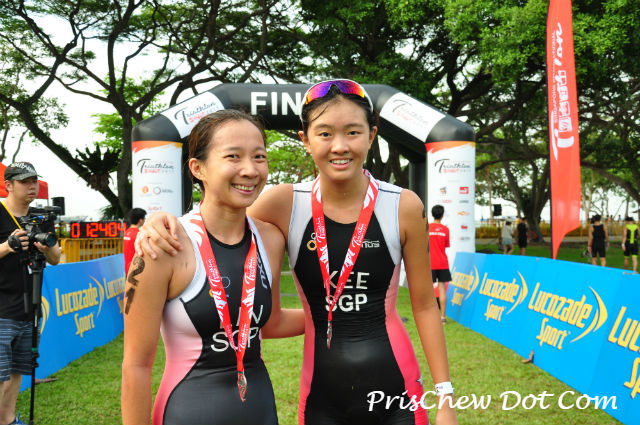 She added, "So if you have one hour to train, then get in what you can do in that time period. If you only have half an hour then just go and train; it is better than doing nothing. There is no need to try and hit big milestones in training all the time when you are busy. As long as you are consistent, you will see results."
Time Management 
To manage her time well, Ethel pointed out that a supportive infrastructure helps though. She said "My family and colleagues are all very supportive of my triathlon pursuits and I have good coaches around me, so that helps as well."
As well, in order to continue to improve herself, Ethel would also try to train with people who are better than her, at each of the three sports involved in triathlon.
She said, "I always train with people better than me. I would swim with swimmers, run with runners and bike with cyclists as I feel that helps me to make the leap faster. If I train with them a few days a week, and try to keep up with them, I think that will help me to improve and get better at each sport. In fact I am also trying to train for a half marathon at the Standard Chartered Singapore Marathon, at the end of the year."
Weight Training
To vary her training further, Ethel would also do weights on a regular basis.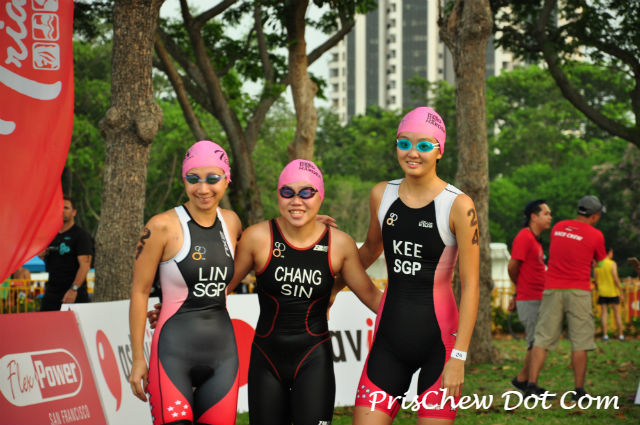 She said, "I would also do weights twice a week, as I believe that it will help to make me stronger and prevent injuries too."
Injuries and pushing herself too hard
But last year though, Ethel had suffered a setback in terms of her triathlon training, as she had been sidelined with injury.
Said Ethel, "Once you get injured, then things can really go way off in terms of your training schedule. I think that I tend to go out hard all the time, and that is why I got injured. In fact I used to overwork myself a lot in training but with age, I am now trying to scale things back a bit."
She continued, "In fact my running coach (Elangovan Ganesan from TrackStar Athletics) tries to hold me back on days when I want to go out and pushes me way beyond what I think I can do on other days, and I think that this is important. You need to go hard on days when it needs to be hard, and take it easy on other days. Do not go hard on your easy days."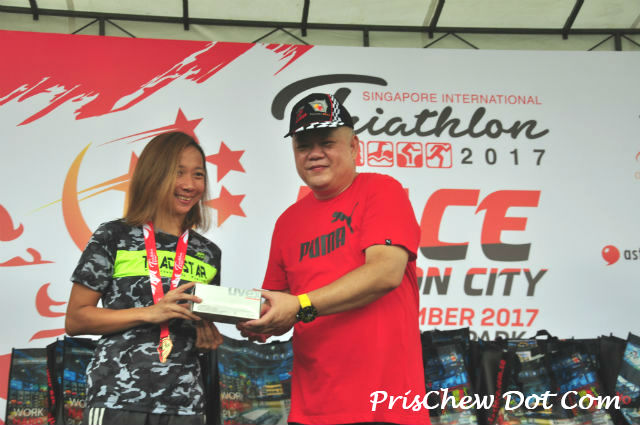 During races, she admitted that she tends to push herself hard all the way though, right from the beginning. Said Ethel, "During races, I go out hard all the time. I think that because of the swim – bike – run thing, you are naturally tired, so mentally I tell myself to just push and I always go hard."
Does not believe in rest days
But still, Ethel does not really believe in taking complete days off training though. She said, "I might have one rest day a month, but the thing is that I enjoy training. I do not like rest days. There are days when you go easier or harder but I will always do something. For my recovery, I would go for easy sessions, and make sure that I stretch and eat well after training."
No Specific Diet
In terms of her food intake, Ethel does not really have a strict diet, but she tries to increase her carb intake for the shorter races, such as the Sprint and the Olympic Distance triathlons.
She said, "I think that for shorter races, you need the carbs because you will going out at a high intensity. But for Ironman distances, you will burn more fats."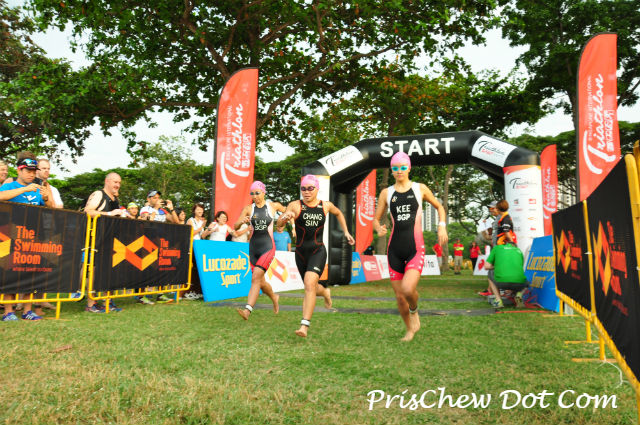 Added Ethel, "But generally though, I eat a bit of everything and I don't restrict myself."
Final Words of advice
And what final words does Ethel have to share?
She said, "Just enjoy the sport, and find a group that you like to train with, in order to keep yourself going."

Click here to view the Singapore International Triathlon 2017 Photos.
Share this page with your friends!