You can now send Usain Bolt, the World's Fastest Man, to your friends as an emoji in messages.
This is because Usain Bolt has tied up with Puma to produce Boltmoji, an emoji keyboard featuring the world's fastest man.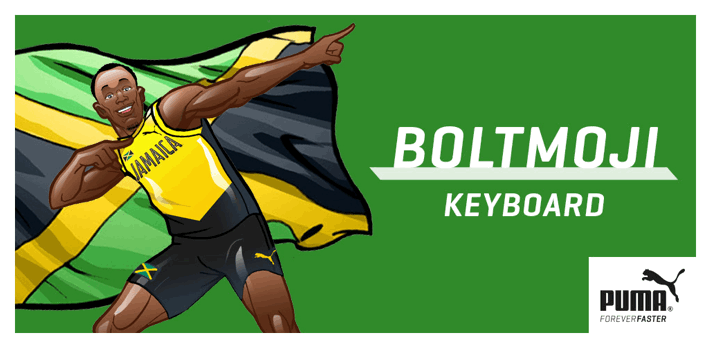 A Puma and Bolt tie up for the Rio Olympics next month

The new tie-up is a part of Puma's #ForeverFaster campaign, in the lead up to next month's Rio Olympics… where Bolt will be representing his country, Jamaica, on the world's biggest stage and hoping to bring back the gold medal.
The keyboard is an innovative idea, and will help to draw more attention and interest in the build up to the Rio Games as the tournament draws nearer.

As well, non sports fans may also be wondering what the Bolt themed emojis are all about, and so this may lead to them developing an interest in athletics, and possibly even other sports as well.
Keyboard is available today on Apple and Android
The Boltmoji keyboard is available from today and it is compatible with iMessage, WhatsApp, Facebook Messenger, WeChat and more.
Easy to download

You can download the Boltmoji keyboard as a free download on the Apple and Android app stores.
In the Apple or Google Play Stores, search for "Boltmoji" and download the application. Once you have downloaded it, then open the app.

You will then be prompted through several set up screens to install the keyboard. Once completed you can then start using the Boltmoji keyboard.

Share this page with your friends!