To mark Harley-Davison's partnership with the HSBC Singapore Rugby Sevens, everyone who has bought a ticket for the upcoming rugby tournament, will stand a chance to win a custom Harley-Davidson Roadster in a lucky draw.
The motorbike combines stoplight-to-stoplight power, agility and "made-in-Singapore" artwork inspired by the HSBC Singapore Rugby Sevens, and the winner of this exclusive one-of-a-kind motorbike will be announced at the National Stadium on Sunday 16 April.
Rugby Singapore is excited about the partnership
Said Low Teo Ping, 71, Chairman of Rugby Singapore, "We are incredibly excited about this partnership. Rugby Singapore is going to rock, ruck and rumble with the very best at the HSBC Singapore Rugby Sevens this year and this partnership adds a thunderous rumble to what we have on offer."
He continued, "We are glad that Harley-Davidson sees value in the HSBC Singapore Rugby Sevens. They know that the people coming to this event are very much in line with their target market. HSBC Singapore Rugby Sevens is a world class event and by associating themselves with it, they are at the same time, positioning Harley-Davidson as an international brand so everything fits in nicely. People who are into rugby also love the outdoors, especially Harley-Davidson, because of the image that is associated with it."
The Managing Director of Komoco Motorbikes Pte Ltd, Teo Hock Seng, also added that his team is proud for Harley-Davidson to come on board as a partner for the HSBC Singapore Rugby Sevens.
He said, "For over a century, Harley-Davidson has been synonymous with dreams of personal freedom and the pursuit of the great outdoors. Our brand has championed the passion and openness of our riders, regardless of age, gender, culture and race – and the universal language of a sport like rugby makes us proud to be a new partner of the HSBC Singapore Rugby Sevens."
Press conference at Singapore's Harley-Davidson showroom
To mark the new partnership, Harley-Davidson and the HSBC Singapore Rugby Sevens had organised a press conference, where rugby loving celebrities and influencers had witnessed the launch at Singapore's Harley-Davidson showroom at Alexandra Road. These personalities had included Paul Foster, Claire Jedrek, Ming Bridges and Luke Lee.
Guests had the chance to ride on Harley-Davidson motorbikes
Guests were also given the opportunity to ride on Harley-Davidson motorbikes, which went on a special Figure of Seven rumble route that started and ended at the Harley-Davidson showroom.
The motorbikes left Komoco Building via Leng Kee Road, before entering Commonwealth Avenue and made their way to North Buona Vista Road. From there, the convoy made a left turn and proceeded towards Portsdown Road junction before u-turning back to Commonwealth Avenue and finishing at Leng Kee Road.
I had the opportunity to ride one of the motorbikes and admit that I had been quite apprehensive and nervous at first, because it was my first time riding one. But after spending the first few minutes thinking that I would fall off, I found myself starting to feel the adrenaline rush and the speed of the motorbike, and after that the ride began to feel quite enjoyable. To some extent, I would say that the sheer speed had somewhat reminded me of riding on a roller coaster at the amusement parks.
Curious bystanders had waved to the convoy of motorbikes as they made their way through the late afternoon traffic.
Where to get your tickets
If you want to stand a chance to own a Harley-Davidson, visit www.singapore7s.sg to purchase tickets to the HSBC Singapore Rugby Sevens, if you have not yet done so.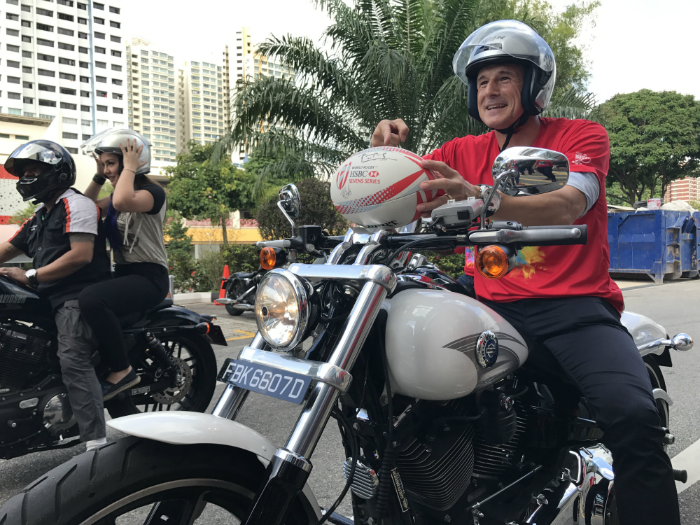 Said Low, "The HSBC Singapore Rugby Sevens is a world class event at an iconic stadium. It is a great opportunity for Singapore to rally around and show their support because we do not have too many of such events here. This will be a fantastic chance for people to spend the weekend and purely enjoy the sport at its finest."
Category One two day season passes are priced at $150 together with a handful of $300 Platinum Tickets. Family packages range from $260 for two adults and two children aged under 12, $180 for one adult and two children aged under 12 and $140 for one adult and one child aged under 12.
Sevens VIP Club packages priced at $1,600 for two days of rugby action are also available too.

Share this page with your friends!