Lace up your running shoes this National Day weekend, 5 and 6 August, and head to the OCBC Square, at the Singapore Sports Hub, to take part in the Standard Chartered Singapore Marathon (SCSM) Training Kick-Off 2017.
Takes place in conjunction with GetActive! Singapore
Taking place in conjunction with GetActive! Singapore, this is an initiative that will inspire participants to get off the couch and experience a comprehensive training kick off programme to prepare them for the SCSM.
With more than 35,000 SCSM participants already signed up for SCSM and with just 17 weeks left till race day, it's now or never for runners who are looking to beat their personal best during the race.
Those who have registered for the Full Marathon category, especially, should be beginning their SCSM training very soon, if you have not started gearing up for the race already.
Highlights of activities taking place
Some activity highlights that runners can look forward to at the training programme kick-off this weekend, include:
Pacer Run – Run with Running Department, the official pacers for SCSM.
Running Clinics – These are conducted by Ben Pulham from Coached, the official training partner for SCSM. He will be giving a talk on how to better your training based on heart rate and also busting common marathon myths at the clinics.
Heart Rate Run – Run 3km around the area with a Garmin heart rate monitor and find out how to enhance your training based on your heart rate zones.
Women Squad Activation – An SCSM training programme strictly for ladies that is set to kick off this weekend. At this weekend's session, take part in a HIIT (high intensity training) sessions and 3km run. Test out the new Under Armour Bandit 3 Long Distance shoes too. Find out more about the SCMS Women Squad here.
Full Line Up of events
Here is a full line up of events taking place this weekend and the times when each of these would be happening.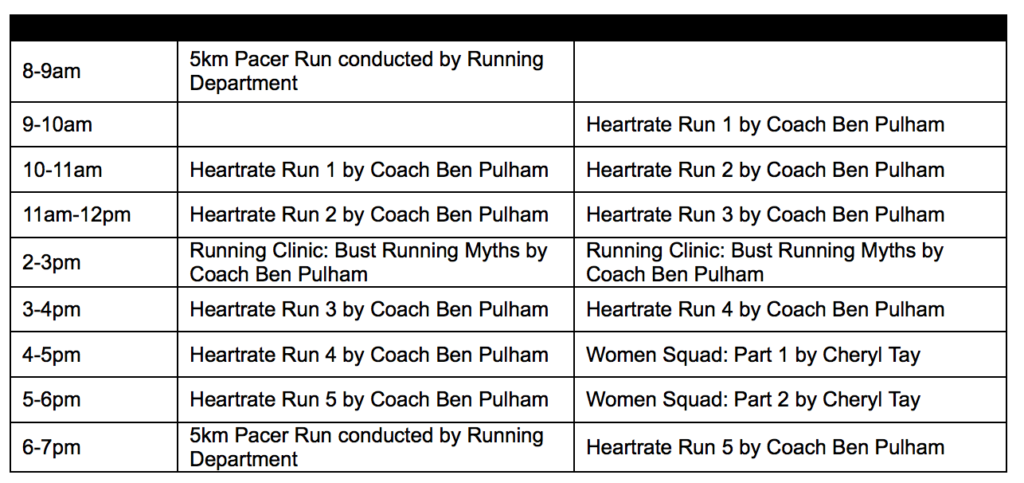 How To Register
Admission is free, but you will need to register here in order to secure your spot, on a first come first serve basis.

Share this page with your friends!