A couple of months ago, a close family friend, Liz Stewart, had been diagnosed with breast cancer.
And according to Stewart, her cancer was a Grade 3 invasive carcinoma of 19mm plus a high grade DCIS of up to 32mm. It was HER2 positive and also weakly ER and PgR positive too. So she was really worried about the diagnosis.
Said Stewart, 64, "I had suspected it was cancer once the doctor said he saw something suspicious while he was doing an ultrasound. But I had to wait another 10 days for the confirmation. During the time, the television seemed to be full of advertisements about breast cancer. The words conforming the cancer were devastating. Even though you may suspect it, there was always a glimmer of hope that it was all benign."
CONVINCED THAT HER LIFE WAS OVER
On the fateful day that the diagnosis was confirmed, Stewart, a retiree, had been convinced that her life was over.
She said, "I thought it was the end of my life and I made a list of all the things that had to be done such as update my wills, put a list together of all organisations etc, that had to be notified when I died. I also discussed with my daughter what I wanted for my funeral and what to do if I ended up in a vegetative state. When my mother got cancer, she died. When her mother got it, she died. When any of my ancestors got it, they died. Logic never came into it that treatment is better nowadays and survival rates far improved.
Added Stewart, "Even now, I still worry and have thoughts of death. You read of so many people who survive one or two cancers, but it still gets them in the end. I still wonder – will it come back and if so, will it be caught early enough to be treated? Or will it be one that can't be treated?"
CANCER DID NOT COME AS A TOTAL SHOCK
Stewart admitted that the cancer didn't come as a complete shock to her, though. She explained, "I had always suspected that I might get breast cancer. I have looked at my family history for a number of generations and most relatives died of heart problems or cancer, so I thought there was a good likelihood that I might get these. Of course I hoped I would not. Despite this history, it was still a shock to get the diagnosis."
Still though, Stewart had felt there was a chance she would not get cancer – as she felt she did not have a lot of the risk factors that would typically lead to cancer. These included smoking, high stress levels and a couch potato lifestyle.
She explained, "I do quite a lot of walking and only use a car to do the weekly shopping and go on long drives. I do not play any sports or go to the gym, though."
In terms of her diet, Stewart also added that while she generally does not have a problem with deep-fried foods, one possible cause of cancer, she has been trying to cut down on sweet foods. This is because according to some studies, glucose tends to fuel the growth of cancer cells. Said Stewart, "I do not have the greatest of diets as I tend to eat some foods that are not good for me. However I have tried to cut down on the sweet stuff I eat over the past few years and eat more nutritious things like fruit."
UNDERWENT SURGERY TO REMOVE THE CANCER FROM HER BODY
However the diagnosis was not the only scary part of Stewart's cancer journey so far. Following that, she had to go for surgery to remove the cancer from her body, and she admitted that she was really frightened.
Said Stewart, "The slightest thing would make me burst into tears. I was so scared, not of the operation as such, but that I would not come out of the anaesthetic. On the day of the surgery, I cried when I said good bye to each of my two children at different times. I was also in tears when I was on the trolley waiting for the anaesthetic. That was so unlike me."
So when she woke up from the operation and was subsequently discharged, it was a feeling of sheer relief for Stewart. She said, "I was relieved – I was still alive and my lymph nodes were clear, so maybe the cancer had not spread. I was in hospital for just under 24 hours, but was still glad to be out."
WAITING FOR CHEMOTHERAPY TO START
Now Stewart is waiting to begin the most gruelling part of any cancer treatment – the chemotherapy. This harsh drug can take a very harsh physical and mental toll on the body, with its numerous side effects such as hair loss, vomiting and nausea.
Said Stewart, "I have mixed feelings about chemotherapy. One part is dreading what side effects I will have. This is based on what I have read and heard. Also the amount of time it takes up of your life. My first lot is going to take two days – the first for a blood test and to see the doctor. The next day is the actual chemo itself. When I am on the 3-weekly cycle, it is not so bad, but when I have the 2-weekly cycle, it will feel like I am living at the hospital."
She added, "There is another part of me that can't wait to get started, though. It is coming up to 8 weeks since my operation and the quicker I start, the quicker I will finish and I will know how i am going to react. I hate uncertainty. I have to have radiotherapy after the chemo too, so I really want to get it all over and done with as soon as possible. It is all going to stretch into next year. The uncertainty throughout the whole process about what is going to happen is quite tiring."
THE WORST THING ABOUT CANCER IS THE EMOTIONAL TOLL ON THE BODY
As a whole, Stewart feels that the worst thing about cancer in general, is the emotional toll that it can take on the human body. She said, "With the physical side, you can go to the doctor, say what is wrong and get something to alleviate the side effects. You also know the treatment will come to an end."
She continued, "However with your feelings, it is harder to discuss. Everyone is different as what they feel is based on what they have experienced in their life. You don't know how you are going to feel as life continues. When you receive the diagnosis, the possibility of your mortality arises and that is a lot to take in. For a child, probably the physical side is the worst, as they have less experience of life."
HELP CANCER PATIENTS AND SURVIVORS
Help breast cancer patients like my family friend Liz Stewart, by donating to the Breast Cancer Foundation.
You may also choose to donate to the Children's Cancer Foundation – to help kids who have been stuck down with this devastating monster before their lives have even truly begun.
Or you may opt to help the 365 Cancer Prevention Society, which has a goal of preventing and fighting cancer through holistic health and passion for life.
As an ambassador for the StanChart Marathon Singapore 2015, I am running the Full Marathon (42.195km) to raise funds for these three cancer-related charities.
If you feel the same way as I do about cancer and passionate to help cancer patients, please donate to my charitable cause. No amount is too small to help cancer patients and survivors.
You may donate at this link.
http://www.giveasia.org/movement/cancer_is_a_marathon_by_pris_chew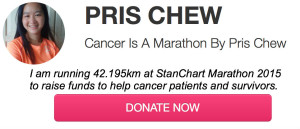 Share this page with your friends!