I slowly crawled my way around the stadium track on the handbike. With each turn of the hand pedals, my perspiration dripped down faster.
It was barely a couple hundred metres into the ride. But I could already feel that the lactic acid was slowly, but surely building up in my arms. I grunted with sheer agony and I was like a tortoise on the handbike (a three-wheeler with a comfy seat, foot rests and hand pedals).
That was my "embarrassing" initial introduction to the sport of handcycling, which is a form of cycling for disabled athletes. Around me, speedy handcyclists with cerebral palsy and spinal bifida were whizzing effortlessly around the track.
Doing the 42km Sundown Marathon on handbikes
These handcyclists were training to take part in the Sundown Marathon in May. This is definitely a challenge and is no mean feat – especially for a disabled athlete with weak muscle coordination and motor skills.
But for 24-year-old Alvina Neo, who has been handcycling for three years, she can now do the full 42km distance quite effortlessly. After all, she had already conquered it once last year, and she will be doing it again come May.
Said the management assistant officer, "I think it will be cool. I'm really looking forward to doing it again. It's nice to ride in the night when there's no sun."
And after watching her completing lap after lap of the track without any difficulty yesterday, it is quite hard to believe that this young lady was born with spinal bifida.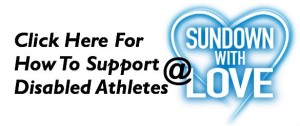 Today, she is the top female athlete at the Handcycling Association of Singapore – who is partnering with the Sundown Marathon this year, for the second time running.
Handcycling To Stay Healthy
Together with the other Sundown Marathon Charity Ambassadors at the ITE College East sports track, I met Alvina and the other handcyclists at yesterday's training sessions, organized by the Handcycling Association of Singapore.
Started in 2009 by Foo Fung Liang, 40, and a group of his friends, the Handcycling Association's main aim is to get more disabled people involved in the sport. Said Foo, "It is important, especially for the disabled, to stay healthy and be active. If not, your recovery will be a lot harder."
Added Foo, "Disabled sports such as handcycling should be a form of advanced rehabilitation. So I want to pass this sport on to as many as possible."
Confidence Levels Improved
And not only has picking up handcycling accelerated their recovery, but the confidence levels of the athletes have also improved tremendously from taking part in the sport.
Said Foo, "When they first started, they were all very shy and afraid to speak up. They were also not able to pedal more than three laps (of a 400m stadium track) and couldn't control the bike in straight lines."
Today, Foo coaches handcyclists as young as ten years old, with the oldest being 32. Most of them have cerebral palsy, spinal bifida, speech impairment or global development disorder (impairment of motor, cognitive, social and/or emotional skills).
And handcycling certainly helps camaraderie. Said 18-year-old ITE accounting student, Noor Iskandarie, "I really love being with my team-mates during handcycling sessions. You train together and laugh together. We may be competitors on the field, but off it, we are like close friends."
Need a bag of stamina
A strong upper body is needed in handcycling though. Noor Iskandarie, who has cerebral palsy, has been doing handcycling since 2009. But he still finds the physical aspect tough going. He said, "You need to have a lot of stamina and a strong upper body to push on."
Fellow handcyclist Naren Sankir, also agreed. The 20-year-old Republic Polytechnic Mass Communications student said, "After a while, your hands get tired. It takes a lot of effort."
And Naren still has trouble in successfully making right turns on the handbike, because the right third of his body is weak, due to his cerebral palsy condition. He said, "My left hand is the dominant hand. So when I turn to the right, I get stuck halfway. I can do 90-degree turns, but not 180-degree ones."
Biggest Challenge
The biggest challenge for some of these handcyclists though, are drivers not giving way to them – when they are on the roads.
Said Alvina, "When you are on the roads, drivers may not see us because we are so low down. And some will not give way to us."
Continuing to improve to conquer the Full Marathon
Still though, their troubles and challenges only spur the determined handcyclists on to continue to improve, to further excel at their sport.
And Naren eventually hopes to be able to improve himself enough – to make it to the start line of the Sundown Marathon's 42km race, one day. With the rate that he's been improving so far, that time will possibly come soon.
If these handcyclists continue to work hard at their sport, some of them will definitely make it to the world stage, at the Paralympics soon.

To catch the handcyclists in action come 31 May, you may sign up for Sundown Marathon here.
To support disabled athletes and donate to a good cause at Sundown Marathon, click here.
And to find out how to get your hands on a beautiful pair of limited edition, yet-to-be-launched New Balance shoes, click here.
Share this page with your friends!