The audience waited with bated breath, as professional photographer Pilar Tuason made her way towards the photo studio and picked up the brand new Sony a7RII camera. What was she going to do with it?
Tuason, a wedding & fashion photographer, then walked towards a model – who had been waiting in the studio. The girl was asked to move around as fast as she could. And as she did so, Tuason pointed the a7RII camera at her and started snapping away. As she clicked, Tuason's photographs appeared on the giant overhead projector screen, which the a7RII camera had been connected to.
Everyone gasped – as Tuason subsequently zoomed right up to let us see the minute details of the images that she had just taken. The photos were very sharp, despite the moving subject in them. The freckles and hairs on the model's face could even be seen very clearly too, and the quality of the photo was definitely of a very high standard.
Professional photographers were impressed with Sony's new camera
Tuason, one of Sony's alpha professional photographers, had been given the opportunity to try out the new Sony a7RII camera, which was being revealed to the media recently. And she was definitely impressed with the results. Said Tuason, "I challenged the capability of this camera by taking extreme photos such as an ant, a water droplet and the image of a flower. The details were great."
This ability to shoot extremely high-resolution, sharp images is one of the much-touted features present in Sony's brand new a7RII camera – the world's first full-frame mirrorless camera, according to the tech giants.
Said Dai Tanaka, General Manager, Digital Imaging Division, Sony Electronics Asia-Pacific, "Sony continues to deliver game-changing imaging products that are changing the way imaging enthusiasts, hobbyists and professionals can see and capture the world."
Offers extremely sharp images
Another of Sony's alpha professional photographers, Darren Soh, had also been visibly impressed with this feature. When he was giving a short talk to the audience about his experiences with the camera, he couldn't stop zooming into his images to show us how sharp they were – even when taken from a distance of about 1km away.
These photos had included images of the grills on the swinging bridge at the Bishan Park – as well as the People's Park Complex, where it was still possible to see the designs of every single window grill – even when the camera was 1km away.
I also got to test out for myself, this ability of the camera to shoot extremely high-resolution, sharp images. Using telephoto lens, I zoomed from the balcony of the Shangri-La Rasa Sentosa Resort, where our media hands-on session with the camera was taking place, to the beach and trees below – and I could still see the fine details of tree leaves on the images that I had taken. It was amazing.
Offers high resolution and high sensitivity images
An interchangeable lens camera that features the world's first back-illuminated full-frame sensor, the Sony a7RII camera also offers high-resolution (about 42.2 megapixels) and high-sensitivity (expandable up to ISO 102,400)*. This is the most advanced, versatile and highest resolution full-frame image sensor that Sony has ever created, and allows the a7RII to reach new levels of quality, sensitivity and response speed in a camera.
This noiseless feature in the Sony a7RII camera was another characteristic that had impressed Soh. He had taken a photo of moving cranes, with an exposure of two minutes – and the results were magnificent. Said Soh, "At two minutes, other cameras have lots of pixel noise, but this one didn't at all. This is really helpful for me, as I do a lot of ground exposure as part of my job." Soh is a landscape and architecture photographer.
In addition, the camera also offers high-speed autofocus of up to 40 per cent faster than the original a7R camera – thanks to the 300 focal plane phase-detection autofocus points.
Ability to shoot and record 4K videos in multiple formats
As well, the camera features the 5-axis image stabilisation system from the a7II model that has been fine-tuned to support its shooting capability. As well, it possesses the ability to shoot and record 4K videos in multiple formats including Super 35mm (without pixel binning) and full-frame format – this is a world's first for digital cameras.
Said Kimio Maki, Senior General Manager of Digital Imaging Business Group for Sony Corporation, "By harmonising high resolution, sensitivity and speed, we are delivering a high level full frame imaging experience unlike anything else in the market today, with Sony's newly developed, world's first 35mm full-frame CMOS sensor."
A solid yet light camera
Due to its light, rigid magnesium alloy design, I also found this camera to be solid, yet light in my hands, when I had picked it up for the first time during the media session. And there is an improved and re-designed grip and shutter button compared to the original a7R camera.
In addition, the Sony a7RII camera also has a new mechanism to conveniently lock the mode dial and an expanded range of customisable functions and buttons to suit even the most demanding photographers.
Camera Specifications 
Here is a table of the specs of the Sony a7RII camera in full. (See Table below).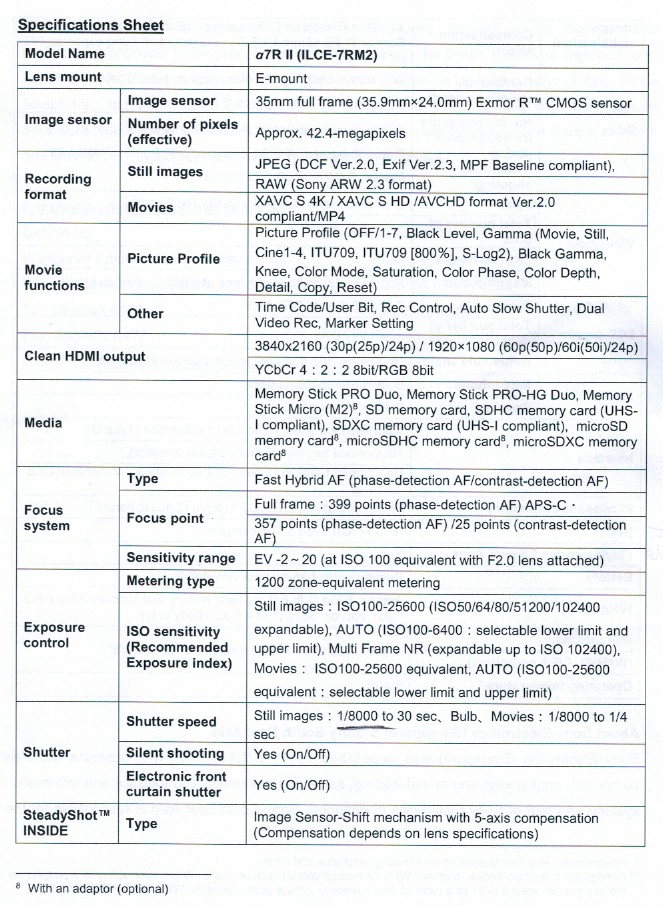 Where to purchase the Sony a7RII camera
The Sony a7RII full frame interchangeable lens camera is available for purchase in Singapore at all Sony stores, Sony Centres and selected Sony authorised dealers from this month onwards at a recommended retail price of SGD4,099 (body only).
The a7RII is compatible with Sony's growing line-up of lenses, which now totals 63 different models including 12 native FE full frame lenses. By early 2016, Sony will add eight more new lenses to the FE full frame line up.
For more details about the camera, check out the Sony website at www.sony.com/alpha.
*Expanded ISO range available only for shooting still images.

Share this page with your friends!