SITEX, the largest consumer and lifestyle IT exhibition is back in Singapore from now till Sunday at Singapore Expo Halls 7 and 8 from 11am to 9pm, and the event consists of brand new and never seen before experimental zones to engage the visitors with the latest technology and smart solutions.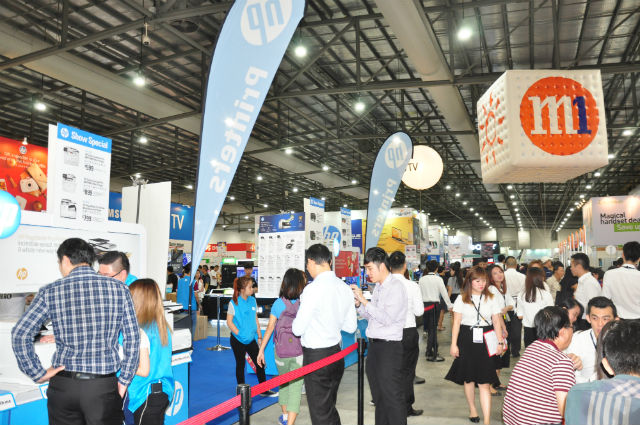 Jointly organised by SingEX Exhibitions and Singapore Infocomm Technology Federation (SiTF), you can come down and get first dibs on state of the art gadgets as well as in depth learning of technology application into everyday lives.
SITEX Media Preview
I had been invited to the media preview of SITEX which took place this morning.
At the preview event, we were taken on a quick tour to see the main attractions that SITEX has to offer this year.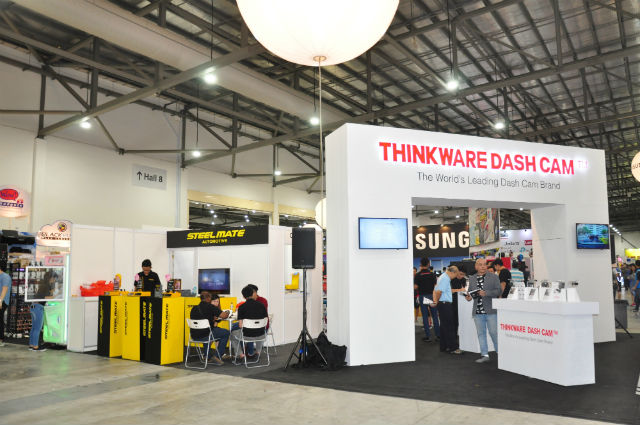 Audio Room Experimental Zone
One of these is the Audio Room experiential zone, which is targeted at meeting the increasing demand of the audiophile community for exceptional and high quality sound gadgets, allowing visits to enjoy a satisfying audio experience.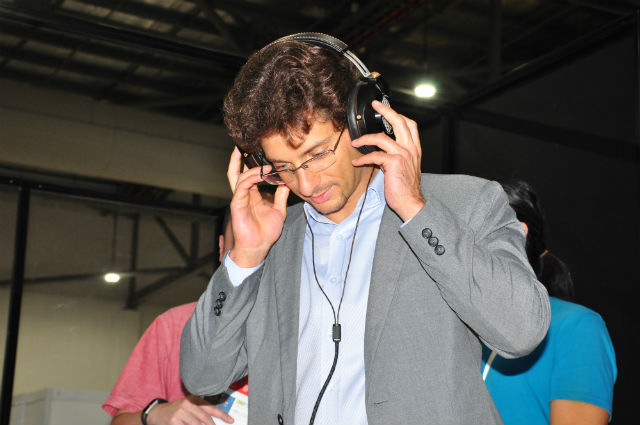 Here, media guests were taken into a small simulated audio room where we had the chance to listen to Klipsch's Heritage HP-3 headphone which is based on legendary Klipsch sound principles of high efficiency, low distortion, and full range sound. I tried the headphones out in the audio booth and I had thought that the sound quality was quite rich and full.
This audio room at the SITEX offers potential customers the chance to capture the unique sound acoustic preferences of Audiophiles.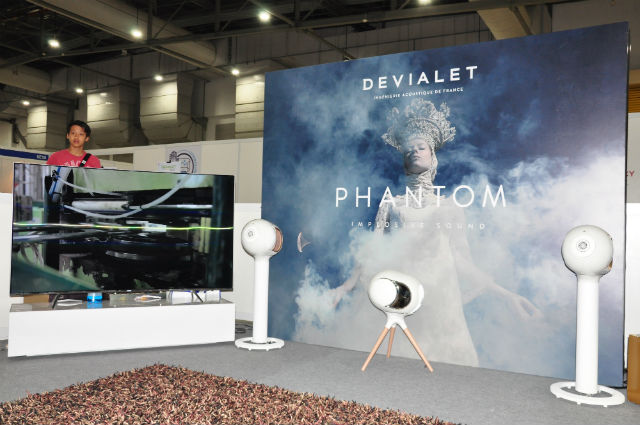 At SITEX, we were also treated to a sneak preview of the Phantom wireless speakers by Devialet at the Audio Room zone, which is advertised as offering power, clarity and precision unlike anything you've heard before.
As the exhibitor explained more about the speaker and its functions, he also played a short song snippet from the speaker, and the rich, dense sound immediately filled the air. A large public space may not be the best place to demonstrate such sound quality at its fullest, but I thought that the sound emerging from the Phantom speakers was very rich and had a very full body too.
A snippet of sound recorded from the Phantom speakers.
The Phantom speakers too, according to the exhibitor, are portable and they can be played anywhere that there is a power socket, even at a neighbourhood park.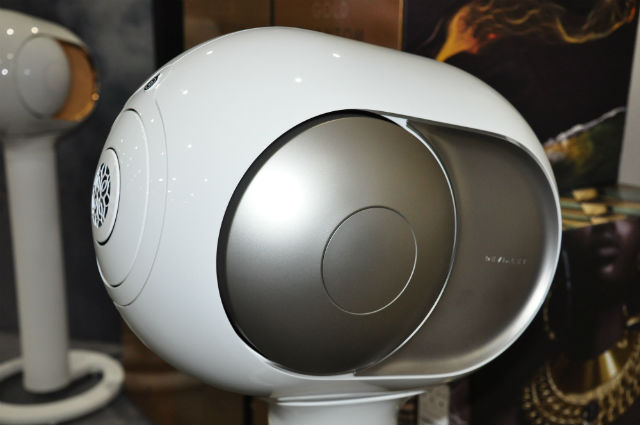 As well, there is also a live stage at the Audio Room zone where musicians such as Cold Cut Duo, Too Much Drama, The Tonic ft. Jerry as well as DJ Daryl C, DJ Kaye, DJ Rah and DJ William from Darker Than Wax, will strut their stuff.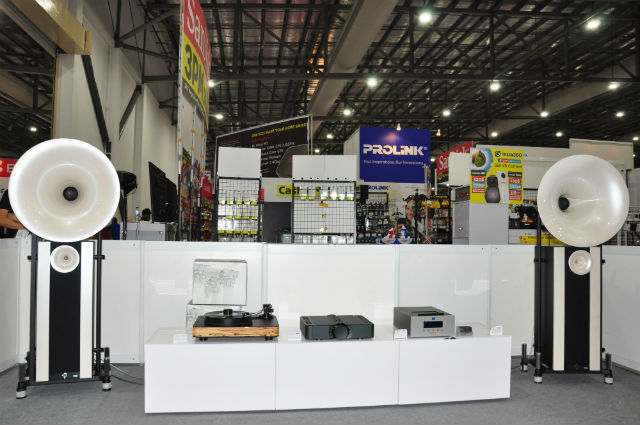 Innovation Town Experiential Zone
Another zone that we were taken through was the Innovation Town, which showcased innovative products and solutions tailored to the evolving needs of the tech community.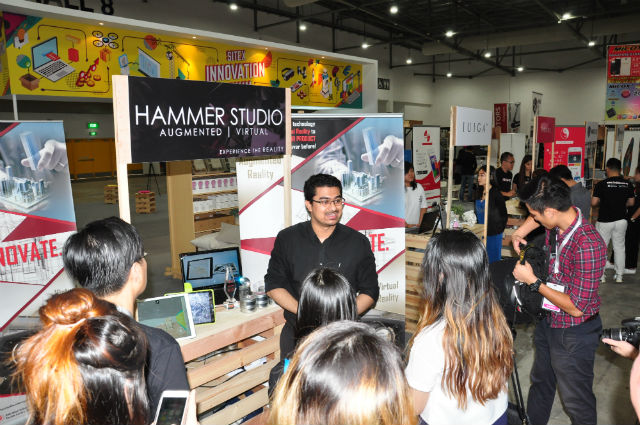 This area had featured 10 to 15 start ups and consumers can get an exclusive preview of some of the innovative technologies in the areas of IoT (Internet of Things), Fintech, Artificial Intelligence and Virtual Reality, as well as HR Tech, HealthTech and E-Commerce.
One of the more impressive startups was Hammer Studio, which showcased a rather interesting app called MUNZILI. This is a 3D Floor Planner, Interior Design and redecoration app that cuts the time to create a 3D visualisation of an interior space by 70% compared to Autodesk or Google 3D designing products.
Currently, the app is only available for interior designers but the developers plan to eventually launch it to the public in the fourth quarter of next year.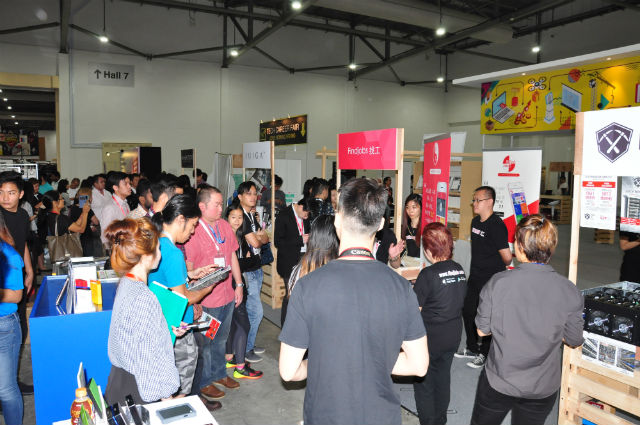 I was most impressed by this app's augmented reality feature, whereby you can literally choose say, an office chair and plonk the chair into the space where you are standing. Then you can move away and when you return back to that spot, the chair will be still there. If you really like the chair, you can buy it from the app too.
To put things simply though, this technology works similarly to Pokemon Go where Pokemon characters are placed in the real world using the phone or the tablet's camera feature.
Another startup that I had thought was interesting was OriFIT by Imagine Labs. This is a genetics based wellness solution that has designed three types of tests: oriSKIN, oriVIT, and oriFIT to search for genetic markers that influence a person's skin, nutrition and fitness dispositions.
So in this way, they can formulate products for the individual based on their unique genetic make-up to immediately begin optimising the body's response to attaining overall and long-term health and wellness.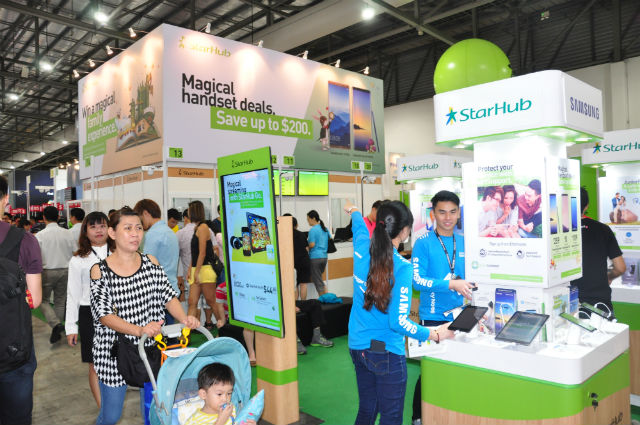 It had been quite intriguing to know that you can determine what type of exercises are the most suitable to your DNA and body type as well as to find out whether you are doing the right type of exercises to suit your body. Having such information can be definitely useful in terms of combating the obesity crisis that is currently hitting the world.
Inaugural Tech Career Fair
At the Innovation Town, the inaugural Tech Career Fair has also been set up, to support the growing tech industry. This will help to match the needs of employers to that of keen employees.
So techies who are looking for opportunities to upgrade their skills, further their career goals or enter the tech industry can meet up with participating companies, including Blink Technologies Pte Ltd, Terrabit, Raffles Provident LLP and Opus IT Services Pte Ltd.
Smart Home experimental zone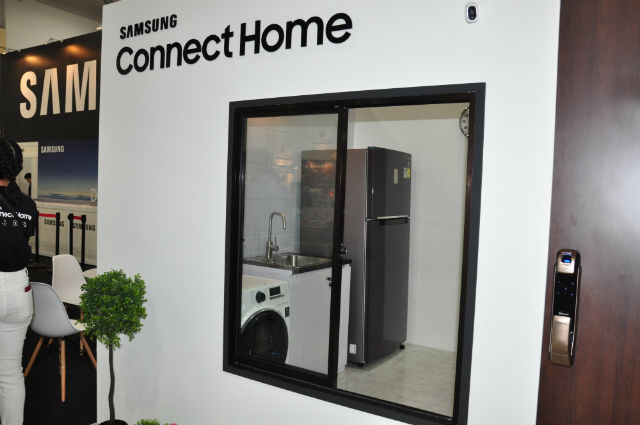 We were also brought through the Smart Home Experimental Zone, which offer visitors a first hand experience to some of the best technologies and smart solutions in a simulated home setting.
This is a fun and engaging concept that provides practical solutions for visitors such as specifically designed bedrooms, living rooms, toilets, study rooms, dining rooms, gaming rooms and so on.
Taking a look through the mini smart home on display by the exhibitor, it was quite impressive to see how many smart features are present, and how innocuously these are hidden within the home as well – so this means that they are not too obvious.
Visitors can also easily find the products that they need, from the various brand booths at the exhibition such as SanDisk, Asus, Samsung, Linksys, D-Link, TP-Link, Western Digital, Seagate, Aztech and so on.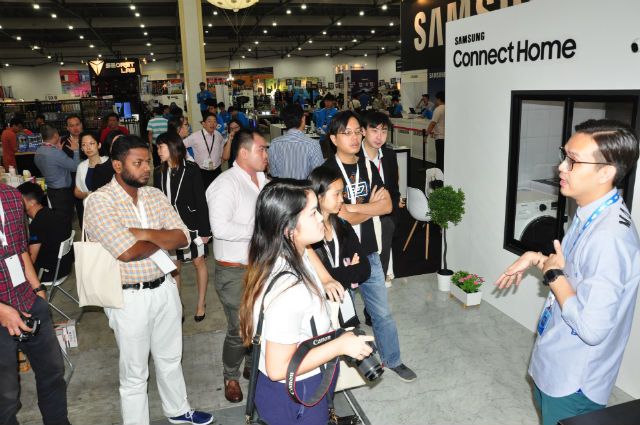 The products featured include smart LED bulbs with colour changing capabilities, wifi gigabit routers for gamers and network attached storage for home data backup and multimedia streaming.
Virtual Reality & Augmented Reality Gaming Experimental Zone
This zone showcases the latest technologies, products and equipment in the realms of traditional console gaming, virtual reality gaming and mobile gaming that appeals to the needs of both casual and hard core gamers.
Trade ins will also be made available to consumers here, and items accepted for trade ins include mobile phones, laptops, and game consoles. For bargain hunters, they can get a S$20 discount when they buy a new product after trading in their old gadgets at the B2H booth 7E17 at hall 7E.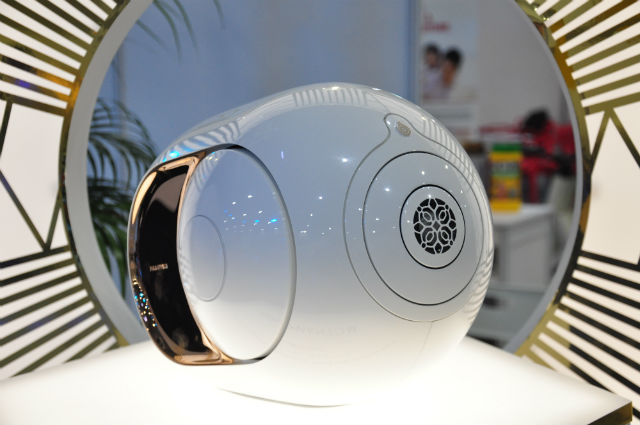 As well, by completing all the games at the experimental zone, consumers can win prizes sponsored by Sony. Games available include VR World, GT Sports, FIFA 18, Knack 2, Crash Brandy Code and No Hero Allowed.
So gamers would definitely have a field day here, testing out the various games and pitting themselves against each other to win attractive prizes.
The TechHunt Hacked Playground Challenge
For those who wish to be more hands-on, there is the TechHunt Hacked Playground Challenge for visitors too.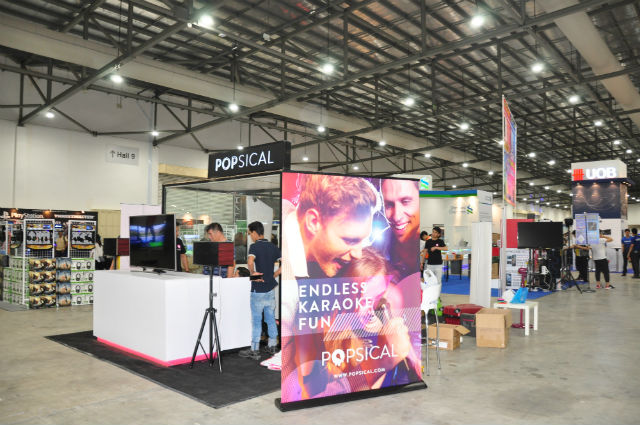 SITEX has announced that its digital playground was 'hacked' and in order to reinstate its former glory, XETIS, its official mascot, is reaching out for help by engaging the public in a TechHunt. Here, registered participants will be deployed to seek clues from various booths across the five zones – Smart Home, Auto Tech, Kids Tech, Virtual Reality and Augmented Reality, and Audio Room.
Using the augmented reality app ePrism, participants have to find an ePrism logo and point at the image and scan for interaction. When they do, they will have to answer three to five questions and this will unlock hints that will in turn, lead them to restoring Singapore's IT Lifestyle Digital Playground. Winners will receive up to S$2,000 worth of cash and vouchers from various vendors.
If treasure hunts and puzzles are up your alleyway, why not give this a try; as you may discover a talent that you didn't know you have and you may just walk away as the winner.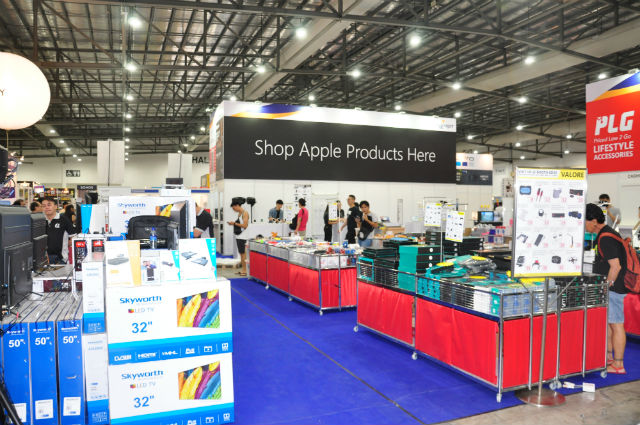 However there are only 500 participants per time slot and this includes 200 spaces for walk-in participants though. So if you are interested, do pre-register at www.sitex.com.sg to avoid disappointment.
After the media tour
After the media tour was over, I also had a quick look around at the various booths of the vendors and distributors in the tech industry to see what was on offer and seeing if the prices and freebies being provided were attractive.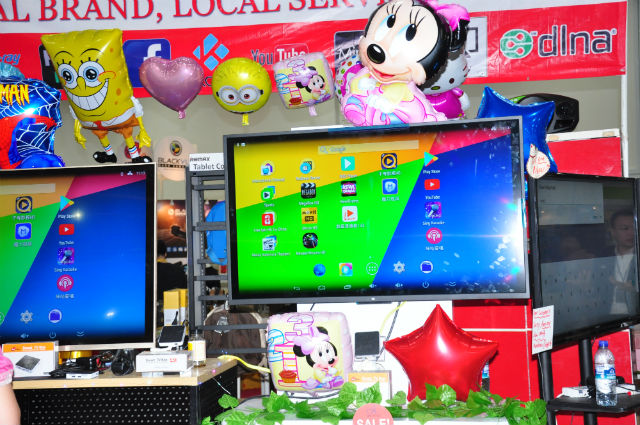 And I think that if there is something that you are looking for or may need, I suggest that you could go down and check things out to see whether you can score a good bargain for yourself.

Share this page with your friends!