Snow White. Cinderella. The Little Mermaid. Tangled. Frozen.
Don't you simply adore the timeless and captivating songs from these Disney classics? Now, you will finally have the chance to hear them live, right here in Singapore.
This is because Disney On Classic – A Magical Night, will be here in our Island City, in a couple of weeks' time. This show is Disney's first live orchestra show, and is now making its debut in South East Asia – after 12 years of sold-out performances throughout Japan.
In Singapore for just two nights – on 16 and 17 July at The Star Theatre, the show will be led by legendary Disney music maestro Brad Kelley, the Metropolitan Festival Orchestra and eight international singers. Concertmaster Takashi Aoki from The Orchestra Japan, will also be joining them.
Brings alive treasured Disney memories from your childhood days
And together with the enchanting music, key scenes from the classic Disney movies will also be projected onto a giant screen and further enhanced using dramatic lighting and other special effects, to produce a memorable performance for both adults and kids alike. Your treasured Disney memories – that you have held dear since your childhood days – will be able to truly come alive as you watch this performance.
Said Dr Kevin Koh, Executive Producer at the Metropolitan Festival Orchestra, "Disney on Classic straddles the worlds of both Disney and classical music, and as a result, produces a magical experience that resonates with people of all ages. We hope that both Disney and orchestra music fans, will be able to discover a brand new world to explore and love, through this show."
Ticketing Details
Interested to catch Disney On Classic – A Magical Night? Here are the ticketing details.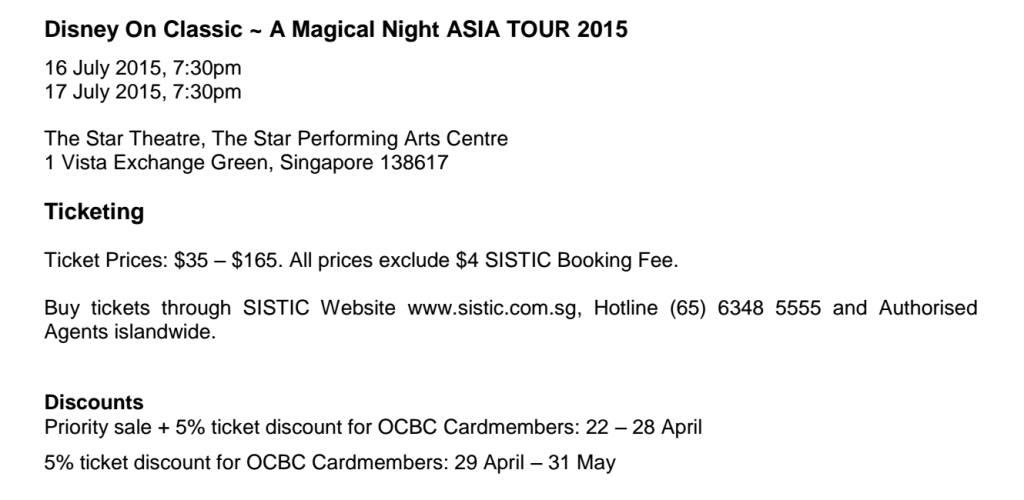 Share this page with your friends!