Health food company Amazin' Graze has put a healthy spin on some of our classic Chinese New Year treats such as YuSheng, haw flakes, Tangerine and Love Letters… by turning them into healthy snacks that you can now munch on without the guilt.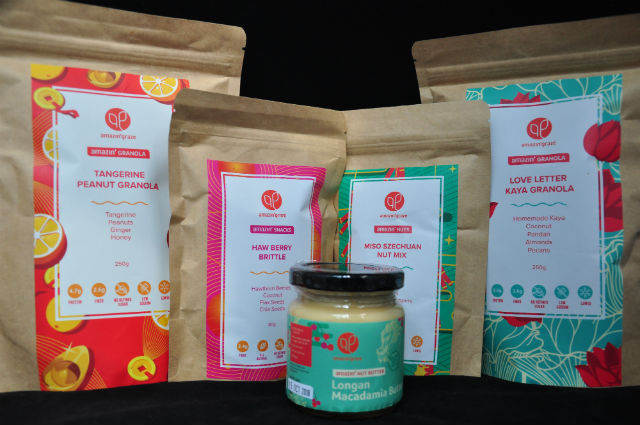 Amazin' Graze was started in 2015 in Kuala Lumpur
Originally started in 2015 in Kuala Lumpur, Amazin' Graze was initially born because company co-founder Amy Zheng had been frustrated about the lack of healthy snack options available in Malaysia.
So she had then decided to bridge this gap in the health food market, which at that time, been dominated by expensive foreign imports, and instead, produce locally inspired snacks that are available at wallet-friendly prices.
So, the company Amazin' Graze was born.
Snacks are healthy, 100 per cent natural and have no refined sugar, preservatives or colouring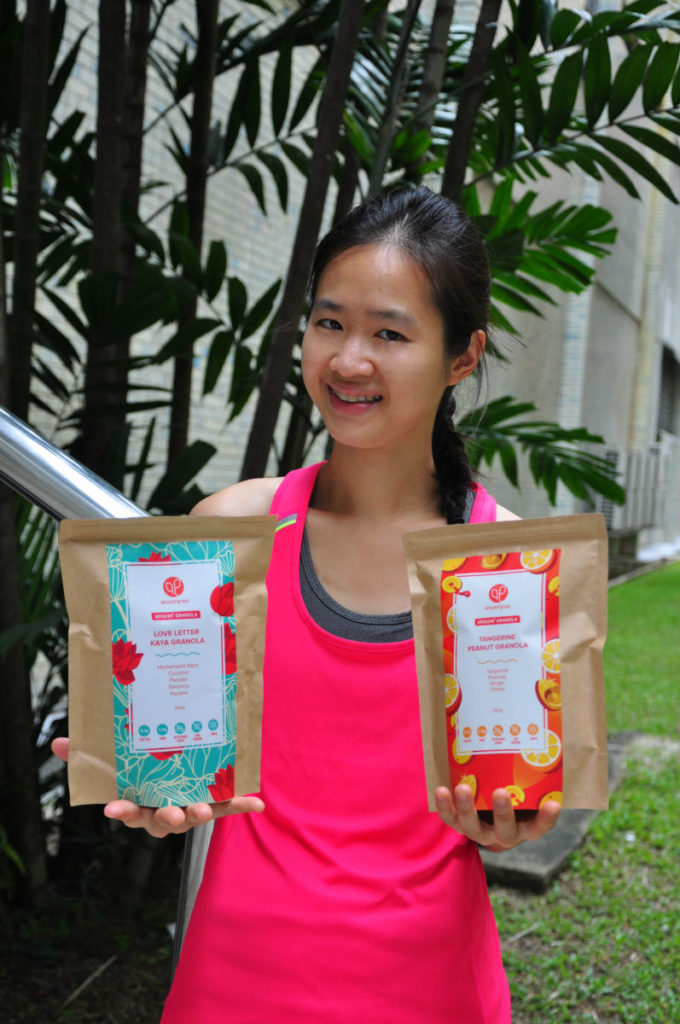 Amazin' Graze's snacks today are 100 per cent natural and every ingredient is chosen with taste, local culture and nutrition in mind. For example, some of their regular flavours include the Pandan Coconut Nut Mix and the Tom Yum Kaffir Lime Nut Mix, which are very Asian-centric and aren't available in Western countries.
While Amazin' Graze always makes sure that their products taste good, they are also mindful not to add in any refined sugar, artificial preservatives or colouring in order to enhance taste or texture, so this means that the 100% natural tag isn't just a marketing gimmick.
The "Amazin' New Year" Festive Range
And for the upcoming Chinese New Year season, Amazin' Graze has come up with the "Amazin' New Year" range that is inspired by Chinese New Year treats… so that you can indulge, celebrate and be healthy at the same time.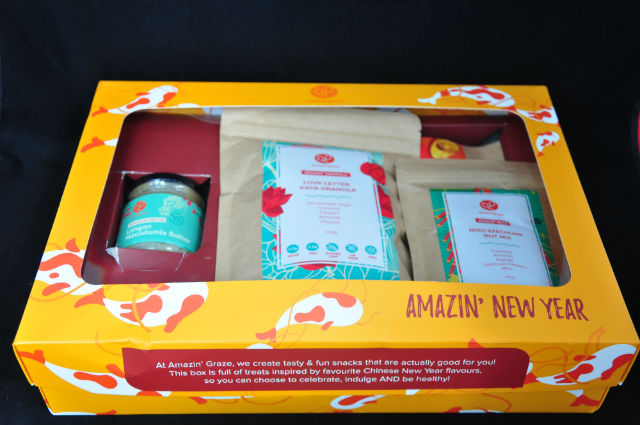 With their New Year treats, Amazin' Graze also hopes that you can take that small step into making healthier food choices.
As a recreational athlete, I know that I should be eating healthy in order to fuel my body for my marathons and triathlons in the right way. I try to do so most of the time.
But when it comes to Chinese New Year though, I admit that I can never resist feasting on the deliciously sinful goodies that are being sold everywhere, and before I know it, I would have consumed much more sugar than I had originally intended.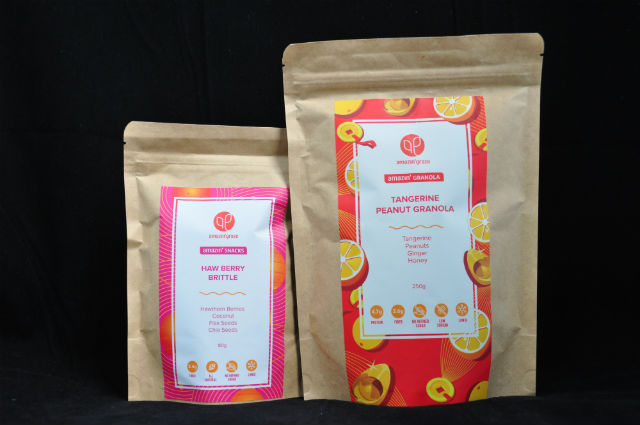 So this means that the "Amazin' New Year" range from Amazin' Graze is definitely what I need, in order to curb those sugar cravings during this festive season.
The "Amazin' New Year" range comprises of the following items:
Tangerine Peanut Granola (S$10.90 for 250grams)
Miso Szechuan Nut Mix (S$5.90 for 100grams)
Love Letter Kaya Granola (S$10.90 for 250grams)
Haw Berry Brittle (S$5.90 for 80grams)
Longan Macadamia Butter (S$16.00 for 180grams)
Eating the granolas
Amazin' Graze sent me a festive pack consisting of all of the New Year flavours recently.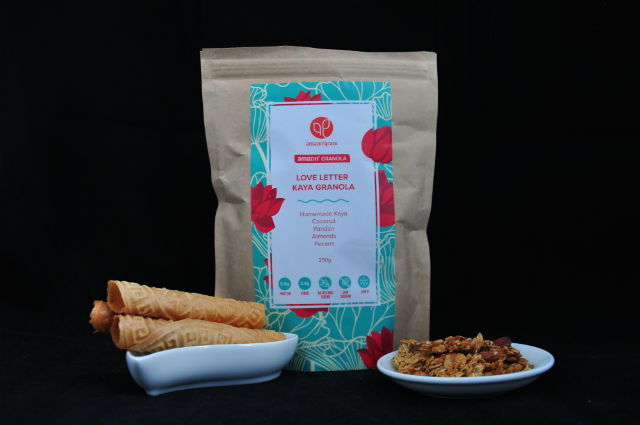 Out of the new flavours, my favourite definitely has to be the Love Letter Kaya Granola. When I tasted some of this, the strong flavour of Love Letters hit me immediately. I thought this taste was very authentic and true to how Love Letters really taste. They are also really crunchy, just like Love Letters too – in fact, all the granolas and snacks across the "Amazin' New Year" range are quite crunchy… just the way I like it.
I must admit that Love Letters have always been one of my favourite Chinese New Year snacks. Whenever I see Love Letters lying around, I can never resist munching on them. So now, thanks to Amazin' Graze, I am so glad that I can enjoy the yummy taste of Love Letters… without feeling guilty about it.
As well, there is also a subtle hint of kaya flavour in this granola, but this is much less pronounced, and this only seems to come on after chewing for a while. But nevertheless, I find that the Kaya flavour goes really well with the taste of the Love Letters and they are a great match for each other. So this flavour is definitely a winner, in my eyes.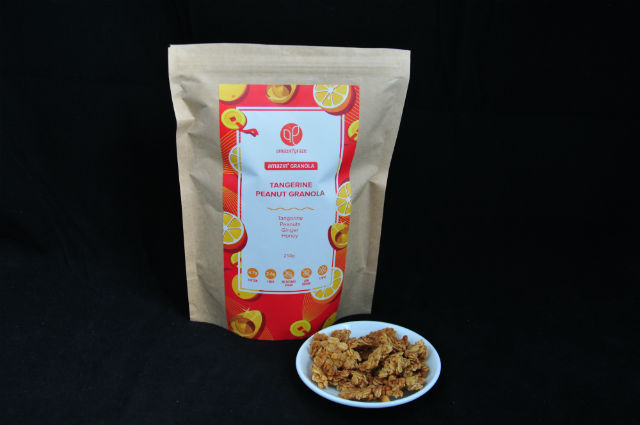 For the other festive granola flavour, the Tangerine Peanut Granola, this is supposed to have been inspired by the citrusy and nutty flavours of YuSheng, a Chinese New Year dish commonly eaten during reunion dinners that symbolises abundance, prosperity, and vigour.
This Tangerine Peanut Granola has a strong and gingery Tangerine taste that hit me instantly, as soon as I had put some of this into my mouth. The flavour is quite pronounced. However, after chewing for while though, the taste of the peanut came through, but it was not strong.
When eaten with milk though, I realised that the peanut flavour was more pronounced in the Tangerine Peanut Granola, though – as compared to eating this granola dry, straight out of the packet. At the same time, the Tangerine flavour appears to be slightly more muted in this way, too.
So the good thing about this granola is that the two flavours do not compete against each other for attention.
At first, I had thought that the connection between the Tangerine Peanut Granola and Chinese New Year is not immediately apparent.
But as I continued to dig into this granola, the gingery, sourish and citrusy flavours that emerge from it, does remind me somewhat of the plum sauce that is traditionally poured on top of YuSheng.
If you love eating Tangerines, this is a pleasant granola to munch on and you will like it – regardless of whether it reminds you of YuSheng or not.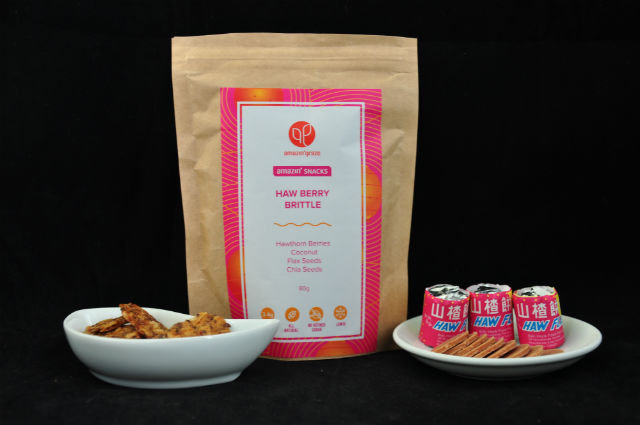 As for the Haw Berry Brittle, the mild berry taste and the subtle, pleasant note coming from it, immediately brought me back to the old days of munching on the tangy Haw Flakes that I used to buy as a little girl.
Made from haw berries, oats, chia seeds and flax seeds, I think that Amazin' Graze has really replicated the flavours of the Haw Flakes rather well, in their Haw Berry Brittle. Packed full of nutrients and whole grains and with no added sugar too, it is also a much healthier version of the traditional Haw Flakes. So if you want a taste of nostalgia with a healthy twist, then I recommend that you try this.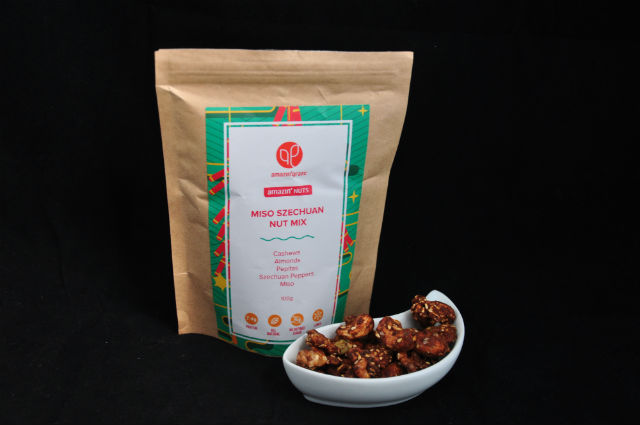 I also thought that the Miso Szechuan Nut Mix is quite enjoyable. The amount of spiciness is just right and not overpowering. On the first mouthful, you can't really taste much of this, but after subsequent mouthfuls, I realised that this becomes more pronounced.
Initially, I must admit that I had thought this would be much more spicy than it turned out to be, because of the use of "Szechuan" in the name of the snack.
There is a strong miso flavour in this Nut Mix though, and this somewhat reminded me of Japanese snacks. But the Miso flavour is quite pleasant though, and agrees with my palette, so this meant that I didn't mind it at all. The Miso flavour also lingered around as a bit of an aftertaste, too.
I feel that this is a rather tasty and addictive snack and my family and I all enjoyed it… in fact the packet was half gone within a single sitting, after we had opening it.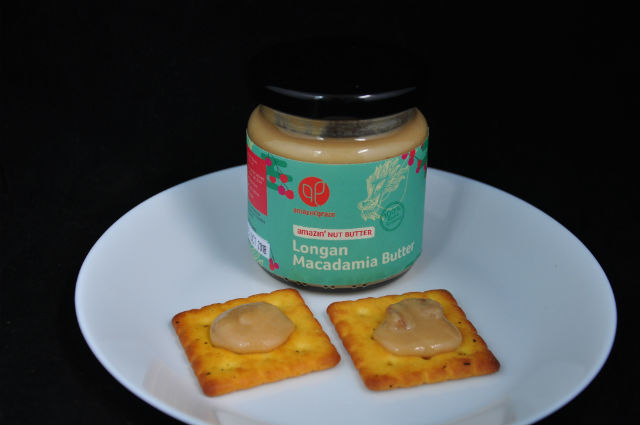 In contrast, I thought the flavour of the Longan Macadamia Butter was quite mild, though. It had a slightly rough texture and a mildly sweet, nutty taste. It is not rich at all, and the taste is very palatable for those who do not like strong flavours.
I think that this makes a healthy and light spread for your toast if you don't want to fill yourself up in the mornings. Or if you are hungry in the middle of the afternoon, why not use some of this spread with crackers, and satisfy your food cravings, the healthy way?
However, I admit that I had initially thought there would be a macadamia flavour to this nut spread though, but it turns out that I didn't really taste much of this.
My Overall Thoughts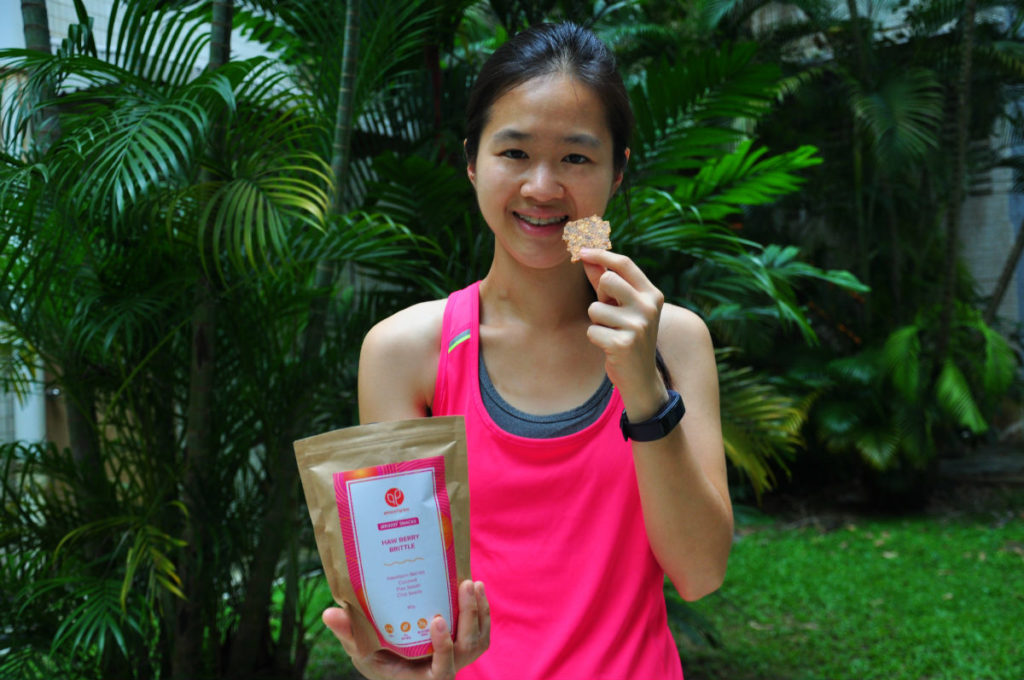 I think that there is definitely a good variety and range of flavours in Amazin' Graze's Chinese New Year festive range that will suit all types of preferences, palettes and taste buds.
And for the health conscious too, these granolas will make an interesting and dynamic snack to serve to your relatives and friends for munching on when they come visiting.
At the same time, it will also provide them with a reprieve from the rather unhealthy pineapple tarts, cookies and bak kwa.
Where to buy the granolas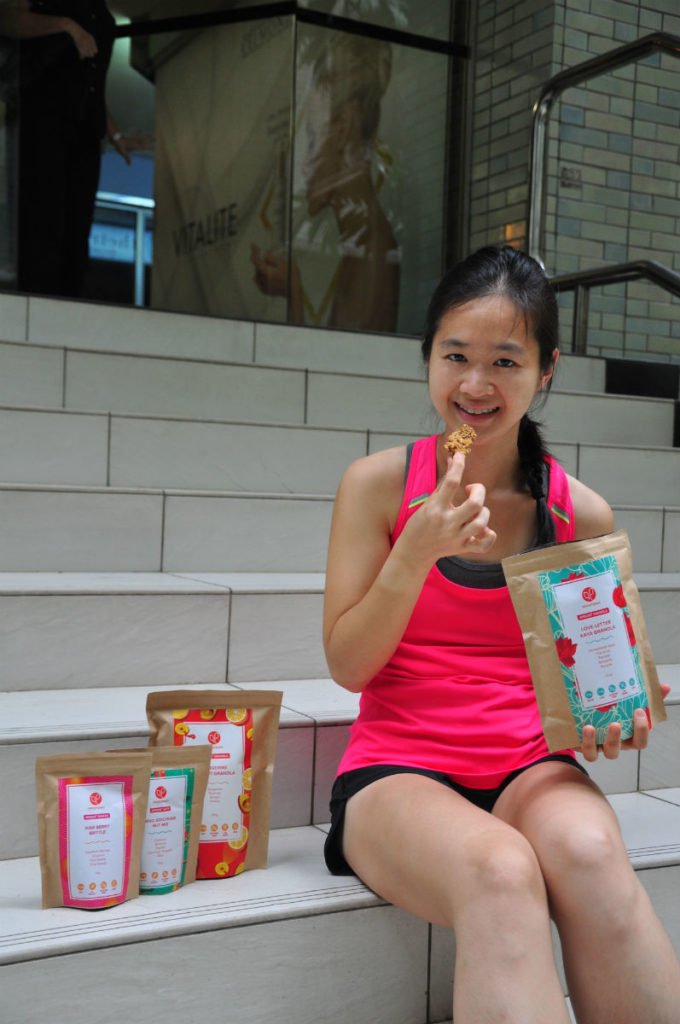 If you wish to purchase Amazin' Graze's festive season granolas for yourself, you can check them out online, at their website, https://www.amazingraze.co/amazin-chinese-new-year/.
As well, they are also available at selected health food stores across both Singapore and Malaysia.

Share this page with your friends!