(An Ice Cream Review)
First established in 1978 in Solvang, California, Andersen's of Denmark ice cream uses original Danish recipes, which dates back to more than three generations of the founder's traditional Danish family recipes.
They expanded overseas to Australia first in 1982, and then to Singapore in 1989. Today, there are branches of Andersen's of Denmark ice cream located all over the world, in countries such as Australia, Bangladesh, China and Singapore.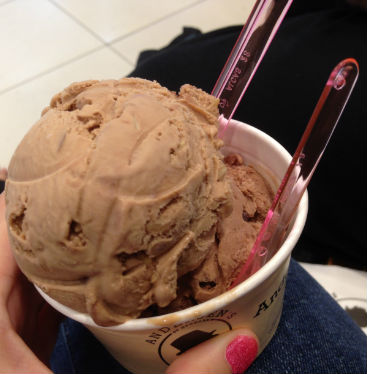 Recently, I went to the Andersen's of Denmark shop at Parkway Parade to eat there. Here is the ice cream review.
What's Available?
There is a wide range of yummy ice cream flavours available. These include Danish nougat, Belgian chocolate, mint chocolate chip and rum & raisin.
As well, other products are also available, for those who want to eat more than just ice cream. These include biscuit baskets and waffles. Delicious ice cream cakes are also available for those who want to celebrate a special occasion. Moreover, there are also low-fat yoghurts, for those who are more health conscious.
On my latest visit to the shop, I tried two of their flavours – these were the Belgian chocolate chip and the mocha almond fudge ones.
Belgian Chocolate Chip
As the name suggests, this delicate chocolate ice cream typically consists of rich, fine Belgian chocolate.
I really enjoyed this ice cream flavour. The texture of the chocolate was thick and gooey, and there was a generous amount of crunchy chocolate chips inside the ice cream. Together, the rich, creamy ice cream and the crunchy chocolate chips that melted in the mouth were simply divine. The amount of dark chocolate used inside this ice cream is also quite generous and isn't too sweet either, which is good.
Mocha almond fudge
I selected this ice cream because the flavour looked very interesting, with coffee, liquor, chocolate and almonds, all combined to produce an irresistible tasting ice cream.
The taste was really scrumptious. Like the Belgian chocolate flavour, this ice cream was thick and gooey. The coffee flavour was yummy and it combined really well together with the chocolate to produce a scrumptious mocha taste in the mouth. The crushed almonds inside the ice cream also gave the melt-in-your-mouth ice cream a good crunchy sensation, which was really divine.
However, I couldn't really taste much liquor inside this ice cream, so that was a little disappointing. Otherwise, it was a rather yummy ice cream flavour.
Overall Comments
Unlike some other ice creams that I have tried, I liked the thick, creamy texture of the ones here. So I may go back for some other ice cream flavours.
Two scoops of ice cream cost $6.90, because there was a promotion on at the time. The usual price of each scoop is usually about $5.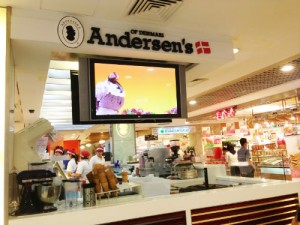 Andersen's of Denmark
PARKWAY PARADE SHOPPING CENTRE
80 Marine Parade Road #B1-K4
Singapore 449269
Tel: 6344 0364
Share this page with your friends!