At the bus stop opposite Great World City along Kim Seng Promenade today, I was taken aback by the long snaking queue. Stretching right across the overpass and ending halfway down the steps, it was certainly quite a sight. I estimated that the queue was over 150 people deep. And at the end of the line, there was a Ben and Jerry's assistant keeping the rapidly increasing queue in an orderly manner.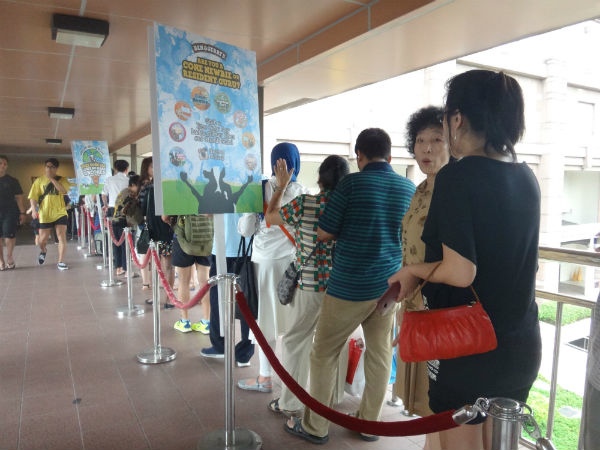 Yes, this was the annual madness that greeted us once again, at Ben and Jerry's Free Cone Day in Singapore. This is a yearly event that the popular American ice cream chain organizes globally – to thank their fans for their loyalty.
Long Queue
I didn't expect such a long queue. And other ice cream fans agreed too. As Teh Xin Ying, a 20-year-old Business student at SMU said, "Actually, I chose Great World City because I thought it would be the least crowded!"
I didn't mind the queuing though. After all, as an ice cream fan, I had come here today to get my Ben and Jerry's ice cream.
Just like Mabel Tng, a 20-year-old Communications student at SIM, who said, "I'm a big fan of Ben and Jerry's ice cream. So Free Cone Day is like an annual tradition for me." This year marks the sixth Free Cone Day for the ice cream lover, who was first introduced to the yearly event by her friends in secondary school.
Entertained while waiting
As we waited in line, we were thoroughly entertained though, because Ben and Jerry's assistants were everywhere – with different ice cream themed cardboard cutouts for those in line to take photos with. I felt that this really helped to prevent us from getting bored.
Other signboards along the queue showed interesting information too. For example, I was pleasantly surprised to read that all 18 varieties would be offered today. Usually, only five or six are selected for this annual ice cream event.
Today, the flavours ranged from classics like vanilla and chocolate chip cookie dough, to vanilla-based ones, such as Couch Potato and English toffee, to fruity ones like Cherry Garcia and Mango Sorbet. More intriguing ones, such as Triple Caramel Chunk (caramel + chocolate) and Chunky Monkey (banana + chocolate) were available too.
Many came to the Free Cone Day with friends. As Jamie Seah, a 19 year old Communications student at SIM said, "I joined the queue and came down to give my friend some companionship… and of course, to get a free ice cream too!"
Queue time less than half an hour
Based on the size of the queue, I must admit that I was expecting the wait to be much longer. But surprisingly though, I waited for only about 20 to 25 minutes, for my ice cream.
And other ice cream fans shared my astonishment at the short waiting time too. As 14-year-old Natalie Tan, a student at CHIJ Secondary Toa Payoh said, "When we came down from the bus, we saw this whole snaking line. But amazingly, it took only 15 minutes to get my ice cream. I was pleasantly surprised!"
Scrumptious Ice Cream
I opted for the Couch Potato flavour. Comprising of a vanilla ice cream base with caramel swirls and chocolate-coated potato chips, it was definitely a yummy combination that whetted my sweet tooth appetite.
The ice cream certainly lived up to its billing. It was rich and smooth and the sweet, yet salty ice cream melted in my mouth. I felt as though I was in seventh heaven… to the extent that I found myself returning back for a second one.
And other fans definitely enjoyed the ice cream too. Said 14-year-old Perth high school student Poppy Downing, who is currently on holiday in Singapore with her family, "Actually we never knew that Free Cone Day existed – until today. But it was so good that now we will definitely try to check it out at Ben and Jerry's next year, when we are back in Australia!"
Click here

to read about Ben and Jerry's ChunkFest 2013.

Click here

to read about how Krispy Kreme donuts taste, in Singapore.

Click here

to read about how Krispy Kreme donuts stack up in terms of sugar.
Share this page with your friends!