Ku De Ta is definitely a restaurant with a difference. It offers patrons beautiful views of the Singapore skyline because it is located on the very top of the Marina Bay Sands Sky Park – the 57th floor of Tower 3. So diners can definitely indulge in their meals surrounded by a lovely skyline.
To celebrate my mother's birthday, my family and I treated her to a Sunday brunch at Ku De Ta. This was a buffet-style brunch, with the cold cuts and the dessert prominently displayed as a buffet spread. For the main courses though, these were in the form of an a-la- carte buffet.
What was available?
The a-la-carte menu included classic items such as Western burgers, pizza and pasta. Asian delights, like laksa and char siew noodles were available as well. In addition, delicacies such as oysters and foie gras could also be ordered.
We selected several dishes to share. These were the ham & emmential cheese omelette, steak & eggs, tomato pizza, laksa, Black Angus burger, mussel, oysters and foie gras. We also indulged in plenty of salads, bread, cheese and cakes from the buffet table.
As it was Mum's birthday, we had also requested for a special slice of cake from the kitchen.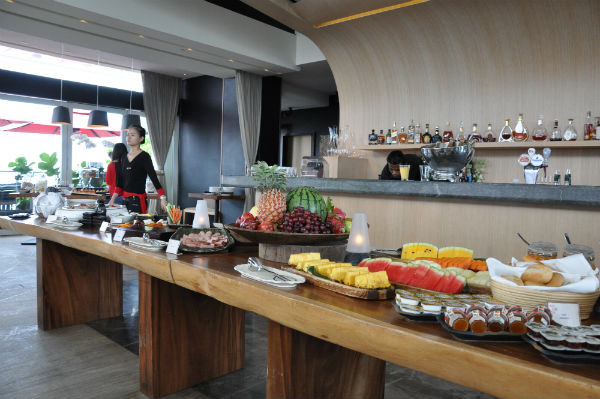 There were a wide variety of items here, including assorted sweet and savoury pastries and bread rolls, ham and salami, sashimi, cheese, salads and fresh fruits.
Some of my favourite items were the Brie cheese and the mini chocolate croissant because the pastry was really flaky and buttery and the amount of chocolate inside was pretty generous too.
I didn't get the chance to try the salads and the cold soba though, because I was too full.
A-la-Carte Items
Ham & emmential cheese omelette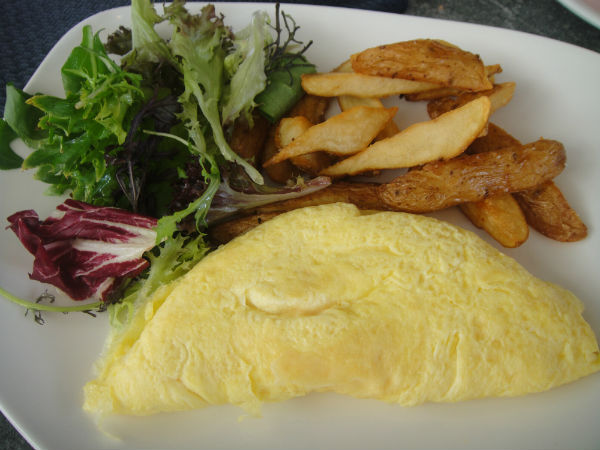 I thought this item tasted very scrumptious and was one of the better tasting main courses. The egg was cooked to perfection. It was soft and moist and the amount of ham in the omelette was pretty generous. The melted cheese also practically flowed out of the omelette when I cut into it, so that was quite good too.
This dish was served with potato wedges and salad. I thought the thick wedges were slightly hard and not as hot as I would have liked, but the flavour was quite delicious.
Steak & eggs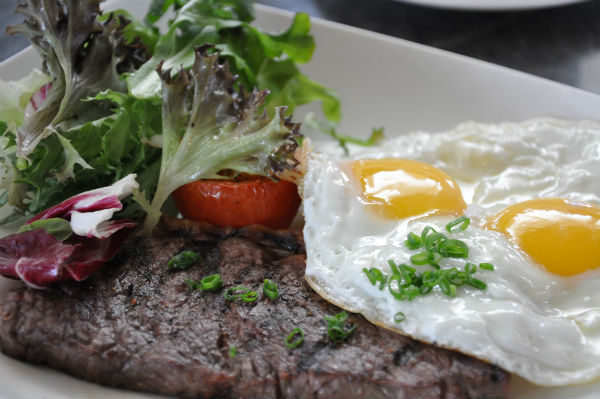 This item was good too. A 120-gram sirloin steak was served on the plate together with two sunny-side-up eggs. Potato wedges and salad also accompanied the beef.
I thought that the steak was a little cold and on the rare side for my liking, but at least the meat was moist. The eggs were also deliciously runny and the yolk oozed all over the steak, giving it a rather yummy flavour.
Tomato Pizza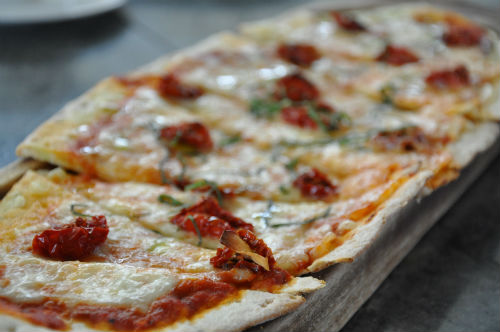 A long oval, thin crust style pizza, this was served with oven-dried tomatoes, buffalo mozzarella cheese, garlic and basil leaves.
I thought it tasted quite delicious and the items combined together really well. It came out piping hot and the thin crust was really crunchy.
The red bits of tomatoes made the pizza look quite interesting, because they reminded me of little red flowers spread all over the pizza.
Laksa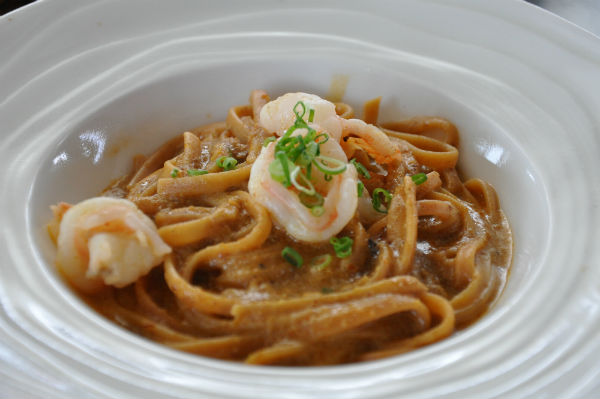 Compared to the typical Singaporean laksa, this looked quite different. Instead of being bathed in laksa gravy, this version was drier. The only meat in the dish was a few pieces of prawns, too.
As for the taste, it wasn't the typical Singaporean laksa either. It was mildly spicy but other than that, it didn't really pack much flavour. Overall, it was a very unusual, milder version of laksa.
Black Angus Burger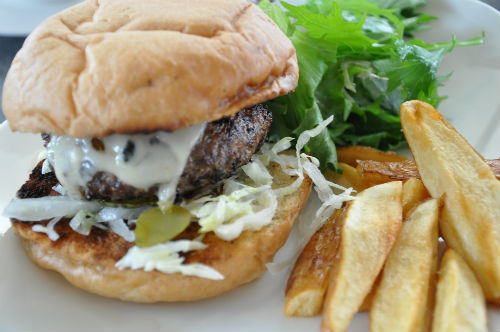 This burger comprised of an extremely thick Angus beef patty and was served with dill, tomato relish, mayonnaise and emmential cheese. Potato wedges and salad were placed on the sides of the plate.
I thought this item was delicious. The burger was extremely tasty and the thick beef patty was definitely one of the better ones I have tried. It was really moist and the beef was cooked to perfection. It went well with the soft, fresh bun.
Mussels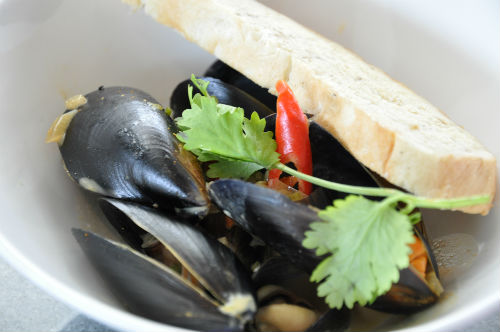 These mussels were served in their shells and they tasted reasonably fresh. The presentation was beautiful, with the shellfish served in a white angular bowl with a delightful seafood sauce.
OYSTERS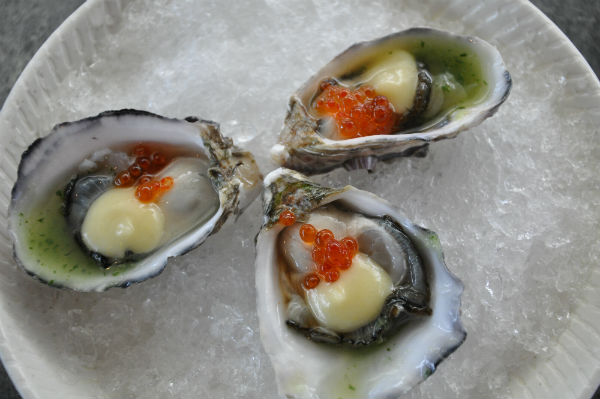 These were presented beautifully and served on a bed of ice. They tasted fresh and succulent and were of a rather generous size. The sauce served with the oysters, was light and had a delicious oriental taste.
PAN FRIED FOIE GRAS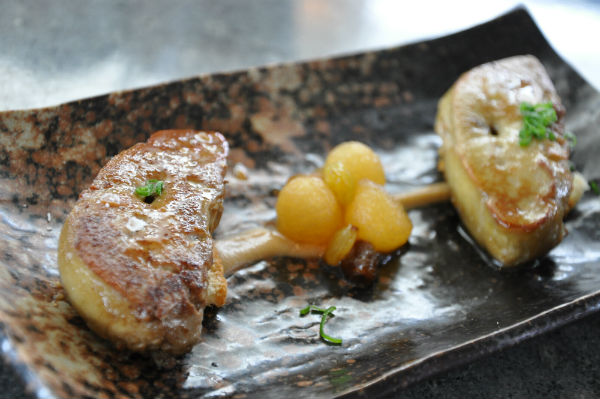 The foie gras was pan fried and decorated with some nashi pear, golden raisin and Fiji apple slices. It was fresh and moist.
My companions really enjoyed the foie gras, to the extent that we ordered two helpings of it.
The Birthday Cake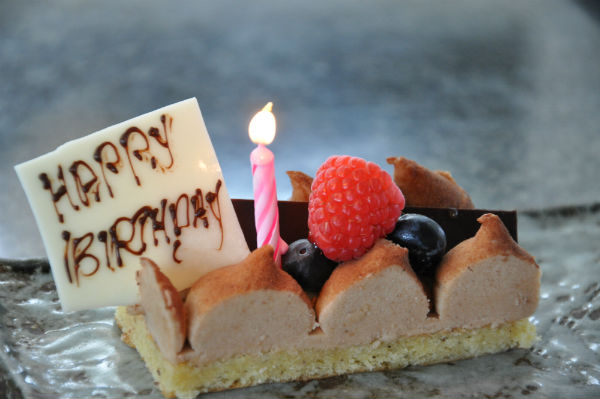 This was a hazelnut sponge cake slice, topped with hazelnut cream and chocolate toppings, with caramelised popcorn on the side of the plate.
I thought the way that the service staff had decorated this cake slice was quite pretty and the flavours combined well together.
Dessert Table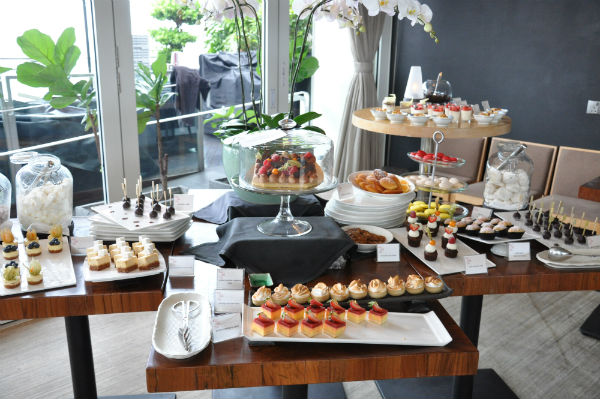 There were many different types of Western-style desserts, ranging from cakes to chocolates, cookies and nougat.
My favourites were definitely the chocolate lollipops, which are chocolate pralines on a stick. The chocolate chip cookies were also yummy and I liked the combination of dark, milk and white chocolates all combined together.
I really enjoyed the cheesecake, because this was tasty but at the same time, not too rich for me. The chocolate brownie was good too, and I liked the chunks of hazelnuts inside it.
Overall Comments

As a whole, the food at this buffet was quite tasty and delicious, but a little pricey, if you are simply basing your experience on the food items available.
But on the other hand, you are also paying for a lovely view from the 57th storey of Marina Bay Sands too when you dine at Ku De Ta. I found this view to be really scenic and beautiful and I literally felt as though I was on top of the world
It costs $88++ per person for Ku De Ta's Sunday brunch buffet.
Ku De Ta (Singapore)
1 Bayfront Avenue
Marina Bay Sands SkyPark,
Singapore 018971
Tel: +65 6688 7688
Not sure where to go to celebrate special occasion?
Share this page with your friends!