Having successfully delivered more than three billion meals across 17 countries around the world, Quorn™ prides themselves in their range of deliciously healthy meat-free protein products that are nutritious and at the same time, are sustainable for the environment.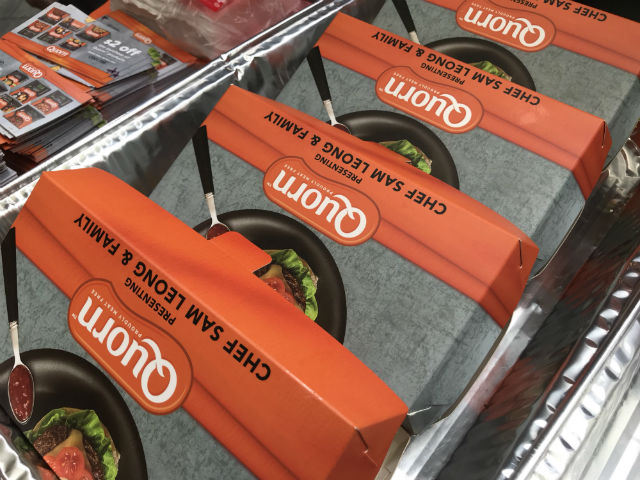 Healthy meals that cater to those who are mindful of what they eat
Quorn™ is the preferred choice of products for those who are mindful of what goes into their food.
This is because the main ingredient in Quorn™ products is Mycoprotein™, a nutritionally heathy source of protein produced by a process of fermentation – similar to yeast in bread – using a natural nutritious fungus from the soil and fermenting it to produce a dough called Mycoprotein™, which is clinically proven to reduce blood cholesterol among people who are suffering from high cholesterol as well as to manage diabetes by contributing to the reduction of blood glucose and insulin levels.
Additionally, their products are high in proteins and fibre, low in saturated fat, contains essential amino acids and no cholesterol and is soy-free. And as well, Quorn™ products have a great taste and texture, thus making it an ideal ingredient for a broad range of cuisines, cooking styles and palates.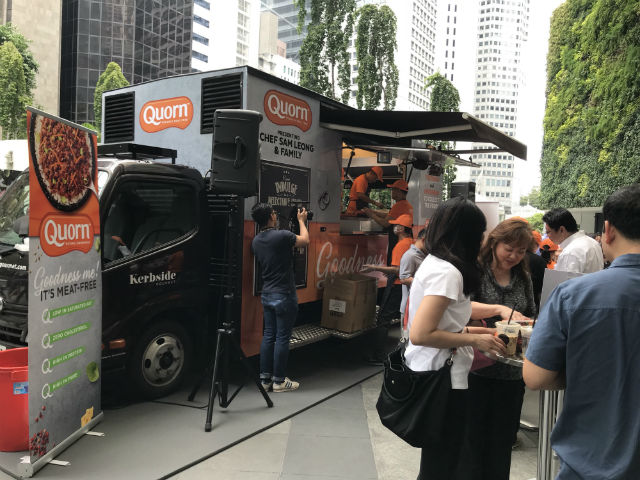 Established in the United Kingdom in 1978, Quorn™ products can now be found in the United States, Netherlands, Sweden, Switzerland, Belgium and closer to home, the Philippines and Thailand.
Quorn™ is dishing out free meals to Singaporeans 
And now to mark their introduction into the Singapore market, Quorn™ has been setting up shop at a food truck that is currently travelling around the island, giving out free lunches to Singaporeans.
The meals, cooked by acclaimed Celebrity Chef Sam Leong and his wife, Chef Forest Leong, consist of a delicious Kung Pao burger and Nuggets with Salted Egg Yolk Dip.
Chef Sam and his family are the appointed Singapore Ambassadors for Quorn™ and they specialise in comforting Singaporean home-style dishes. On the Quorn™ website, they will continue to develop delicious recipes to inspire all to try out mindful eating at home.
Invited to the Quorn™ pop up food truck cafe to try the meal
I had been invited to Quorn™'s food truck pop up cafe at Ocean Financial Centre today. The first thing that I saw when I reached the site were the long queues that had been forming in front of the truck. Singaporeans must have been really eager to taste the healthy food that Quorn™ was offering.
Trying out both the Kung Pao burger as well as the Nuggets for myself, I thought that it is quite hard to tell that this is actually healthy food.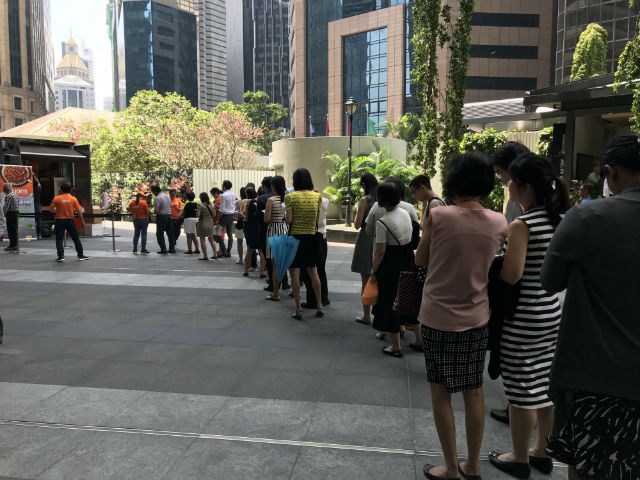 The moment that I had opened up my food box, the first thing that greeted me was the mouth watering smell of the black pepper sauce coming from the burger.
The Kung Pao burger was full of flavour, and I thought that the black pepper sauce inside the burger had a strong sweet and spicy flavour. In my opinion, this had balanced out nicely with the savoury flavour coming from the burger patty too, when I had bit into it.
Said Chef Sam, "The secret in our black pepper sauce is the peppercorn. We use sautéed peppercorn and then we add in unsalted butter to get the strong aroma of the black pepper. Then we add in some sugar and honey."
And for the burger patty itself, it had been soft and moist and had looked and tasted just like a meat patty, so I found it hard to believe that I was actually eating a meat-free burger.
Due to the generous size of the burger patty, I had felt that the meal is also rather filling and the Kung Pao burger will keep you satisfied until dinner time.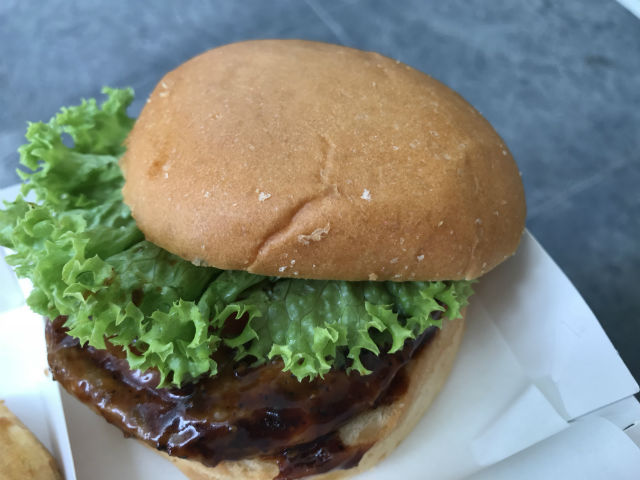 As for the nuggets too, these tasted great when dipped into the salted egg yolk sauce, which I thought had been rich and creamy. Moreover I admit that I could hardly believe that these are meat-free, too. This is because the Quorn™ nuggets had really looked and tasted just like typical chicken nuggets.
Chef Sam also added that he had woke up at 6am this morning to prepare the food for the food truck. He said, "Chefs always do this as we have to prepare everything on the spot to ensure its freshness. Certain dry items can be bought and prepared earlier but most of the items must be done in the morning."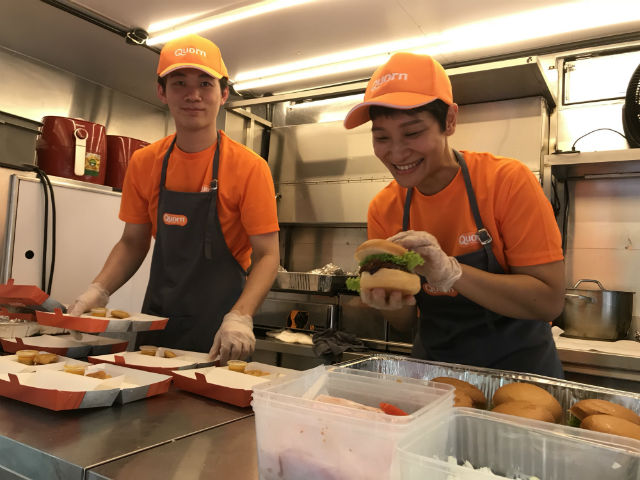 And if you wish to try out Chef Sam's yummy Kung Pao Burger and Nuggets for yourself, the food truck will be located outside the 100AM Mall (100 Tras Street Singapore 079027) tomorrow (16 November) from 11.30am onwards.
These meals are free and they will be handed out on a first come first serve basis. But portions are limited though, so do hurry on down, if you want to try one.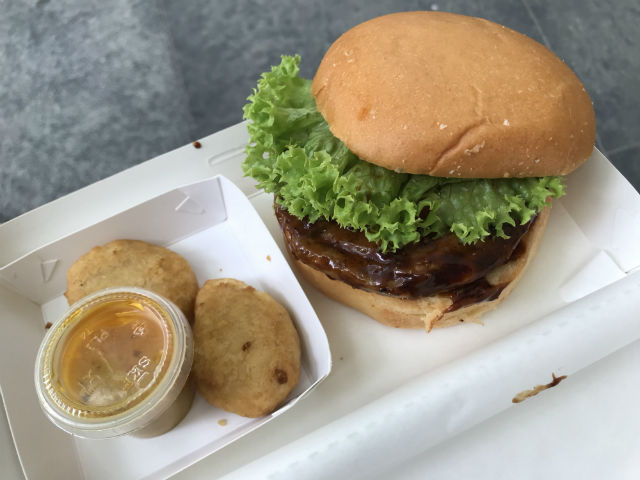 Still craving for the taste of the Kung Pao burger and want more?
Did you enjoy the meal and you are still craving for the taste of the Kung Pao Burger and the Crispy Nuggets?
You can now find the Quorn™ products in the freezer section at your nearest neighbourhood supermarket. In Singapore, there are currently 11 Quorn™ products available and these are Mince, Pieces, Crispy Nuggets, Southern Fried Bites, Swedish Style Meat Balls, Burgers, Garlic & Mushroom Escalopes, Sausage Patties, Southern Fried Burgers, Vegan Hot & Spicy Burgers and Vegan Fried Breaded Fillets.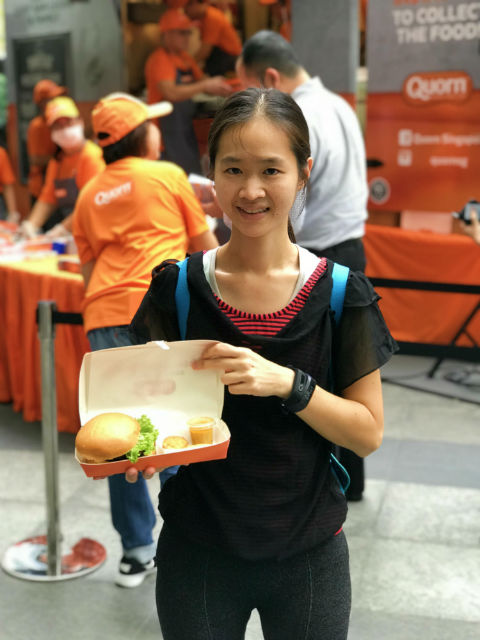 Customers can purchase Quorn™ products on Redmart and also at all FairPrice Xtra outlets and selected FairPrice Finest stores, and cook these at home for a meal.
Well, I know for certain now, that I will surely be checking out the range of Quorn™ products at my neighbourhood FairPrice store, so that I can attempt to replicate this healthy version of the Kung Pao burger at home.

Share this page with your friends!