Are you craving for a salad but your colleagues all want to visit McDonald's for lunch?
INTRODUCING THE VEGGIE CRUNCH BURGER
Fret not. Now you can choose McDonald's new vegetable-based option, the Veggie Crunch Burger.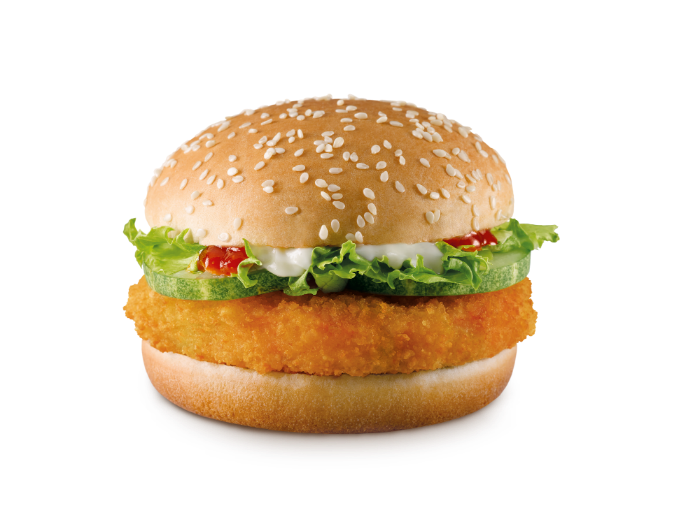 Featuring a crunchy fried patty made with green peas, carrots, green beans, red bell peppers and potatoes, the patty is complemented with McChicken Sauce, tangy sweet chili sauce, lettuce and cucumber slices.
And the McChicken Sauce contain eggs and the Sweet Chilli Sauce has garlic.
MCDONALDS AIMS TO EVOLVE ITS FOOD OFFERINGS
The burger is part of McDonald's aim to evolve its food offerings based on Singaporeans' changing tastes and preferences and refreshes its menu with new, relevant items appealing to the typical Singaporean.
AVAILABLE AS A-LA-CARTE OR AS AN EXTRA VALUE MEAL
The new Vegetable Crunch burger is available at McDonald's stores island wide and through McDelivery from $3 for a-la-carte orders. Customers can also have it as an Extra Value Meal with Medium French Fries and Coca-Cola from $5.
Those who are more health conscious however, can opt to swap their fries with a corn cup – at no extra charge, or change their side to a Garden Salad for a $1.20 top-up.
The Garden Side Salad features whole lettuce leaf, red & white cabbage, crunchy carrots, corn kernels and tomatoes, and is topped with a Japanese dressing.
Click Here for the NEW EBI burger from McDonald's.
MAKAN MIND MAP
And for those who are unable to choose which of McDonald's Extra Value Meals to order, McDonald's Singapore has come up with a light hearted Makan MindMap to help you make a choice!
Here is the mind map for your reference.
[See image].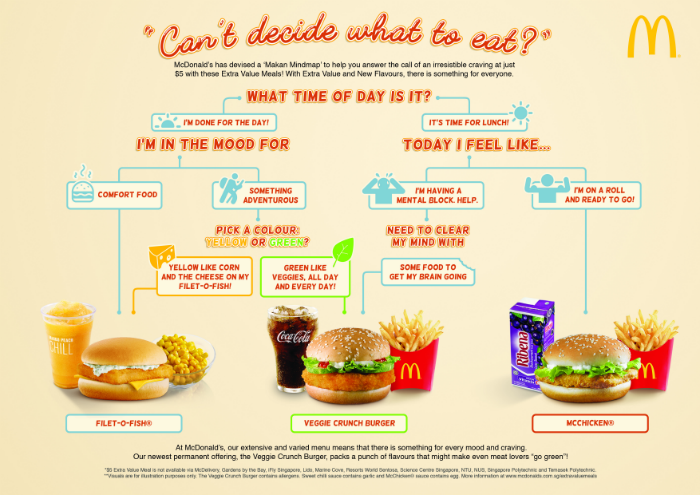 Share this page with your friends!