The Singapore Coffee Festival is back for the second year running and the event will be open to members of the public from today till Sunday 6th August.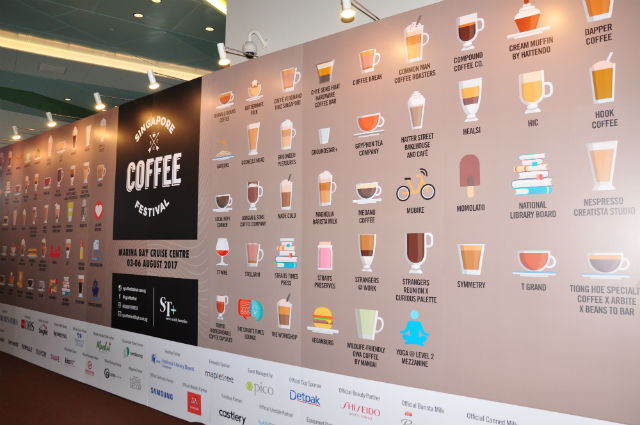 Presented by DBS Bank and organised by The Straits Times, this year's Singapore Coffee Festival is located at the Marina Bay Cruise Centre and showcases local craftsmanship in speciality coffee, as well as Singapore's rich kopi heritage. The event showcases more than 100 exhibitors displaying a wide range of brewed drinks, beans, gadgets and machines for purchase.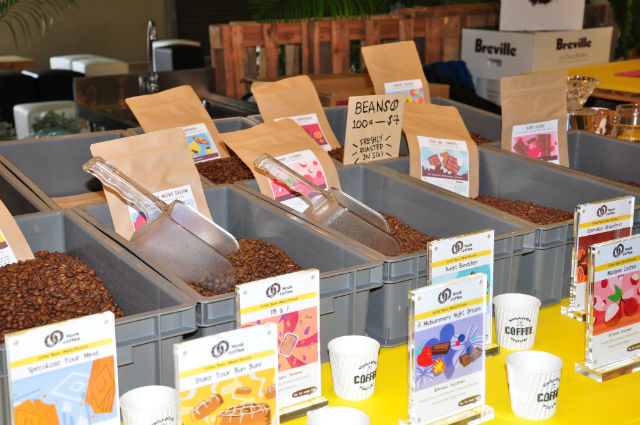 Thanks to DBS Bank, I had the opportunity to visit the Singapore Coffee Festival and I spent several hours there, looking around at the various booths and wares on display, as well as sampling and trying the various coffee and food products available.
Coffee in a Cone @ The Coffee Academics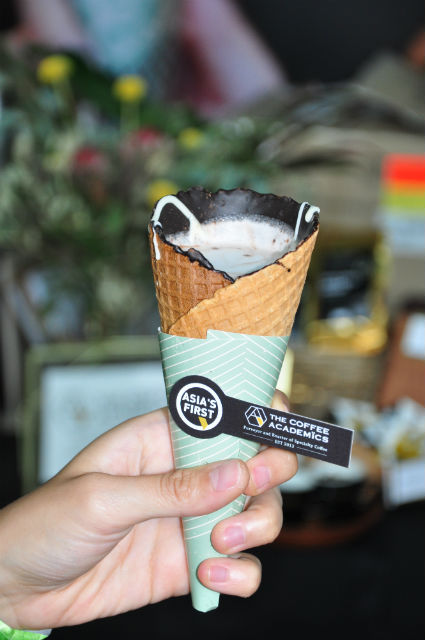 One of the first things that had caught my eye was the Coffee in a Cone, by Hong Kong coffee chain, The Coffee Academics and is being touted as having the "world's most Instagrammable coffee." The moment that I saw their coffee, I found myself wondering how they pour it into an ice cream cone, without the coffee spilling out over the sides or leaking through the bottom. So I simply had to get one to taste myself.
Apparently this process, according to The Coffee Academics, involves coating the ice cream cone with four different chocolate compounds that are hardened by varying percentages of cacao content. This helps the ice cream cone to hold the coffee without it spilling out.
At the Singapore Coffee Festival, three types of drinks were available for placement into the ice cream cones. These were Piccolo latte, hot chocolate and babyccino. I picked the hot chocolate, mainly because I'd already had quite a lot of caffeine before trying this.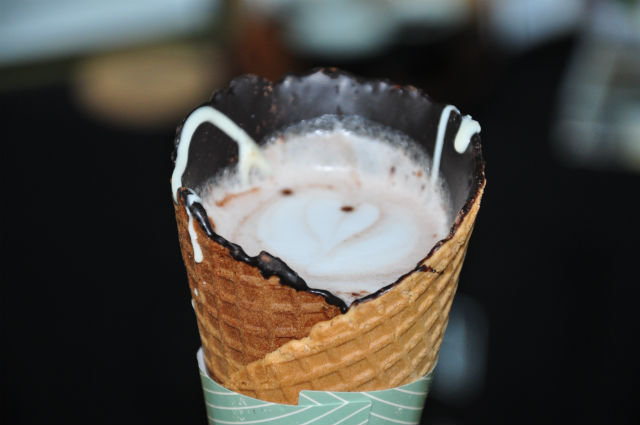 Tasting the Coffee in a Cone was a rather interesting experience. What I liked about serving the coffee in this manner, is that you can slowly sip the coffee and then when you get round to eating the ice cream cone, you will find that the chocolate coating has partially been melted by the hot drink. Inside your mouth it will melt even more. I always love chocolate that slowly dissolves inside my mouth. The crispy cone, together with the melting chocolate, was definitely a delight to my senses.
The hot chocolate inside the cone fortunately wasn't too sweet; in fact, I found that the flavours had balanced themselves out quite nicely together.
Of course, and I took plenty of photos before I got round to eating it, too. But be sure to eat the cone within about 10 minutes of taking photos, otherwise you will end up with a sticky mess in your hands, though!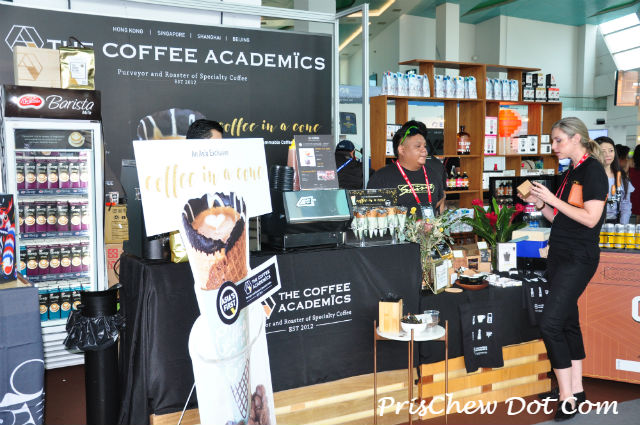 These are available at $8 each at the Singapore Coffee Festival.
Dark chocolate ice cream and drinks @ The Dark Gallery
Serving dark chocolate drinks and ice cream at the Singapore Coffee Festival, was also The Dark Gallery, which prides themselves in their single origin dark chocolates. Speaking to the stall holder there, The Dark Gallery hopes to educate the public about the different characteristics of chocolate that are being sourced from different origins and gives people the chance to experience the different flavour profiles of the various chocolates.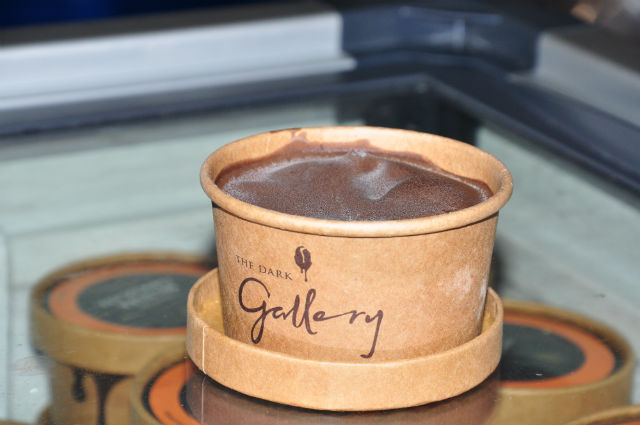 Only a small selection of their chocolates was available at the Singapore Coffee Festival. I tried their signature iced chocolate and also bought a scoop of their 80 per cent dark chocolate ice cream.
Both products will appeal to chocolate lovers. The chocolate flavour is quite strong in the signature iced chocolate but at the same time, the taste is quite all right and not too bitter. As I love dark chocolate, this suited me quite well.
The 80 per cent dark chocolate ice cream, at first glance, I had thought it would be quite bitter. But surprisingly, it was very pleasant to my senses. I enjoyed it. The ice cream wasn't sweet, but at the same time, the amount of bitterness was just right. As a result, I had found myself polishing off more than my fair share of ice cream.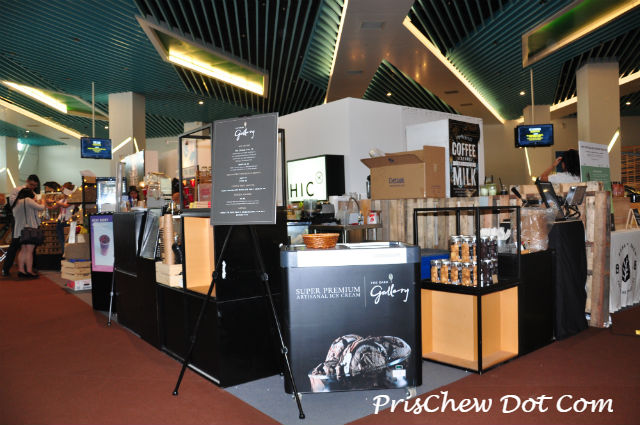 For this ice cream, The Dark Gallery had explained to me that curvature chocolate was used to make it rather than cocoa powder, and the chocolate was mixed with milk and cream, also to lessen the initial bitter flavour of the chocolate.
Cream muffins @ Hattendo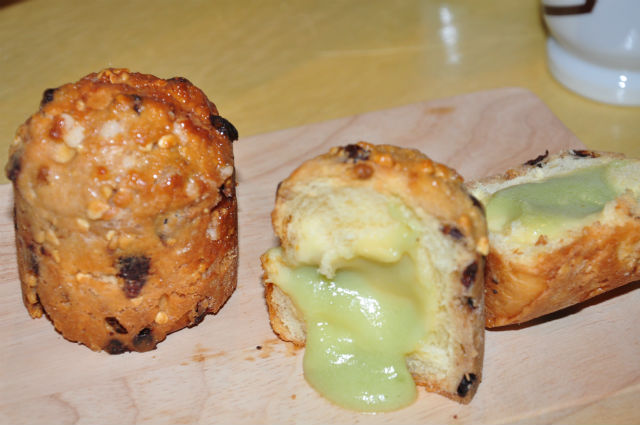 A cafe specialising in cold custard cream buns from Japan, Hattendo arrived in Singapore at the beginning of this year.
And at the Singapore Coffee Festival, Hattendo launched a new product, cream muffins, to the Singapore market. There were three flavours available for sampling – kaya, which is designed to appeal to the Singapore market, as well as chocolate and matcha, which are both flavours that originate from Japan. And according to Hattendo's head chef, January Liang, they are planning to launch more localised flavours of the muffins in Singapore soon, such as taro and gula melaka, as well as some savoury flavours such as laksa, but these are undergoing testing at the moment.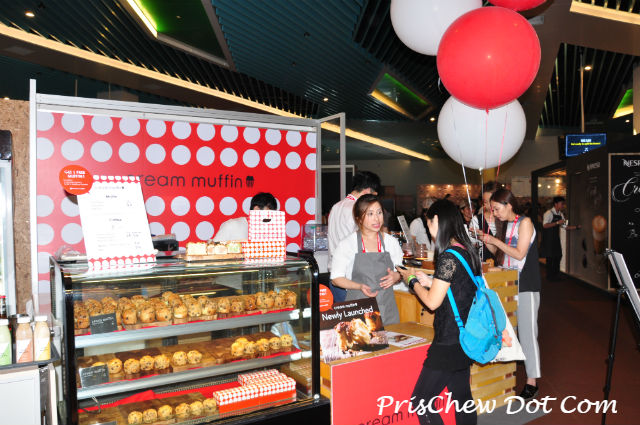 I had tried their kaya and chocolate cream muffins and I would say that these are an interesting product, somewhat like a cross between a custard bun and a muffin. The outside looks and resembles a muffin, taking on a slightly coarse cake-like texture that crumbles slightly in the mouth. But when you bite into it, the filling inside the muffin oozes out.
I thought that the flavours could have been stronger, though. The chocolate flavour seemed to be quite creamy, but there unfortunately wasn't enough of a chocolate kick for me. The kaya flavour too, was a little bit weak and didn't really have the strong coconut taste that kaya jam would typically have. But otherwise, I would say that this product is quite unique and intriguing; I have never tasted something quite like this before.
Selo Coffee Fruit Cascara Soda @ Percolate Coffee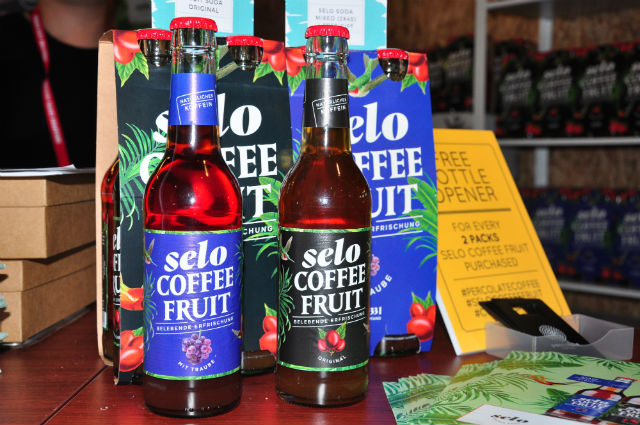 The newly launched Selo Coffee Fruit Soda is a revolutionary beverage, which is crafted using infusion of coffee cherry flesh which is normally discarded after obtaining the coffee seeds (beans). The coffee beans that they use comes from Bahamas and Costa Rica, in South America while Percolate Coffee is a German originated brand.
I tried out this drink and I was pleasantly surprised by the flavour. It does not really taste much of coffee at all, but rather, had reminded me instead, more of soda drinks such as coca-cola or Sprite. It has a slightly fizzy carbonated taste and a mild acidic tang. I thought that was quite enjoyable and unique.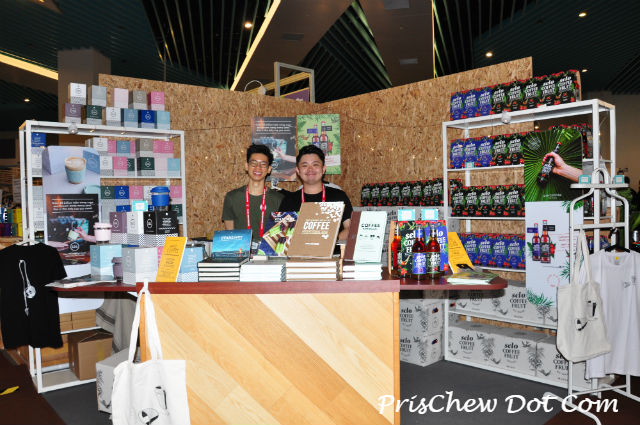 Percolate Coffee is selling these soda drinks at $6 per bottle at the Singapore Coffee Festival.
Drinking Chocolate @ Grounded Pleasures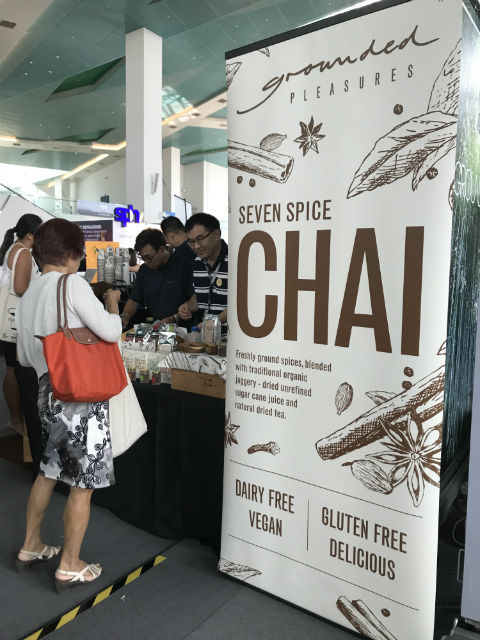 A family business that originated in the Victoria State in Australia, Grounded Pleasures prides themselves on the flavour of their chocolate products and they strongly believe that strong cocoa is just as complex as fine wines or coffee.
At the Singapore Coffee Festival, Grounded Pleasures had several types of chocolate drinks available for sampling. These included an original version, as well as flavoured ones, such as chilli, French mint and vanilla bean.
I tried their French Mint flavour. This consists of their original cocoa paired with fresh extracted peppermint oil from a French master. The complex, lovely high notes of peppermint marry harmoniously with the deep-toned cocoa, according to the company.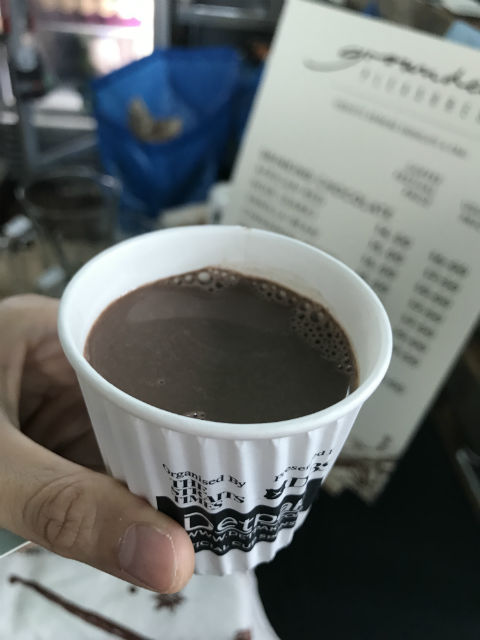 Smelling this drink, I could detect a very strong mint aroma and as such, I simply could not wait to try it.
The rich mint flavour hit me immediately upon tasting this drink, and then the strong dark chocolate kick arrested me afterwards. It really knocked out my senses, but I enjoyed this drink and quickly finished off the cup. If you love mint chocolates, I would say that this is definitely the drink for you.
Coffee Infused Beer @ Brawn & Brains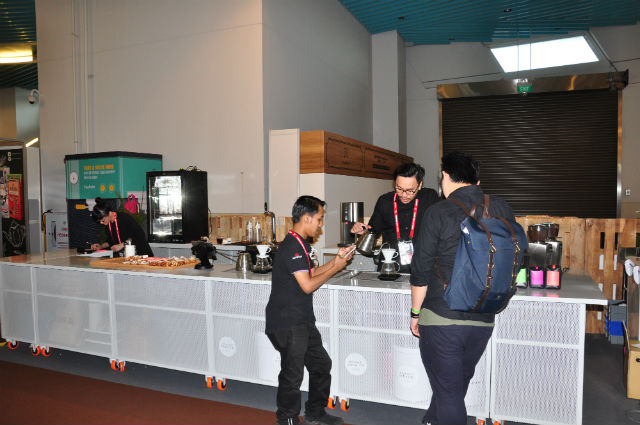 If you love both beer and coffee, then this is for you. Brawn & Brains have partnered with independent brewery Innocence Brewing to produce a coffee flavoured beer. I would say that this had definitely intrigued me and I simply had to try some.
But on tasting this though, I unfortunately could not taste much of the coffee flavour infusion; I think that this could be improved if there could have been more of the coffee taste.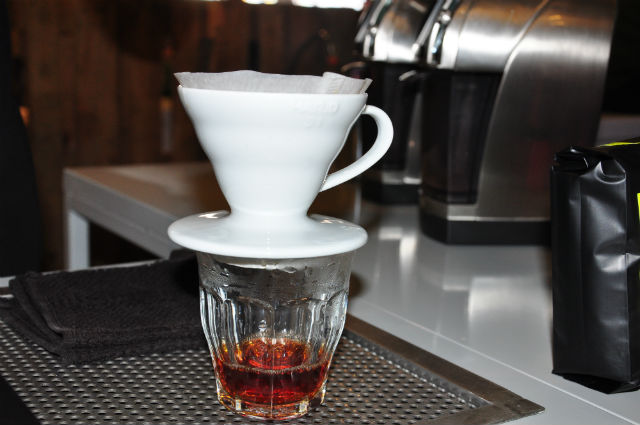 Apart from the beer, I also tried some of the freshly brewed Single Origin naturally roasted coffee from Brawn & Brains and found the flavour could have been stronger. For a fresh brew, the coffee seemed to have been a bit mild.
Gelato @ Butter Knife Folk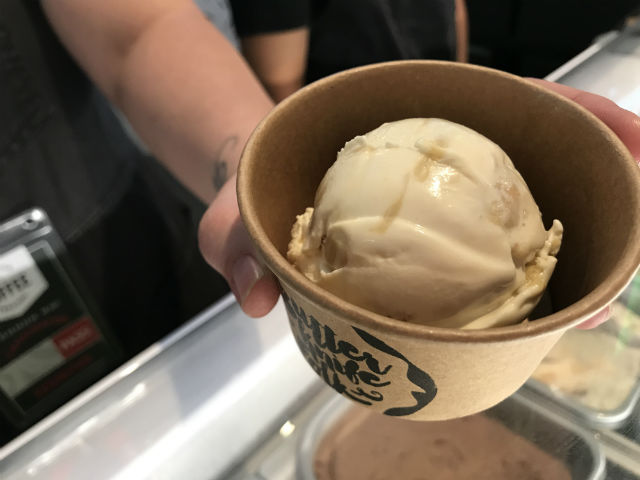 For the Singapore Coffee Festival, gelato stall Butter Knife Folk has come up with four coffee flavoured gelato flavours, as well as four interesting non-coffee ones.
I must say that their Kaya Toast flavour was quite interesting. You can definitely taste the kaya flavour as soon as this gelato hits your mouth. Unfortunately though, there seems to be more kaya than toast, unless you get one of the relatively large crispy pieces of toast biscotti in your spoonful of gelato.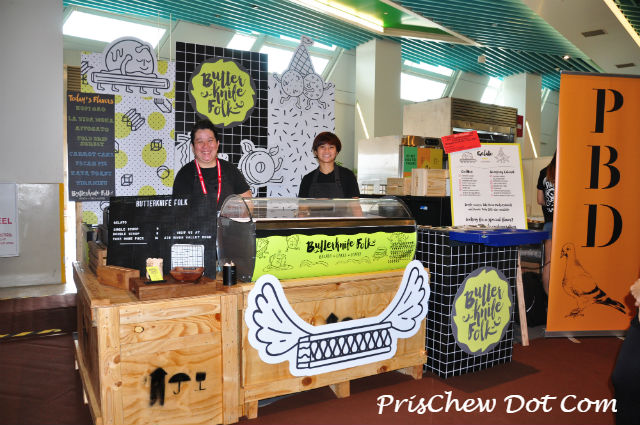 The Kopi Gao flavour was also quite interesting, strongly reminding me of espresso. On tasting some of this, the strong Kopi flavour hit me immediately; if you are feeling sleepy, I would highly recommend this to give you the kick that you need to stay awake.
As for their Carrot Cake flavour, this one had a strong taste of cinnamon and I could not really taste much else. Do note that the Carrot Cake is based on the Western style and not the local style one; I however, would have thought it'll be more interesting to work around the Singaporean carrot cake though, so I would say that this was a tad disappointing in this regard.
Other Food Items and Coffee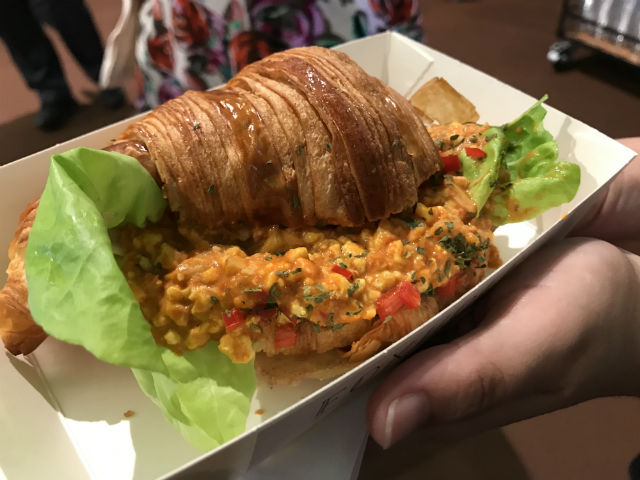 For those who are looking for more Instagrammable desserts to feed their social media accounts with, you can check out the Foxhole Cafe booth, which serves interesting delight such as the Chilli Crab Croissant ($15) which combines Singapore's iconic chilli crab together with a buttery croissant and a side serving of raspberry chips.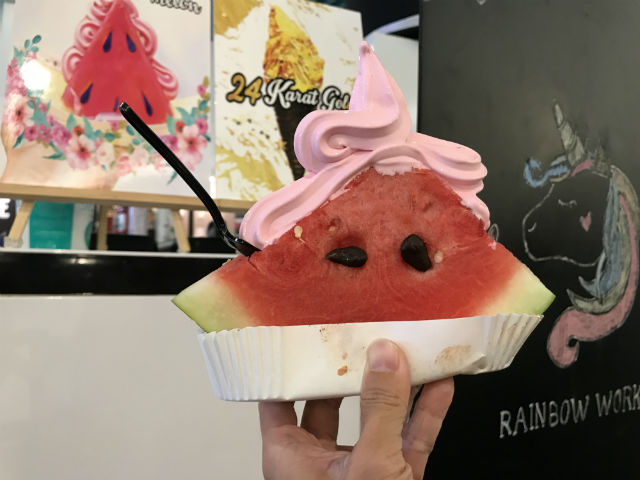 You can also have the One in a Melon, which is essentially a melon flavoured soft serve ice cream on top of a watermelon fruit.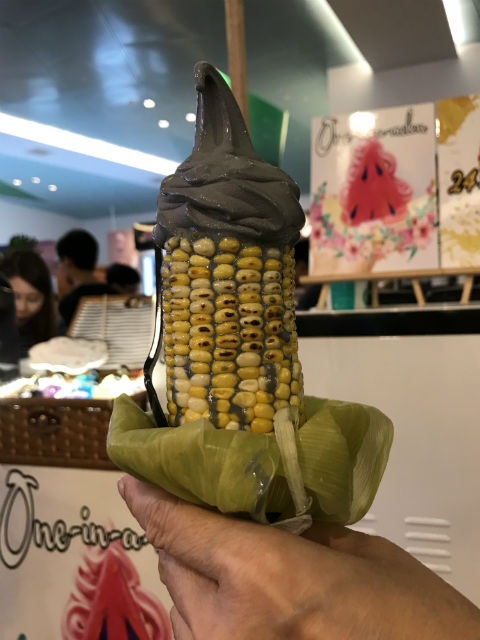 Foxhole Cafe's Corn Fuse ($9.90) is also interesting. This is supposed to be a grilled ear of corn that comes together with charcoal soft serve on top and would certainly attract many Likes on your Instagram account.
I admit that I was rather tickled pink at the sights of all of these interesting and unique savouries and desserts from this stall.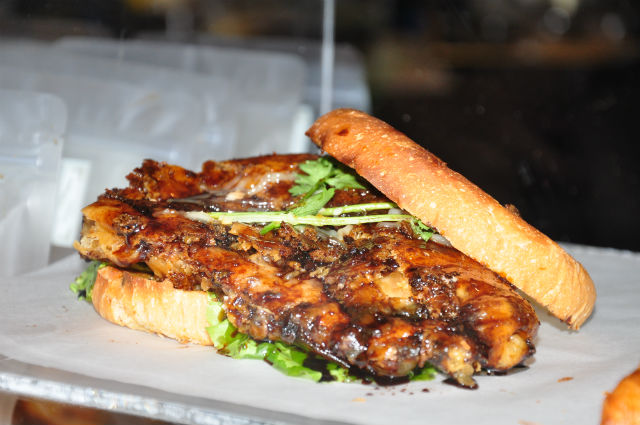 Also, the Coffee Pork Chop Bun ($10.70) from the Antoinette Cafe booth, is also a unique item, consisting of deep fried pork loin with coffee glaze and caramelized onion, as well as lettuce, that is served with a house made buttered crusty white roll.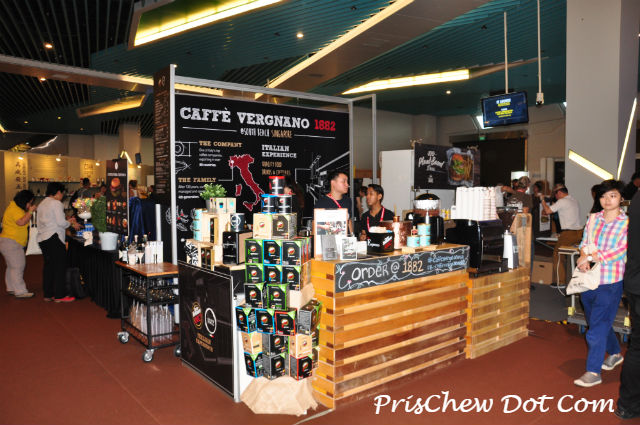 And of course, being the Singapore Coffee Festival, there is no shortage of coffee samples available from cafes both in Singapore as well as from overseas. These include Trunk Coffee from Nagoya, Japan, InCafe from New Zealand and Caffe Vergano 1882 from Italy.
Not forgetting, from Singapore, cafes which have where you can taste the coffee at, include Strangers Reunion & Curious Palette, Huggs Coffee, Common Man Coffee Roasters and Jewel Coffee just to name a few of these.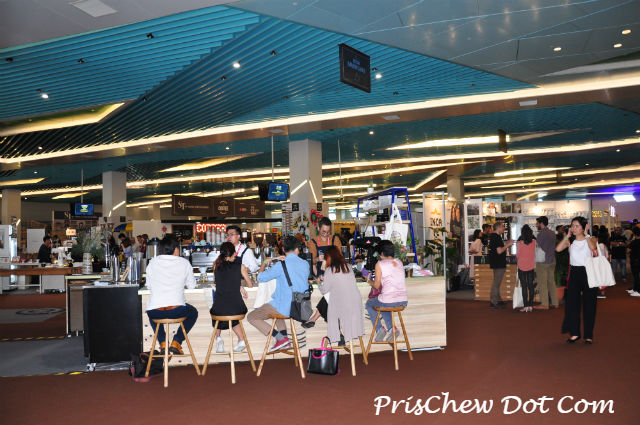 As well, coffee brewing machines such as the La Marzocco ones from BonCafe are available too at the Singapore Coffee Festival, for those who may be looking to brew their own coffee at home.
Live Kind by DBS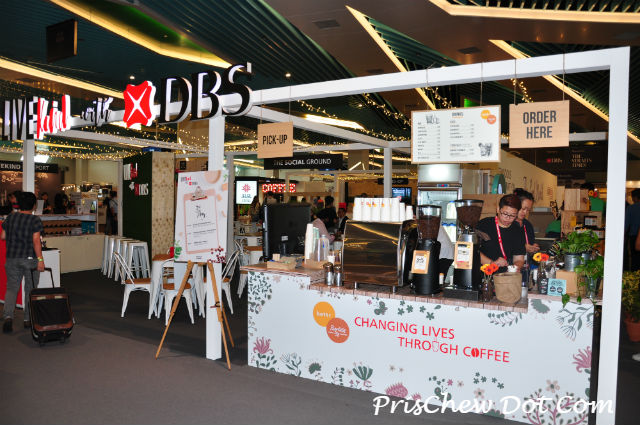 As the presenting sponsors, DBS Bank is sending a message to Live Kind to patrons at the Singapore Coffee Festival. The activities they are organising is held in collaboration with social enterprises at the DBS Lounge and is being supported by Asia For Good by DBS Foundation.
At the DBS Lounge, you can relax and tuck into free cups of coffee and snack on healthy nuts and dark chocolate, just like what I did. You can also attend informative talks at the DBS Lounge and these include topics such as Sustainable Businesses, Wallets Gone Digital and Marrying Business & Social.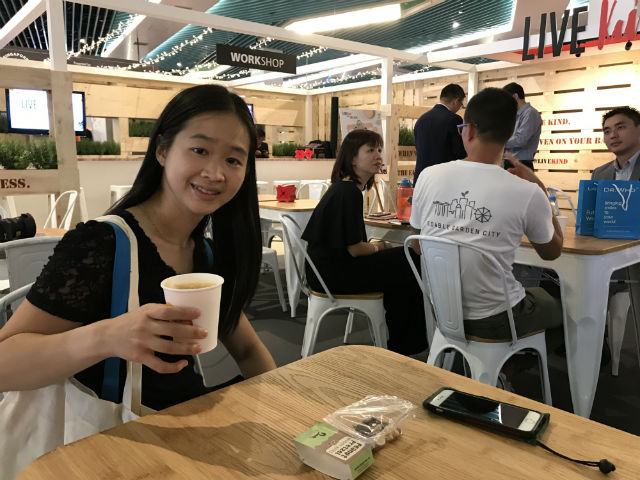 Food
Seven social enterprises from across Asia are selling products at the Singapore Coffee Festival. These are healthy snacks such as soya chips and nuts from BoxGreen, chocolates from Krakakoa, cashews from East Bali Cashews, natural skin products from Farm To Beauty and many more. So you can purchase your favourite healthy snack foods and support disadvantaged communities at the same time.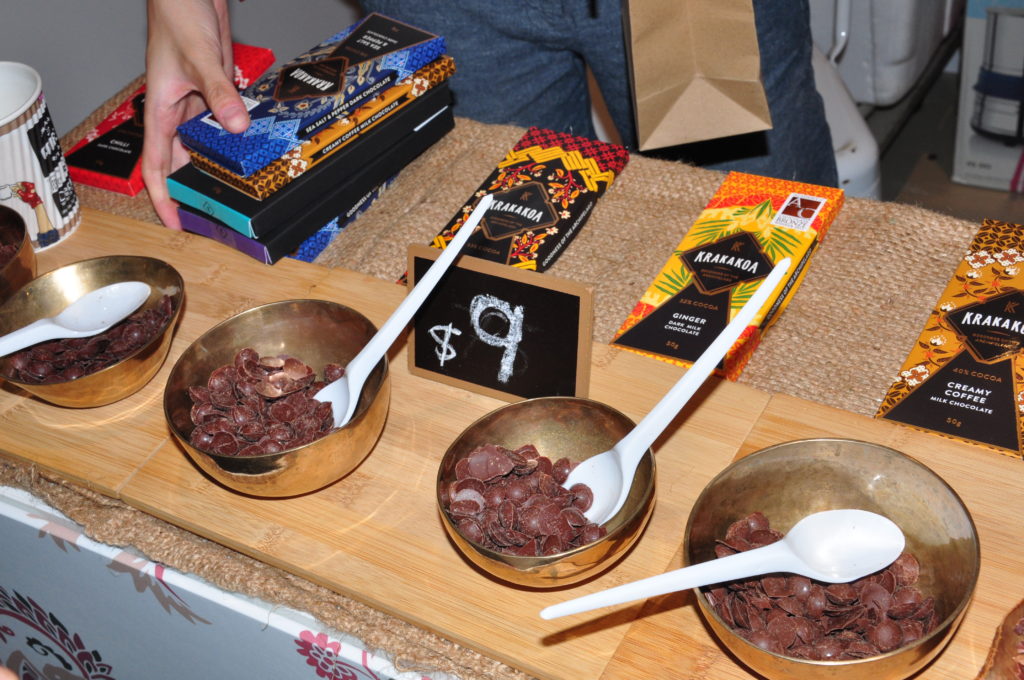 I sampled the Krakakoa chocolates and I thought these were quite interesting. They are selling Single Origin dark chocolates from Sumatra, West Sulawesi, Kalimantan and Bali. The chocolates are of different strengths and each one has its own distinctive textures and aromas. Though I like dark chocolates, I had personally found these ones to be a tad bitter for my taste buds. These are on sale at $12 each.
As well, Krakakoa chocolates is selling flavoured bars with chilli, cinnamon, sea salt & pepper, ginger and creamy coffee. I found that I really enjoyed the sea salt & pepper flavour and ended up buying a bar of this. The chilli one was also good, and had a distinctive and interesting spicy note to it. You can buy a bar of these flavours for $9 each.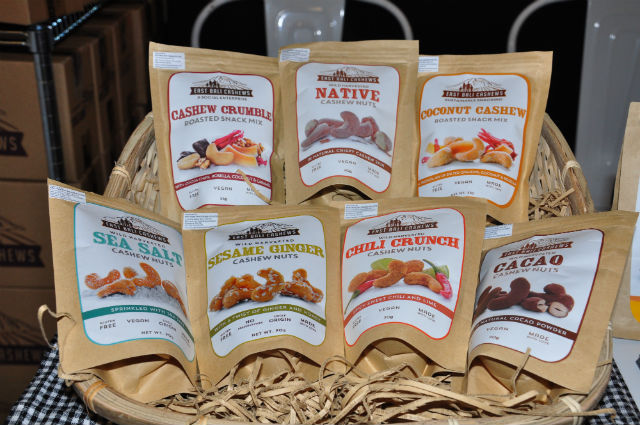 The East Bali Cashews were also interesting, in my opinion. As the name suggests, they have  cashew nuts in an assortment of flavours. I liked the cacao cashew nuts; these remind me slightly of chocolate flavoured cashews, but the flavour is a lot more subtle and milder than actual chocolate though and it does not immediately hit the taste buds.
The chilli crunch and sesame ginger cashews though, I would say are an acquired taste. The spicy, acidic tang of the chilli crunch cashews hit me immediately upon putting some into my mouth, while a very strong ginger flavour came out from the sesame ginger ones, immediately drowning out everything else. If you love ginger sweets and snacks, these would definitely be the nuts for you.
But besides cashew nuts, East Bali Cashews also sells healthy granola cereals, and these come in an assortment of flavours such as chocolate vanilla and coconut banana. These are tasty and flavoursome, and full of natural goodness at the same time. I quite enjoyed the chocolate vanilla granolas.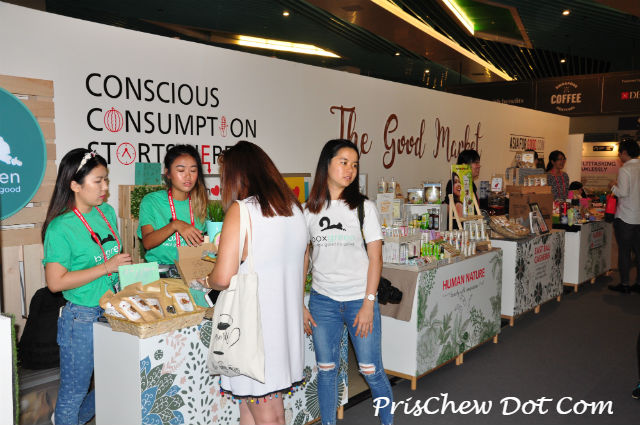 For the BoxGreen snacks, I had thought were quite creative and intriguing; besides standard snacks such as soy chips and nuts, they have also infused local flavours such as chng tng and laksa into their goodies. For example, the laksa snacks consist of cashew nuts and sunflower seeds with laksa flavouring infused inside, while the chng tng snacks are crispy dried lotus and longans. I tried the chng tng ones, and these are quite interesting and innovative, bringing out the chng tng flavour in its own unique manner.
Workshops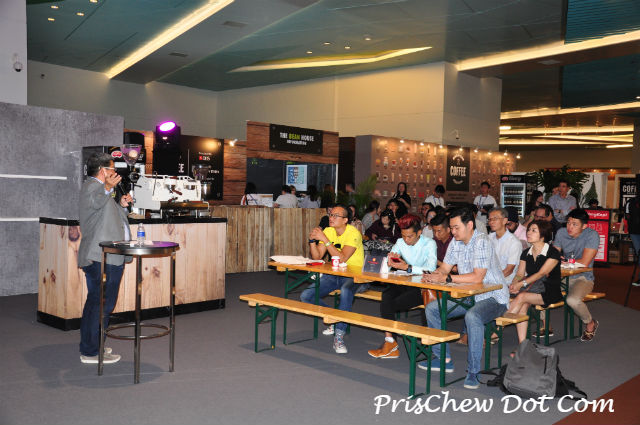 DBS also has free workshops conducted by social enterprises such as coffee brewing, latte art and chocolate/coffee pairing, to enrich participants and teach them more about coffee. These workshops would be held throughout the duration of the Singapore Coffee Festival and at allocated time slots.
Besides the DBS workshops, there are also plenty of other talks and clinics held throughout the three days on various topics such as organic coffee production, speciality coffee, coffee aromas and the brewing of coffee, taking place at the Singapore Coffee Festival by Straits Times journalists, coffee baristas and award winning experts in the coffee industry. So you should be able to find something available, in order to suit your interests.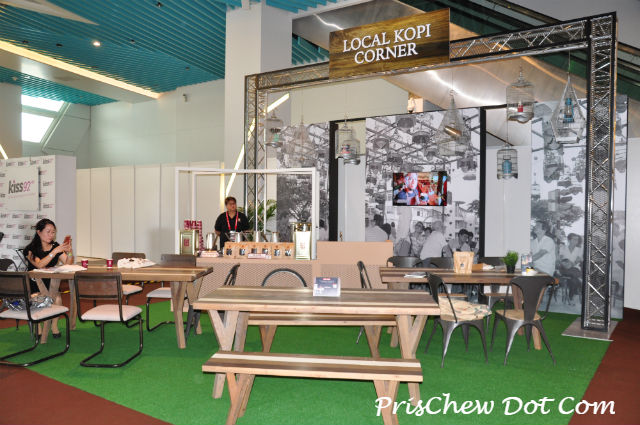 Live Kind Passport
As well, you can collect a free Live Kind passport and perform simple tasks at the Singapore Coffee Festival. Collect two stamps and you get a free DBS mug. Get four stamps and you can redeem a free cup of coffee.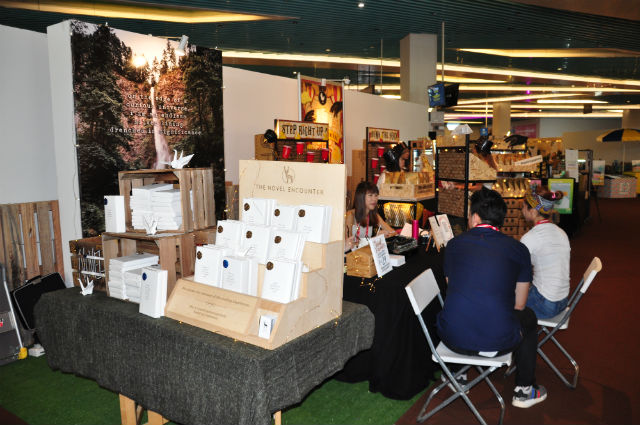 I tried this out and the tasks are actually quite simple and straightforward. My first task was to recycle a bottle of water, in exchange for a free snack from Tong Garden or BoxGreen. I walked away with a packet of healthy almond cashew nut bars from Tong Garden. My second and third tasks were then to snap a photo of myself at the DBS Lounge and upload it online, and after that, find out how to recycle a used paper cup to turn it into a mini potted plant.
Finally I had to purchase something from one of the DBS social enterprise booths. If you do not wish to make a purchase, then the other option would be to attend one of the DBS workshops.
I tucked into a delicious cup of free coffee for my efforts in walking around the Singapore Coffee Festival to complete the tasks.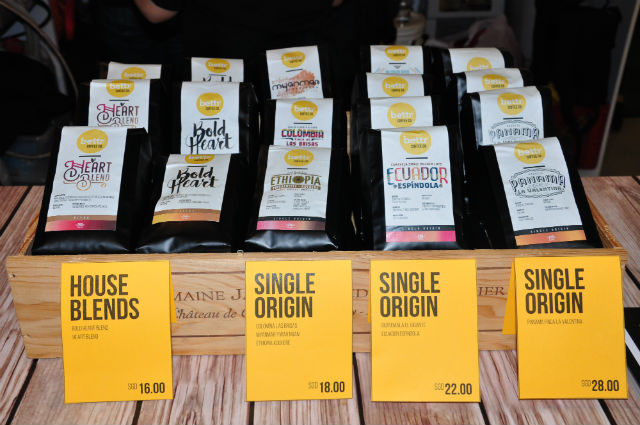 Where to go
The Singapore Coffee Festival is taking place at the Marina Bay Cruise Centre from now till Sunday 6 August.
If you are taking public transport to the Marina Bay Cruise Centre location, however, you should note that reaching the location is quite a bit of a walk, possibly about 15-20 minutes away from the MRT station. Looking on the bright side, at least you can burn some calories before your feasting session starts at the Singapore Coffee Festival!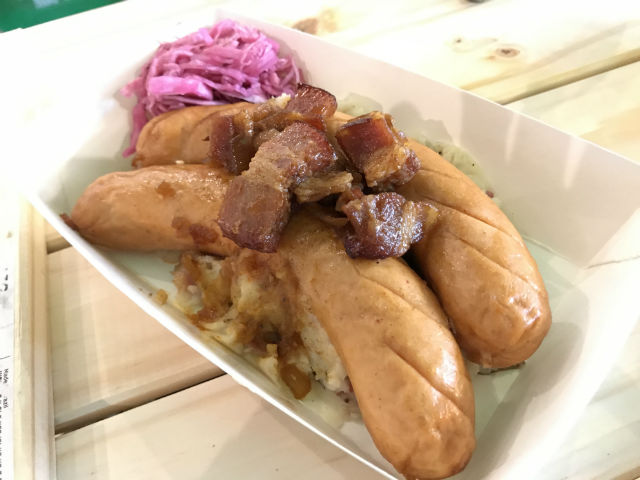 But if you are still too lazy to walk, at least there are plenty of OBikes on hand for rental at the station, though!
Tickets to the Singapore Coffee Festival are available for sale on site, at $22 per day ($18 for DBS and POSB cardholders and Straits Times subscribers).
Go to www.sgcoffeefestival.com.sg to find out more information and to see the daily programmes or else to buy your tickets online.

Share this page with your friends!