Originale is a brand new frozen yoghurt takeaway stall that has opened at Bugis Junction, offering its customers a range of great-tasting products comprising of high quality, healthy and fresh ingredients with no additives or preservatives. Originale pride themselves in their delightfully healthy frozen desserts.
Aimed at bringing the delights of the traditional Italian brand of artisanal frozen yoghurt to Singapore, Originale gives their customers the true Italian authentic taste experience.
Said Eva Manukyan, the Director of Originale, "In Italy, we are all about quality. It is quite hard to find such fresh products here in Singapore so I decided to come up with some of my own – and bring the high quality products and experience of Italy, to Singapore."
FROZEN YOGHURT IS HEALTHIER THAN GELATO
But why sell frozen yoghurt instead of gelato, which is quite popular? Explained Eva, who studied at Italy's world-famous Carpigiani Gelato University, "Unlike gelato, yoghurt is a milk-based product. So it is healthier and lighter than gelato. I have analysed the market and many Singaporeans are into healthy living and healthy lifestyle. As my yoghurt is made with fresh, healthy ingredients, I decided to bring Italian frozen yoghurt into Singapore."
Eva pointed out that while there are more than 32,000 high quality gelato outlets in Italy, there are also many good frozen yoghurt franchises around the country. So even though it may be less well-known in other parts of the world, Italy is also a great place to go for yoghurt fans – and in a business sense too, it is also slightly less competitive compared to the gelato market.
An Italian now living in Singapore, Eva added that while the freshness of their products have stayed true to Italian frozen yoghurt, they have made some adjustments though – to suit the Singapore market, for example, in terms of the level of sweetness. She explained, "At first when I opened, people commented that my yoghurt was too sweet, so I have since cut the sweetness by half."
SIMPLE METHOD OF ORDERING YOUR YOGHURT
The method of ordering your decadent yet healthy dessert at Originale is simple and the full range of choice is left entirely to the customer. They use a standard, plain flavoured frozen yoghurt base – imported straight from Italy – and you get to pair this together with toppings and sauces based on your preferences.
However, Eva added that Originale may be coming up with popular and recommended combinations of what sauces and toppings to pair together, depending on the ones that sell well. She said, "But ultimately though, we do not want to take out the flexibility. We still want to leave it to the customers to make their own choice."
Most of the toppings available at the shop have been flown in fresh from Italy, according to Eva. Others have been sourced locally but the quality has been maintained. The toppings include a range of fruits such as strawberries, blueberries, mangoes and dragonfruit, to nuts & seeds like almonds and pumpkin seeds, to granola, crushed Oreos and chocolates such as m&m's and KitKat.
Sauces to accompany the toppings, include fruit-based ones such as Mango, Strawberry and Blueberry to Ferrero Rocher, dark chocolate, white chocolate and caramel. According to Eva, these toppings/sauces change on a regular basis so they may not always be the same, depending on when you head down to the stall.
Also, regardless of whether you chose a sauce or a topping, they are both counted as one.
WHAT FLAVOURS I SELECTED
I recently attended a tasting session at Originale. I had a small cup (with two toppings), a medium cup (with three toppings) and a Mono cup (with one sauce).
A small cup of frozen yoghurt costs $4.90 and a medium one costs $5.90. A mono cup is priced at $2.50. Additional sauces and toppings are priced at 80 cents each.
My frozen yoghurt flavours comprised of:
Small Cup – Mango, Oreos and Ferrero Rocher sauce (I added one extra topping).
Medium Cup – Blueberries, Granola and Blueberry Sauce
Mono Cup – Caramel Sauce
I had these combinations because I thought they would provide a good variety for my tasting session.
Besides cups though, Originale also serves their frozen yoghurt in waffle cones or bowls and these start at $3.50 for a small cone.
TASTING THE FROZEN YOGHURT
Upon tasting the frozen yoghurt, the first thing that hit me was that I did not detect much of a sour note in it, unlike what I would usually expect from a yoghurt-based dessert. Instead it had reminded me of soft-serve ice cream. But then again though, everyone's taste buds are different.
However it was delicious though and I would definitely order some next time I am around the area. For instance, it had a rich and creamy texture that I really enjoyed, and melted in my mouth. In terms of the sweetness too, it was just right for me.
The sauces and toppings were also scrumptious and decadent, yet healthy at the same time. The blueberry sauce really reminded me of fresh blueberries. Together with the fresh blueberries in the medium sized cup, this formed a perfect combination and really enhanced the yummy blueberry flavour. The granola also provided a nice crunch to the yoghurt and helped to balance out the textures very well.
The Ferrero Rocher sauce in the small cup was also delicious, and really reminded me of the scrumptious Ferrero Rocher chocolates that I have always enjoyed. It remained true to its chocolate and hazelnut flavour and both of the flavours came out very nicely in the sauce. Together with the smooth, sweet mango pieces and the crunchy Oreos, this was also a perfectly-balanced dessert and I enjoyed the textures and tastes thoroughly.
For the mono cup, I thought the salty-sweet caramel sauce was also yummy. The slight saltiness that I could detect in the sauce balanced out very well with the cold and smooth yoghurt, creating a decadent yet healthy dessert that really melted inside my mouth.
I must mention though that this frozen yoghurt (like gelato) melts really quickly especially under Singapore's heat. So no matter how pretty and cool it may look, you should eat it up quickly after ordering it!
POPULAR SAUCES AND TOPPINGS
What are some of the more popular sauces and toppings at Originale so far? Said Eva, "Yoghurt is typically sour, so the sauces and toppings help to add sweetness to it. Some of the popular ones are Ferrero Rocher, as well as Nutella and White Chocolate sauce. Fruit-based sauce are also selling well, such as the mango and berry ones."
She continued, "For toppings, the Granola is popular because it is a healthy choice – and granola also isn't cheap to buy in the supermarkets. Our fruits – strawberry, blueberry, mango, kiwi and dragonfruits are also popular, as well as our nuts, such as the almonds."
Eva also added that her personal favourite is the Ferrero Rocher sauce paired with strawberries – as this would give the juicy red berries a nice chocolate-hazelnut zing to it.
CURRENT PROMOTIONS @ ORIGINALE
Promotion 1 (For All)
Promotion 2 (For Students)
Promotion 3 (Groupon)
Groupon Purchase Link: Click here.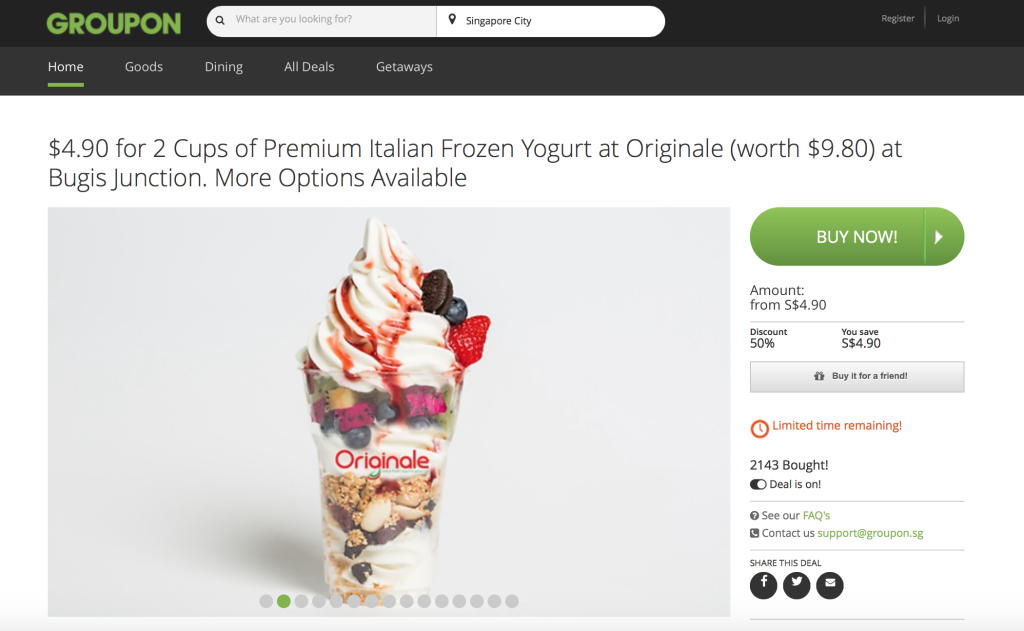 Originale Artisan Frozen Yoghurt
200 Victoria Street
#B1-K6, Bugis Junction,
Singapore 188021
Opening Hours: 11am to 10pm

For more information and promotions from Originale, you can like their Facebook page here.
Other blog posts
Share this page with your friends!