We all have fond memories of the traditional ice cream push carts, which remain as one of the last few icons that we have left of old Singapore.
Located along Orchard Road as well as periodically turning up at heartland estates from time to time, these ice cream pushcarts offer enticing flavours of Asia, such as Durian and Mango, and are served in the form of blocks of delectable ice cream sandwiched between tasty wafers or soft, fluffy slices of rainbow bread.
I still remember my childhood days, when I used to hear the bell of the ice cream cart outside my bedroom window, and I would rush outside to get myself an ice cream. Today despite the fact that there are many newfangled ice cream cafes all over Singapore, the ice cream pushcarts still remain as one of the cheapest places that you can buy ice cream from, to cool yourself down on a particularly hot day.
An initiative to preserve an charming and endearing Singaporean icon
F&N's Ice Cream Brand Challenge, organised by F&N Creameries and the SMU (Singapore Management University) Marketing Society, is one of several initiatives by F&N Creameries to help preserve our charming and endearing Singaporean icon, the ice cream cart. The challenge was designed to involve the next generation of Singaporeans to embrace and help do their part to keep our ice cream uncles relevant and independent.
The challenge called for university and polytechnic students to lead the way in revamping the ice cream pushcart and its business model while retaining the appeal as a national icon, so that loyal customers, curious passers-by and tourists may continue to savour the delightfully local desserts in years to come.
Through the challenge, younger Singaporeans are engaged in playing an important and meaningful role in helping to preserve the well-loved Singaporean icon, while retaining the essence of its appeal. In a competitive market saturated with many players, tapping on the ideas and knowledge of the next generation will enable the economic continuity of the ice cream pushcarts.
Playing the role of a marketing business manager, students were given opportunities to wield their business knowledge and creativity in conceptualising feasible solutions and innovative marketing strategies for the revamp of the pushcarts and its business model.
Six shortlisted teams
Six shortlisted teams were revealed on 22 September and they will be presenting their ideas at the Grand Finals this coming Saturday, to modernise the ice cream pushcart business.
The ice cream pushcarts represent snippets of Singaporean history and tradition 
One of the shortlisted teams had been Team Dejavu, and according to them, they were drawn to taking part in the challenge because the ice cream pushcarts are an important part of Singapore's history.
Said team leader Jane Teh Choy Ling, 21, a Bachelor Of Business Management student majoring in Marketing & Operations at SMU, "To us, the ice cream push carts are snippets of history and tradition that grew up alongside us. Together with other old school traditions like street cobblers, ice cream pushcarts are synonymous with Singapore's development. They are age-old traditions that cannot be discounted in Singapore's history."
She added, "To us, ice cream pushcarts hold memories. That made the brand challenge especially relevant and interesting for us. We were also keen on gaining some experience on knowledge application and thought this was a really good way to start."
Besides Jane, Team Dejavu also consists of Donovan Taim Zhang Kai, 24, a Bachelor of Business Management student majoring in Marketing at SMU, as well as Vivian Liu Shiting, 21 and Wong Jun Ting, 21, both of whom are Bachelor of Business students specialising in Marketing at Nanyang Technological University.
Their New Generation Business Idea
What is Team Dejavu's new generation business idea for the ice cream pushcarts?
Said Jane, "In conceiving our ideas, our team has two end goals in mind. Firstly we hope to increase the demand of the ice cream and hence, revenue. To achieve this, we developed a marketing and branding campaign to elevate the ice cream carts to national icon status which consequently raises demand. We suggested making use of social media, physical design and cart location to attain this goal."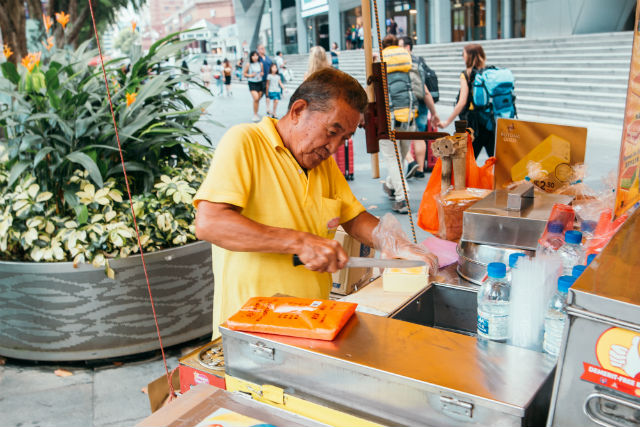 She added, "Secondly we hope to increase the appeal of this profession to continue sustaining this industry. Solutions regarding operational aspects were conceived to alleviate this service inefficiently at each ice cream cart."
The team is confident that their idea is sustainable. Jane explained, "Each idea, while inclusive of novelty, was developed with feasibility in mind. We ran each idea under critique, analysis and sustainability questions before finalising it. We also took the estimated costs involved into consideration to ensure that the ideas were financially feasible."
Happy to know that they were shortlisted 
And Team Dejavu is happy to know that they had made it to the grand finals. Said Jane, "Naturally we were happy to hear that we made it to the grand finals. It was gratifying to know that our ideas had a chance of being implemented in real life. We are also excited about helping to sustain or promote the growth of the ice cream cart industry."
She continued, "We felt that the sound reasoning behind the analysis helped us to be shortlisted. We also tried to make sure that there is a consistency behind the ideas, so that the entire concept is whole, rather than fragmented."
Excited yet nervous about the grand finals
The four students are nervous, yet excited about presenting their ideas at the grand finals. Said Jane, "we are nervous as we are certain that other teams will be presenting outstanding ideas. Nevertheless, we are excited to be able to contribute ideas and hear the other teams' ideas. It will definitely be an eye opening experience."
A Good Learning Opportunity regardless of the outcome
And do they think they will win? Explained Jane, "We feel that we have just as good a chance as any other teams, seeing how we have not yet see the other teams' ideas. However we take things in our stride and see this more as a learning opportunity."
She continued "We have managed to use several concepts that we have learnt in our  marketing classes, in this project. We also feel that the analytical skills honed in the classroom really came into use for this. Instead of simply jumping strength into idea brainstorming, we delved deep into what really should be the initial focus, such as the target audience and problem analysis. Having a good foundation and understanding then led to generation of ideas that can tackle the root problem."
Grand Finals this Saturday, 30 September 
The other shortlisted teams who Team Dejavu will be fighting it out against, are Team Jaw, Team iScream, Team MBB Consulting, Team Lyve and Team Affogato.
The grand finals will be taking place this Saturday, 30 September, at the SMU Campus.
All the best to the shortlisted teams.

Share this page with your friends!