1) Magnolia Yoghurt Smoothie – Yuzu With Orange Sacs
Originating from the South Eastern part of Japan, the Yuzu is a sour citrus fruit that is about the same size as a tangerine. With three times the amount of Vitamin C as lemons, the Yuzu is known in Japan for its medicinal uses and is being touted as the next big superfood in the world in the culinary scene.
But you need not fly to Japan for a taste of Yuzu.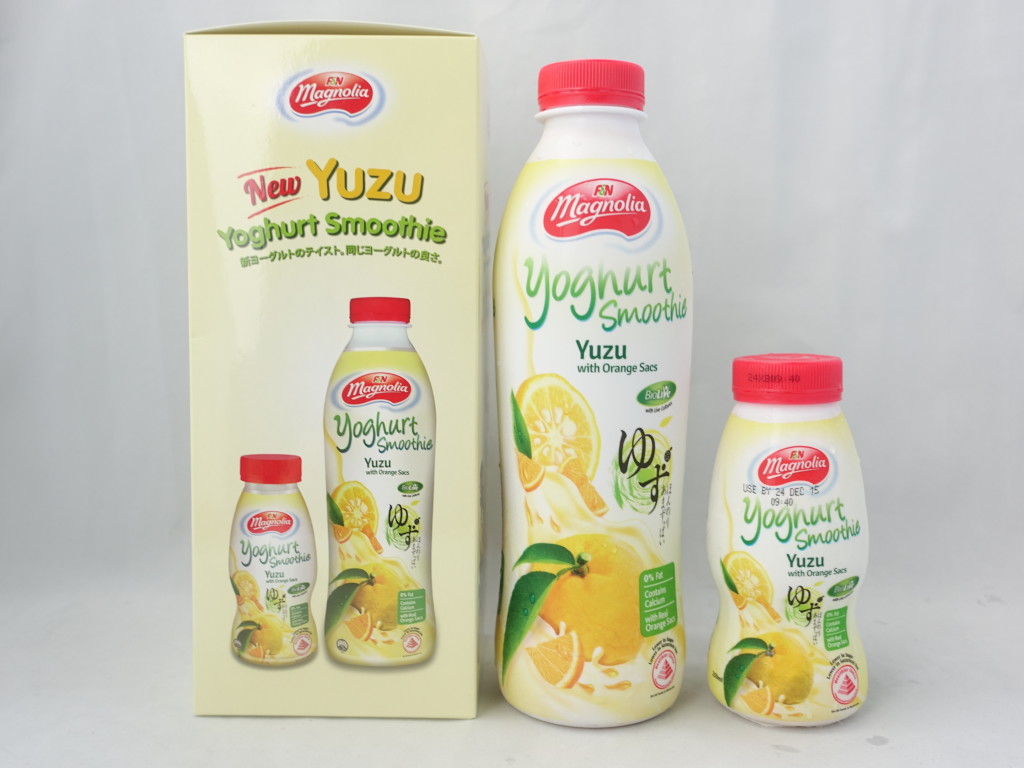 This is because recently Magnolia has introduced to Singapore, the Magnolia Yoghurt Smoothie – Yuzu with Orange Sacs. Prepared with non-fat yoghurt and fresh Yuzu imported directly from Japan, the Magnolia Yoghurt Smoothie – Yuzu with Orange Sacs, offers you the convenience of enjoying the Yuzu flavour all year round – right here in Singapore.
The yoghurt drink is also fortified with BioLive cultures, a specially formulated ingredient comprising of live probiotics. Consumption of probiotics-rich BioLive cultures restore the balance of good bacteria along our gastrointestinal tract by depriving the bad bacteria from food and thus, suppressing their growth.
Thanks to Magnolia, I was recently given some samples of the Magnolia Yoghurt Smoothie – Yuzu with Orange Sacs, to taste. Here are my comments:
Sampling the new Magnolia Yoghurt Smoothie – Yuzu with Orange Sacs
The colour of the drink is yellow-orange, just like the colour of an orange.
Flavour-wise, the first thing that hits you upon tasting this, is the citrusy flavour from the Yuzu fruit. Subsequently though, this gives way to a slightly sweet and milky taste, as this is a yoghurt drink after all. At the same time, I can feel the orange sacs in my mouth, which help to add some texture to the drink. Upon swallowing, there is a sour aftertaste lingering in the mouth, again from the yuzu fruit.
Roadshows
There is a series of roadshows this Christmas if you are keen to taste the Yuzu with Orange Sacs Yoghurt Smoothie. Here are the details of the roadshows: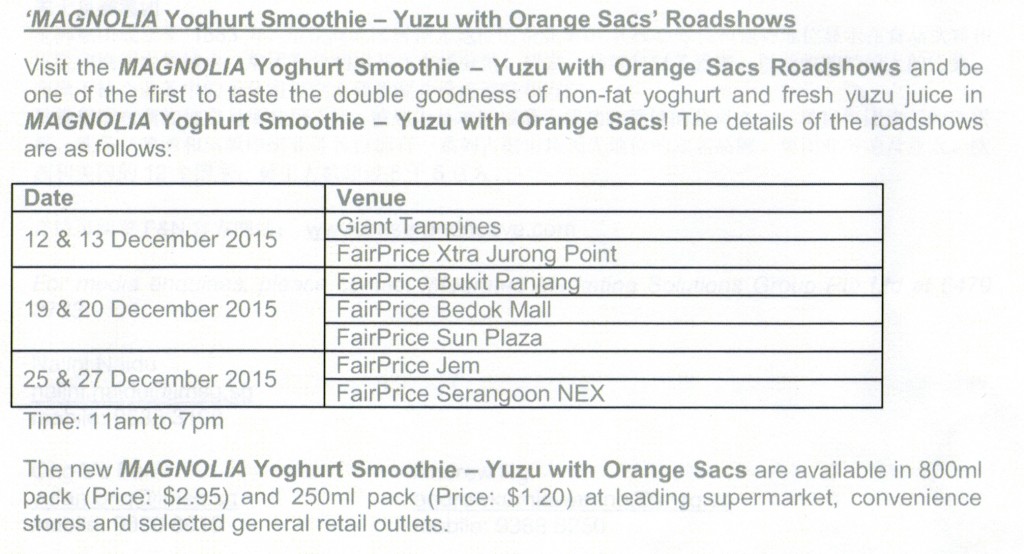 Where to purchase the smoothie
Endorsed by the Health Promotion Board as a Healthier Choice product, the Yuzu with Orange Sacs is available in 800ml packs (SGD2.95) and 250ml packs (SGD1.20) at leading supermarkets, convenience stores and selected general retail outlets.
2) Magnolia Fresh Milk
Get the best out of fresh milk and enjoy Magnolia Fresh Milk with the following tips.
How to buy and store milk
Fresh milk is a nutrition powerhouse that supports our heart and bone health. However, it is best consumed when it is fresh – as the nutrition value will be the highest then.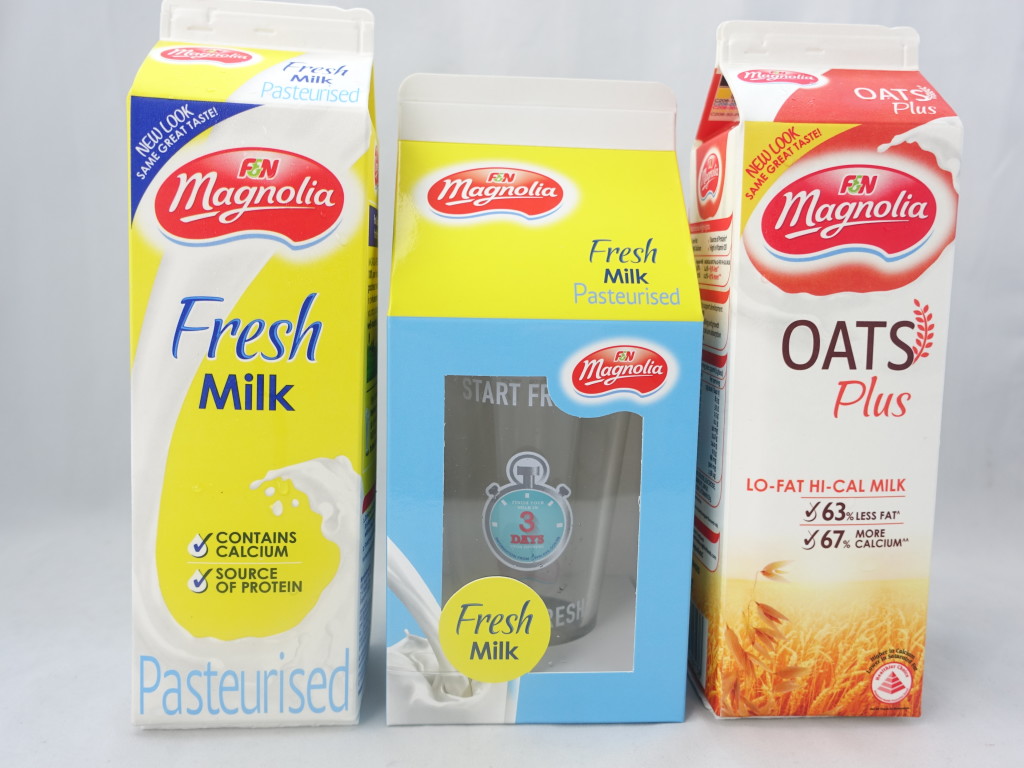 And do not leave a packet of milk, especially an opened one, sitting in the fridge for too long – as it will spoil quickly.
Thus it is important to buy milk that mirrors the household consumption levels of the beverage. For example it may be difficult to consume milk three days after opening, if you buy a two-litre packet even though it may be cheaper. Instead you may prefer to buy two one-litre packets as it will be easier to finish this as soon as possible.
As well, when it is opened, milk will be exposed to bacteria and loses its quality and freshness. So after opening a packet of milk, it is thus vital to finish it within three days of opening it.
Also when you are buying milk, pick it up from the shelf last, so that it will not warm up as you are shopping for your other necessities. And once you reach home, make sure you put the milk in the refrigerator immediately – it must be stored at a temperature of between 2 to 4 degrees C.
Magnolia Roadshows and Giveaways
To encourage customers to drink milk, Magnolia is giving away limited-edition collectible glasses beginning 1 January 2016 with the purchase of every two one-litre packs of Magnolia Fresh Milk – while stocks last. There are four designs to collect altogether.
Also if you bring any empty two-litre milk bottle to the Magnolia roadshows you can exchange this for a free package of Magnolia one-litre milk. You can also enjoy a series of fun activities and quizzes at these roadshows to kick-start your habit of drinking milk.
Check out the venues and more information about the roadshows here.
[See Table below]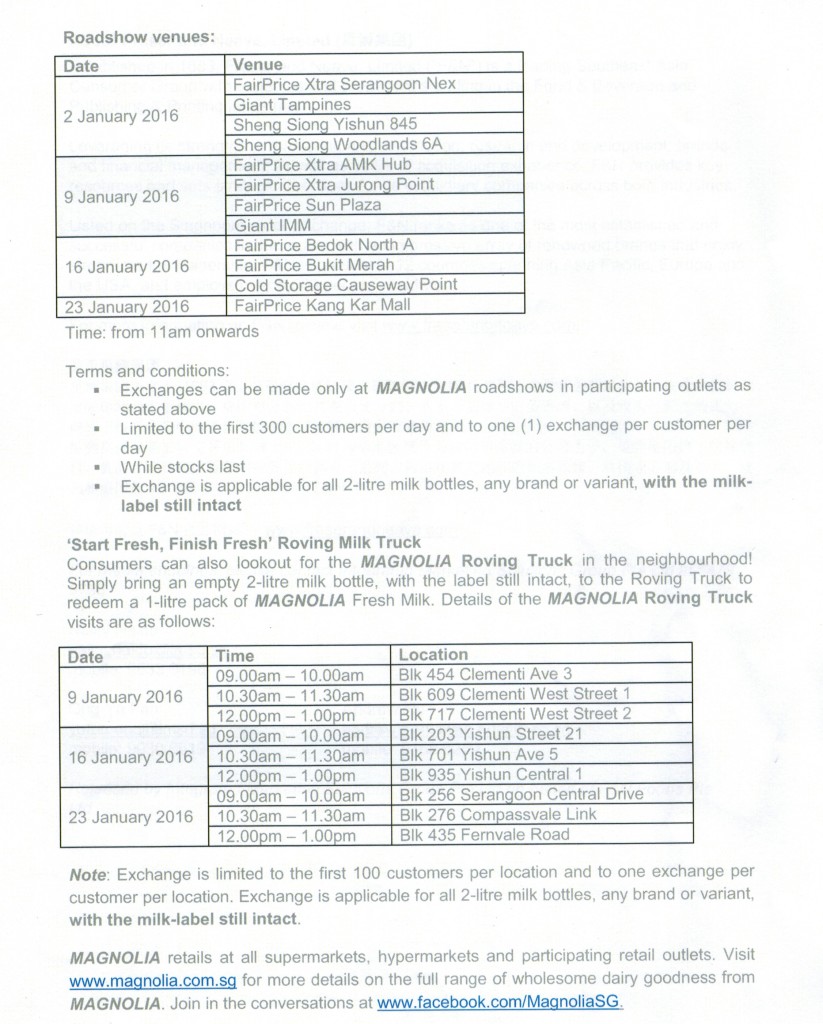 Share this page with your friends!