Publisher: Gerakbudaya Enterprise
Compiled and Edited by Singa Crew
2nd Edition. Year published: April 2013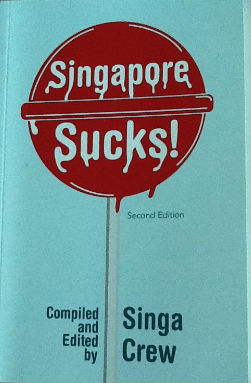 A humorous, witty and light-hearted book, this offers a very different perspective of the social and political issues that face Singaporeans. Even if you are not a local, the Singapore Sucks book provides a great read into the lives of the local people. For example, it talks about the standard of spoken English, people's interest in the white culture, the locals' spontaneity being "replaced by the predictability of computer programs" and the negative stereotyping of people who are alcoholics. Other issues raised in Singapore Sucks, include the Sarong Party Guys, corporal punishment and indulgent parents.
An Eye Opener
The Singapore Sucks book is definitely an eye-opener and provides a different viewpoint of life in Singapore. It is told with touching narrative stories and showcases a wide variety of uniquely Singaporean issues.
Is for Everyone
This highly entertaining book is not targeted just at Singaporeans who want to get a different viewpoint of their homeland. It is, in fact, for anyone who is keen to read about a different perspective of Singapore. Even foreigners who have spent a lengthy period of time in Singapore and have grown accustomed to life here, will enjoy the book. It definitely contains moral lessons for everyone to digest.
Brings out the Raw Emotions
The real names of the editor and story contributors have not been included in the book, but the stories are very well written and they really bring out the raw emotions in the reader. Anger, sadness and joy will definitely be felt by the reader as he or she goes through the stories in the Singapore Sucks book.
The book can be bought at RM20.00 through the "Singapore Sucks" website.
Read more Singaporean posts!
Share this page with your friends!