An Interview with Miss World Singapore Finalist, Rachel Leng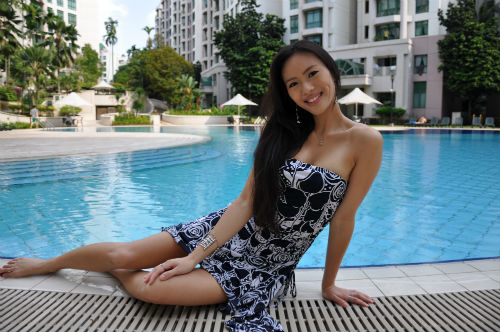 I recently interviewed Miss World Singapore 2013 contestant, Rachel Leng.
Many readers loved her story and have asked for more information on Miss World Singapore finalist Rachel. So I have done a follow-up interview with this amazing beauty, who is going to Harvard University soon, to pursue a PhD.
Want to find out more about this Miss World Singapore finalist? Read on and check out the photo gallery too.
Rachel, you have lived in a few countries and done a lot of travelling. Tell us about this.
I stayed in Singapore until I was in primary school. Then halfway through Primary One, my dad was posted to Shanghai for work. I spent 12 years in Shanghai, then at 18, I moved to North Carolina in the United States for four years when I was accepted into Duke University.
I have also been involved with charity work in South East Asia, apart from China and the States. Now, I am back in Singapore.
In what way has all of these different places influenced you?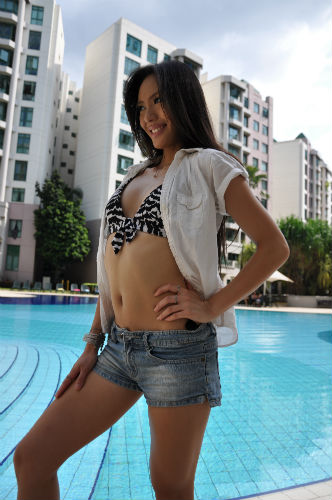 It has made me more culturally aware and I am able to embrace different cultures and perspectives. When I was young, I did not like the instability and change. But I am grateful for the opportunity because now I can easily adapt to different people and cultures.
My Singaporean characteristics define who I am. My experiences in Singapore, Shanghai and USA have given me a global perspective of East and West.
I am essentially Asian and Singaporean, but a part of me is western too, because I spent my formative years in America. These have helped to shape my identity and who I represent today.
But you are still very much a Singaporean?
Definitely! I love Singapore and I intend to come back here in the future. I may not have spent most of my life in Singapore, but I'm still a Singaporean. I love my bubur cha cha, nasi lemak and kueh lapis.
What is your favourite dish? And why?
It would have to be my mom's homemade herbal chicken. I love the taste and I grew up with it, so I have an emotional attachment to it. My mother sacrifices a lot of time to cook the dish and buy the necessary ingredients. It really shows how much Mum loves me.
And what is your favourite pastime?
I love running, especially through natural landscapes.
During my time studying in the USA, I used to do a five kilometre run almost every day, through the beautiful natural trails in North Carolina because the landscape there was so beautiful and scenic. I know that a lot of people hate running, but I love it because it really energises me, helps to clear my mind and enables me to relax.
What aspect of your character defines you the most and why?
I would say that I am a passionate person. Whatever I get involved in a task, I make sure that I am committed 100% to it and I do not take shortcuts.
How important is dressing up to you when you go out?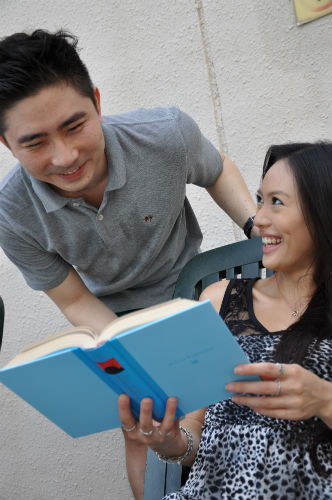 I do not need to be completely dolled up all time. But before I go out, I spend 15 to 20 mins dressing up and putting on some eyeliner so that I will look presentable. Many people think I do this because I am vain, but I think that dressing up is important for anyone. If you want to feel good about yourself, you should look good too.
And in a guy, what type of character do you see as being important?
I think that it is important for him to be caring. Some usually care more about themselves than others.
I really respect a guy who is driven and is fully determined to achieve what he has set out to accomplish. He does not have to be driven about the same things as me, but he needs to be determined to achieve something that he strongly believes in me.
(Rachel has been very busy with travelling and doing charity work, on top of her studies so she currently does not have a boyfriend. Maybe when Mr Right comes along, Rachel will slow down.)
You have been accepted for a fellowship in East Asian studies at Harvard University. Do you feel that beauty and brains go together in a beauty contest, such as the Miss World Singapore one?
I strongly believe that beauty and brains should not be separated. Beauty should encompass brains and kindness. It is not just the exterior beauty that counts. I think beauty is only skin-deep. It is not just about how a lady looks. It is also important in how she thinks and presents herself, and interacts with others.
If you win the Miss world Singapore title, what do you hope to change about the impressions currently surrounding beauty pageants with your win, and why?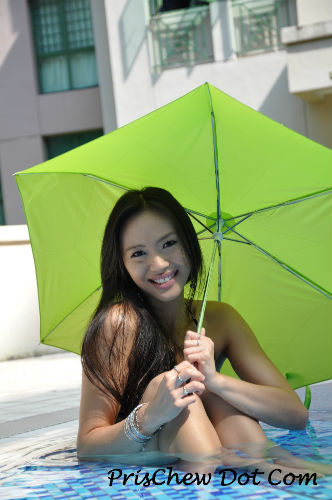 I would like to get rid of the idea that beauty queens are bimbos. They should be a role model and use their influential powers as a winner of a beauty pageant to inspire others to achieving their goals and dreams too.
Many young women actually use beauty pageants such as Miss World Singapore as a platform to advocate the cause that they truly believe in and so provide a face to that particular cause.
I understand that you want to be more involved with the local community in Singapore. In what way?
Actually the main factor influencing my decision to join this Miss World Singapore pageant was to get more involved with the local community here. In the USA, there's a huge culture of community service, volunteer work, civil engagement. So I want to foster more of this type of thinking in Singapore too. We think that we're a developed society and doing well here, but fostering this mentality in Singapore is still important.
Tell us about your involvement with charity work?
I have done quite a bit with kids. For example, I have worked with kids at a local community high school in Shanghai. I used to tutor them in subjects like English and Maths.
Last summer in Beijing, I also tutored kids of migrant workers. Their families earned less than USD 200 annually. As a result, these kids were not eligible for public education. So the school was set up to provide kids with education. The government did not provide funds to the school so they had no money to hire good teachers as a result.
I have also worked with orphans from Habitat for Humanity, mostly in China and the USA and Philippines in South East Asia.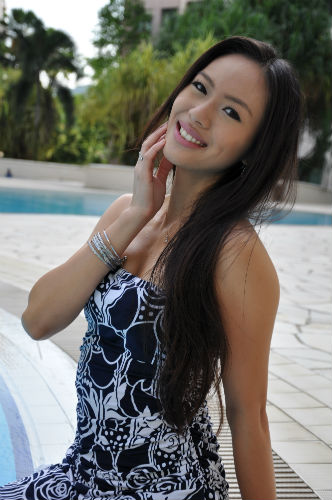 Why is charity work important to you?
I feel fortunate that I have everything I want in life. I have a good education and a bright future. So I want to contribute back to the local community by entering Miss World Singapore and give back whatever I can to help others who are less fortunate than I am.
How do you plan to help children in Singapore?
Children not having fair access to education because they come from less affluent backgrounds are almost never given much attention – and it happens in Singapore too. So I'll like to get more involved in this.
I'll also like to help kids to have a better childhood including getting better nutrition as it affects their learning abilities. I'll also like to foster greater parental involvement in kids' schooling and for their parents to be involved in providing a supportive family environment, conducive to learning. Orphans and child abuse are also areas that I'll like to help in.
Hungry for more photos of lovely Rachel? Remember to check out my photo gallery!
Find out more about Rachel!
Share this page with your friends!