2.50pm. It was Friday, August 9. I was at Marina Square. A sea of red and white bodies surrounded me. We were queuing up so that we would get a good seat at the National Day Parade (NDP) later.
I could estimate roughly 150 people in front of me, in the queue. I would be guaranteed of getting a decent seat at the Parade, I figured. Yes, I had arrived at the parade venue early enough. I still had about 45 minutes to wait before the seating gallery would be opened.
The time ticked by. There was still half an hour, then 20 minutes left to go. I buried myself into a book that I had brought along, to while away the time. It was hot and the sun was beating down, but I would not let that dampen my enthusiasm of going to the NDP.
The Gates Open
Fifteen more minutes, then ten and then more five minutes to go… and the gates were finally opened.
We walked quickly, then made our way to the baggage checking area, to ensure that nothing dangerous was brought in. It took a while because of the crowds, but our bags were cleared easily. Then we were off to collect our treasured NDP Fun Packs.
Arriving at The Floating Platform
Armed with our Fun Packs comprising of a myriad of items including torches, tissue paper, biscuits, chips and bread, we reached the parade venue, the Floating Platform, and sat down.
I smiled. Because of our persistence and patience in arriving fairly early to queue, we had good vantage seats fairly near the front of the stage. Yes, we would be able to watch the NDP without any heads blocking our view.
Pre-Parade Fun
It was four o'clock by now. The parade hadn't begun yet, but we were thoroughly entertained by balloon magicians and kachang puteh men throwing peanuts to the crowd.
The Parade
Finally, Gurmit Singh and his fellow comperes stepped onto the stage. The NDP had begun this year. They entertained us with plenty of pre-show activities, including the "Singapore Wave" and cracked lots of witty jokes.
And I thought that the NDP itself was actually quite interesting too. As a whole, I would say that it is different to some of the previous ones I have seen.
Local Icons
This year, the Parade felt more people oriented and the use of local icons connected with the audience. For example, my favourite segment of the show was probably the iconic Merlion one – which depicted our national icon as a cartoon character, complaining that he always felt left out of the NDP because he could only watch from across the river. So when he was literally invited over by the emcees, he eagerly jumped into the water and swam quickly to the stage, mingling with fishes along the way. It gave such a human touch to the Merlion.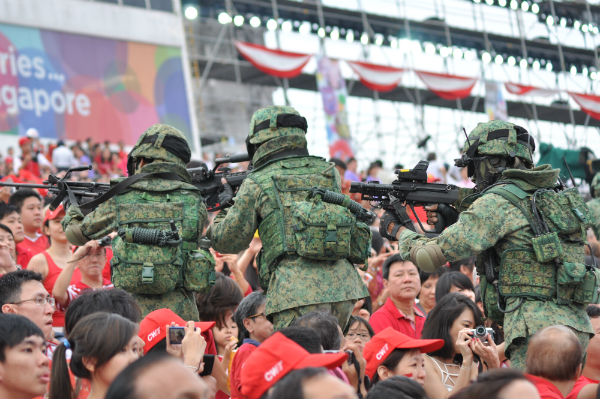 Team Singapore Athletes
When the Team Singapore athletes, including Paralympian Laurentia Tan, came out to showcase their skills, this was certainly different to just summarising Singapore's history, from a humble fishing village to a prosperous city.
Theme Song
I also found the theme song, which was sung by 68 Singaporeans from all walks of life, rather touching. These Singaporeans had been selected through a reality show contest. Usually, one or two celebrity singers are selected to perform the theme song. So to involve ordinary Singaporeans, added a really personal touch to the show.
Singlish
Singlish words like "Lah", "Lor" and "Meh" were also used in the catchy La La La song, sung by Shimona Kee. It was so infectious that the whole audience sang right along with her, myself included.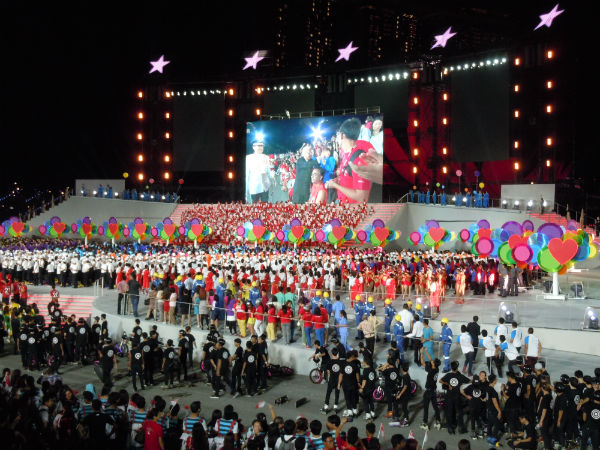 Ah Boys to Men
Another segment that I really enjoyed was the one whereby the Ah Boys to Men cast performed their popular recruit song. They were accompanied by "future recruits" – children who sang their hearts out likewise, and I thought this simply added to the fun factor of the NDP show.
Fireworks
Of course, the fireworks were one of the major highlights as well. This year, the way that they lit up the night sky was simply spectacular and I could not help but stare in awe, as they exploded simultaneously, for what felt like a full ten or fifteen minutes.
As a whole, it was definitely an intriguing NDP this year.
OTHER POSTS
Share this page with your friends!