Do you fancy spending the National Day weekend… by staying overnight at the Esplanade and then catching the National Day Parade?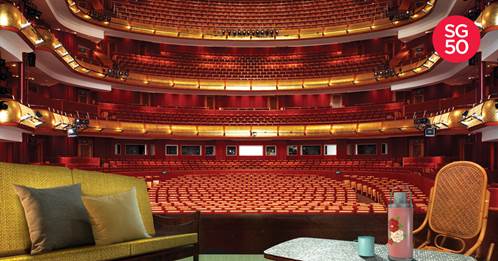 Now you can, by courtesy of SG50 and Airbnb. They are currently holding a contest, to search for the country's most passionate fan. Titled "SG50's Biggest Fan", this contest will give one lucky person and three guests of his or her choice, the experience of a lifetime – to stay for one night at the Esplanade Theatre Stage as well as four tickets to the National Day Parade.
Said Racel Yee, Head of Service Delivery and Standards, The Esplanade Co Ltd, "This August, as we come together as one in celebration of Singapore's 50th birthday bash, we are also looking forward to hosting SG50's Biggest Fan (and his or her friends) – our first overnight guests – at the Esplanade Theatre. As we welcome them into our abode for two days, we hope that they will encounter not just the joy of the arts, but also a comfortable and warm experience, just like being in their own home."
Spend a night at a 1960s Singapore styled mansion
For this one special night, the Esplanade Theatre Stage will be transformed into a 1960s Singapore styled mansion, and will be based according to the theme "A Night Through Time."
The winner and his or her guests will take part in activities including doing basic joget (a traditional Malay dance originating in Malacca) while dressed in traditional Peranakan costumes as well as an exclusive, behind-the-scenes tour of the Esplanade. And they can also indulge in a fine-dining culinary experience at the Esplanade's rooftop restaurant – before heading over to the 2015 National Day Parade at the Padang, the very next day.
How To Win
To stand a chance to win this amazing staycation, simply send a short video, of up to 15 seconds, wishing Singapore a happy birthday. The most creative video will be selected and the winner will be announced on the SG50 Facebook page on 5 August 2015.
More details of the contest are available at the following link. www.facebook.com/sg2015/SG50biggestfan
Submit your entry at apps.facebook.com/sgfiftybiggestfan

Share this page with your friends!