is:SHOE is a Singaporean company dedicated to "solving your shoe's issues", that is, by making products to keep your shoes organised and maintained in good condition. At the same time the company wants their products to be affordable to bring shoe care to the masses and to stay competitive at the same time.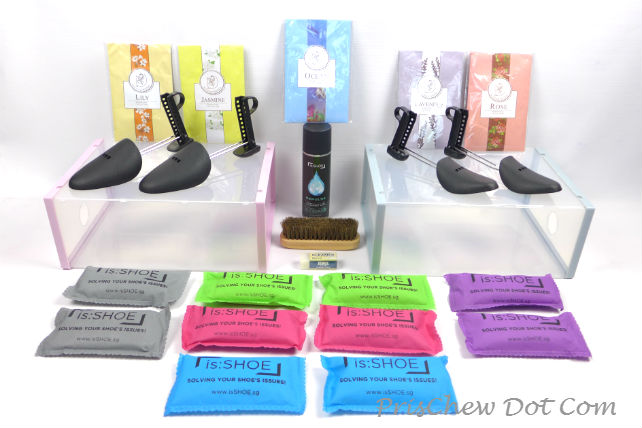 This is indeed something that we runners can all identify with; we have countless pairs of shoes at home, to the extent that there may be several pairs that are spilling out of the original shoe rack and tossed messily around the house. So then, when is:SHOE had contacted me to send over a shoe care package, I took the chance to see what it was all about.
The is:SHOE care package that I had received from the company, had consisted of seven different items and these are as follows, together with my thoughts and comments about each one – after having tried them all out.
Elenor Prime Shoe Storage Box ($12.00 each)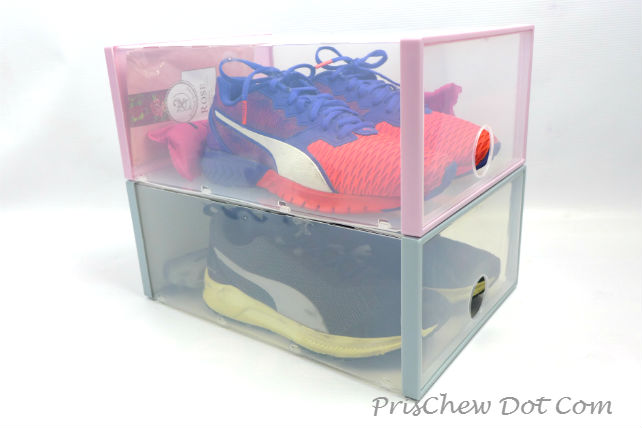 This is a 1.5mm acrylic shoe storage box that provides a see-through aesthetics feature that is modern yet functional. Users will be able to know easily what shoe is kept in which box. At the same time the boxes are easily stackable, and the edges are designed with grooves to match the stacking box above to increase the stability and sturdiness of the structure as a whole.
The box is designed with an easy opening translucent flap and a ventilation hole.
The shoe storage box comes in three colours: white, grey and pink. The different colours are useful as it can cater to different colour combinations, for those who are big on design and having matching colour schemes in their homes.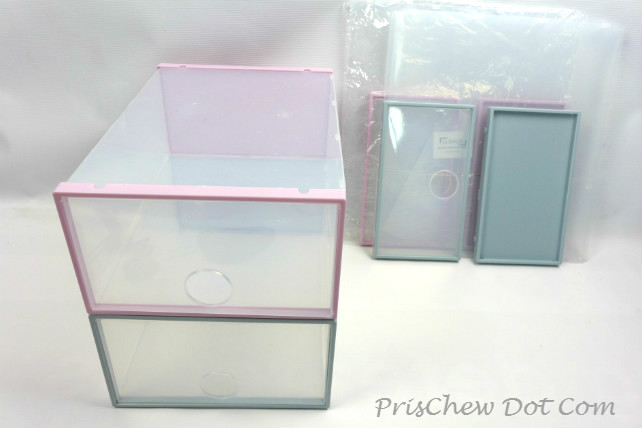 These shoe boxes are definitely an interesting idea. I was provided with four of these storage boxes, and I think that this will help to systematically organise four pairs of shoes at home and so clear up a bit of clutter at the same time.
At the same time each box can neatly fit one pair of my shoes inside and it really does make my house look more aesthetically pleasant, without my shoes being thrust about messily around.
Horse Hair Shoe Brush ($18.90)
This is made of 100 per cent premium horse hair, which is soft and robust; this gives the shoes the most complete stroke to remove excess dust, dirt or stains that has been marked on.
Jewel Shoe Eraser ($18.00)
Made in Japan, this shoe care product helps to clean off stains from white shoes, just like how an eraser can clean off pencil stains – as the name suggests.
With Singapore's tropical climate it can rain quite often. So when we are running and we are caught in bad weather, some dirt, stains or mud may invariably get onto the shoes. This may be the case too when we are running along the park connectors and not necessarily on the trails only. So after washing the shoes, this shoe eraser be used to get rid of those stubborn stains that otherwise might not come out.
Active Carbon Shoe Dehumidifier ($6.00)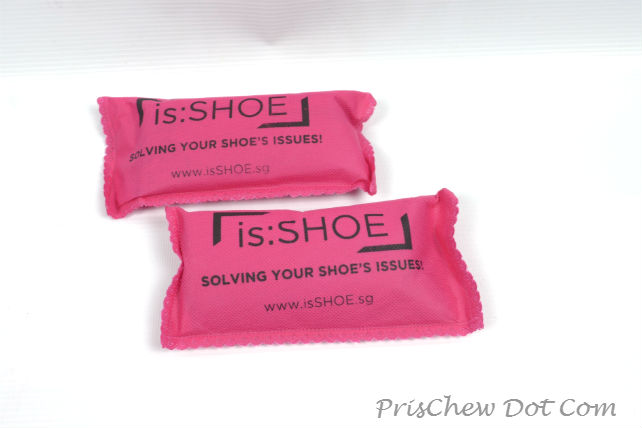 As the name suggests, these help to keep the shoes dry and eliminates odour and prevents moisture from creeping inside – during storage. This is good in tropical and humid climates such as Singapore, where humidity can possibly destroy shoes at a faster rate.
However for storage, I feel that it may not be the most effective to use this together with the Elenor Prime Shoe Storage Box though because the ventilation holes present in the box will prevent these from working to their maximum effect. So I think that a completely sealed storage box may be more effective instead for this product to be effective.
Adjustable Shoe Tree Shaper ($4.80)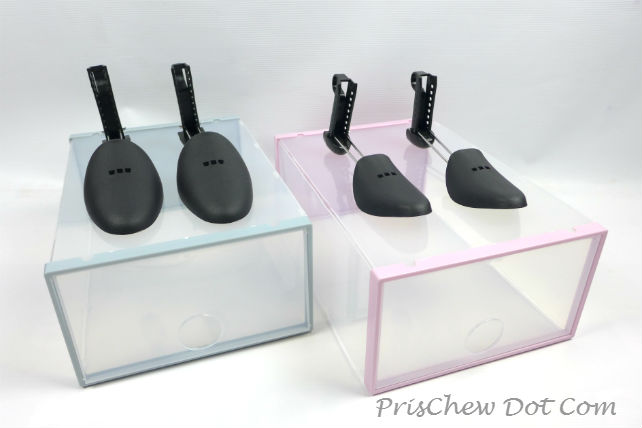 This, as the name suggests, helps to maintain the shape of the shoes so that they do not sink in or lose their shape during storage. I think that this is useful in keeping the shoes in shape as this problem can happen quite often over time with shoes and sneakers.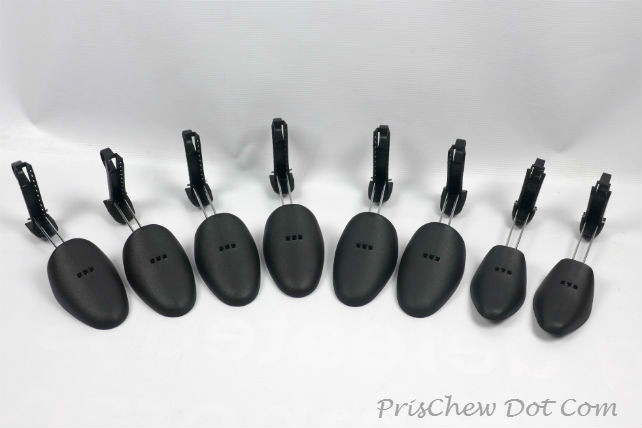 At the same time, these shoe shapers, which are made of plastic, can be stacked together to form a shoe tree, which is useful as this can accommodate several sizes of shoes into a single shoe tree, so that the whole family can use it as well. So this would definitely help with the neatness and tidiness of the overall house.
Repulse Hydrophobic Spray ($16.00)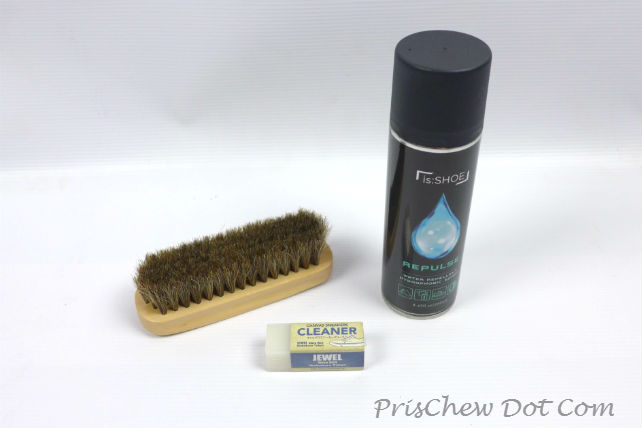 This spray prevents the absorption of water or any other forms of liquid leaving droplets on the shoes. So during rainy days it can definitely come in handy because after application the shoes can become water repellent so you won't have to worry about having wet shoes or wet socks.
The spray works by creating a prime layer over the shoes and the effect should last roughly between two or three weeks; to ensure maximum effect, is:SHOE recommends application once every two weeks.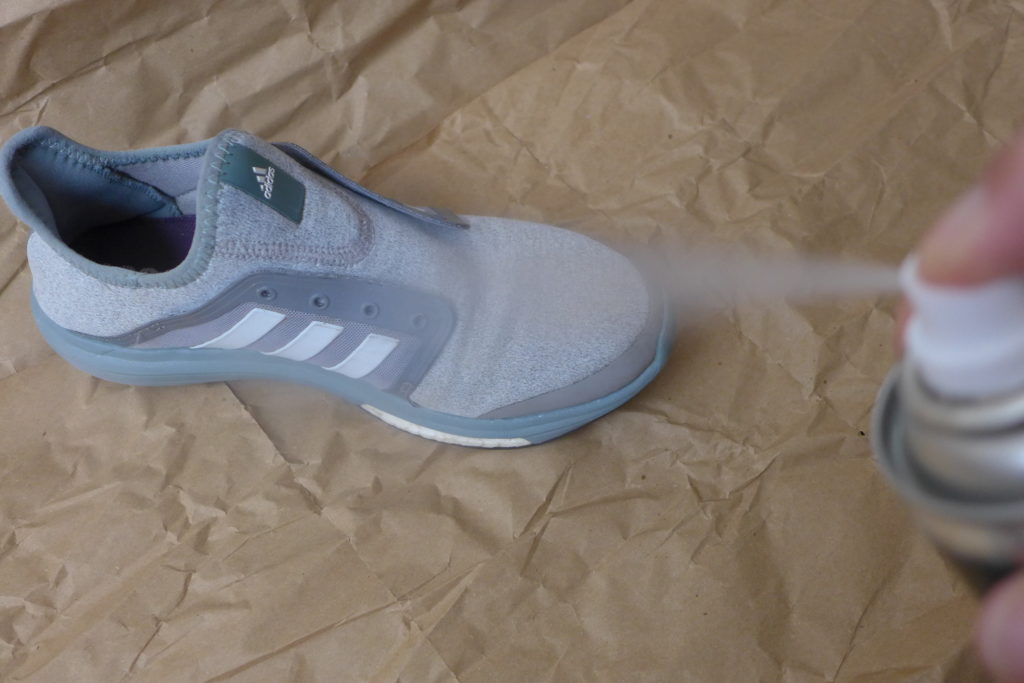 Application of this spray is quite simple too. You need to brush off the dirt from the shoes and dry the shoe surface before then shaking the can and spraying the shoes with the can about 15-20cm away. Then after that, dry the shoes in a well ventilated area, such as under the sun or a fan.
I really like the idea of having waterproof shoes; this will help to keep my socks and feet from getting soaked when I am invariably caught outdoors in a downpour, which happens every now and again in tropical Singapore.
I tested it out and bubbles of water began to appear on the shoe, and subsequently slide off the shoe instead of being absorbed and leaving the shoe wet. Adequate amount of spray must be applied though, to give the shoe a waterproof coating to work its magic.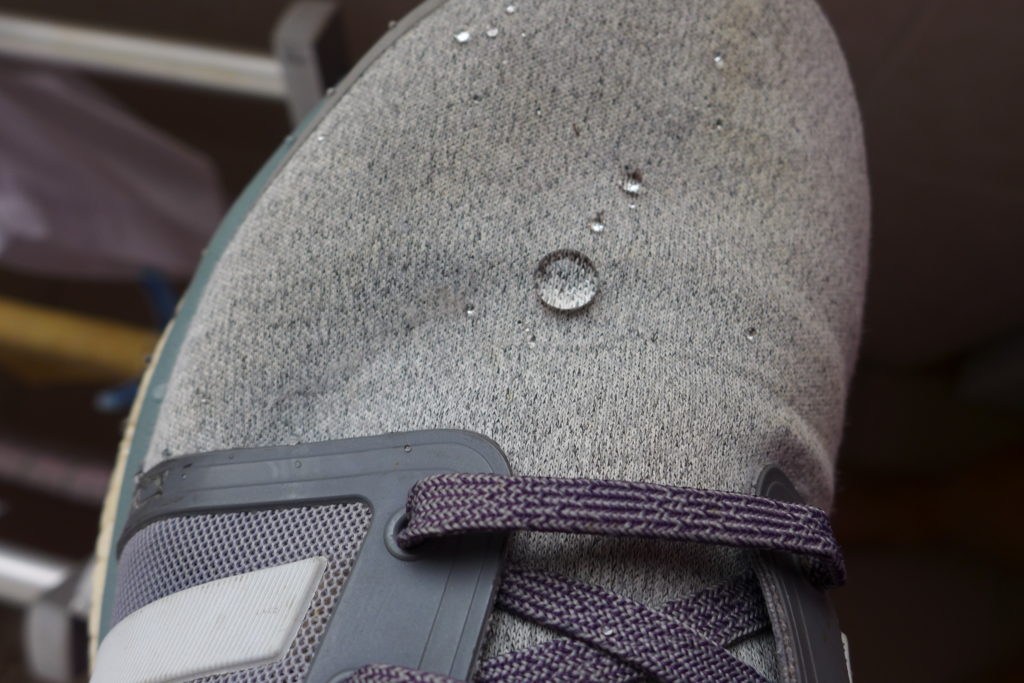 This shoe spray can work on a variety of shoe materials, such as suede, canvas, cotton and nylon. Leather shoes however, are not necessary for application – if leather sealant or polish has already been applied to the shoes.
Refresh Fragrance Sachets ($1.80-$2.00)
Made from natural ingredients with no added chemicals, these are infused with natural oils from flowers and plants. They absorb the shoe moisture and keep the shoes smelling fresh without the stench of dirty feet and at the same time, increase the lifespan of the shoes.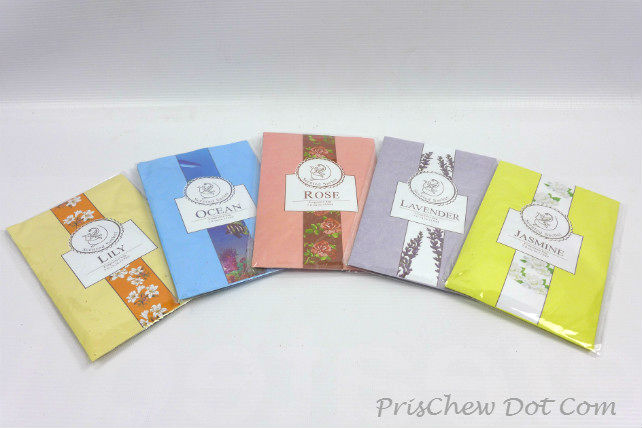 Consisting of Ocean, Rose, Jasmine, Lily and Lavender flavours, the Fragrance Sachets are all very pleasant smelling too. However I feel these would work much better in an enclosed surface with no openings, rather than when you are storing the shoes in the Elenor Prime Shoe Storage Box, because of the holes in the box, so this may affect the lifespan of the Fragrance Sachets and cause them to lose their fragrance faster than originally intended.
Where to buy these shoe care products
The is:SHOE products can be bought online at the company's website, https://www.isshoe.sg.
Besides the products that I have tried, the company also has other products such as shoe racks made of a variety of finishes such as wood, cedar and metal, as well as shoe trees and shoe brushes made of other materials like wood.
Share this page with your friends!