Boost your immune system with BRAND'S® MycoProtec Essence of Mushroom this festive season – and stand to win extra bottles for FREE, in the BRAND'S® Match & Win contest.
Contains active ingredients to modulate the immune system
This essence comprises of different beta-glucans extracted from five medicinal mushrooms – Cordyceps, Lingzhi, Yamabushitake, Maitake and Shitake, which are the key active compounds that have been studied and found to be effective in modulating the human immune system – for a healthier you.
How you can win
To stand a chance to win extra bottles, just buy a packet of BRAND'S® MycoProtec Essence of Mushroom, cut out the side flap (the one without the expiry date) and give this to the promoters at the "Match & Win" road shows, which take place every weekend.
Every flap that you present at the road show will give you one shot at the "Match & Win" contest where every correct match will give you one free bottle of the BRAND'S® MycoProtec Essence of Mushroom. However, please do note that there is a cap of five bottles per participant, per round.
When are the BRAND'S® road shows
The next road show will be on 6 & 7 December, from 9am to 5pm, at Sheng Siong Tanglin Halt.
Here is a list of the other upcoming road shows for December.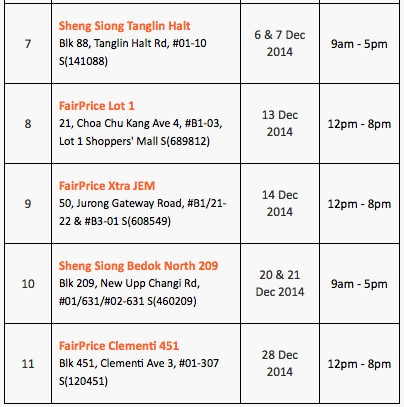 For more details
For more details, check out the BRAND'S® website @ www.brandsworld.com.sg or their Facebook page @ www.facebook.com/BrandsSG

Share this page with your friends!