For the previous three weeks, minion madness had invaded Singapore – to be more specific, McDonalds minion madness. These toys were available free of charge with every Happy Meal purchased at the global fast-food chain. 
And like most Singaporeans, I had to get my hands on the minions, no matter how long the queue for them was.
Here is an account of my experience in queuing up for the McDonalds minion toys.
It was half past ten in the morning. With my heart beating rapidly, I reached the McDonalds branch at East Coast Park. I had chosen this particular outlet, because I thought that there would be less people coming here, compared to the branches in the centre of the heartland areas.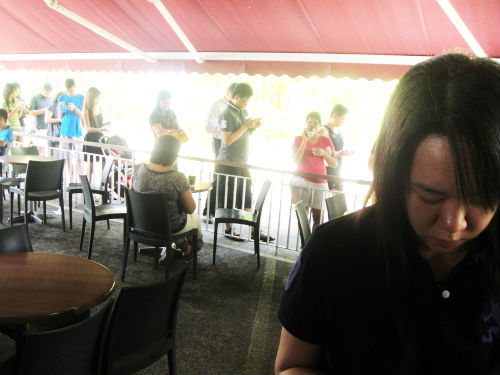 As I walked towards the McDonalds outlet, thoughts of the extremely long, snaking queues for minions at the Malaysian outlets of McDonalds played through my mind. I had seen plenty of Facebook pictures about the fights and brawls for minions there, and people queuing up since dinnertime the previous night, just to get their hands on the toys. As a result, I hoped the queuing would be orderly.
The minion toys were officially on sale at eleven o'clock that morning. But to my relief, reaching McDonalds at 10.30am was sufficient to avoid the long queue. Only about twelve people were queuing when I arrived.
Queue Tickets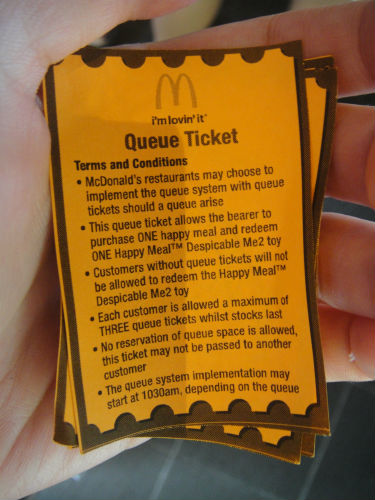 After having waited for about five minutes, a McDonalds staff member started walking up to those in the line and distributed the "minion queue tickets." Each of these orange tickets entitled a person to three minion toys (one for each Happy Meal bought). I watched her with bated breath. Was I going to get my hands on a ticket?
Soon enough, she approached me and asked me how many tickets I wanted. I told her three – the maximum per person.
She pushed them into my hand and hurried on down the line.
I sighed with relief and fingered the precious tickets. Yes, I was not going to be deprived of the minions – like how I was deprived of my black Hello Kitty because I had not been early enough to get them, weeks before.
Queue Grows Longer
With the tickets firmly secured, just out of curiosity, I allowed myself to look back, to see how long the queue was. I got a huge shock! Within mere minutes, it had built up behind me. By now, it was roughly about 50 people strong – and the minions officially weren't even on sale yet. There was still some time to go before the counter opened for the collection. Perhaps many of these people had come here because the queues at the major heartland outlets were already too long, like I had initially predicted.
The Counter Opens
Finally, it was eleven o'clock. The counter for the minion collection was officially opened. Now it was just mere minutes before I would get to collect mine.
I waited with bated breath as the McDonalds staff member ushered us in small batches, to the counter to buy the Happy Meals. I figured that this was to prevent the actual restaurant queue from being too long – thus putting off potential customers who wanted McDonalds food without the minions.
The counter I had been ushered to, had about two people in front of me. Impatiently, I counted down the minutes as they placed their orders and received their meals. Then it was my turn.
Buying the Minions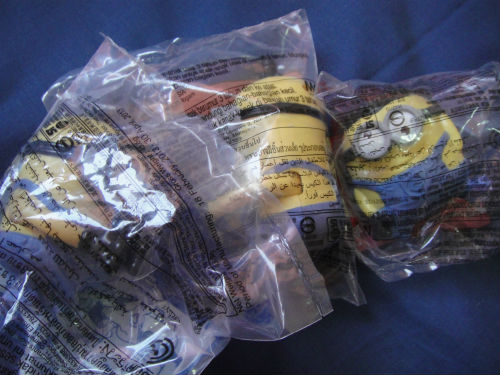 The McDonald's counter girl asked me what I wanted to eat. Excitedly, I placed my order for three Happy Meal cheeseburgers, with the accompanying set items.
Then I handed her my queue tickets for the minions.
Almost immediately, she reached underneath the counter and exchanged my tickets with three plastic McDonalds minion toys. Eagerly, I picked up the McDonalds minions and waited for another few minutes to collect the Happy Meals.
As I left the McDonalds outlet, I couldn't help feeling pleased that my trip down to this outlet had been worth it. After all, I had gotten my hands on the limited-edition McDonalds minions – the very same plastic McDonalds minions that had resulted in snaking queues and countless catfights and brawls in Malaysia.
RELATED POSTS
Share this page with your friends!