Saturday, the 15th of November, was easily the best day of Liverpool fan Benjamin Lai's life.
That's because the 37-year-old, who works in inventory management, got to spend unlimited time with the Liverpool Legends, including his childhood heroes Ian Rush, Steve Mcmanaman and Jerzy Dudek. He said, "Coming face to face with them was really overwhelming."
Lai, who has been a Liverpool fan since he was 12 years old, had won this exclusive opportunity via a Carlsberg commentary challenge, where he successfully delivered the winning commentary, to a clip of a football match. Fellow Liverpool fan Raye Teo had tagged along with Lai, to meet the Reds legends too.
Started with a scrumptious buffet feast
Lai's day had started with a scrumptious buffet feast at the Westin Hotel – where he came face to face with not only the Liverpool Legends, but also some of Singapore's greatest sporting heroes, such as Fandi Ahmad, Sundram Moorthy and Lim Tong Hai. To Lai, this had felt like a personal meet and greet session with all of the players.
"I was actually caught by surprise when I saw the Singapore players there too, as I thought it would only be the Liverpool legends. But it was a good way to see the players, especially the Singapore side, as it is ages since they have come together for a game. I was chatting with them all the way on the bus," Reds fan Lai explained.
Focused his attention on the Liverpool players, especially Rush
But Lai admitted that he had focused more on the Liverpool players – especially Ian Rush. He explained that this was because many of the other Liverpool legends had flown into Singapore since early last week, but Rush had just arrived.
Said Lai, "So I thought that I have to see Rush, no matter what. And after lunch, I managed to talk to him for a while."
Lai added that he found Rush, who is his ultimate Liverpool hero, a very polite and simple guy. Said Lai, "He will oblige you but will not overdo things. He was pretty much what I had expected him to be like. It was really fantastic."
Got to see the more personal side of the players
After lunch, Lai spent some time observing the players coming in and out of the hotel. As a result, he got to see their more personal side.
Said Lai, "For instance, I saw some of them carrying Louis Vuitton shopping bags – I guessed they were getting bags for their family. A lot of them were also buying Singapore souvenirs back."
Sitting inside the bus with the Liverpool Legends
Then later on, at about four in the afternoon, the bus came to pick up the Liverpool legends to go to the National Stadium to play against the Singapore footballing heroes. As part of his prize, Lai and Teo were allowed to sit inside the bus too.
Explained Lai, "Sitting together with the Liverpool legends in the bus was awesome! We were chatting all the way. The ride was only 15 minutes long, but I was wishing that the bus wouldn't reach the destination so soon!"
Lai added, "But then, after we reached the stadium, the doors of the bus opened – and all the Liverpool fans were crowding outside the coach. Walking out with the Reds legends, I really felt as though I was a part of the team!"
Ushered into the VIP Lounge
While the players made their way to the dressing room, Lai was ushered into the VIP lounge, where he watched the game. The Reds fan explained, "At the lounge, there were lots of food and drinks. The reception was pretty good and we could also take pictures with the BPL and the Masters trophy there."
In addition, he also got another chance to catch up with several of the legends – including Rush, Emile Heskey, Vladimir Smicer and Singapore heroes Fandi Ahmad and Sundram Moorthy. Lai said, "They were all sharing their thoughts of playing a match together."
Added Lai, with a cheeky smile on his face, "Rush was there too. Some time into the Q&A session later, the organizers asked whether there were any more questions and everyone went silent. I raised my hand though and I looked towards Rush, 'I have a question! Who do you think will win!' Rush looked back at me and said, 'I don't know. We'll see. Let's wait till the end of the match.'"
Watched the match from the VIP balcony
During the match, Lai sat on the VIP balcony, which he felt was incredible. "It was fantastic – a great view to see the stadium. The rain was drizzling, but the atmosphere was excellent. I was also connected to the lounge, so I could go in and out to get free food and drinks whenever I wanted," he said.
From this vantage point, Lai added that he definitely had a great view of the game and the ventilation was also excellent too.
And according to this Reds fan, his Liverpool kakis were sitting in the grandstand below – and possibly wondering how Lai had managed to get up there. Grinning cheekily, Lai said, "When my kakis saw me from the balcony, I shouted 'hi' and they said, 'We want to go up leh.' I laughed and jokingly replied, 'too bad!' They kept on looking at me throughout the game, and this made me feel like I was really on top of the world."
The night was even more amazing for Lai upon witnessing his Liverpool heroes beating the Singapore players 3-1, with the Reds' three goals being scored by Liverpool's Emile Heskey and Jari Litmanen, as well as an own goal by Singapore's Lim Tong Hai.
Presenting the Man of the Match award
But the best moment of his entire day came after that – when Lai was getting ready to present the Man of the Match award to Singapore's Aleksandar Duric, indeed fitting because this game had also been organized as a tribute match for Duric and his contributions to Singapore football.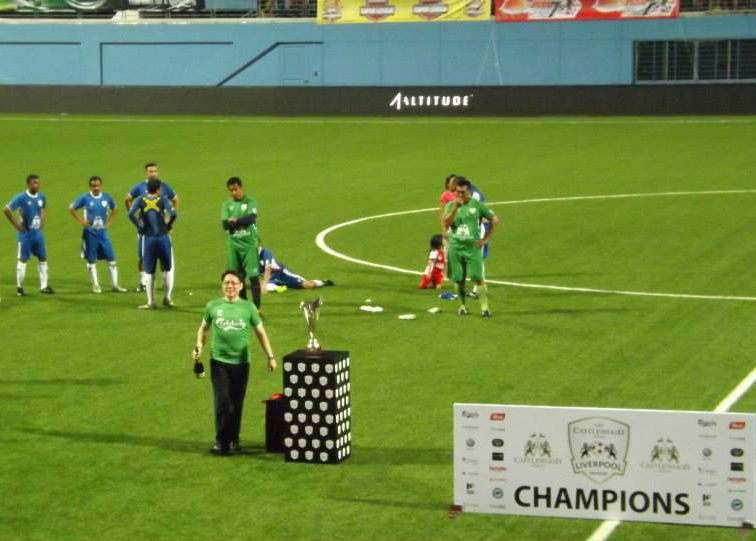 Said Lai, "That was the first time I had walked into the tunnel of the Jalan Besar Stadium. I was thinking, 'this is the first time in my life that I am going through the players' tunnel.' Completely overwhelmed, I was looking around me and taking pictures. And when I got back onto the pitch, the teams were still there. I thought, 'this is as close as I am ever going to get to the players.'"
Added Lai, "Then when I presented the award to Duric and personally thanked him for his contributions to Singapore football, I could see the emotion in his face. He said 'thanks man' and I could sense that he really treasured his time representing Singapore. I also had a quick chat with Duric and we shook hands."
Took a post-match team photo with the Liverpool Legends
Subsequently, the Masters trophy was presented to the winning team, which was Liverpool and they took a team photo too. "When I saw that, I rushed over and stood with them. It really made me feel like I was one of the players!" Lai gushed, still feeling completely overwhelmed.
Headed to 1-Altitude for the post-match party
Then it was time for the players to return to the dressing room and clean themselves up. In the meantime, Lai boarded the shuttle bus and headed to 1-Altitude, where the after-match party was taking place.
Said Lai, "The party was fantastic! I walked in together with the players while everyone else was outside queuing! I mingled around and had drinks and talked to the players and it was a great way to see the lighter side of these Liverpool stars after the game."
Got more interesting snippets of information from the footballers
Lai used this opportunity to get more photos and autographs and to find out more interesting snippets of information from the former Liverpool players. He said, "I got to know the players a lot better at the party. It was very funny and nice, chatting to Mcmanaman, Berger and Rush, as they are all my heroes. In fact, some of these players don't really talk much on TV and put up a professional Liverpool front, but they are actually very chatty when you know them in person."
Added Lai, "For instance, Steve Mcmanaman seems to be a very quiet guy on the media front, but he can actually talk about anything under the sun. Speaking to him was really like a two-way conversation. It felt just like talking to my friends. He said I could ask him anything. So I asked personal stuff such as what he's doing and where he's living right now."
"It was so cool too, to find out from Mcmanaman that the legends are living about 15 to 20 minutes drive away from each other – so they play golf together and catch up often, outside of their jobs as a TV commentator or sports pundit."
Impressed by the fitness levels and energy of the footballers
At the same time, Lai was also impressed that the footballers generally still appeared to be pretty fit and energetic, to still be able to chat so animatedly and party through the night – even after a tiring day and an energy-sapping football game.
Explained Lai, "I just followed them for 12 hours and I was already feeling exhausted by the end of the day. But the players didn't look tired at all – as they could still chat, sign autographs and take selfies with fans."
He also added that the players were very friendly and welcoming – whenever security guards tried to wave away the autograph-seeking fans at the party, the players would simply tell their security that it was not a problem.
Fulfilling experience for Lai
It was most definitely a very fulfilling day for Lai and he had enjoyed himself tremendously. He said, "I am still feeling star struck right now, to have had those stars at my disposal for the whole day yesterday!"
Added Lai, "Thank you so much, Carlsberg, for the ultimate football experience. I got to meet so many of my childhood heroes whom I would otherwise only catch on TV and the media. I also got to take photos close-up and chat to them. It was a really great experience, and one that I will never forget."

Share this page with your friends!