Barely 24 hours after their exertions in the HSBC Hong Kong Sevens, the world's best Rugby Sevens teams have touched down in Singapore last night.
Amongst those who arrived early, was the United States, who lost the bronze medal playoff 19-26 to Australia in the Hong Kong Sevens. Children from local schools and rugby clubs gathered at the official hotel, Pan Pacific Hotel Singapore. And receiving one of the loudest cheers was Perry Baker, who has scored 33 tries in seven tournaments so far this season.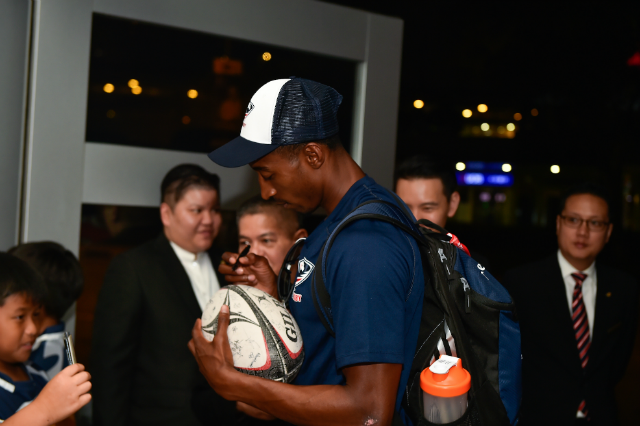 United States looking forward to play in Singapore
Said Baker, the 2014-2015 World Rugby Rookie of the Year, "I think we played really well in Hong Kong but we just came up short. I can't ask for more."
He added, "We have been in the mix in the last three tournaments and we are ready for Singapore. I'm feeling a bit sore righty now, but we have a few days to recover and I will be out there come Saturday."
Hong Kong Finalists Fiji and South Africa are raring to go
Fiji, who beat South Africa 22-0 in the final for their first Series win this season, arrived in Singapore too looking fresh and motivated. Meanwhile the South Africans were raring to go and make amends for their defeat.
Said Cecil Afrika, Springboks Sevens all-time points scorer and 2011 World Player of the Year, "Overall we had a good tournament in Hong Kong but in yesterday's final, we made a lot of unforced errors and learnt something from the loss."
He added, "We lost a few key players before Hong Kong but still made it into the finals, so that shows the depth of our squad. This is my fourth time visiting Singapore and it's really good to be back. We are ready to play some entertaining rugby this weekend."
Leandra Rasiah set to perform at the National Stadium
Besides the rugby action, former Singapore Idol finalist Leandra Rasiah will also be at the National Stadium – to entertain rugby fans. The Singaporean singer, dancer, host and actor, who made her mark in the first season of Singapore Idol, finishing in the top five, will be singing hit songs and her own singles to the 29,000 rugby fans expected to turn up for the event.
Rasiah, whose father is Rick Lane, a member of MoTown Group "The Drifters", has performed at the Singapore International Jazz Festival and has opened for artistes such as Ziggy Marley and Rick Prince, as well as the late Michael Jackson, Joe Jackson, The Supremes, The Shirelles, Pharrell Williams, Maroon 5, the Braxton Sisters and many more. So this will be nothing new to her.
In-Stadia Karaoke
Apart from rocking to Rasiah's tunes, rugby fans can also sing to the in-stadia karaoke session planned. Ten popular hit songs from various genres and eras have been chosen in an online poll, so expect the loudest singing session to be taking place at a Singapore sports event.
The HSBC Singapore Rugby Sevens is the eighth leg of the HSBC World Rugby Series and over the Easter Weekend of April 15 and 16, fans can look forward to world class on-pitch action as well as live entertainment at the National Stadium.
Tickets are still available
Tickets are still available. Two day Category One tickets are $150 for adults, and $65 for both youths aged 12 – 18 and children under 12 years of age. Family packages, premium packages and VIP Club tickets are also available too. Visit www.singapore7s.sg to purchase.

Share this page with your friends!