For tomorrow's Test match at the Singapore National Stadium, debuts Dean Budi and Luda Bigi will be making the starting line up for Italy, when the Azzurri play Scotland.
Another debutant who will be starting on the bench will be Frederico Zani.
One of the youngest Italian sides in the last few seasons
As well, Italy Head Coach Colin O'Shea will also be bringing back Leonardo Sarto from injury. The player had missed the 6 Nations due to injury.
In Singapore, Tomasso Boni also renews his centre partnership with Michele Campagnaro – who has just helped his club, the Exeter Chiefs to their first English Premiership crown.
Also, seasoned players Simone Ferrari and Robert Barbieri will be playing in the Singapore Test Match, too.
This current Italy team is also one of the youngest Italian sides in the last few seasons with an average of 19 international appearances as well as an average age of just 24 years.
28th meeting between the two sides
The match will be the 28th time that Italy and Scotland have met each other and the fourth between the two sides in a neutral location.
Italy Starting XV
The full starting XV for Italy is as follows.
15 Edoardo PADOVANI (Zebre Rugby, 11 caps)* 14 Angelo ESPOSITO (Benetton Rugby, 11 caps)* 13 Michele CAMPAGNARO (Exeter Chiefs, 29 caps)* 12 Tommaso BONI (Zebre Rugby, 2 caps)* 11 Leonardo SARTO (Glasgow Warriors, 30 caps)* 10 Tommaso ALLAN (Benetton Rugby, 30 caps) 9 Edoardo GORI (Benetton Rugby, 61 caps)* – capitano 8 Robert Julian BARBIERI (Benetton Rugby, 40 caps) 7 Maxime Mata MBANDA' (Zebre Rugby, 8 caps)* 6 Francesco MINTO (Benetton Rugby, 33 caps) 5 Dean BUDD (Benetton Rugby, esordiente) 4 Marco FUSER (Benetton Rugby, 21 caps)* 3 Simone FERRARI (Benetton Rugby, 2 caps) 2 Luca BIGI (Benetton Rugby, esordiente) 1 Andrea LOVOTTI (Zebre Rugby, 14 caps)*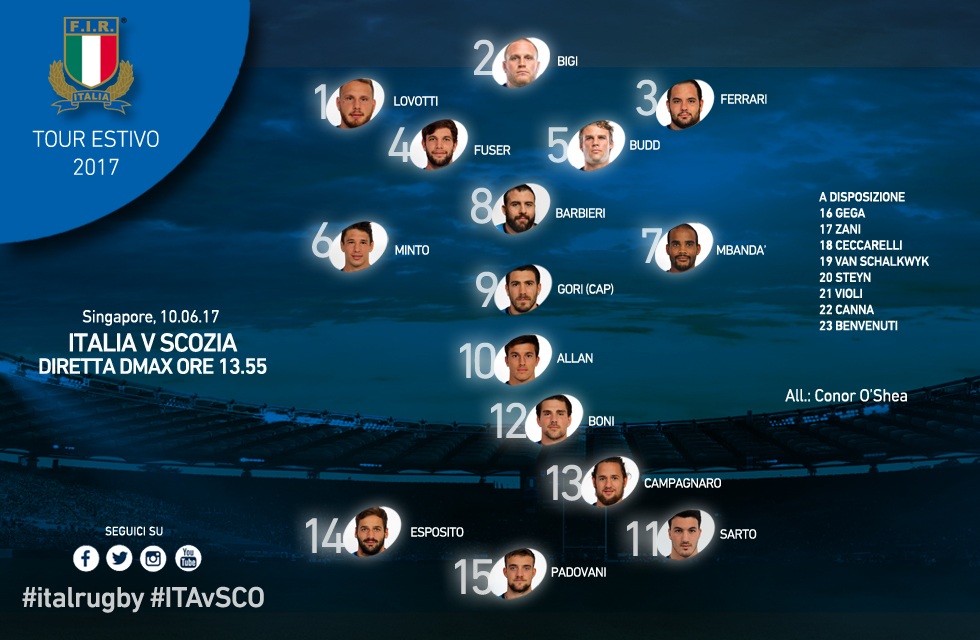 Where to buy your tickets
Tickets for this one-off Test Match are still available. Premium tickets are priced at S$80, while Category 1 and 2 adult tickets are available for S$50 and S$20 respectively. Under 18s get a 50% discount on tickets for Category 1 (S$25) and Category 2 (S$10), while tickets for those aged under 12 cost S$1 only. A small booking fee applies on all tickets.
To buy your tickets, visit www.sportshub.com/itavsco.
Overseas fans however, can purchase them from www.stubhub.sg
Share this page with your friends!