The CSC Run by the Bay will be back on the morning of Sunday, 31st July, this year.
Organised by the Civil Service Club, this running race is a key event in the calendar of the Public Service STAR Games – with the aim of promoting a healthy lifestyle amongst not only public service officials, but also the community at large.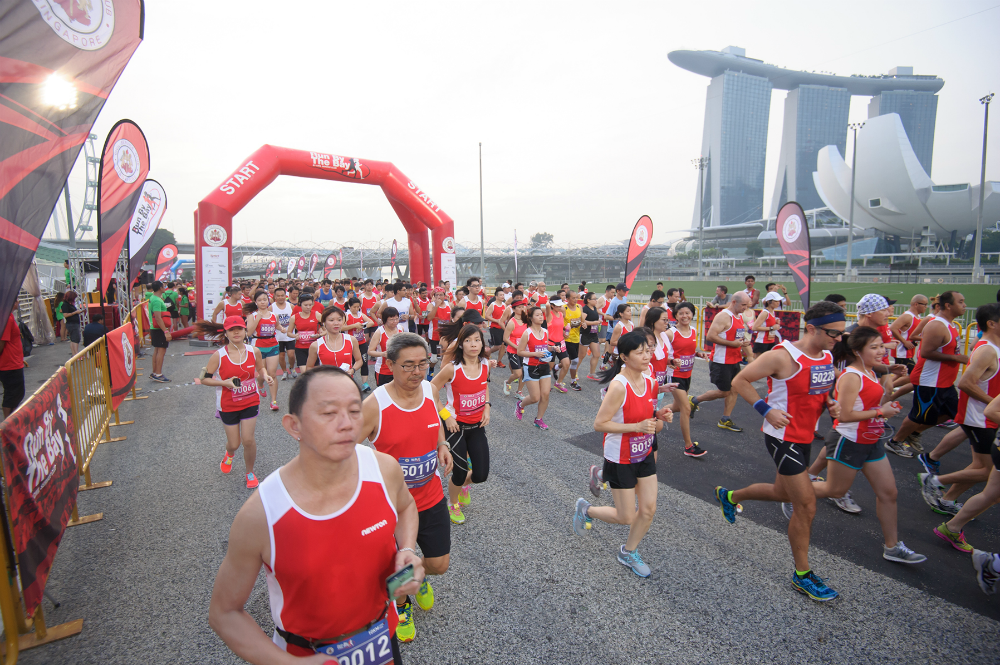 2016 edition takes place at The Float @ Marina Bay
The 2016 edition will take place from 4.45am at The Float @ Marina Bay and runners can choose to take part in one of four different running distances – the 5KM Fun Run, 10KM Individual or Team events, 21KM Ekiden team event or the 21KM Open events.
The 21KM Ekiden will be the first event to flag off at 5.00am and this will be followed by the 21KM Open at 5.15am.
The 10KM race flags off later at 7.00am and the 5KM Fun Run then starts at 7.45am.
Attractive goodie bag awaits runners
All runners who sign up for the race – irregardless of their category – will be entitled to an attractive goodie bag containing plenty of items.
These include a towel, race singlet, household products by UIC, Sea Coconut lozenges and plenty of vouchers for a wide range of products such as Tom Tom and Sony items, Nitto Tape, CompressSport and Smarty sports sunglasses and items from Manhattan.
In addition, a Finisher's Medal will be given to all runners upon their completion of the race and 21KM runners will receive an exclusive Finisher's Tee Shirt that is unique to their category.
Talks and running clinics
To prepare yourself for the CSC Run by the Bay race, there will be a range of talks from running experts.
One of these will include Ben Pulham from boutique fitness company, Coached, who will be the official coach for the CSC Run by the Bay 2016 – and will be taking practical running drills to improve participants' running form and efficiency. He will also be conducting talks on the benefits of doing heart rate training.
A chiropractic heath talk by Dr. Charles Loo from the Chiropractic Focus Group and a Sports Eye Care talk by optometrist Shawn Loh will also be conducted for the CSC Run by the Bay runners.
Here is a full list of the talks and running clinics available and when these will be held.
These sessions are however only available for registered runners and registrations for these talks are set to open soon at http://www.cscrun.com/csc-run-by-the-bay–training-tips.html.
Run with Pacers
In addition to the talks, registered runners will also have an opportunity to train together with the Official Pacers of the CSC Run by the Bay – from Team Pink Apple.
These sessions will be taking place on Saturday 9 July and Sunday 17 July at East Coast Park Area B1 and will be useful for both the 10KM and 21KM runners.
The table below gives more details about the Run with Pacers sessions.
Race Registrations are currently open
For the CSC Run by the Bay, the registration fees will start at $20 for the 5KM Fun Run. Early Bird Registration Rates are currently open and these will run till 19 June.
Here is a breakdown of the full list of registration fees.
Get $5 Off with PrisChew Dot Com
And as a bonus for readers of PrisChew Dot Com, you can get $5 Off your race fees (Open Category) if you key in this promo code during registration.
CSCIPRISCHEW
To register for the race, or else to sign yourself up for the running talks, you may head to the following link. http://www.cscrun.com

Share this page with your friends!